skin care essentials
5 Facial Cleanser Dos and Don'ts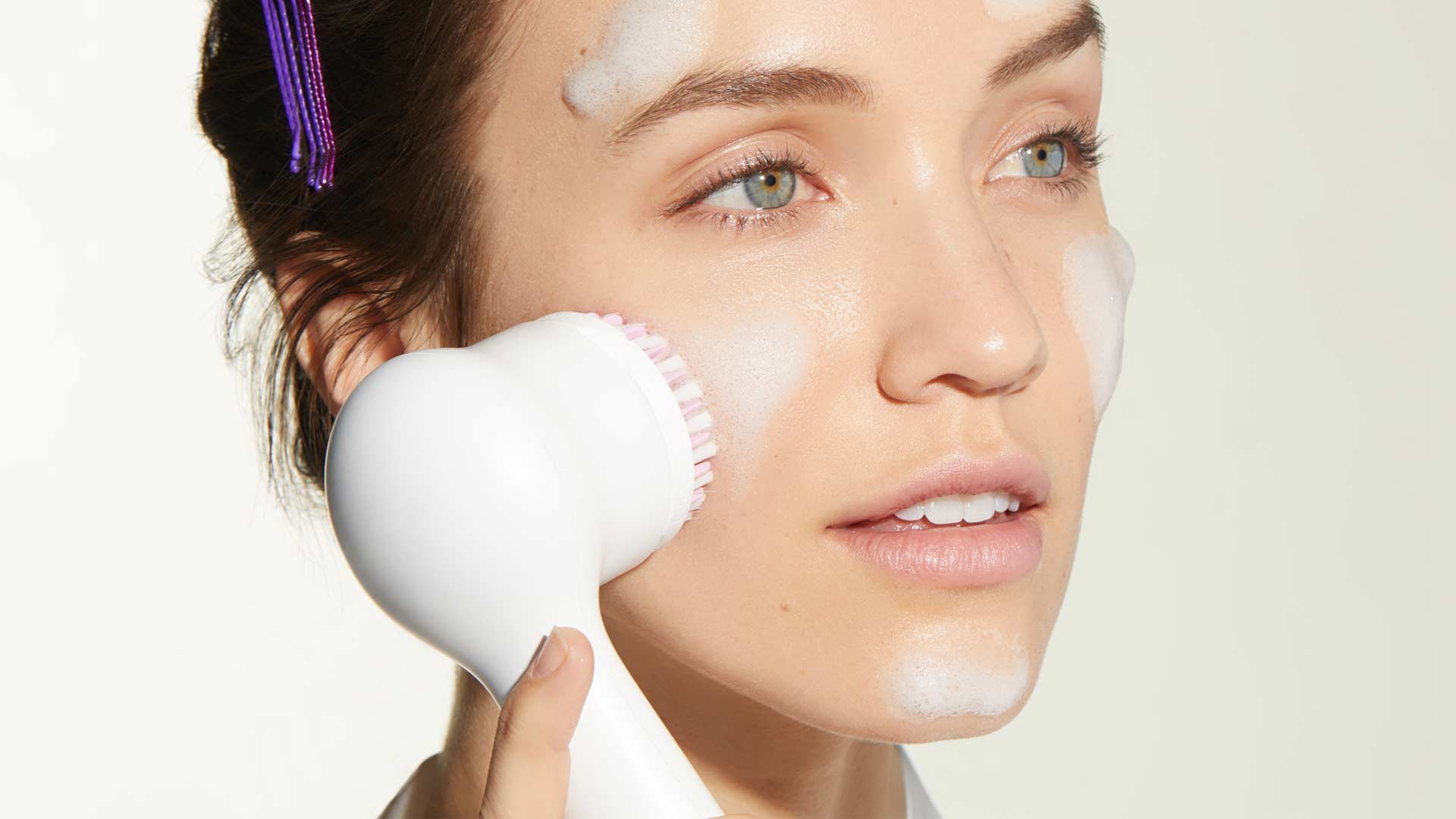 Facial cleanser is essentially the foundation for your skin care routine. Before you apply any other products, including face serum, moisturizer, eye cream, and even makeup, you always want to cleanse your skin to remove dirt and impurities from the surface of your skin. But you could be using your facial cleanser the wrong way. Although you may think this is a pretty basic skin care step, there is actually some technique involved. And it can make the difference in the health and radiance of your complexion. So keep these dos and don'ts in mind next time you head to your sink or vanity for a face washing session.
1. DO WET YOUR HANDS AND FACE FIRST
If you're going to use a rinse-off facial cleanser, wet your hands and splash your face with water before applying the cleanser to your skin. It'll help you work a good lather to grab onto that dirt and oil before rinsing.
DON'T CLEANSE WITH DIRTY HANDS
If there's anything the year 2020 taught us, it's that clean hands are a game-changing in our overall health. They're even more imperative if you're going to touch your face. Before cleansing your skin, wash your hands—that way you can help avoid transferring bacteria from your fingers to your face.
2. DO TREAT CLEANSING AS A MASSAGE
Is there ever a bad time to fit in a massage? Why not use your cleansing routine as an opportunity to squeeze in a bit of pampering and give yourself a facial massage? With the tip of your fingers, gently massage your face wash onto your skin with small circular motions and use light pressure before rinsing off with water.
DON'T BE ROUGH WITH YOUR FACE
Good skin care is all about treating your skin kindly, that means there's no need to be rough. So, don't scrub harshly when you're cleansing—yes, even when you're experiencing a breakout.
3. DO PICK THE BEST FACIAL CLEANSER FOR YOUR SKIN TYPE
Not all facial cleansers are created equal—and what works for one person may not necessarily be the best option for someone else. Just as you might pick a different moisturizer or foundation than your friend, you should choose your facial cleanser based on your skin type.
If you have dry skin, try the L'Oréal Paris RevitaLift Radiant Smoothing Cream Cleanser. This gentle foaming facial cleanser helps to remove all traces of makeup and impurities, while gently exfoliating dead skin cells.
If you have oily skin, opt for the L'Oréal Paris Revitalift Bright Reveal Brightening Daily Scrub Cleanser. Formulated with glycolic acid, it uses gentle micro-pearls to exfoliate the skin and improve texture.
If you have combination or sensitive skin try the L'Oréal Paris Micellar Cleansing Water Complete Cleanser Waterproof - All Skin Types. This no-rinse facial cleanser, which is free of oil, soap, and alcohol, removes makeup and dirt in one step without stripping the skin or causing dryness.
If you have mature skin try the L'Oréal Paris Age Perfect Nourishing Cream Cleanser. This daily cream facial cleanser with replenishing oils gently yet effectively removes traces of makeup and other build-up for a refreshed complexion.
DON'T OVER-CLEANSE YOUR SKIN
That said, no matter your skin type, when it comes to using a facial cleanser, twice a day should be sufficient under normal circumstances—once in the morning and again at night.
4. DO RINSE WITH LUKEWARM WATER
Cleansing your face in lukewarm water can help prevent stripping the skin of natural oils or from your face feeling tight after a wash. Extreme water temperatures can have the opposite effect of what you're trying to accomplish as your skin health is concerned.
DON'T USE STEAMY HOT WATER
You probably saw that coming! While using super hot water to cleanse your skin might feel relaxing, it's not the best option. That's because hot water can strip your skin of essential oils, which can leave it feeling drier.
5. DO APPLY MOISTURIZER BEFORE YOU DRY OFF
According to the American Academy of Dermatology, the best time to apply moisturizer is when your skin is still damp after cleansing. So, before you even grab your towel, apply your moisturizer. As for what to use, you'll want your moisturizer to match your skin type—just like your facial cleanser. Try the L'Oréal Paris Hydra Genius Daily Liquid Care – Normal/Oily Skin, L'Oréal Paris Hydra Genius Daily Liquid Care – Normal/Dry Skin, or L'Oréal Paris Hydra Genius Daily Liquid Care – Extra Dry Skin.
DON'T RUB WHILE DRYING
Put that towel down! Like we told you earlier, it's all about being gentle with how you handle your skin. Getting too aggressive when drying your complexion can be irritating, so just gently blot your face dry with a towel (but not before applying moisturizer of course!).
Photo Credit: Chaunte Vaughn
Discover more tips & tricks
Keep your skin happy
See all articles
Shop Featured Skin Care products
Discover More