skin care essentials
How to Give Yourself a Face Massage
March 27, 2020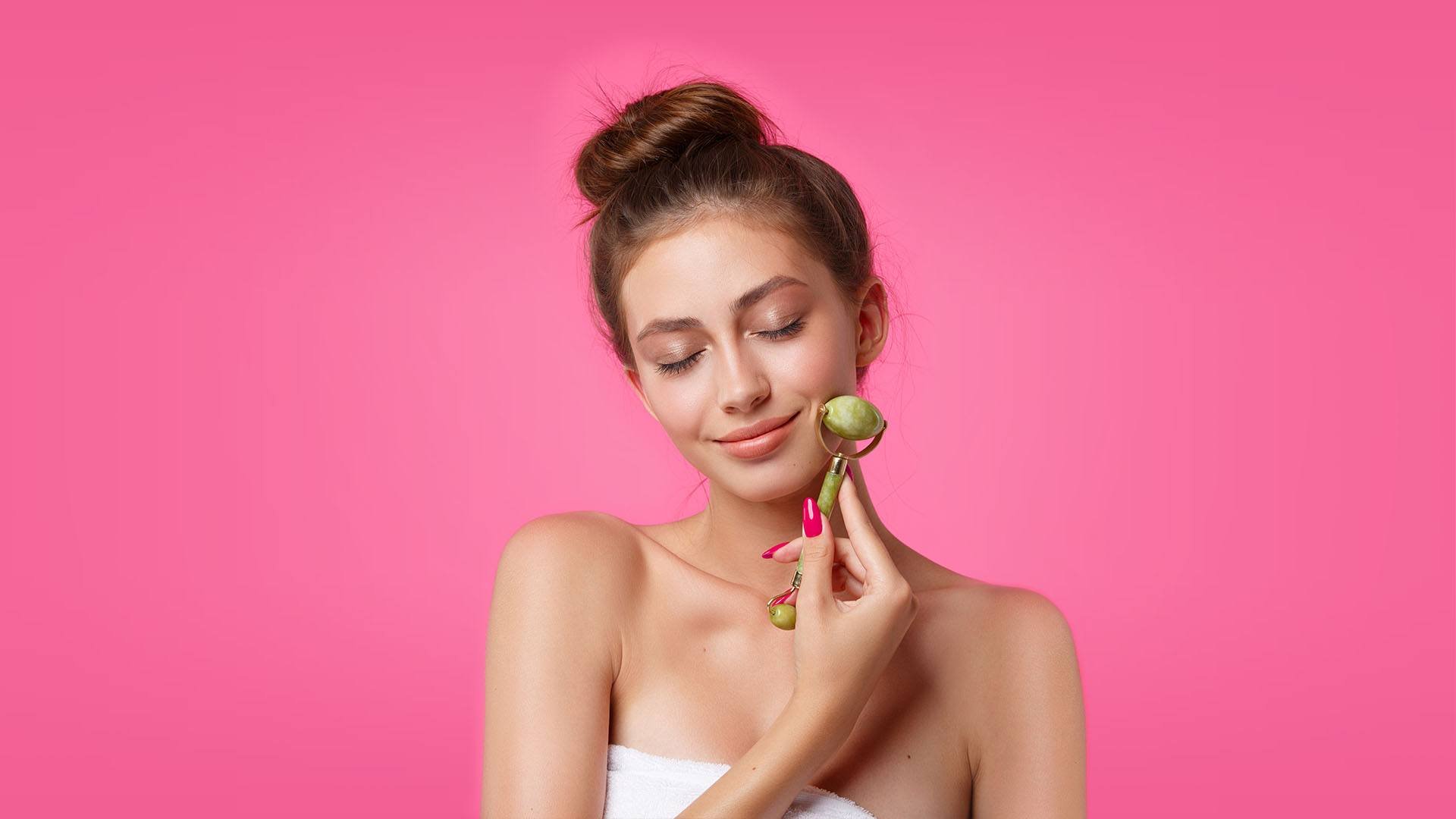 One of the best parts of receiving a facial at a spa, aside from leaving with a fresh-looking complexion, is the gentle facial massage that goes with it. Beautiful skin can be a reflection of how you feel, so don't wait for your next appointment to reap those face massage benefits. Instead, combine self-care and skin care by adding a facial massager to your beauty arsenal. All you'll need are two skin care products—a facial cleanser and a facial oil or moisturizer—and your hands or a face massage tool. Grab those essentials, then read on to find out how to add facial massage to your weekly skin care routine.
WHAT FACE MASSAGE BENEFITS ARE THERE?
With everyone jumping on the self-care bandwagon and talking about face massages, you're probably wondering which face massage benefits you should take note of. According to a study from the National Center for Biotechnology Information (NCBI), facial massage rollers work wonders to increase blood flow with continued use. The NCBI also shares that a facial massager can help you de-stress and improve your overall mood, which is something we can definitely get behind.
HOW TO GIVE YOURSELF A FACE MASSAGE
It's time for the reason you're here—learning how to give yourself a face massage. Follow our step-by-step guide below to give your skin the TLC it deserves.
FACIAL MASSAGE STEP #1: START WITH A FRESH, CLEAN FACE
Now, you don't want to be massaging dirt and other impurities into your skin, do you? Of course, you don't! That's why it's a must to wash your face (and your hands) before you get started on your massage. Start by getting your hands squeaky clean, then reach for a foaming gel cleanser that's sure to provide a thorough cleansing, like the L'Oréal Paris Ideal Clean™ All Skin Types Foaming Gel Cleanser. This cleanser has a deeply purifying formula that removes dirt and oil for an incredible cleanse without tightness or residue.
To use, wet your hands and face with lukewarm water, then work a small amount of the gel into a foamy lather. Massage it onto your face using gentle, circular motions. Rinse with lukewarm water and pat dry with a soft towel. After drying off, you'll have a fresh canvas ready to go for your facial massage.
Editor's tip: If you were wearing makeup, you might want to consider double cleansing! To give it a try, use a micellar water to wipe off makeup before breaking out your gel cleanser.
FACIAL MASSAGE STEP #2: REACH FOR YOUR MOISTURIZER OR FACIAL OIL
If you've ever received a facial massage, you'll know that the esthetician doesn't smooth their dry hands over your face. Instead, they'll massage a moisturizer or facial oil onto your skin. That way, their hands can glide smoothly over your skin without any tugging or pulling. And in case you haven't guessed, you'll want to do the same during your DIY facial massage. Rub a dollop of moisturizer between your hands to warm up the lotion or cream before applying it to your skin. If you prefer, you can choose to do the same with facial oil, or mix a few drops of oil into your moisturizer for the best of both worlds. As for which moisturizer to incorporate into your facial massage, consider one of the following options, based on your skin type.
If you have oily skin…try the L'Oréal Paris Hydra Genius Daily Liquid Care - Normal/Oily Skin. In normal and oily skin, external factors such as pollution, UV rays, and excessive cleansing can damage skin's moisture barrier, causing loss of moisture and increase in oil production. As a result, your complexion can end up looking overly shiny. This water-based moisturizer reduces the appearance of excess shine, so skin looks mattified and fresh.
If you have dry skin…try the L'Oréal Paris Hydra Genius Daily Liquid Care - Normal/Dry Skin. Normal and dry skin faces external factors such as pollution and UV rays that can damage skin's moisture barrier, increasing loss of moisture, and causing it to become drier. As a result, the skin surface loses its glow, becoming dull. This water-based moisturizer envelops skin with moisture, improving radiance.
If you have extra dry skin…try the L'Oréal Paris Hydra Genius Daily Liquid Care - Extra Dry Skin. Extra dry skin has a very fragile moisture barrier that can be easily damaged by external factors such as pollution and UV rays. Skin consequently loses moisture, becoming easily dehydrated, feeling tight and uncomfortable. This water-based moisturizer envelops skin with moisture, providing comfort so that skin feels nourished.
If you have dull, mature skin…try the L'Oréal Paris Age Perfect Rosy Tone Moisturizer for Mature, Dull Skin. As skin matures, its ability to renew surface cells slows down by causing a buildup of dead cells on the surface. As a result, the natural pink tone is hidden, and your complexion becomes dull, losing its natural rosy tone of youth. This intense daily moisturizer is formulated with imperial peony and LHA and helps gently exfoliate dull skin and revive skin's natural pink tone. Immediately, skin is hydrated, feels smoother, and looks rejuvenated, while skin will appear renewed with continued use over time.
If you have dry, mature skin…try the L'Oréal Paris Age Perfect Hydra Nutrition Manuka Honey All Over Balm - Face, Neck, Chest and Hands. As skin matures, it becomes dry, tight, and uncomfortable. This all-over balm is formulated with manuka honey and nurturing oils and can be used to help relieve mature, very dry skin on the face, neck, chest, and hands—even on the go. The balm wraps skin in soothing moisture, leaving it looking more youthful with a healthy glow.
FACIAL MASSAGE STEP #3: APPLY LIGHT PRESSURE IN UPWARD MOTIONS
It's time to massage! Start at your chin and move up toward your temples, applying light pressure with your hands or face massage tool. Then move from above your lips, going up and out toward your temples again.
FACIAL MASSAGE STEP #4: PAY EXTRA ATTENTION TO YOUR EYE AREA
Moving to the area under your eyebrow, use a face massage tool to press and flow with outward strokes toward your temples. Gently work your face massager from the inner corners of your eyes toward the outer corners. This is especially important because fluids can build up under the eye, causing puffiness. If you have under-eye bags, you may want to spend extra time on your under-eye area.
FACIAL MASSAGE STEP #5: CONTINUE MASSAGING, FOCUSING ON YOUR NECK AND JAWLINE TOO
An excellent facial massage doesn't stop with your face. It should continue downward, focusing on your jawline, neck, and décolletage.
3 FACE MASSAGE TOOLS YOU CAN TRY
Want to take your skin care game to the next level with a face massager? While your hands are a great way to massage your skin, face massage tools are trending for a reason. Keep reading to learn about three different options you can try.
1. DERMA ROLLERS
If you've been scouring Google for the best face massagers, you've likely come across derma rollers. According to the Mayo Clinic, derma rollers are a needle-studded tool that's rolled over the skin to help treat acne scarring. Since this tool requires puncturing the skin, you may want to leave derma rolling to your dermatologist. Sure, the results can be well worth it, but we don't want you to injure your skin!
2. JADE ROLLERS
Known as one of the most popular beauty tools, you can never go wrong with using a jade roller. This trendy face massage tool goes a long way in increasing blood flow and helping to smooth products evenly onto skin for a balanced and refreshed complexion. Best of all, this tool comes equipped with two ends, a large end to massage your cheeks, forehead, and jawline and a smaller end to cover the bridge of the nose and under-eye area. Simply roll the tool over your face in upward strokes to reap all the benefits. You can even take things a step further by cooling your jade roller in the fridge before each use to help de-puff skin.
3. GUA SHA MASSAGE
Another one of our favorite face massage techniques? The gua sha massage! This East Asian massage technique uses blunt objects to press and scrape all over the skin. While this technique may sound a little uncomfortable, the version that's trending isn't quite so intense. Pretty stone gua sha tools, which are flat and often made of pink quartz, have become popular stateside and are typically used to massage the face in a similar fashion to a jade roller.
Next up: If the face massage isn't the only aspect of a spa visit that you wish you could replicate at home, we've got you covered. Here's How to Do a DIY Facial and Have an At-Home Spa Day.
Discover more tips & tricks
Keep your skin happy
See all articles
Shop Featured Skin Care products
Discover More