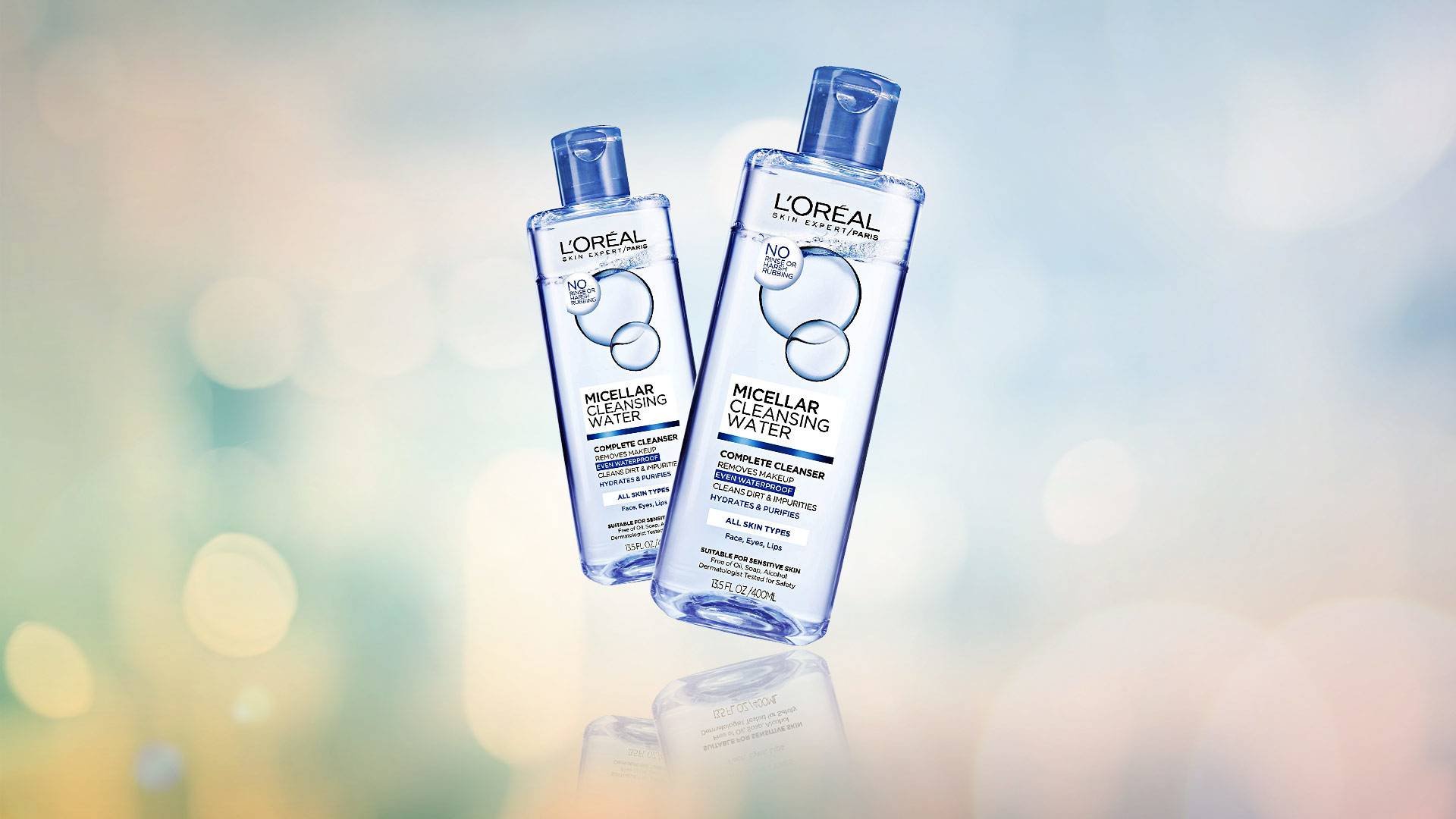 Micellar water is touted over and over again for its ability to act as both a makeup remover and a facial cleanser. But are micellar cleansing waters too good to be true, or do they live up to the hype? The thing is, although micellar water looks similar to toner and essence, it's actually quite different. So, while you might think you know everything there is to know about micellar cleansers, it could be useful to brush up on what micellar water actually is. Not only that, but you'll want to learn how to use micellar water (there's far more than one way!) and how to pick the best micellar water for your skin type. Here, we're offering you a guide to all things micellar.
WHAT IS MICELLAR WATER?
To keep things simple, micellar water is a cleansing liquid that doesn't require any rinsing, meaning you can complete your skin care routine without running water. This makes it an excellent option for when you're traveling, at the gym, or looking for a way to remove your makeup from the comfort of your own bed. And while you may have only heard about micellar water recently, it turns out it has been used by Parisians since way back.
WHAT IS IN MICELLAR WATER?
A far cry from your tried-and-true cleansers, micellar water consists of tiny micelles—oil molecules—that act like a magnet to help lift dirt, oil, and makeup up and away from the skin. As a result, you're able to use this water-based cleanser to hydrate and purify skin all in one step.
IS MICELLAR WATER GOOD FOR SKIN?
Let's cut to the chase—is micellar water good for your skin? The answer is a resounding yes! Since this essential does an amazing job of gently removing dirt, makeup, and other impurities from skin sans any harsh rubbing, you can count on giving your skin the TLC it needs with every use. Not to mention, it also works to hydrate skin, which is always a great benefit from a cleanser. What's not to love?
WHO SHOULD USE A MICELLAR CLEANSING WATER?
The good news is, just about anyone can use micellar water, as there are formulas available for different skin types. Since you don't have to be near a sink to use a cleansing water, it can be a convenient cleansing option for anyone who's always on the go, regardless of skin type. Micellar water is also often a good pick for those with sensitive skin since micellar formulas tend to be extra gentle.
Minimalists and those with busy schedules—basically anyone who wants to speed up their skin care routine—are also sure to be fans since micellar water allows you to multi-task, cleansing and removing makeup at the same time.
HOW TO FIND THE BEST MICELLAR WATER FOR YOU
Before you can go about using micellar water, you've got to find the best one for your skin type, as different formulas can help address different issues and skin care concerns. If you're looking for an option that works for everyone, we love the L'Oréal Paris Micellar Cleansing Water Complete Cleanser Waterproof – All Skin Types. This offering works to intensely purify all skin types in one step, sans the harsh feel that comes with some cleansers. While normal makeup remover may require harsh rubbing of the eye area to get completely clean, especially if you wear waterproof makeup, this cleansing water cleans off even the most stubborn eye makeup without a struggle.
HOW TO USE MICELLAR WATER—SIX DIFFERENT WAYS
Once you've found the best micellar water for your skin type, it's time to think about how you're going to use this nifty no-rinse facial cleanser. We've got six ideas for you:
MICELLAR WATER USE #1. CLEANSE YOUR SKIN IN THE MORNING
Let's be real: Who has the time (or energy!) to dedicate themselves to a super-lengthy skin care routine when they wake up? The good news is that you can cleanse without putting in much effort by using micellar water. Simply saturate a cotton pad with micellar water, then wipe the pad across your skin, and don't forget to follow up with a moisturizer.
MICELLAR WATER USE #2. REMOVE MAKEUP
Sleeping in your makeup? That'd be a major skin care no-no. Simply put, your makeup can mix with the dirt and oils that have built up on the surface of your skin throughout the day—and this can lead to clogged pores, which can lead to breakouts. This is why it's super important to always, always remove your makeup before bed. Make things simple by keeping micellar cleansing water near your bed to remove makeup even when you're exhausted. After saturating a cotton round with micellar water, simply hold the pad over closed eyes for a few seconds for easy, quick eye makeup removal.
MICELLAR WATER USE #3. TOUCH UP YOUR MAKEUP
Sometimes, you may not want to remove a full face of makeup. In fact, maybe you just want to freshen up your eye makeup for a night out. Or, perhaps you're trying your hand at a cat eye and hoping to start from scratch without taking off the rest of your face makeup. To do this, you'll need to reach for a cotton swab. Applied to a cotton swab, micellar water can remove and help fine-tune makeup mistakes that occur when applying eyeliner, mascara, or even lipstick.
MICELLAR WATER USE #4. DOUBLE CLEANSE
Do you need to wash your face after using micellar water? No! Micellar water does all the cleansing for you. However, if you want a deeper clean, micellar cleansing water can make for the perfect first step in a double cleansing routine. Not familiar with double cleansing? This skin care technique involves first cleansing with a no-rinse cleansing option, then following up with a rinse-off cleanser. Your micellar water will remove makeup from the surface of your skin while your second cleanser will be responsible for removing any remaining impurities.
MICELLAR WATER USE #5. CLEANSE YOUR SKIN POST-WORKOUT
Since micellar water doesn't require you to be anywhere near a sink to use it, it makes a great gym bag pick. Stash one in your tote so that you can cleanse after a sweat sesh. (Here's Your Sink-less Skin Care Routine.)
MICELLAR WATER USE #6: USE IN BETWEEN SPF APPLICATIONS
We all know how important it is to apply SPF regularly and re-apply it often when spending time outdoors. If you've done your due diligence, though, you know that layering products on top of one another can cause future breakouts (especially when you inevitably sweat in between application sessions). To prevent this, simply swipe micellar cleansing water over areas you need to re-apply your sunscreen. This will give you a clean slate, which is really how your SPF should be applied.
WHAT SHOULD YOU DO AFTER CLEANSING WITH MICELLAR WATER?
Despite the fact that micellar water has several uses, it won't serve as the entirety of your regimen. To create a complete skin care routine that includes micellar water, you'll want to tack on the following three steps after cleansing.
1. APPLY A SERUM
Have a specific complexion concern to address? In that case, it sounds like you need a serum. Choose one of the two serums below to apply directly after cleansing.
If you have dull skin…try the L'Oréal Paris Revitalift Derm Intensives 10% Pure Vitamin C Serum. This lightweight yet high potency 10% pure vitamin C serum restores healthy radiance, reduces hyperpigmentation, and improves clarity and uneven tone. The facial serum effortlessly glides onto skin, leaving it with a velvety soft feel and powerfully radiant look.
If you have wrinkles...try the L'Oréal Paris Revitalift Derm Intensives 1.5% Pure Hyaluronic Acid Serum. This intensive hydrating 1.5% pure hyaluronic acid serum helps replenish moisture for plumped, youthfully supple skin with bounce. The lightweight formula absorbs quickly with no tacky feel or residue, and immediately, hydration is deeply replenished, and skin looks smoother. After only two weeks of use, wrinkles appear visibly reduced.
2. LAYER MOISTURIZER OVER TOP
Cleansing and moisturizing go together like mac and cheese—or any other famous duos you can think of. As such, you'll want to be sure to apply a moisturizer, too. Just as you'd choose micellar water formulated for your specific skin type, your moisturizer should follow suit. Consider pairing cleansing water with a water-based moisturizer, like any of the following:
If you have oily skin…try the L'Oréal Paris Hydra Genius Daily Liquid Care - Normal/Oily Skin. When you have normal or oily skin, external factors like pollution, UV rays, and excessive cleansing can damage your skin's moisture barrier, potentially causing a loss of moisture. This effect can be combatted with the help of a moisturizer. This one, which is formulated with aloe vera water and hyaluronic acid, helps remove the appearance of excess sebum for a refreshed and mattified appearance.
If you have dry skin…try the L'Oréal Paris Hydra Genius Daily Liquid Care - Normal/Dry Skin. When it comes to normal to dry skin, the same external factors that affect oily skin—pollution, UV rays, and excessive cleansing—can also damage skin's moisture barrier. That loss of moisture could cause your skin to become drier and lead to your complexion looking dull, necessitating a good face cream or lotion. This moisturizer is formulated with aloe water and hyaluronic acid, enveloping your skin with moisture and improving your radiance.
If you have extra dry skin…try the L'Oréal Paris Hydra Genius Daily Liquid Care - Extra Dry Skin. Extra dry skin can have a very fragile moisture barrier—and those external factors we've told you about may damage that barrier. This can cause your skin to lose its ability to retain moisture, leading to your complexion feeling tight and uncomfortable. That's where this moisturizer comes in. Formulated with aloe water and hyaluronic acid, it leaves skin feeling comforted, soothed, and nourished with moisture.
3. FINISH WITH SUNSCREEN
Micellar water can be classified as a miracle worker—a fact you'll agree with if you've ever used one to remove extremely stubborn eye makeup—but it still doesn't negate your need for sunscreen. To protect your skin, your routine should always end with applying SPF. Follow the Food and Drug Administration's guidelines and use a broad-spectrum, water-resistant sunscreen with an SPF value of at least 15 every day. Additionally, you can take other protection measures, like wearing a broad-brimmed hat and avoiding the sun during peak hours (from 10 a.m. to 2 p.m.).
IS IT OKAY TO USE MICELLAR WATER EVERY DAY?
Can't get enough of micellar water? We don't blame you! And good news: Thanks to its super gentle formula, you can use micellar water every day. In fact, it's best to cleanse your skin twice a day, every day, and micellar water can serve as your face wash for all your cleansing sessions.
{ "@context": "https://schema.org/", "@type": "WebPage", "speakable": { "@type": "SpeakableSpecification", "cssSelector": ["speakable-content"] }, "url": "https://www.lorealparisusa.com/beauty-magazine/skin-care/skin-care-essentials/micellar-water-101" }
Discover more tips & tricks
Keep your skin happy
See all articles
Shop Featured Skin Care products
Discover More
{ "@context": "http://schema.org", "@type": "BreadcrumbList", "itemListElement": [ { "@type":"ListItem", "position": 1, "item": { "@id": "/", "name": "Home" } } , { "@type":"ListItem", "position": 2, "item": { "@id": "https://www.lorealparisusa.com/beauty-magazine", "name": "Beauty Magazine" } } , { "@type":"ListItem", "position": 3, "item": { "@id": "https://www.lorealparisusa.com/beauty-magazine/skin-care", "name": "Skin Care For Every Age" } } , { "@type":"ListItem", "position": 4, "item": { "@id": "https://www.lorealparisusa.com/beauty-magazine/skin-care/skin-care-essentials", "name": "Skin Care Essentials" } } , { "@type":"ListItem", "position": 5, "item": { "@id": "https://www.lorealparisusa.com/beauty-magazine/skin-care/skin-care-essentials/micellar-water-101", "name": "micellar-water-101" } } ] }