skin care concerns
The Difference Between Daytime and Nighttime Moisturizers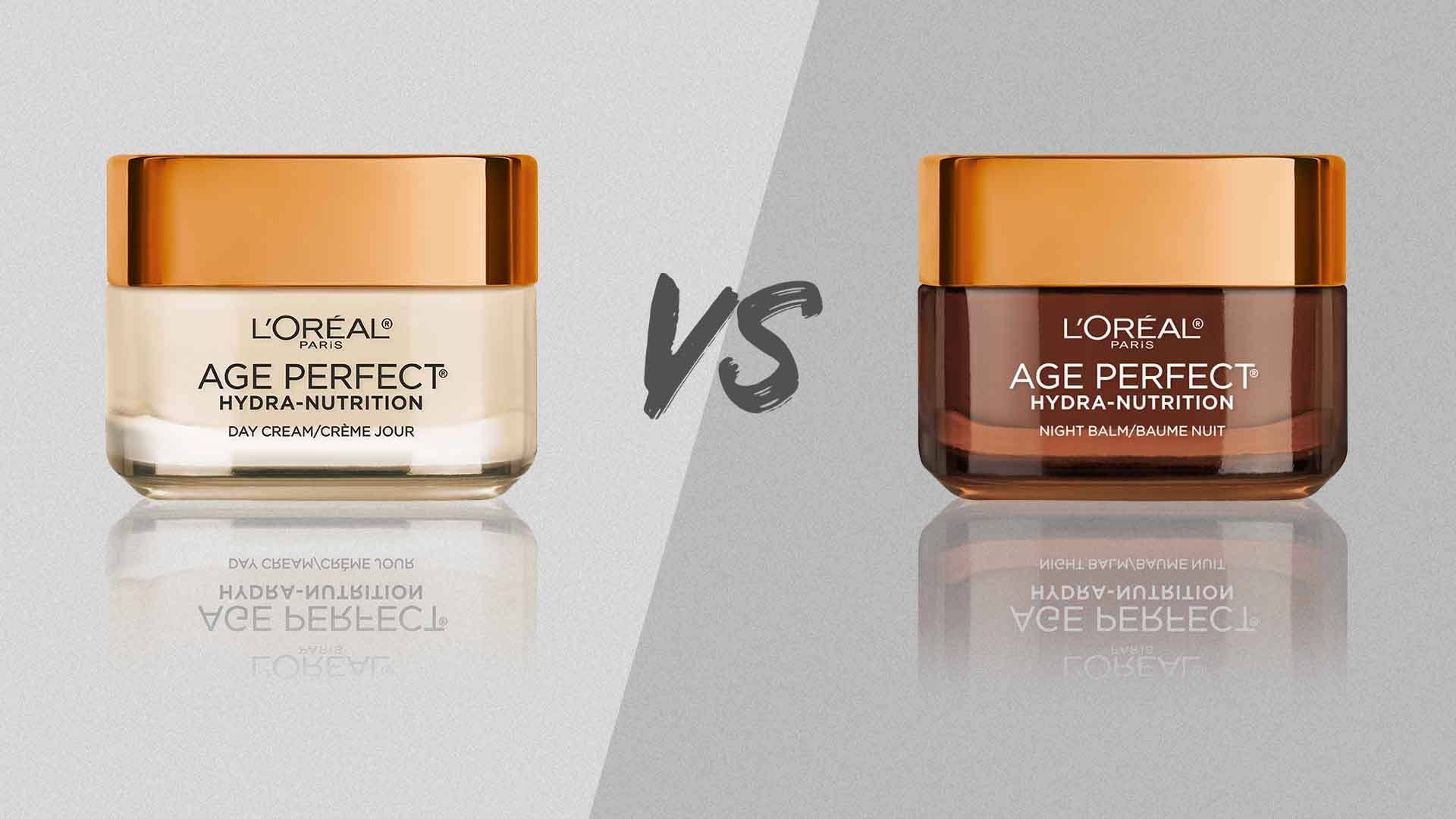 Whether you're a skin care newbie or veteran, chances are you know that hydration and a healthy-looking complexion go hand-in-hand. You likely have a tried-and-true day cream that you adore, but you may not use a separate day and night moisturizer in your routine. It's easy to think that all moisturizers are the same, but a day cream and a nighttime moisturizer each bring different benefits to the table. So, if you're ready to add both essentials into your beauty lineup, we can help. Ahead, we're giving you the lowdown on day cream and nighttime moisturizers, including product recs from L'Oréal Paris so you can get your skin care routine in order.
WHAT IS A DAY MOISTURIZER?
Day moisturizers (AKA day creams) are products that are meant to be used with your morning skin care routine. Typically, this offering boasts a lightweight formula that sometimes includes SPF to protect your face from harmful UV rays. You can also find options that have anti-aging ingredients, such as alpha-hydroxy-acids (AHAs). However, you'll need to apply sunscreen after using these since they can cause sun sensitivity.
This beauty staple comes in hand to provide your skin with hydration without a weighed-down feel. It also layers seamlessly under makeup for a flawless-looking complexion. You can count on a day cream to absorb quickly and minimize the risk of a greasy-looking face.
WHAT IS A NIGHT MOISTURIZER?
A night moisturizer is what it sounds like—a hydrating product intended for nightly use. While you may think that it's no different than a day moisturizer, some night creams pack a stronger punch. See, many formulas consist of various ingredients that are meant to work as you sleep. Think of glycolic acid and retinol, which are both ingredients that can cause sun sensitivity. Since there is no risk of sun exposure at night, this product doesn't contain SPF. On the other hand, there are options that have the sole purpose of hydrating your skin. Generally, night moisturizers are also known to have a rich and thick consistency that provides the skin with lasting moisture.
DO YOU NEED A DAY AND NIGHT MOISTURIZER?
When it comes to a day cream and night moisturizer, you definitely need both essentials in your routine—not one or the other. As we mentioned, both formulas are key for providing your skin with the TLC that it needs. Day creams are amazing at offering lightweight moisture without the heavy feel and protecting your face from the sun. On the other hand, a night cream goes into overdrive to deliver lasting moisture and address common skin care concerns like aging skin and moisture loss.
5 DAY MOISTURIZERS YOU SHOULD TRY
The first step in providing your skin with daily moisture is to reach for a nourishing day cream. Have your pick of the best options from L'Oréal Paris below.
L'Oréal Paris Age Perfect Hydra Nutrition Honey Day Cream: If you're dealing with dry, mature skin, this moisturizer will pick up the slack. It's formulated with nurturing oils, manuka honey extract, calcium, and antioxidants. This creamy offering works to penetrate the skin's surface layer to restore comfort and replenish it with long-lasting, non-greasy, non-sticky hydration. As a result, your face will sport a firm and supple appearance with a healthy glow.
How to use it: Every morning, smooth it gently onto your face in an upward and outward motion. Then, work from your neck to jawline, and apply it to your upper chest.
L'Oréal Paris Age Perfect Rosy Tone Fragrance Free Face Moisturizer: As skin matures, its ability to renew surface cells slows down. As a result, it can cause a buildup of dead cells on the surface of your face—hiding its natural pink tone. This option is formulated with imperial peony and LHA to gently exfoliate dull skin. It also works to stimulate surface cell renewal every day and revives your complexion. After use, your face is hydrated with a smooth and rejuvenated look and feel.
How to use it: Every morning, smooth the moisturizer gently onto your clean face using circular motions.
L'Oréal Paris Age Perfect Rosy Tone SPF 30 Sunscreen Face Moisturizer: Give your skin the best of both worlds with a rosy tone and the power of broad-spectrum sunscreen by using this moisturizer. Like the product mentioned above, this staple is formulated to renew and revive a healthy-looking skin tone. It also has SPF 30, so you can pare down your routine without skipping out on sun protection.
How to use it: Apply liberally 15 minutes before sun exposure. Reapply at least every two hours, and be sure to take other sun protection measures. Per the Food & Drug Administration, you should limit your time in the sun (especially between 10 a.m. and 2 p.m., which are the sun's peak hours), seek shade when you're outside, and cover up exposed areas in long sleeves, pants, a broad-brimmed hat, and UV-blocking sunglasses.
L'Oréal Paris Revitalift Bright Reveal Brightening Day Lotion SPF 30: This day cream is formulated with a combination of glycolic acid, vitamin C, Pro-Retinol, and broad-spectrum SPF 30. It works to hydrate, brighten, and correct an uneven skin tone. This offering also reduces the appearance of wrinkles in just one week and protects against the sun's aging UVA/UVB rays.
How to use it: Smooth gently over cleansed skin, avoiding contact with your eyes.
L'Oréal Paris Revitalift Triple Power Day Lotion SPF 30: If anti-aging moisturizers are a top priority, this day cream makes for a fantastic choice. It's formulated with Pro-Retinol, vitamin C, and hyaluronic acid to reduce wrinkles, firm, and brighten skin in just one week. We also appreciate that it's formulated with SPF 30 to provide ultimate protection from the sun. Plus, it's free of dyes, mineral oils, and parabens and is suitable for sensitive skin.
How to use it: Smooth over your face and neck every morning.
5 BEST NIGHT MOISTURIZERS YOU SHOULD TRY
Once you're ready to hit the hay, you need the right nighttime moisturizer to boost your beauty sleep. Pick your potion below.
L'Oréal Pairs Age Perfect Hydra Nutrition Honey Night Balm: It's not news that dry, mature skin needs all the moisture it can get, and this product lives up to the hype. It's formulated with nurturing oils and manuka honey extract and leaves your face with nourishing comfort and lasting moisture.
How to use it: After cleansing, smooth the moisturizer over your entire face in an upward and outward motion. Apply the product down your neck and jawline, then upper chest.
L'Oréal Paris Age Perfect Cell Renewal Night Cream: Leave a dull, lackluster complexion behind with the help of this night moisturizer. It's formulated with LHA to stimulate surface skin renewal and reveal a youthful-looking face in the a.m. After use, you'll have a soft, supple, and radiant look.
How to use it: Once your cleansing session is done, smooth this night cream over your face using circular motions.
L'Oréal Paris Revitalift Anti-Wrinkle + Firming Night Cream: As you age, your skin may start to look and feel less firm. In turn, this can cause wrinkles to rear their ugly heads. This moisturizer is formulated with Stimuplex and Pro-Retinol and provides long-lasting hydration in addition to addressing the appearance of wrinkles.
How to use it: Every night, gently smooth this moisturizer onto your face and neck.
L'Oréal Paris Age Perfect Night Cream: Sagging skin is another sign of aging that can take a toll on the look of your complexion. This night cream for mature skin is formulated with soy seeds and helps to deeply moisturize while improving elasticity. It also works with the skin's nightly recovering process to reduce the appearance of surface wrinkles and fine lines.
How to use it: After nightly cleansing, apply it over your entire face.
L'Oréal Paris Revitalift Triple Power Anti-Aging Overnight Face Mask: While this offering is technically a face mask, it does go the extra mile to moisturize your skin at night. This luxurious leave-on mask improves your skin's firmness and visibly reduces wrinkles over time for a youthful-looking face.
How to use it: Smooth it on your face, neck, and jawline before bed. Leave it on overnight.
Discover more tips & tricks
Keep your skin happy
See all articles
Shop Featured Skin Care products
Discover More