skin care concerns
7 Tips for Preventing Forehead Wrinkles
Hint: Hydration is key.
April 22, 2020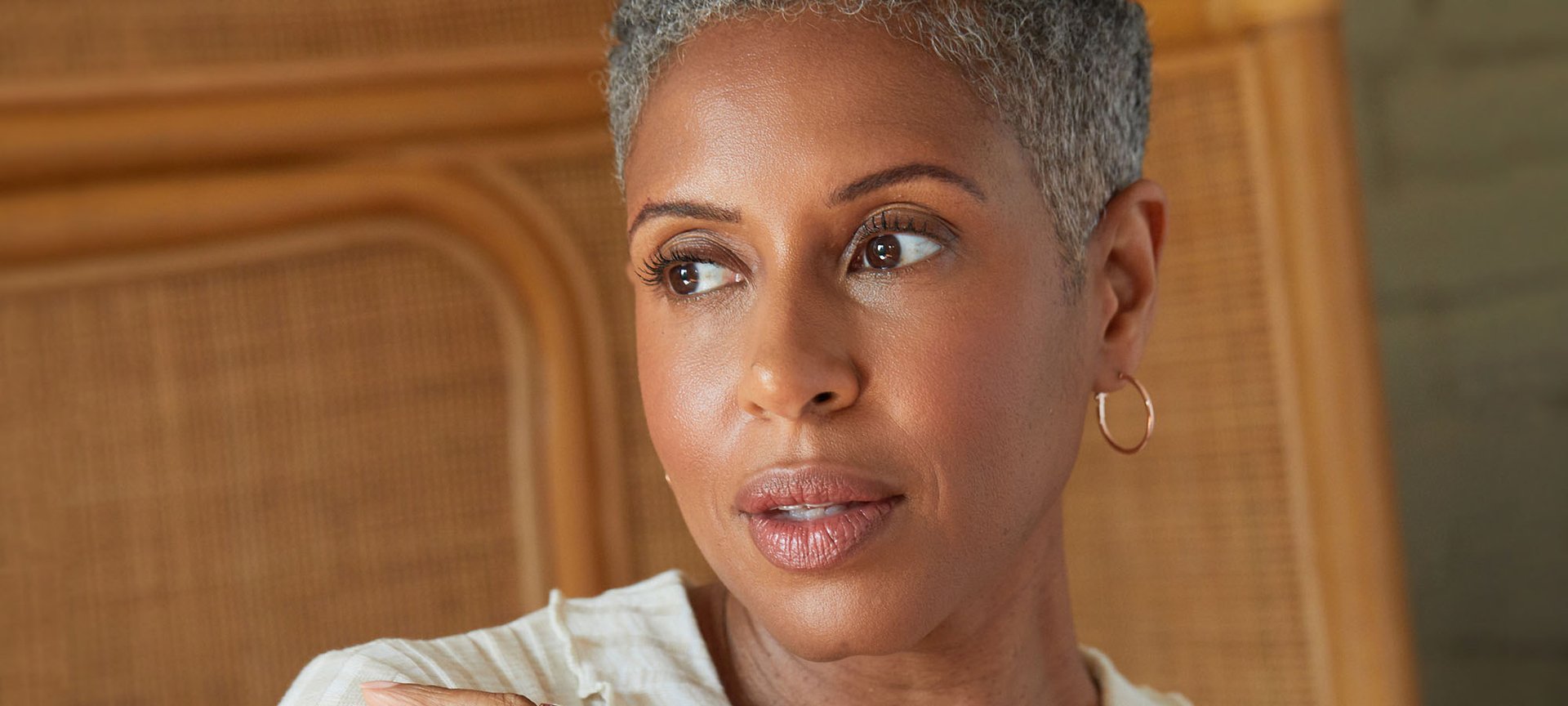 When it comes to your skin care routine, there's a pretty good chance that your goal is to keep your skin looking as youthful as possible — and forehead wrinkles most likely don't play a part in getting that fresh look. While fine lines and wrinkles are a fact of life (and it's totally okay to have them!), many people aren't looking to emphasize them.
If you've been layering on eye cream to tackle visible signs of crow's feet and scoping out the best ways to treat smile lines, have you also thought about how to get rid of forehead wrinkles? While you can't completely make wrinkles vanish, there are plenty of ways you can help minimize their appearance. Keep reading to learn about the causes of forehead wrinkles and find our seven best tips for dealing with them.
1. Keep Your Skin Hydrated
Wondering what causes wrinkles on the forehead? According to the Mayo Clinic, dry skin is caused by plump skin cells turning into shriveled ones, which can lead to fine lines and wrinkles. Something as simple as dryness could be the source of your biggest skin care concern — and that's an easy fix. Using a daily moisturizer that fits your skin type, like L'Oréal Paris Age Perfect Collagen Expert Day Moisturizer with SPF 30, will keep your skin hydrated and can help to temporarily mask tiny lines and creases.
Beyond using moisturizer to stay hydrated, you can also use moisturizing creams that are specifically formulated to help with the appearance of wrinkles. While you don't necessarily need a forehead wrinkle cream — that's extremely specific — a wrinkle cream in general isn't a bad idea. Try adding the L'Oréal Paris Wrinkle Expert 45+ Moisturizer and the L'Oréal Paris Wrinkle Expert 55+ Age Defense Lotion SPF to your routine. With the former including Retino-Peptide and the latter including calcium, both have anti-aging hero ingredients that can be used every day to smooth, firm and hydrate your skin.
2. Start an Anti-Aging Routine Sooner Rather Than Later
Whether you're 20, 40 or 60, there's no time like the present to start an anti-aging skin care routine. The Mayo Clinic states that as you get older, your skin naturally becomes less elastic and more fragile, produces fewer natural oils, and loses fat in the deeper layers of the skin. This can all result in more pronounced lines and crevices, and your forehead isn't excluded, so this may be your sign to start an anti-aging routine. There isn't one age you can predict you should have wrinkles by. Since there are a variety of causes and factors, wrinkles can show up in your 20s, or you can be wrinkle-free in your 40s.
So it's a good idea to start adding forehead wrinkle treatments and creams to your routine sooner rather than later. Need help getting started with your routine? Head over to our article, How to Start an Anti-Aging Skin Care Routine.
3. Grab a Vitamin C Serum
There are many anti-wrinkle skin care products on the market, so it's important to scope out ones that are formulated with ingredients that can best address your skin concerns. According to the Mayo Clinic, vitamin C is an antioxidant that can help protect skin cells from the damaging effects of free radicals.
We recommend using the L'Oréal Paris Revitalift Derm Intensives 10% Pure Vitamin C Serum as part of your forehead wrinkle treatment. This serum contains 10 percent pure vitamin C to help restore a healthy radiance and reduce wrinkles. Apply it morning and evening after cleansing and before moisturizing.
4. Don't Skip SPF
The Cleveland Clinic states that excessive exposure to ultraviolet radiation (too much sun) can result in premature aging of the skin, which includes unwanted wrinkles. To help prevent sun damage on your skin, the American Academy of Dermatology recommends using sunscreen with an SPF of at least 30 in addition to taking other sun protection measures. This can include sunscreen or moisturizers with built-in SPF.
We recommend the L'Oréal Paris Revitalift Triple Power Day Lotion SPF 30. This moisturizer contains broad-spectrum SPF 30, Pro-Retinol, vitamin C and hyaluronic acid to promote more youthful-looking skin and help fight wrinkles. It brightens skin tone, protects you from sun damage and firms up your skin — all while being ultra-hydrating and refreshing.
5. Use Hyaluronic Acid
Hyaluronic acid is another ingredient to look out for when on the hunt for products to help with the appearance of forehead wrinkles. According to the National Center for Biotechnology Information (NCBI), hyaluronic acid has been shown to be effective in decreasing the deep wrinkles and enhancing skin's firmness and elasticity.
To add hyaluronic acid to your routine, try the L'Oréal Paris Revitalift Derm Intensives 1.5% Pure Hyaluronic Acid Serum. This serum is formulated with pure hyaluronic acid to replenish hydration and reduce wrinkles for visibly plumped, younger-looking skin.
6. Try Face Yoga
While your facial expressions might cause wrinkles to appear, face yoga is a technique that can help reduce these negative effects. There are many different poses and exercises involved in facial yoga that target specific wrinkles. Facial yoga isn't just exercises, though — you can also try massages that can help stimulate your muscles, skin and lymphatic system. Try massaging your face with a gua sha tool — before you start, we recommend applying a face oil so the tool can glide more easily.
According to the Cleveland Clinic, in order to see results from doing facial exercises, you have to be dedicated to a nearly daily routine that lasts 20–30 minutes each.
7. Add Retinol to Your Skin Care Routine
Retinol is one of the star ingredients to help fight wrinkles. If you're looking to even out your skin tone, reduce wrinkles and achieve younger-looking skin, there's nothing like retinol to help with that. According to the NCBI, retinol can significantly reduce facial wrinkles and increase epidermal thickness (aka plump up your skin and boost collagen production) after four weeks of use.
A staple in almost every anti-aging skin care kit, one of our favorite products is the L'Oréal Paris Revitalift Pressed Night Moisturizer with Retinol and Niacinamide. It's gentle enough to use on your face, neck and décolleté, and the combination of wrinkle-fighting retinol and skin-brightening niacinamide makes for a more contoured, firmer face.
Next: Can You Get Rid of Smile and Laugh Lines?
Edited by: Catharine Malzahn, Photography: Chaunte Vaughn, Senior Art Direction: Melissa San Vicente-Landestoy, Senior Visual Designer: Hannah Packer, Associate Creative Producer: Becca Solovay, Makeup Artist: Jonet Williamson, Hair Stylist: Akihisa Yamaguchi, Wardrobe Assistant: Victoria Ochoa, Digital Tech: Kyle Thompson, Model: Roxanne Hancock
Discover more tips & tricks
Keep your skin happy
See all articles
Shop Featured Skin Care products
Discover More