anti aging
How To Tighten Sagging Skin And Improve Firmness
October 17, 2019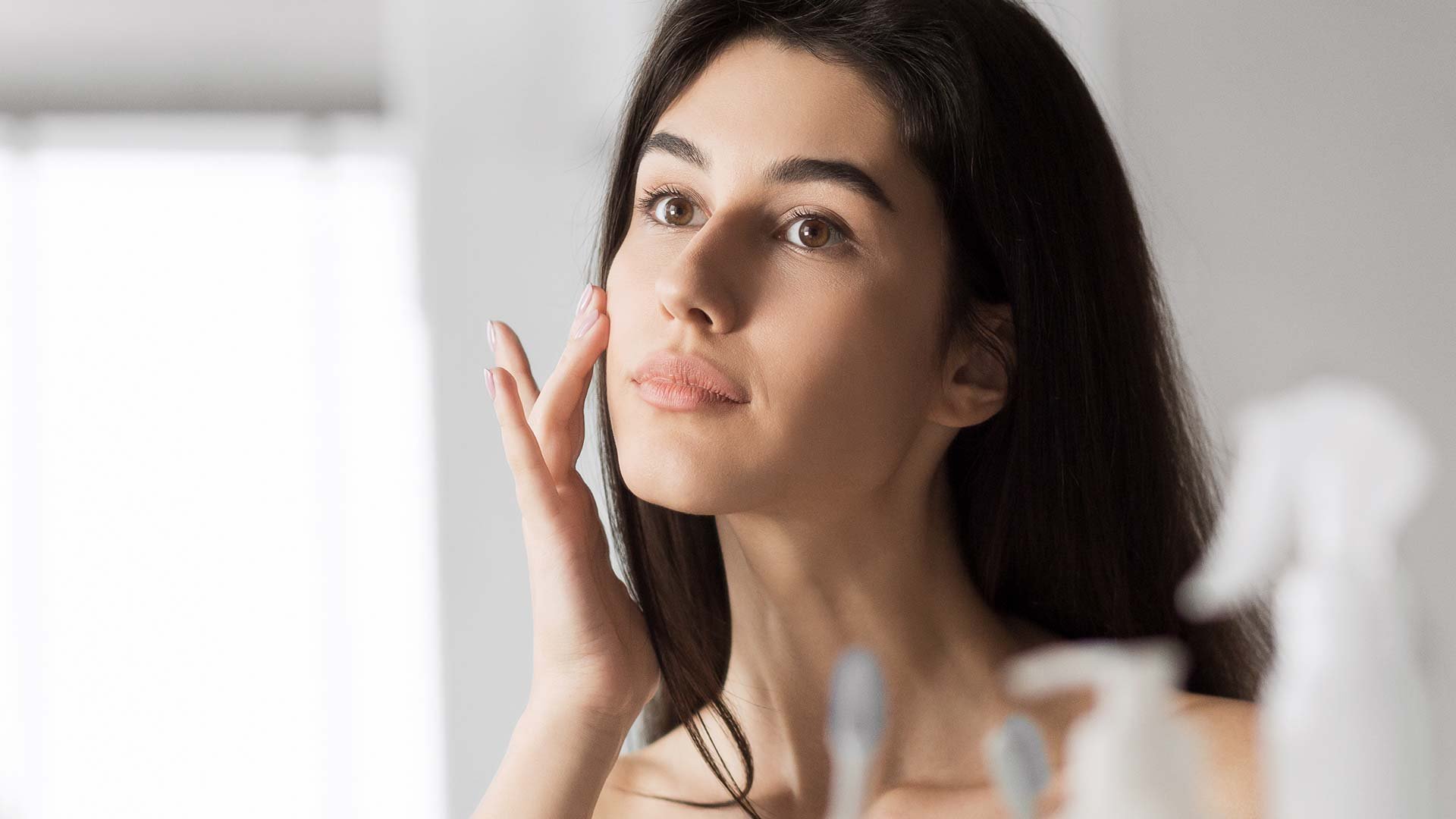 Unfortunately, sagging skin is an inevitable sign of aging for many women and men. It's also common to experience sagging skin after weight loss. However, while there are some factors that contribute to a lack of skin firmness that we simply cannot control (ahem, like aging itself), there are certain preventative measures that can help this skin care concern. To better understand how to tighten the skin's appearance, it helps to first understand what causes sagging skin.
WHAT CAUSES SAGGING SKIN?
According to the National Center for Biotechnology Information (NCBI), as you age, you experience a gradual loss of elasticity that leads to sagging skin. If you've noticed this side effect of aging and are in need of a skin pick-me-up, there are plenty of potent products you can add to your skin care routine that are formulated to help address the appearance of sagging skin. Read on for our top tips on how to keep premature skin aging at bay and help maintain skin firmness.
SKIN FIRMNESS TIP #1: USE SKIN CARE PRODUCTS FORMULATED WITH ANTIOXIDANTS
Today, antioxidant-infused skin care products, such as those formulated with vitamin B, vitamin C, and vitamin E, are becoming more and more popular as anti-aging must-haves—and for good reason. The NCBI states that the topical application of antioxidants can help to reduce oxidative stress on skin by protecting it from free radicals (which can lead to premature aging). With continued use of topical antioxidants, it's been shown that skin elasticity—a.k.a skin firmness—can be improved. Applying the L'Oréal Paris Revitalift Derm Intensives 10% Pure Vitamin C Serum is a great way to incorporate antioxidants into your skin care routine because vitamin C is a powerful antioxidant which helps to boost radiance and protect against free radicals which can cause visible signs of aging.
SKIN FIRMNESS TIP #2: APPLY SPF EVERY DAY
The sun's rays can cause more than a nasty sunburn and general skin discoloration. According to the Food & Drug Administration, sun exposure also negatively impacts the elastin in skin. Since elastin is a vital protein that helps maintain the elasticity of your skin, this can result in sagging over time. In fact, an NCBI study concludes that 80 percent of wrinkles and other visible signs of aging skin are the result of UV rays.
Sunscreen with broad-spectrum protection paired with other sun protection measures can help shield your skin against UV light that causes skin aging and damage. So get in the habit of applying sunscreen daily, at least 20 minutes before sun exposure, as an easy anti-aging measure. If you're short on time, try using a facial moisturizer with SPF like the L'Oréal Paris Revitalift Triple Power Day Lotion SPF 30 which is formulated with retinol and hyaluronic acid to help fight wrinkles, the L'Oréal Paris Age Perfect Rosy Tone Broad Spectrum SPF 30 Sunscreen which revives a healthy youthful tone, or the L'Oréal Paris Revitalift Bright Reveal Brightening Day Moisturizer SPF 30 which is lightweight and great for brightening. They all include SPF 30 for hydration that comes with sun protection.
SKIN FIRMNESS TIP #3: USE A FACIAL SERUM TWICE A DAY
If you haven't yet familiarized yourself with the skin care benefits of facial serums, now is definitely the time to do so. A few drops of a concentrated skin serum can go a long way in helping to improve your skin's firmness and elasticity. One powerful ingredient to look for when choosing a serum is hyaluronic acid—a naturally occurring substance within the skin that we have less of as we age. Apply the L'Oréal Paris Revitalift Derm Intensives 1.5% Pure Hyaluronic Acid Serum all over your face after cleansing and before your moisturizer, morning and night, being sure not to miss any areas that are prone to wrinkles and dryness. Another day and nighttime option is the L'Oréal Paris Age Perfect Cell Renewal Midnight Serum which helps boost the skin's cell renewal, revealing a smoother, more radiant, youthful looking complexion.
SKIN FIRMNESS TIP #4: TRY USING A RETINOID
According to the NCBI, retinoids (which are prescription strength retinols) have been found to increase cell turnover in the skin, improve the appearance of wrinkles, and increase skin firmness. Retinoids are powerful, so start slowly. Try applying one once every other day until your skin gets used to the potent formula. The L'Oréal Paris Revitalift Derm Intensives Night Serum, 0.3% Pure Retinol is a great pick because it's formulated with hydrating ingredients like glycerin and hyaluronic acid which help to counteract the potential drying effects of retinol.
SKIN FIRMNESS TIP #5: LAYER ON A NIGHT CREAM BEFORE BED
Restore your skin while you sleep! Apply a night cream that is formulated with extra rich hydration to nourish skin overnight, like the L'Oréal Paris Age Perfect Cell Renewal Night Cream. If you want to really pamper and care for your skin while you sleep, you can also consider using an overnight mask. The L'Oréal Revitalift Triple Power Anti-Aging Overnight Mask features a pro-retinol, vitamin C and hyaluronic acid which are three of the most effective anti-aging ingredients and help the skin to appear more radiant, smoother, and firmer.
Photo: Shutterstock
Next:
10 Skin Care Rules for Mature Skin
{ "@context": "https://schema.org/", "@type": "WebPage", "speakable": { "@type": "SpeakableSpecification", "cssSelector": ["speakable-content"] }, "url": "https://www.lorealparisusa.com/beauty-magazine/skin-care/anti-aging/how-to-tighten-sagging-skin" }
Discover more tips & tricks
Keep your skin happy
See all articles
Shop Featured Skin Care products
Discover More
{ "@context": "http://schema.org", "@type": "BreadcrumbList", "itemListElement": [ { "@type":"ListItem", "position": 1, "item": { "@id": "/", "name": "Home" } } , { "@type":"ListItem", "position": 2, "item": { "@id": "https://www.lorealparisusa.com/beauty-magazine", "name": "Beauty Magazine" } } , { "@type":"ListItem", "position": 3, "item": { "@id": "https://www.lorealparisusa.com/beauty-magazine/skin-care", "name": "Skin Care For Every Age" } } , { "@type":"ListItem", "position": 4, "item": { "@id": "https://www.lorealparisusa.com/beauty-magazine/skin-care/anti-aging", "name": "Anti Aging Skin Care" } } , { "@type":"ListItem", "position": 5, "item": { "@id": "https://www.lorealparisusa.com/beauty-magazine/skin-care/anti-aging/how-to-tighten-sagging-skin", "name": "how-to-tighten-sagging-skin" } } ] }