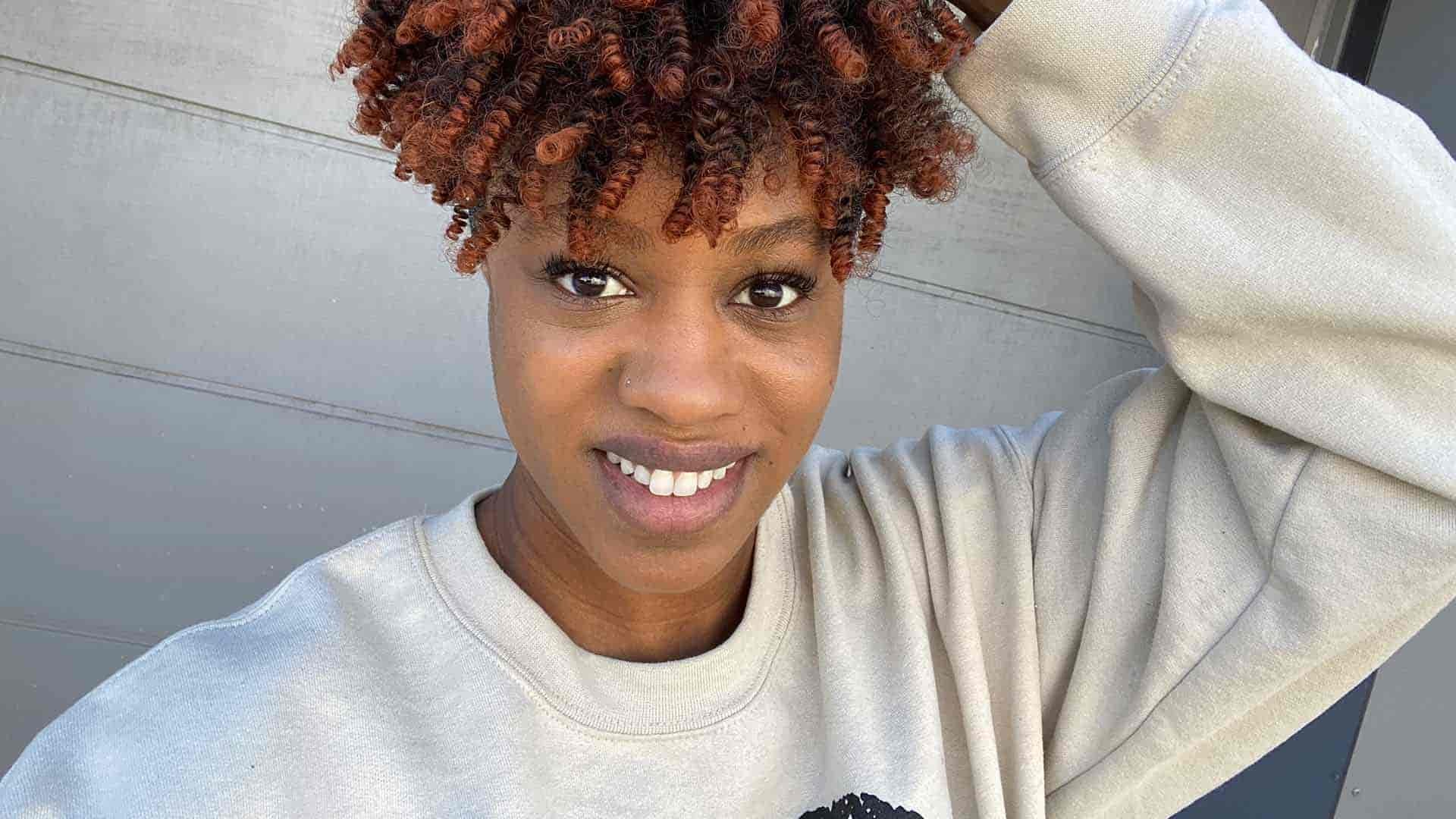 beauty trends
Skinimalism 101: Your Guide To The Easiest Beauty Trend Ever
Perfection is so last year.
If you've been hearing the term skinimalism in your beauty circles this year, and you're not sure what it is, you're not alone. If you search the term on Pinterest, you're likely to find pins of women with bare—yet still flawless-looking—skin. Still no help? Well, then you've come to the right place. Below, we're getting into all things skinimalism, including what it is, how it affects your beauty routines, and what you need (or don't need) to participate in the beauty-minimalist trend.

What Is Skinimalism?
In its 2021 Trend Predictions Report, Pinterest defined the term as the "new effortlessly chic routine [that's] simple and sustainable." Well if that doesn't pique your interest then we can't imagine what will. When it comes to beauty, especially in a post-pandemic age (protective face masks included), simple makes sense. This approach to slow beauty lets your natural skin texture shine through. So if you have acne scars, hyperpigmentation, enlarged pores, fine lines, or more, you don't have to feel like you need to hide them. Along with a less-is-more approach to makeup (no more caked-on looks), skinimalism is also about beauty-minimal skin care. Described as "the new glow up" in the major social media platform's report, it also entails stripping back your skin care routine to a more simplified regimen with little focus on products and more focus on a sustainable routine. That's less work for you and your wallet—it's a win-win!

How To Do Skinimalist Skin Care and Makeup
By no means does skinimalism mean that you can't continue to have fun with your colored eyeliner, shimmery shadow and bold lip colors. It just lets you embrace your face in all its natural glory. If you're not sure where to start on your journey to skinimalism, check out our simple tips below.
1. Try Multitasking Products
Stripping back your beauty routines doesn't mean removing effective products from your arsenal. The key is to find products that have high impact, and can tackle several concerns. Multi-tasking products make your routine easier to keep up with and more affordable. We love the L'Oréal ParisRevitaliftTriplePower Day Lotion SPF 30because it includes hyaluronic acid, vitamin C and Pro-Retinol. That means it reduces wrinkles, hydrates and brightens while offering a layer of sun protection through its broad-spectrum SPF 30. Another great multitasking option is the L'Oréal ParisTrue Match Eye Cream in a Concealer, 0.5% hyaluronic acid which helps cover dark circles while hydrating under-eyes and improving the look of the area over time.
2. Swap Your Foundation For A Tint
Whether you prefer a tinted moisturizer or a tinted serum, both options can deliver bare, lightweight coverage while infusing your skin with a dose of hydration that lasts through the day. Try the L'Oréal Paris Skin Paradise Water Infused Tinted Moisturizer or the L'Oréal Paris True Match Nude Hyaluronic Tinted Serum for hydrated and glowing skin that looks like skin—your skin but fresher. It can replace your foundation for everyday natural looks or even on special occasions when you want to highlight other features of your face while keeping the base simple.
3. Exfoliate Weekly
It's easy to embrace your skin texture when it feels smooth and soft, of course. If you want to naturally get glowing, adding an exfoliating face wash or exfoliating serum into your skin care routine can help improve your skin texture over time. Reach for the L'Oréal Paris Revitalift Derm Intensives 3.5% Glycolic Acid Cleanser and the L'Oréal Paris Revitalift Derm Intensives 10% Pure Glycolic Acid Serum to help you gently polish away dull skin and rebalance your complexion for a healthier look.
The cleanser is so gentle you can use it daily as part of your face washing ritual morning and evening (it's even suitable for sensitive skin). And you can incorporate the serum into your routine a couple of times a week, slowly building up to nightly use. How often you can exfoliate will depend on your skin, so pay attention to how it reacts and modify as necessary.
Next: A Minimalist Skin Care Routine That Works
Written and Photographed by: Shalwah Evans
Discover more tips & tricks
Keep your skin happy
See all articles
Shop Featured products
Discover More