makeup looks
21 Gorgeous Prom Makeup Ideas for 2019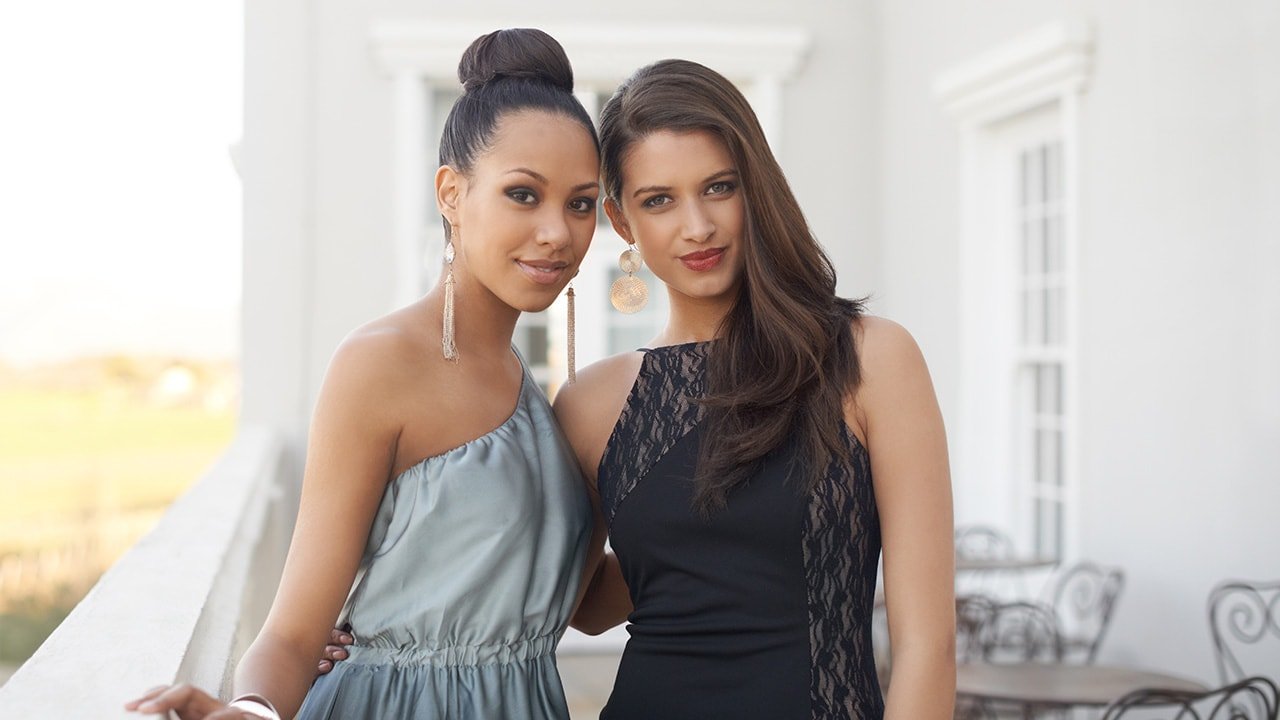 Spring is officially here, which means two things: You can finally shift your winter clothes to the back of our closet and, more importantly, prom is just around the corner! With dress shopping swinging into full gear, there's a good chance that you've already selected your shoes and a clutch to match—and maybe you've even looked at the most popular prom hairstyles for 2019. But what about your prom makeup? You won't want to sit down at your vanity and wing it on the night of, we recommend researching the biggest prom makeup trends for 2019 so you can make an educated choice. From rainbow eyeliner and brightly pigmented warm eye shadows, to metallic lipstick and cut creases, you have plenty of options when it comes to pretty prom makeup. Below, we share 21 prom makeup looks to consider. Read on and choose your favorite—or mix and match a few!
PROM MAKEUP LOOK #1: GLOWING SKIN
You can't go wrong with skin that glows—and that all starts with the right skin care routine. Prep for prom by using a face scrub, like the L'Oréal Paris Pure-Sugar Smooth & Glow Grapeseed Scrub, then apply a hyaluronic acid moisturizer, like the L'Oréal Paris Hydra Genius Daily Liquid Care for Normal/Dry Skin. Before you reach for your foundation, use a radiant finish primer, like the L'Oréal Paris Infallible Pro Glow Lock Makeup Primer, which will pair perfectly with the L'Oréal Paris Pro Glow Foundation. Finish off your glowing-from-within look with a few drops of the L'Oréal Paris True Match™ Lumi Glow Amour Glow Boosting Drops on the tops of your cheekbones. After that, you're ready to glow all night!
PROM MAKEUP LOOK #2: RAINBOW EYELINER
With so many technicolor eyeliners out there, it'd be a shame not to incorporate them into your biggest night out. All you have to do is use a few different shades of liquid eyeliner to line your lash line evenly. You can choose to actually emulate the rainbow or pick a handful of liners in coordinating shades to create an ombré effect. For example, if you're wearing a dress that's in the blue, green, or teal families, try using your cool-toned eye makeup for a gradient that matches your dress. Try the L'Oréal Paris Infallible Paints Eyeliner, which comes in shades like electric blue, green, and teal.
PROM MAKEUP LOOK #3: PEACH EYES
When the weather starts warming up, you'll notice that warm makeup shades seem to instantly trend, too. Our favorite for prom? Peach! Peachy makeup looks are undoubtedly big right now, and peach shadow is perfect for creating a soft prom makeup look. All you need is the L'Oréal Paris Colour Riche Quads in Shopping Spree to add a peach accent to your smoky eye. Pair your eye makeup with a peachy blush, such as the L'Oréal Paris Paradise Enchanted Fruit-Scented Blush Makeup in Just Curious, and your peachy prom look will be complete.
PROM MAKEUP LOOK #4: CUT CREASE
Want to add a professional makeup artist touch to your prom makeup? Look no further than the cut crease. Using the colors of your choice, you'll need a creamy eyeliner, a few eye shadows in the same color scheme, and an almost-white shadow to use as a highlight. Try the L'Oréal Paris Colour Riche Quads in Stacked Heels palette to create your cut crease using pretty purple shades. Here's how to get the look:
Step 1: Lay down your base shade
Start with the lightest shadow—not including your highlight—and use it to create your base. With a fluffy eye shadow brush, apply an even dusting of shadow over your entire upper eyelid.
Step 2: Create your cut
Next, use the L'Oréal Paris Infallible Pro-Last Waterproof Pencil Eyeliner in Purple to sketch a sideways V shape from the outer corner of your eye toward the middle of your crease. Make sure that the line is thicker toward the outer corner and thinner along your crease.
Step 3: Blend—with a light hand
Use a blending brush to blend the eyeliner out toward the outer corner of your eye without disrupting the sharp bottom edge of your cut crease. To give your crease more definition, use the darker colors of your quad to blend above the line without getting any shadow on the underside of the crisp cut.
Step 4: Add highlights
To finish your look, use the almost-white color to highlight just under your brow bone. Top your lashes off with a coat of the L'Oréal Paris Voluminous X Fiber Mascara and you're ready to slay!
Now, remember: If you choose to go with this method, you'll want to practice it a few times leading up to the big dance, as this particular statement eye requires precise blending to look just right. For a more in-depth tutorial on how to create a cut crease look, read our article, How to Create a Cut Crease.
PROM MAKEUP LOOK #5: METALLIC LIPS
Here in 2019, we're mad about metallics. From metallic eyes to metallic highlighters, we've tried just about every look in the book. But now, metallic lips have hit the scene and to say we're obsessed is an understatement. For serious shimmer, get your hands on the L'Oréal Paris Infallible Paints/Lips Metallic collection, which offers four beautiful, metallic lip colors. Trust us, with a pout so pretty, you won't even need to deck yourself out in jewelry!
PROM MAKEUP LOOK #6: sunset eye makeup
If your friends all say you have a bold personality, perhaps a bolder eye makeup look will be what you want for this year's prom. We say, go for it! One of the most on-trend eye makeup looks of the season is the sunset eye, and with just a few tips it's easy to recreate yourself. For a full tutorial on sunset eyes, head to our article, How to Create a Sunset Eye.
PROM MAKEUP LOOK #7: pastel eye shadow
Another eye makeup look that's everywhere right now, which we also happen to love, is pretty pastel eye shadow. For this look, choose a pastel shadow in a shade that complements or matches your prom dress. For example, if your dress is a shade of pink, pair it with a pastel pink shadow, like the L'Oréal Paris Infallible 24HR Eye Shadow in Always Pearly Pink. Or, if you're wearing a shade of blue, pair it with a pastel blue eye shadow, such as the L'Oréal Paris Infallible 24HR Eye Shadow in Timeless Blue Spark. With this look, the options are endless, so go ahead and customize it to match your outfit.
PROM MAKEUP LOOK #8: Matte nude lips
For a more understated but still trendy lip look, consider matte, nude lips. The matte lipstick shades of today come in a variety of nude tones, so you can find one that complements both your skin tone and your dress. Once you do, you'll also want to follow these steps to apply:
Step 1: Prep your pout
Using a gentle lip scrub can help prep your lips for more even application—and help your lip color last longer. You can also use a face scrub that doubles as a lip scrub, such as the L'Oréal Paris Pure-Sugar Nourish & Soften Cocoa Scrub.
Step 2: Line your lips
Don't skimp out on lip liner! Using the L'Oréal Paris Colour Riche Matte Lip Liner in Matte's It, gently trace around the outer edges of your lips. You can also fill in your lips completely for even more staying power.
Step 3: Fill in with color
Next, coat your lips in a gorgeous dark nude lip color, such as the L'Oréal Paris Colour Riche Ultra Matte Highly Pigmented Nude Lipstick in All Out Pout. Pucker up and you're all set!
PROM MAKEUP LOOK #9: classic cat eye
Certain looks are classics for a reason! A black cat eye is one of those, it's timeless and will go well with whatever you're wearing. Of course, mastering a cat eye isn't the easiest thing ever. That's why we've rounded up 7 Hacks for the Perfect Cat Eye.
PROM MAKEUP LOOK #10: bold brows
We happen to think that a set of bold, filled-in brows will pair perfectly with any makeup look you're going for. Not only that, but thanks to new long-lasting products, you can expect your eyebrow makeup to last through the entire night—even if your night is guaranteed to involve working up a sweat on the dancefloor. What's more, filling in your brows doesn't have to be a laborious process: Just fill in sparse areas with the L'Oréal Paris Unbelievabrow Longwear Waterproof Brow Gel, then use the included spoolie to comb through your brows for a natural-looking finish. Voila!
PROM MAKEUP LOOK #11: metallic eye
As we said, we love metallic makeup! If you don't want to opt for the aforementioned metallic lip look, try it on your eyes instead. The L'Oréal Paris Infallible Crushed Foils Metallic Eye Shadow comes in three lovely shimmery shades, so you can add a bit of metallic sparkle to your lids.
PROM MAKEUP LOOK #12: smoky eye
If you're looking for a makeup look that won't look outdated a few years down the line—remember, it will be preserved forever in your prom pictures—consider our favorite go-to eye makeup look: the smoky eye. What's great about the smoky eye is that in addition to pairing well with every outfit and also being timeless, you can customize it to be as dramatic or as subtle as you wish. To help get you started, here are 8 Tips for the Perfect Smoky Eye.
PROM MAKEUP LOOK #13: dark purple lip
Of course, you can never go wrong with a dark purple lip, and adding a matte finish into the mix will just kick things up a notch. Try the L'Oréal Paris Infallible Pro-Matte Liquid Lipstick in Deeply Disturbed or Roseblood for a dramatic, eye-catching lip color.
PROM MAKEUP LOOK #14: pale pink everything
For a softer, more subtle eye makeup look, you can't beat pale pinks. We particularly love a pink eyeshadow look that also has a bit of shimmer. Here's how to get the look:
Step 1: Prep yourself
To ensure that any eye makeup look will last, you'll want to use an eye shadow primer on your upper eyelids.
Step 2: Add a light layer
Using the L'Oréal Paris Colour Riche Pocket Palette Eye Shadow in Avenue Des Roses, dust the lightest shade of pink onto your lids.
Step 3: Add a second pink shade
With a thin eye shadow brush and the second lightest pink from the palette, blend the color onto the outer corners of your upper eyelid and along your bottom lash line.
Step 4: Liner and lashes
Line your top lash line with the L'Oréal Paris Infallible The Super Slim Liquid Eyeliner in Black, then add a few coats of the L'Oréal Paris Unlimited Lash Lifting and Lengthening Washable Mascara in Blackest Black. Simple and oh-so-pretty!
PROM MAKEUP LOOK #15: silver glitter eye makeup
For a more intense glam look, why not try silver glitter? Don't be intimidated, here's How to Pull Off Silver Glitter Eye Makeup.
Editor's note: We have a feeling you might also need to know How to Remove Glitter Eye Makeup!
PROM MAKEUP LOOK #16: orange eye makeup
It is spring, after all, so it's the perfect time of year to rock a brighter eye makeup look. Orange shades have been trending on runways and in fashion magazines alike, and we'd encourage you to try the orange eye makeup look for yourself. You could try an orange eyeliner look, or go for orange eye shadow—it's all up to you.
PROM MAKEUP LOOK #17: chocolate lipstick
You'll surely be wearing your favorite fragrance on prom night, but have you considered scented beauty products? A chocolate lipstick—one that both smells and looks like chocolate—is the perfect pick. Try the L'Oréal Paris Infallible Pro Matte Les Chocolats Scented Liquid Lipstick, which comes in six yummy shades.
PROM MAKEUP LOOK #18: magnetic eyelashes
Adding a pair of false eyelashes for prom night will elevate any eye makeup look you're going for. When it comes to falsies, one of the best and trendiest options is magnetic eyelashes. Rather than the old-school glue-on lashes, magnetic lashes are—you guessed it—magnetic! They are comprised of two stripes of lashes, one that goes on top and one that goes on the bottom of your natural eyelashes, and they connect via a magnet to stay in place. Don't worry, they're not as difficult to apply as they might sound. But as always, we've got your back with an in-depth tutorial. Here's How to Apply Magnetic Lashes.
PROM MAKEUP LOOK #19: coral cheeks
Coral is the color of the year, so it makes sense that you may want to incorporate it into your prom look. If you don't have a coral dress, the perfect way to do that is with your makeup. Rather than wear your typical pink blush, why not give coral a spin? First things first, you'll want to pick up the L'Oréal Paris Visible Lift Color Lift Blush in Coral Lift. Next, it's a good idea to read up on exactly How to Wear Coral Blush.
prom makeup look #20: sheer smoky eye
Also known as the lived-in smoky eye, the sheer smoky eye is a more wearable and understated version of the classic eye makeup look we discussed earlier. This is a great eye makeup option if your dress is on the bolder or brighter side, and you're trying to keep your makeup look minimal without going too understated. Does that sound like exactly what you're going for? Here's How to Create a Sheer Smoky Eye.
prom makeup look #21: blue eyeshadow
We would be remiss if we didn't mention blue eyeshadow in this round-up, since it's one of the trendiest and coolest colors of the moment. Even if your dress isn't blue, this eye makeup look can really make your eyes pop—and pair well with whatever you've chosen to wear. Not sure which blue hue to choose, let alone how to apply it for yourself? Here's How to Wear Blue Eye Shadow.
And just like that, you'll be able to dance the night away and look fabulous doing it! For more prom ideas, here's Your Prom Fashion and Beauty Checklist.
Discover more tips & tricks
Keep your skin happy
See all articles
Shop Featured Skin Care products
Discover More