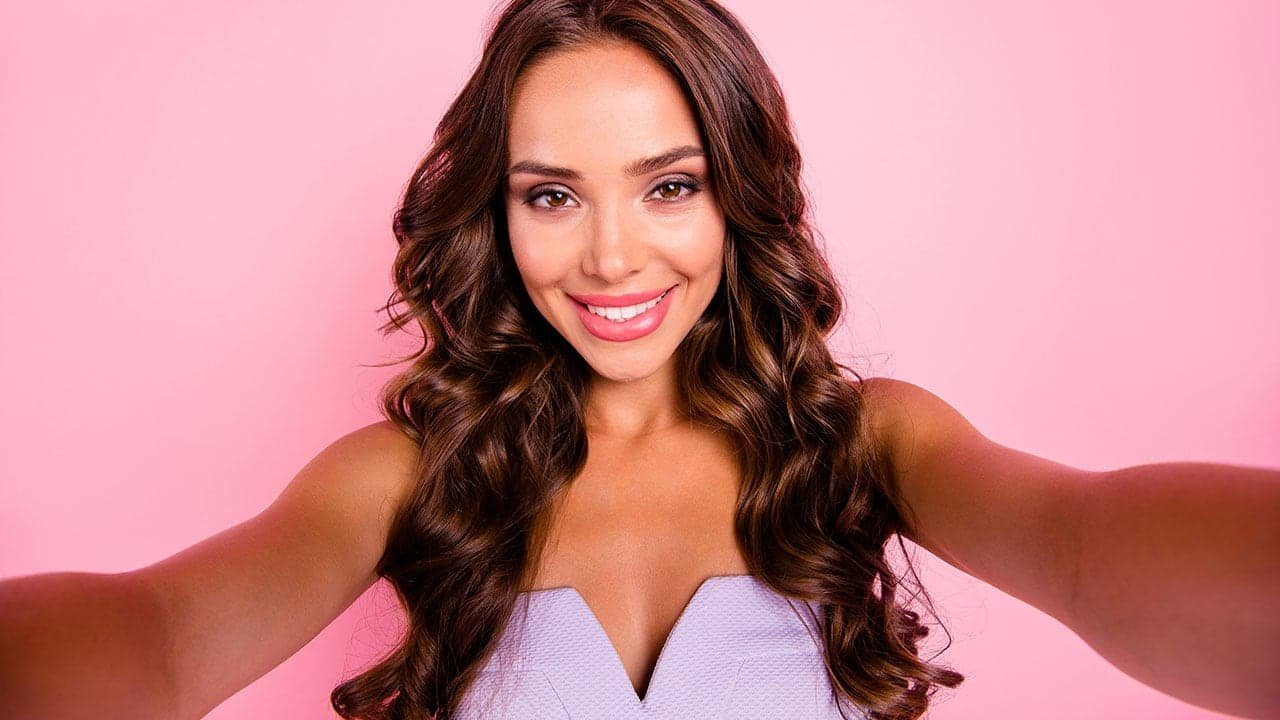 updo and bun hairstyles
25 Gorgeous Prom Hairstyles for 2021
First comes the perfect prom-posal. Then comes the gorgeous prom dress. All that's left after that is nailing down the right prom beauty look, including a glamorous hairstyle. From updos and chignons to super-straight strands and old Hollywood beachy waves, it can get tricky trying to narrow down your choices and deciding on a single hairstyle to rock. Prom might look different from previous years this time around, but you still want your 'do to look just as fabulous. To help you make up your mind, we've rounded up 25 of our favorite prom hairstyles to wear this year, from a high pony to braided buns and short wavy bobs. Read on to get some more mane inspo, along with the hair products you can use to create each look.
Prom Hairstyles For Short Hair
It's all about the technique when it comes to achieving the perfect prom hairstyle on short hair. Below, find seven beautiful looks for shorter lengths.
Hairstyle #1: Pixie Cut With Side Bangs
For a cool way to upgrade your classic pixie haircut, try a pixie with bangs. This look keeps your strands short while allowing you to frame your face with bangs. You can also use the dip-dye trend to paint your bangs for a colorful accent. Grab the L'Oréal Paris Colorista Hair Makeup Temporary 1-Day Hair Color Spray to try out different colors.
Hairstyle #2: Faux Hawk
Are you seeking an edgy hairstyle to wear to prom? Look no further! Not only is a faux mohawk hairstyle on trend, but it can also give your prom beauty look the perfect combination of glam and rocker chic vibes. For a step-by-step tutorial, head on over to our article, How to Rock a Faux Hawk Hairstyle.
Hairstyle #3: Wavy Bob
A sassy, wavy bob is great for a classy prom look. Rub a small amount of the L'Oréal Paris Dream Lengths Frizz Killer Serum Leave-In throughout your strands to smooth out any hair flyaways. If you plan on using hot tools, be sure to use a frizz-taming heat protectant, like the L'Oréal Paris Elvive Dream Lengths Heat Slayer Pre-Iron Spray Leave-In. It has a lightweight formula that will offer up to 450-degree heat protection and works as a leave-in spray to reduce frizz.
Hairstyle #4: Stacked Mini Buns
With three buns delicately spun and stacked on top of your head, you'll be able to make a major hair statement while keeping your strands up and out of your face. Get the look using the L'Oréal Paris Elvive Dream Lengths Air Volume Dry Shampoo to add some texture and body to your mane. Once your hair has fully dried, split it into three sections, and twist each section into a miniature bun. Complete the look by securing the buns with a few hair ties and bobby pins.
Hairstyle #5: Short Natural Curls
Not only does this style allow you to rock a gorgeous set of curls, but you also don't have to worry about using any heat. Apply a styling product like the L'Oréal Paris Elvive Dream Lengths Super Curls Cream Leave-In and gently scrunch to style your curls across your entire head. Be sure to lay your edges in front using an edge brush and a bit of gel, like the L'Oréal Paris Advanced Hairstyle LOCK IT Clean Style Gel. Learn how to lay your edges by checking out our article, How To Lay Edges and Perfect Your Baby Hairs.
Hairstyle #6: Long Hair Extensions
Just because you have short hair doesn't mean you can't rock beautiful, long strands for prom. Simply grab some hair extensions and style away for a total beauty makeover. Not sure how to seamlessly blend your extensions with your actual hair? Here, find 5 Tips for Styling Hair Extensions.
Hairstyle #7: Swept Back Hair
When you have shorter strands that don't fit into an updo, it can be a challenge trying to keep your hair out of your face—a necessity when you're planning to dance all night (possibly in a protective face mask)—and we have a solution. Grab the L'Oréal Paris Elnett Precious Oil Satin Hairspray and create a swept back hairstyle that will allow you to show off your 'do in the back while also keeping your face free. For a full tutorial read our article, How to Get a Short Swept Back Hairstyle.
Prom Hairstyles For Medium Hair
With a bit more length to work with, you can create stunning braided hairstyles, twists, and curls. Check out the mini tutorials below to start planning your prettiest prom hair yet.
Hairstyle #8: Bubble Ponytail
For a simple hairstyle that will complement more dramatic makeup, try opting for a bubble ponytail. Create a center part and section off face framing pieces at the front of your head. Then gather the rest of your mane into a ponytail and pull at the hair on the crown of your head to add volume. Finish off by adding in three to four clear elastics an inch apart down the length of your ponytail and gently tug at a few pieces of hair to give it a bubble effect.
Hairstyle #9: Spiral Curls
Tight, spiral-shaped ringlets are especially fun for the big dance since they'll bounce with your every move throughout the night. If you have wavy or curly hair, try using the L'Oréal Paris Elvive Dream Lengths Super Curls Leave-In, a deeply nourishing hair cream that can help create soft and bouncy curls. Apply a generous amount of product to damp hair, scrunch, and then you're all set! For a full tutorial, read our article, How to Get Spiral Curls.
Hairstyle #10: Triple Braid High Bun
Give your updo an upgrade with a braided hairstyle. Start by creating three separate small-sized Dutch braids on one side of your head, then gather all of your hair into one high ponytail. Use a curling iron on the lengths of your ponytail and then create a bun by pinning the curls up. Complete the look with a few spritzes of the L'Oréal Paris Elnett Satin Hairspray Strong Hold.
Hairstyle #11: Fishtail Braid
Embrace romantic, bohemian vibes by twisting your mane into a beautiful fishtail braid. Simple yet totally elegant, leave a few face-framing strands loose for an even more romantic touch. Start by applying some of the L'Oréal Paris Elvive Dream Lengths Air Volume Dry Shampoo directly onto your roots to give them a lift. To perfect your fishtail braid, check out our article, How to Do a Fishtail Braid.
Hairstyle #12: Pretzel Bun
Apart from being tasty, pretzels—more specifically, pretzel buns—are rather pretty, too! To rock this food-inspired prom hairstyle, start off with freshly washed damp hair. Using a boar bristle brush, gather all of your strands into a low ponytail, split it into two sections, and twist each to the ends. Then, take the two separate sections and twist them around each other to create your rope. Loosely wrap your rope braid around itself to create a romantic low bun that looks like the twists and turns of a delicious pretzel.
Hairstyle #13: Tucked Fishtail Braid Updo
Sometimes, the perfect prom hairstyle is just a simple twist on your everyday look. If fishtail braids are your signature style, try upgrading them for prom by turning them into a refined updo.
Start by styling your strands with the L'Oréal Paris Advanced Hairstyle BOOST IT Volume Inject Mousse. Using a rat tail comb, tease the hair at the crown of your head to create lift and brush your hair into a low ponytail. Read our article, How to Do a Fishtail Braid to learn how to get the complete look.
Hairstyle #14: Rhinestone Bun
Love the idea of a simple bun hairstyle but want to take it up a notch for your special night? Consider accessorizing your bun with rhinestones. This easy-to-do hairstyle will garner attention all night and it offers a great way to play up a more simple dress and neutral makeup look. Learn how to get a sleek and polished bun in our article, How to Create a Sock Bun.
Prom Hairstyles For Long Hair
While your hair length is perfect for classic styles such as voluminous curls, we're here to inspire you to try a few new styles with the following looks.
Hairstyle #15: Sleek High Ponytail With Flipped Ends
Consider rocking a sleek ponytail with flipped ends for prom. This trendy '60s inspired hairstyle has taken over our social feeds and we stan for it! It's also a great option to keep your hair out of your face. Use a flat iron to create flips towards the end of the hair and repeat this process across all the sections until you are done. Finish off the look by spraying your ends with the L'Oréal Paris Elnett Satin Hairspray Extra Strong Hold Volume Spray to help add volume to the style and keep it in place.
Hairstyle #16: Voluminous Curls
Voluminous curls are a timeless hairstyle whether you're attending prom or on a virtual red carpet. If you're on the hunt for a glamorous but super easy hairstyle for your prom beauty look—this is it! Get the style by reading our article, How to Create Voluminous Curls on Any Hair Type.
Hairstyle #17: Box Braids
If protective styles are your forté, then you've likely tried out box braids. If not, now's a great time to consider styling your strands into box braids. From knotless to jumbo, there are various styles and lengths you can go for. Plus, you can choose to wear them long, styled into a bob, or twist them up into a high bun. For this style, head over to our article, How to Create Box Braids to learn more.
Hairstyle #18: Zipper Braid
If intricate hairstyles are your thing, you're in for a treat! This zipper braid hairstyle is sure to turn heads at prom. Check out our article, How to Create a Zipper Braid for everything you need to know.
Hairstyle #19: Waterfall Braid
There's just something about a braid that can instantly upgrade just about any hairstyle, and a waterfall braid is no exception. Pair it with loose, voluminous curls for a dreamy prom hairstyle that's straight off your Pinterest board. Read our tutorial, How to Create a Waterfall Braid, to learn how to get the look.
Hairstyle #20: Center Part With Face Framing Waves
A center part can be the perfect way to make any hairstyle appear polished. And adding face framing waves to the bottom sections of your hair will give off an effortless and sophisticated look. Be sure to use a frizz-taming heat protectant, like the L'Oréal Paris Advanced Hairstyle Sleek It Iron Straight Heatspray.
Hairstyle #21: Double Dutch Crown Braid
If there was ever an occasion that called for a regal beauty look—it's prom. Give your mane a hairstyle worthy of a queen with a beautiful braided crown. We recommend checking out some online tutorials on creating a double Dutch crown braid or for an easier style read our article, How to Create a Beautiful Crown Braid.
Hairstyle #22: Slicked Back With Curls
If you would rather keep your strands out of your face on prom night, slicked-back strands with lustrous curls are a fabulous choice. This look exudes edge and sophistication, and it's seriously stylish. Start by applying a small amount of curl mousse to your damp strands, then scrunch your hair and wait for it to air dry. Once your mane is dry, apply a bit of strong-hold gel, like the L'Oréal Paris Advanced Hairstyle LOCK IT Clean Style Gel, and brush your strands toward the back of your head. Add a few bobby pins, fluff your curls, and you're good to go!
Hairstyle #23: Faux Lob
Don't have short strands but want to rock a short look for prom? No problem! A faux lob hairstyle will let you try out short hair for the night without making a big commitment. Read our article, How to Wear a Faux Lob Hairstyle, to learn how to create this temporary short hairstyle.
Hairstyle #24: Braid Hawk Ponytail
Make a fashion statement like no other with another take on the faux hawk! This braided ponytail version is equal parts girly and edgy. Gather your mane into a high ponytail, braid it all the way down, then tie it off with a clear elastic. Gently pull your braid apart for a fuller effect and spritz it with the L'Oréal Paris Elnett Satin Hairspray Strong Hold to keep your strands in place.
Hairstyle #25: Half-Up Top Knot
Get the best of both worlds by putting your mane into a half-up top knot. This is the perfect 'do for those who can't decide if they should wear their hair up or down for prom. Head on over to our article, How to Weave a Half-Up Braided Top Knot to learn how to create this look on yourself.
Photo Credit: Alexandra Pannell, @alexandra.pannell
Discover more tips & tricks
Keep your skin happy
See all articles
Shop Featured Hair Style products
Discover More