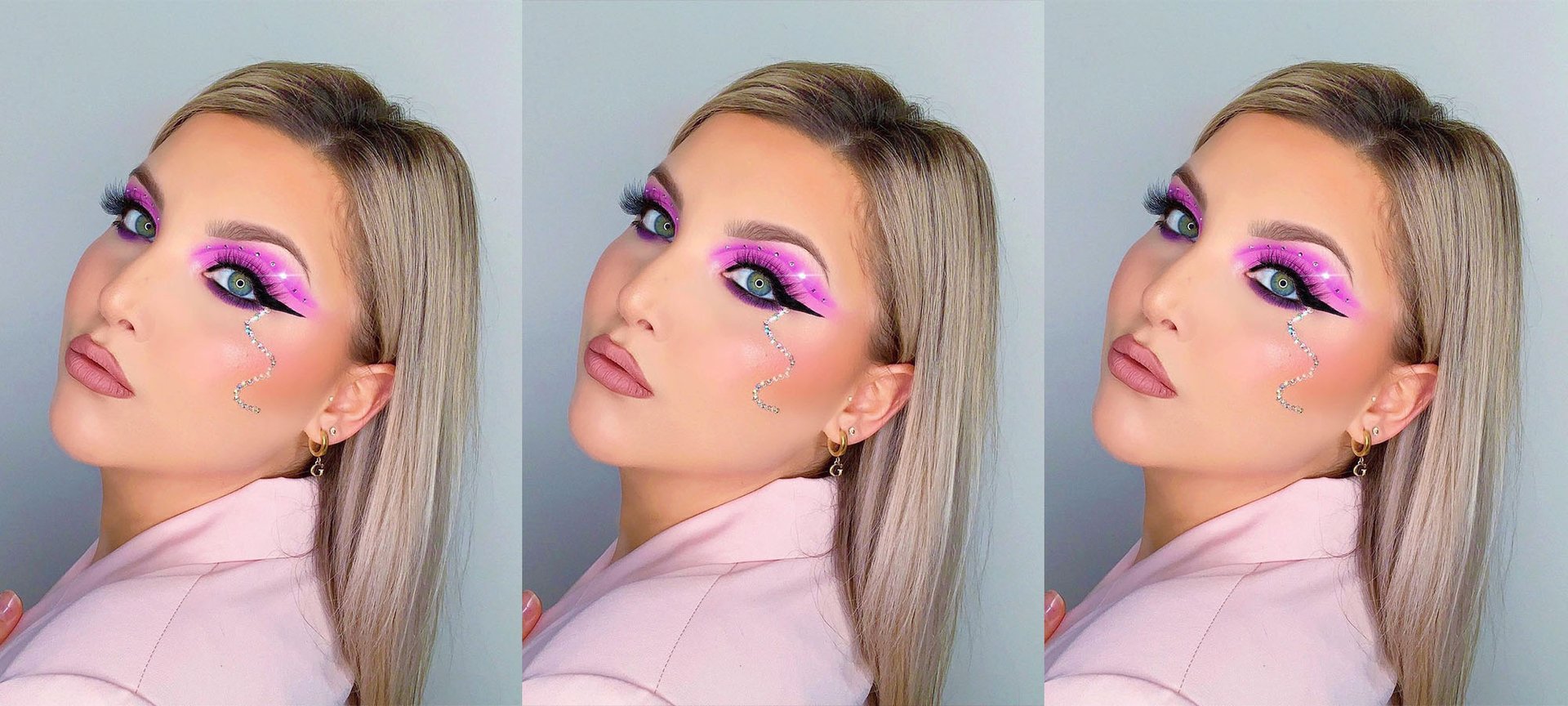 makeup looks
12 Chic Last Minute Halloween Makeup Ideas
These looks are so good, they'll haunt you.
There's nothing scarier than rushing to find a last minute Halloween look. Whether you've run out of eerie ideas or just pressed for time, the easiest option might be to skip the costume shop and pull together something spectacular from your makeup shelf instead. Just because it's Halloween doesn't mean your whole look has to be a horror show. You can use your favorite everyday makeup (and a few spooky accessories) to create a Halloween look that's both flattering and holiday festive. Keep reading, as we share twelve shockingly beautiful last minute Halloween makeup ideas that are chic enough to wear any day of the week.




Spidery Smokey Eye
For a look that's easy to pull off on the fly, give this spiderweb eye makeup a try. It features a frosty soft glam face with a dark and shimmery smokey eye. To give this look a Halloween twist, add a blinged-out web to the corner of one eye. Rock this look for a date night by just skipping the web. Check out the look here.
Purple Cow Print Shadow
Move over cheetah print, this purple cow makeup is putting a vibrant violet spin on the typical animal patterns. While the fierce eye shadow is a look on its own, up the stakes by adding a glittery purple lip for a bit more Halloween flare. Check out the look here.

Emerald Green Glam
When you need to go from fashion to frightening, this gorgeous green monochromatic makeup is the perfect costume chameleon. These rich, emerald shades look magnificent in the light of day and this makeup look can easily be adapted into Halloween cosplay. Check out the look here.

Posh Polka Dot Peepers
You should never be afraid of a dramatic makeup look, especially on Halloween. This eye-popping black and white polka dot eye makeup is giving serious Cruella vibes while being sultry and chic at the same time. Check out the look here.

Pretty In Hot Pink
This neon pink graphic eye is an electrifying look. If you've been tempted to try a fluorescent shade, Halloween is the perfect time to treat yourself to an out-of-the-crayon- box makeup look. Start your day with just the hot pink eye makeup and then you can add some flowery face designs to transition it to the evening. Check out the look here.



Rhinestone Butterfly
Flutter your way through Halloween (day and night) with this bright and blingy butterfly eye.
This elegantly artistic eye makeup is perfect for costume butterfly makeup and still manages to create a flirty and playful everyday beauty look using bold pink and purple shades. Check out the look here.

Good vs. Evil Eyes
Show your true colors this Halloween with this devilishly good two-toned makeup. On one side is a ruby red devil look and on the other a heavenly bronzed angel eye. With a few tweaks, this double-sided face makeup can work from day to night so you won't have to choose sides. Check out the look here.

Sea Chic Mermaid
For a swimmingly chic Halloween look, you can't go wrong with this breathtaking mermaid makeup. The striking holographic eye colors create an otherworldly look and the iridescent pastel lip hue adds some enchantment to your entire face. Wear it without the fish scale contouring for a daytime face fit for the modern siren. Check out the look here.


Solid Gold Glitz
This glamorous gold makeup look can brighten up the hottest of runways or the most haunted of houses. Starring a dramatic black eyeliner and a heavy dusting of gold glitter and gilded pigment flakes, this 24 carat makeup is sure to shine during Halloween or the next day. Check out the look here.

Flowery Pink Fairy
This fashionable fairy look will make all your wearable Halloween makeup wishes come true. Starring an array of pink eyeshadows and a bold fuchsia lip, this fairy face is pretty and magical. Adorn your head with a flower crown to turn this stylishly sprite look into a cute costume. Check out the look here.

Simply Chic Cat
A chic cat makeup look is another easy Halloween idea that offers a twist on a costume that's long been a staple. All you need to get this classic makeup is a vivid red lip and classic cat-eye eyeliner. When it's time to show your claws, just draw on a set of dainty whiskers to finish your fierce feline face. Check out the look here.
Vampy Soft Goth
Gothic makeup is an alluring look year-round but it's especially enticing during Halloween. To get this voguish vampy goth look, use a deep wine shade on your lids and lips and finish with a signature smudged black eyeliner. For a softer but still spooky vibe, give pastel goth makeup a try. Check out the look here.
Next: 10 Frighteningly Easy To Do Halloween Hairstyles
Written by: Lauren Paige Richeson, Photo Credit: IG/@shiney_makeup


Discover more tips & tricks
Keep your skin happy
See all articles
Improve your routine
Show your new look more love:
makeup