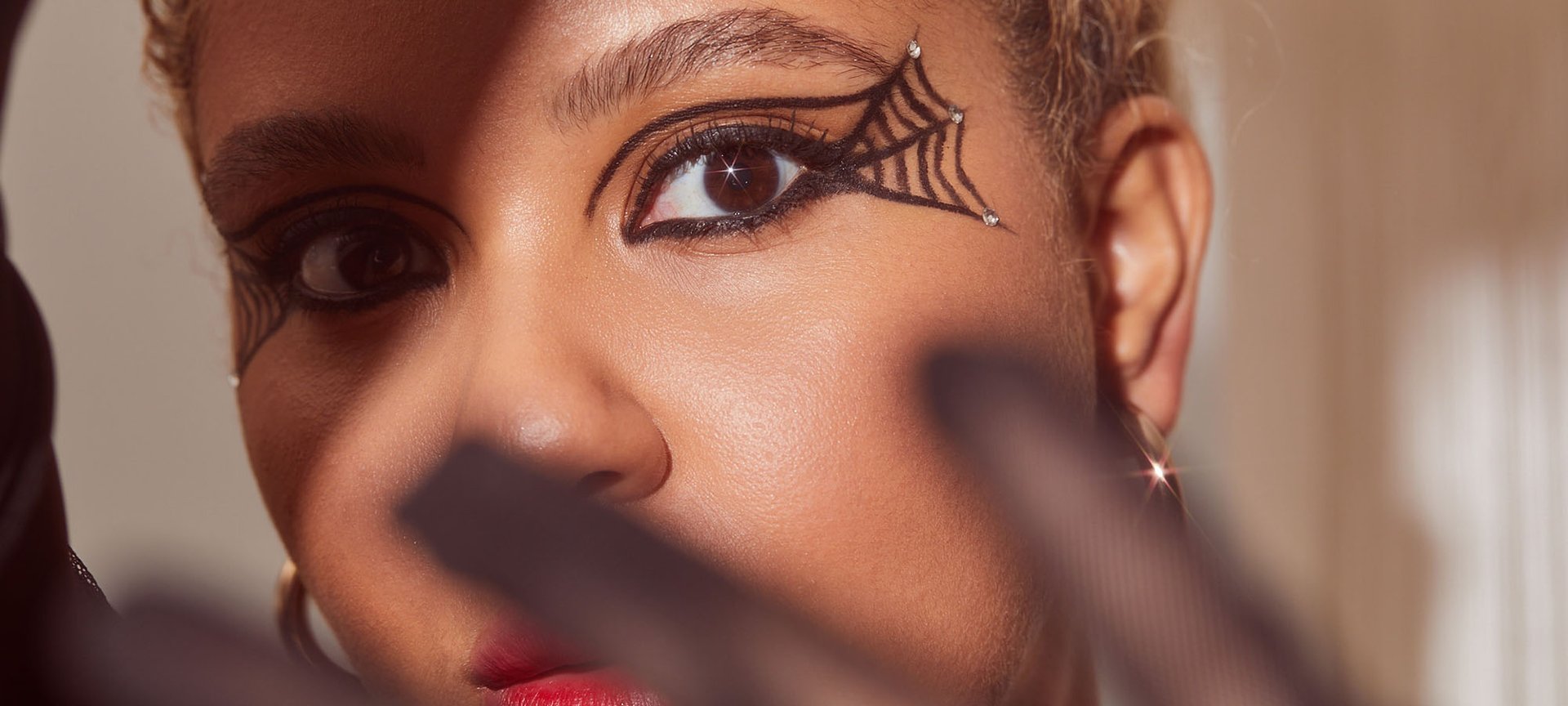 eye makeup
How To Do Sparkly Spider Web Makeup In 4 Steps
Get this eye-catching look.
Finding a last minute costume for Halloween doesn't have to be a horror story. You can create an entire spellbinding look using only the magic of makeup. Whether you're searching for an affordable look or creating a costume complementing face, this sparkly spider web makeup might be just the trick (and treat) you need. With just a few makeup products and a bit of bling, you'll have everyone caught in your web. Read on for a step-by-step tutorial on how to add a haunting touch to your Halloween face makeup.
Step 1: Prime Your Face
If you're going to weave this webbed beauty look, you want to make sure it lasts. Start by applying a makeup primer like the L'Oréal Paris Infallible Pro-Matte Lock Makeup Primer to prep your face and hold your makeup in place.
Step 2: Map Your Stones
To make drawing your spiderwebs easier, start by mapping out your course with rhinestones before filling everything in. Use the L'Oréal Paris Infallible The Super Slim Liquid Eyeliner in Black to draw small dots on your cheeks above your eyebrows where you would like your stones to be. For a colorful twist to this look switch up the black eyeliner for a more colorful hue like the L'Oreal Paris's Le Liner Signature Easy-Glide Mechanical Eyeliner, Waterproof in Violet Wool.
Step 3: Weave Your Webs
Using your eyeliner, begin to draw the lines in your web by connecting the dots. Start with the horizontal lines then draw on the horizontal curves that connect the strands of your web. Continue until your webs have that signature spidery look.
Step 4: Bedazzle Away
Once you've finished your spiderwebs, grab some rhinestones, gems, or stickers and place them over the dots of the web. If you don't have bling but still want the spidery shimmer, try using glitter eyeshadow like the L'Oreal Paris Brilliant Eye Shimmer Liquid Eye Shadow Makeup to create a spooky sparkle in your webs.
Next: 4 Halloween Hairstyle Ideas That Are Sure to Turn Heads
Written by: Lauren Paige Richeson, Photography: Chaunte Vaughn, Senior Art Direction: Melissa San Vicente-Landestoy, Senior Visual Designer: Hannah Packer, Associate Creative Producer: Becca Solovay, Makeup Artist: Jonet Williamson, Hair Stylist: Akihisa Yamaguchi, Wardrobe Assistant: Victoria Ochoa, Digital Tech: Kyle Thompson, Model: AnnChristine Velazquez
{ "@context": "https://schema.org/", "@type": "WebPage", "speakable": { "@type": "SpeakableSpecification", "cssSelector": ["speakable-content"] }, "url": "https://www.lorealparisusa.com/beauty-magazine/makeup/eye-makeup/spider-web-makeup-for-halloween" }
Discover more tips & tricks
Keep your skin happy
See all articles
Shop Featured Makeup products
Discover More
{ "@context": "http://schema.org", "@type": "BreadcrumbList", "itemListElement": [ { "@type":"ListItem", "position": 1, "item": { "@id": "/", "name": "Home" } } , { "@type":"ListItem", "position": 2, "item": { "@id": "https://www.lorealparisusa.com/beauty-magazine", "name": "Beauty Magazine" } } , { "@type":"ListItem", "position": 3, "item": { "@id": "https://www.lorealparisusa.com/beauty-magazine/makeup", "name": "Makeup Tips For Every Look" } } , { "@type":"ListItem", "position": 4, "item": { "@id": "https://www.lorealparisusa.com/beauty-magazine/makeup/eye-makeup", "name": "Eye Makeup" } } , { "@type":"ListItem", "position": 5, "item": { "@id": "https://www.lorealparisusa.com/beauty-magazine/makeup/eye-makeup/spider-web-makeup-for-halloween", "name": "spider-web-makeup-for-halloween" } } ] }