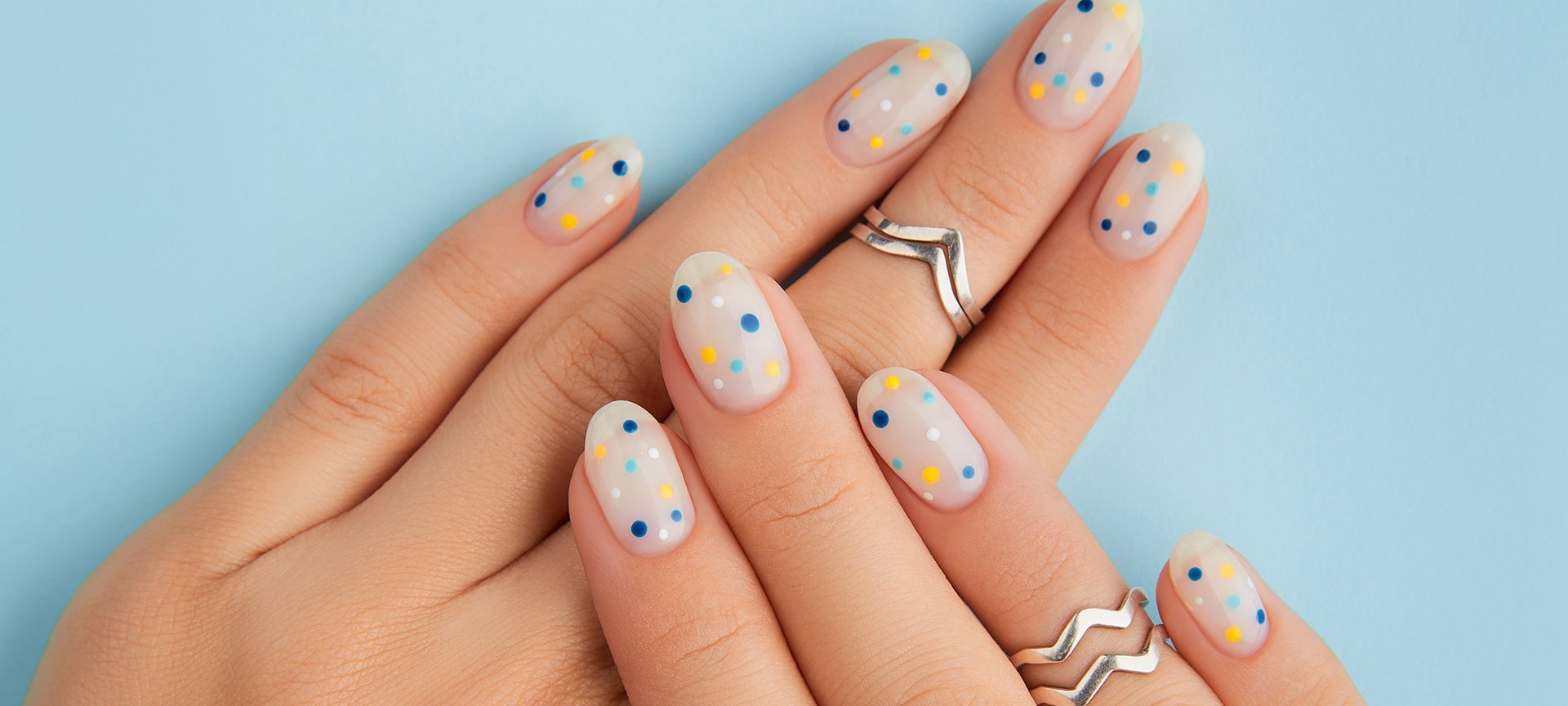 beauty looks
7 Dotting Tool Alternatives To Help You Create Cute Nail Designs
They're all found right in your home.
Dots serve as the foundation for more nail art than you might think. You can actually use dots to create almost any shape or design you like. Of course, much like drawing the perfect circle is a challenge (to say the least), painting dots may not come easily if you don't have a dotting tool. This tool helps you create even, perfectly symmetrical dots every time. It's a nail art essential. With that said, if you don't have a dotting tool and still want to get dotty with your manicure, you can simply get crafty first. There are numerous alternatives to nail tools you can come up with by raiding your kitchen, junk drawer, or home office supplies. Below, we're naming seven ways to make a dotting tool at home so you can create cute nail designs even in a pinch. You can try just one or experiment with all of them to create dots of all different sizes.
1. Bobby Pin
One of our favorite bobby pin hacks is to use them to create nail art. Bend the pin, and you can use the rounded end to make perfect dots every time.
Design to try: We created this chic cloud nail art using a bobby pin instead of a regular nail dotting tool.
2. Toothpick
Your kitchen is likely stocked with a whole box of toothpicks, and we're sure you could spare a few for a manicure. Dip the tip of the toothpick into polish and press it onto your nail to create a dot. You can also cut the toothpick down, then dip it to get varied dots.
Design to try: Paint your nails white, then let the polish dry. Dip a toothpick into pink polish and create a diagonal stripe made up of dots across your nail. Put another toothpick in orange nail polish and create a second row of dots. Keep creating stripes, alternating your colors, until your nails are covered.
3. Old Stylus
Chances are, if you have an old stylus hanging out in the back of a junk drawer in your house, you haven't used it for good in a while. Well, give it new life and transform it into the perfect tool to create medium to large dots on your nails with the soft end.
Design to try: Keep it simple with a tool this large and give yourself a classic polka dot mani. You can clean the polish with an acetone wipe and alternate the colors of the dots all over each finger.
4. Dried-Out Pen
If you struggle to part with useless objects like pens that have long since dried out, we know a way to make them useful. Pick up nail polish with the tip of the pen, and suddenly, it's a dotting tool.
Design to try: For a new take on gradient or ombré nails, bring dots into the mix. Create dots in varying colors, concentrating them at the tip of your nails. Keep adding more dots, but make them more sparse as you work your way down your nail. Ta-da, there's your gradient!
5. Gel Roller Pen
Alternatively if you have a pack of brand new gel roller pens, you've likely noticed that they each come covered with a small plastic ball around the tip (to protect it from bending or bleeding before it's ready for use). You can easily dip it in the nail polish of your choice to create small dots for your next manicure.
Design to try: The ultimate minimalist manicure features one dot at the base of each nail.
6. Pencil
It only tracks that if a pen can be used as a dotting tool, so can a pencil! Contrary to what you might think, a blunter pencil will work better to create nice, rounded dots.
Design to try: Paint your nails as per usual, then load up the tip of the pencil and start creating dots. Take your design to the next level by adding another layer of circles on top. To layer dots without them covering each other completely, for your second round, put less polish on the pencil so the dot will be smaller.
7. Paperclip
Unbend a paperclip, and you'll have a new favorite nail art tool.
Design to try: Start with a half-moon manicure with a semi-circle shape painted at the base. Now, we're going to turn those half-moons into eyes. Pick up a lot of blue polish with the paperclip and use it to make a big dot. If the dot isn't big enough, you can blend a few dots together into one. Then, dip the paperclip into a small amount of black polish and add another dot to the center—that's the pupil. Finish with a top coat to pull everything together.
Next: How to Wear Indie Nails for Every Season


Photo: iStock
Discover more tips & tricks
Keep your skin happy
See all articles