eye makeup
How to Wear Smudged Eyeliner for a Softer Effect
July 01, 2020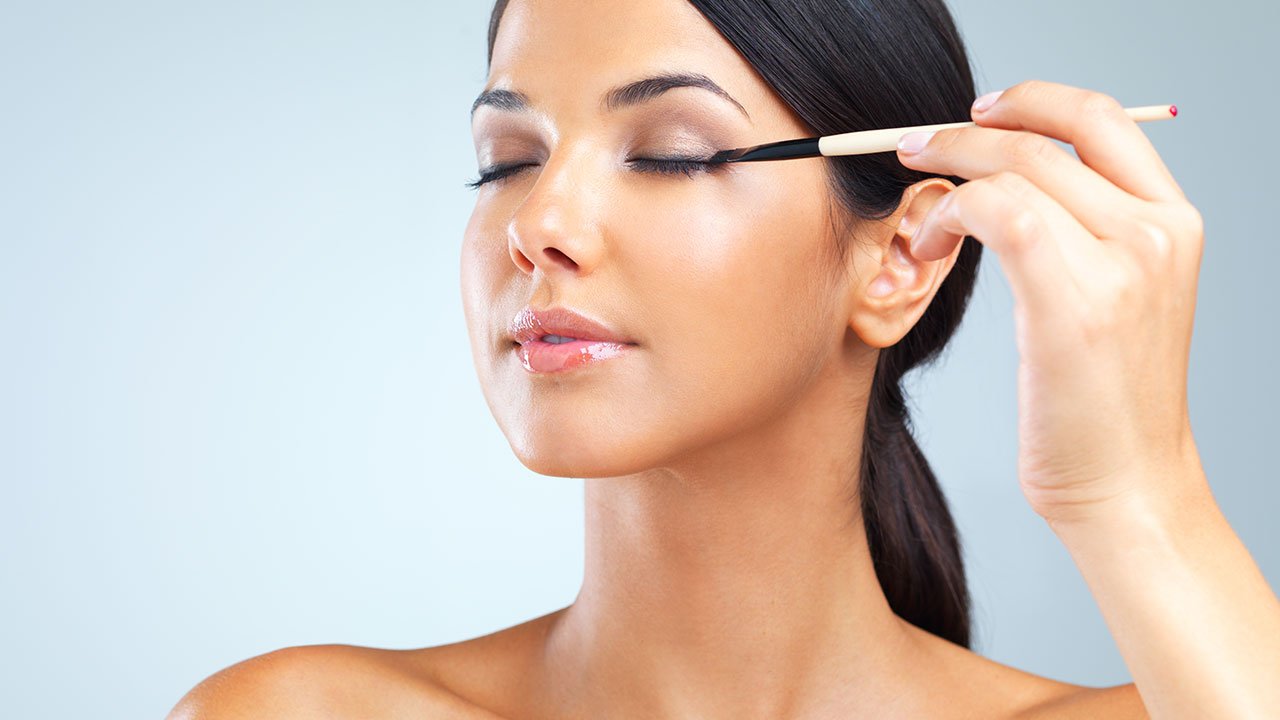 When you catch a conversation about eyeliner, it's often exclusively about how precise of a line you can create or how sharp a cat eye can be—but not every eyeliner look has to be so harsh. That's right, you can actually create a softer effect with the help of smudged eyeliner. Best of all, you don't have to swap out your black liner for a brown eyeliner to do so. All you need are the right makeup essentials, the proper technique, and a bit of patience to bring this eye makeup look to life. Ready to see what all the hype is about? We're sharing five steps for getting the perfect soft, smudged eyeliner look you've dreamed of.
STEP #1: PRIME YOUR LIDS FOR EYE MAKEUP
Just like every other eye makeup look, smudged eyeliner should begin with a base of eye primer. Using a primer can help create a smooth canvas for your eyeliner application—even though you're going to smudge your eyeliner out eventually, you'll still want it to glide on easily. If you don't have any primer on hand, apply a tiny dab of foundation or concealer for a similar effect.
STEP #2: APPLY EYELINER
Next up: It's time to apply your eyeliner. You can press the eyeliner right against your lashes for a subtle look or line along your lower lashes for a sultry effect—it's all up to you. If you aren't sure which style to try, head on over to our article on The Best Makeup Techniques for Different Eyeliner Styles. Then, use one of our best eyeliners for smudging. Pick from the four options below.
L'Oréal Paris Infallible Pro-Last Waterproof, Up to 24HR Pencil Eyeliner: If you want to smudge out a shade other than your traditional black or brown eyeliner, you can. This waterproof eyeliner is available in purple and cobalt blue in addition to the classics.
L'Oréal Paris Le Liner Signature Easy Glide Mechanical Eyeliner, Waterproof: Down to take a bold approach to your eyeliner? This offering will make it super easy. Designed to deliver a fade-resistant, long-lasting, high impact color, you'll be sure to make a lasting impression. Choose from six stunning shades to create your smudged eyeliner look.
L'Oréal Paris Infallible Never Fail Eyeliner: For those who find themselves wanting to smudge their eyeliner all the time, it doesn't get more convenient than an eyeliner that comes with a smudger on the other end. This long-lasting option has it all: a pigmented eyeliner, a smudger, and a built-in sharpener.
L'Oréal Paris Infallible Lacquer Liner 24H: When it comes to smudging out your eyeliner, pencils aren't the only option. If you're partial to a gel formula, there's no reason you can't smudge it out. Just be sure to work fast before it dries down. This eyeliner even comes with a handy brush you can use to both apply and smudge out your liner.
STEP #3: SMUDGE YOUR EYELINER OUT
Here's what you've been waiting for: smudged eyeliner. You can use a cotton swab, pencil brush, fingertip, or small sponge to smudge your eyeliner. Just remember to be gentle as you go!
Editor's tip: Sponges meant for smudging can often be found on the flipside of pencil eyeliners. Whichever tool you choose, simply work it over the edge of the line(s) you created to soften and smudge out the eyeliner.
STEP #4: ADD EYE SHADOW
You aren't obligated to layer eye shadow over top of your eyeliner, but setting with an eye shadow can help keep your eyeliner in place—not to mention amp up its smudged effect. Using the same tool you smudged with, add a little bit of the L'Oréal Paris Colour Riche Monos Eyeshadow (in a coordinating shade) directly over top of your eyeliner.
STEP #5: CLEAN UP THE EDGES
If your first foray into smudging your eyeliner didn't go so smoothly, don't worry. Use a cotton swab dipped in eye makeup remover, to clean up any smudging you aren't happy with. One type of makeup remover you can use to clean things up is micellar water, such as the L'Oréal Paris Micellar Cleansing Water Complete Cleanser Waterproof – All Skin Types. Keep in mind a smudged look is meant to be perfectly imperfect, so you shouldn't need to touch up a ton.
BONUS TIP: SMUDGED WINGED EYELINER
Want to take the smudged eyeliner trend to the next level? Consider swapping out the basics for a smudged winged eyeliner look. Equal parts dramatic and chic, this trend is all about giving your peepers a cat-eye appearance with a bit of attitude. Best of all, since your goal is a smudged effect, you don't have to worry about being too perfect with your application.
To start, simply create a cat eye as you normally would. Next, layer eye shadow, like the L'Oreal Paris Colour Riche Monos Eyeshadow in Noir Cest Noir on top of your eyeliner using a small brush. Blend out the line until you achieve the smudged effect you're looking for.
And that's it! Now you know exactly how to create a smudged eyeliner look, with or without a wing. Add a light layer of mascara (like the L'Oréal Paris Voluminous Lash Paradise Washable Mascara), and you have a beautiful, soft eye makeup look.
Next up: For more on a variation of this trendy eye makeup look, read our tutorial, How to Wear Smudged Black Eyeliner.
Discover more tips & tricks
Keep your skin happy
See all articles
Shop Featured Makeup products
Discover More