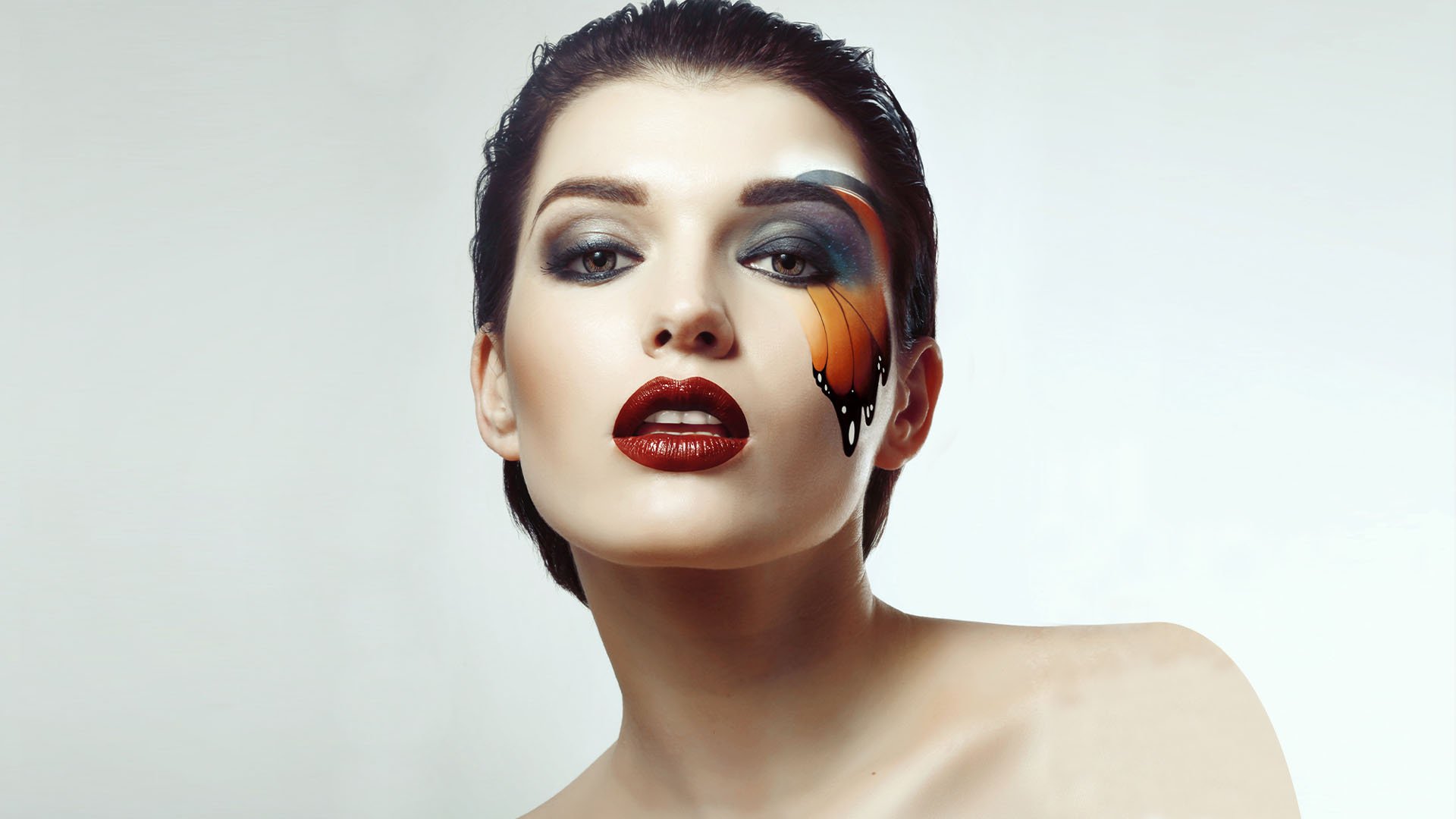 makeup looks
3 Butterfly Makeup Tutorials We're Obsessed With
Whether you're looking for a cute Halloween costume that you can achieve with just your makeup look or you want to try something new for your festival makeup, butterfly makeup has you covered. Not only is butterfly eyeshadow and makeup stunning, but it's one of the hottest makeup trends of the year. Specifically, we've been seeing butterfly eye makeup looks popping up all over social media. Want to give butterfly Halloween makeup a try for yourself? Get ready to spread your wings with one of the three butterfly makeup tutorials, below.
#1. BUTTERFLY FACE
To fully embrace the butterfly makeup trend, consider giving a butterfly face makeup look a try. This involves creating large butterfly wings along the side of your face that go from your temples to the hollows of your cheeks. You can create two wings or keep your butterfly makeup to one side, depending on how bold you'd like your look to be. Here's what to do.
STEP #1. OUTLINE YOUR WINGS
Just as you would when drawing, it's a good idea to start by outlining your butterfly wings so you can get an idea of where they'll be and color inside the lines from there. Use a nude eyeliner, like the L'Oréal Paris Infallible Pro-Last Waterproof, Up to 24HR Pencil Eyeliner in Nude, to do so without creating any harsh lines you'll need to cover up later. Draw your wing so the top starts at the middle top of your eyebrow, and the bottom of your wing goes all the way down to the hollow of your cheek.
Take your time and if you make any mistakes, use a bit of the L'Oréal Paris Micellar Cleansing Water Complete Cleanser Waterproof - All Skin Types on a cotton swab to clean up where needed.
STEP #2. FILL IT IN
To create monarch butterfly coloring, use a mix of orange and red eyeshadow shades to color in your wing. Start with a light orange at the innermost portion of your wing and build to a red shade along the edges. Make sure to blend each color thoroughly with a fluffy eyeshadow brush to create a seamless gradient between the colors.
STEP #3. ADD THE DETAILS
To add detail to your butterfly makeup, you can use liquid eyeliner or cosmetic-grade face paint. If you decide to go the eyeliner route, use the L'Oréal Paris Matte Signature Liquid Dip Eyeliner, Waterproof in Black to outline your wing, and draw thin lines through the wing itself. Follow the curves you created with your nude eyeliner earlier and feel free to make the outline thick. Then, use a white liquid eyeliner to draw circles within your black outline for a realistic wing. If you need, pull up a reference photo so you can make your butterfly makeup as accurate as possible!
#2. BUTTERFLY LIDS
Want to give butterfly eyeshadow a try? This makeup idea is super easy to recreate—just what you're looking for in last-minute Butterfly Halloween makeup.
STEP #1. PRIME YOUR EYES
To begin, prep your lids for eyeshadow by applying an eye primer.
STEP #2. GRAB YOUR EYESHADOW
Use an orangey-yellow eyeshadow, like the L'Oréal Paris Color Riche Monos Eyeshadow in Sunset Seine, to color your lids. Pop that same shade onto your inner corner and along your lower lash line, smudging it literally for a smoky effect.
STEP #3. DEFINE YOUR CREASE
To deepen the look, apply a bright orange shadow in your crease. Blend the color thoroughly and drag it along your lower lash line, keeping the shade close to your lashes rather than smudging it out.
STEP #4. CREATE YOUR WINGS
Using a black eyeliner, like the L'Oréal Paris Voluminous Lash Paradise Liquid Eyeliner in Black, draw the outline of a wing shape on your upper lid—just below your brow bone. Take that same eyeliner and create a traditional winged flick along your upper lash line that connects with the wing outline.
To add detail, draw two black lines that go across your lids and connect your outline with your upper lash line eyeliner. Then, use a white liquid eyeliner to add dots to the butterfly wing outline.
STEP #5. APPLY MASCARA
To finish the look, apply a few coats of the L'Oréal Paris Bambi Eye Washable Mascara, Lasting Volume.
#3. BUTTERFLY ACCENT
For a subtle take on the butterfly makeup trend, you can create a butterfly accent on the outer corner of your eyes. Here's how.
STEP #1. DRAW YOUR OUTLINE
Use the L'Oréal Paris Infallible The Super Slim Liquid Eyeliner to draw an outline of a butterfly wing. Have the wing start at your outer corner and end at the center of your lower lash line. Thicken the outline at the upper curve of your wing to add realism to your butterfly eye makeup.
STEP #2. COLOR IT IN
Using yellow and orange eyeshadow shades, fill in your outline. Apply your yellow shade closest to your eyes and the orange shade along the edges of your wing. Use a fluffy brush to blend between the two shades for a seamless transition.
STEP #3. ADD DETAIL
To take your butterfly makeup a step further, use black liquid eyeliner to draw narrow lines on the inside of your wing. Then, use a white liquid eyeliner to add small dots going around the outer edge of your wing outline.
Discover more tips & tricks
Keep your skin happy
See all articles
Shop Featured Skin Care products
Discover More