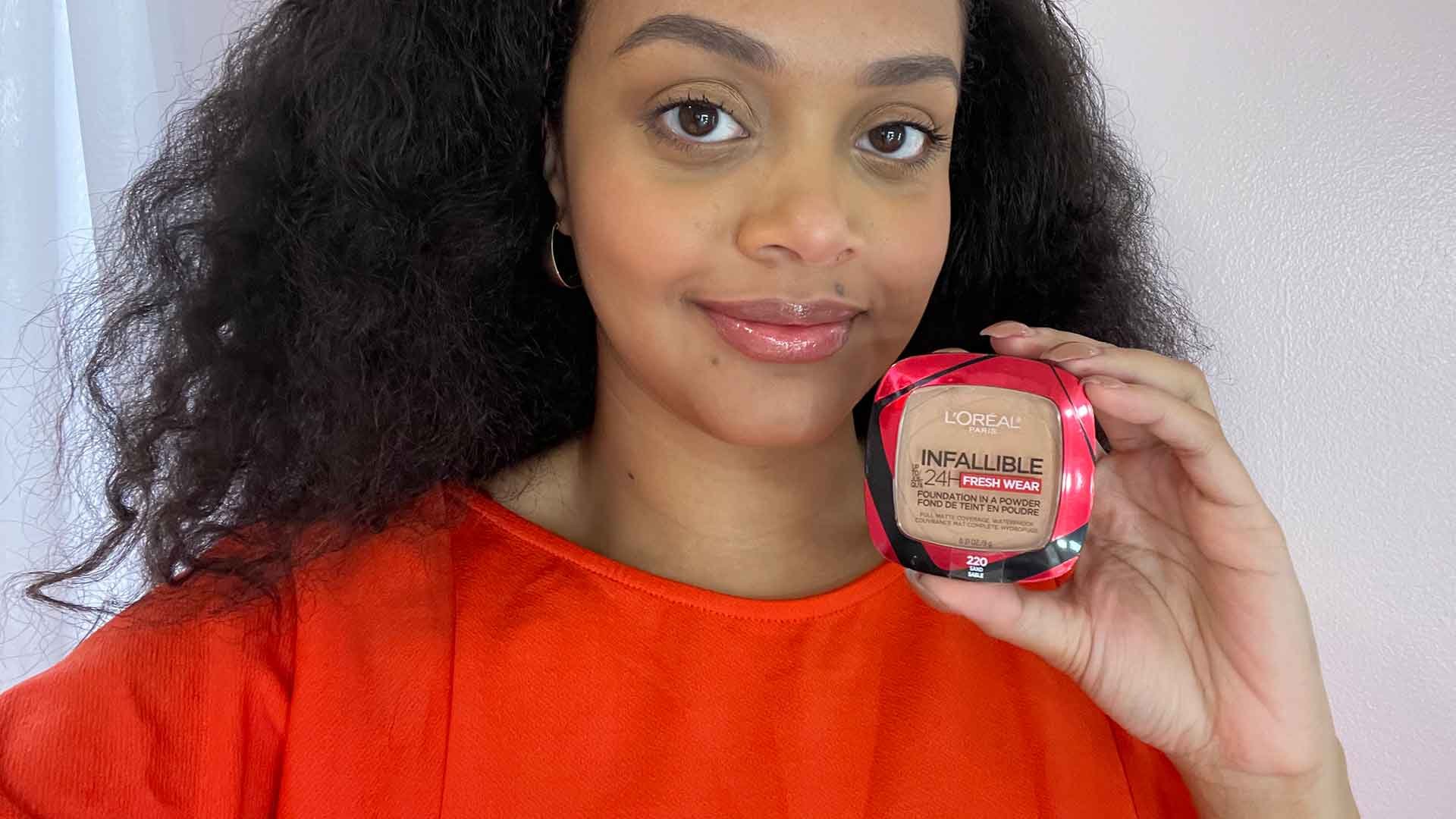 face makeup
This Powder Foundation Completely Changed My Makeup Routine
Foundation has always been my go-to makeup product and I'd argue it's an essential for everyone's beauty kit. After all, what's a makeup look without a flawless-looking base? Plus, it works wonders at covering up my imperfections and transforms my dull-looking skin instantly. And after scrolling through beauty TikTok and watching tons of reviews of the L'Oréal Paris Infallible 24H Fresh Wear Foundation in a Powder, I had to try it out for myself. To be honest, I'm not a powder foundation type of gal, I prefer using liquid formulas to get full coverage that looks just like my skin. But after seeing videos of how skin-like this powder looks, I was pumped to see how well it would work for me. Here's how it went.
After completing my daily skin care routine, I prepped my skin for makeup by applying the L'Oréal Paris Infallible Pro-Glow Lock Makeup Primer all over my face. I love that this primer doesn't leave behind a tacky finish after drying down, instead, it leaves my skin feeling soft and smooth. Then I moved on to filling in and shaping my eyebrows with the L'Oréal Paris Brow Stylist Definer Waterproof Eyebrow Mechanical Pencil. After that, I opened up the L'Oréal Paris powder foundation compact and the first thing I noticed was a square sponge and a mirror inside, which is perfect for on-the-go touch-ups. I dipped the dry sponge gently into the powder and swiped it across my cheek. To my surprise, it immediately covered up an acne scar I have, which was the first win for me. I also saw a few TikToker's recommend bouncing the product onto your skin for a natural finish, so I did that with the dry sponge until I got an even layer of coverage across my entire face.
I have to highlight just how lightweight the formula is. It truly feels like nothing is on my face when I'm wearing it, which is a feeling I'm not used to because I normally use thick liquid foundation formulas. I also love how soft it feels on my skin, it has a butter-like texture and swipes onto the skin with ease. It also stands true to its medium to full coverage claim, as all my redness and acne scars were covered up after a few swipes. And if you're an avid selfie-taker like me, you'll fall in love with its filter finish, thanks to the blurring effect the formula is designed to give off—which means I no longer have to rely on filters to get the perfect selfie.
After completing the rest of my makeup and setting my look with a few spritzes of the L'Oréal Paris Infallible Pro-Spray and Set Make-Up Oil-Free Setting Spray, I spent my day running around doing errands. And when I came back home later that night, I was so happy to see that the powder foundation stayed put, even while wearing my mask. Its formula is also waterproof, heatproof, sweatproof, and transfer-proof, so there's no need to be wary about it melting off your face (I tested this out in 90-degree weather) during the soon-to-come summer days. This full-coverage matte powder foundation does exactly what it promises and helps to keep my skin looking perfect throughout the day. I wish I had this product years ago—it would've saved me from many embarrassing makeup mishaps, at least I have it now to avoid unwanted makeup meltdowns in the future.
Photo Credit: Shauna Beni
Next: The Best Multitasking Powder Foundation For Every Skin Type
Discover more tips & tricks
Keep your skin happy
See all articles
Shop Featured products
Discover More