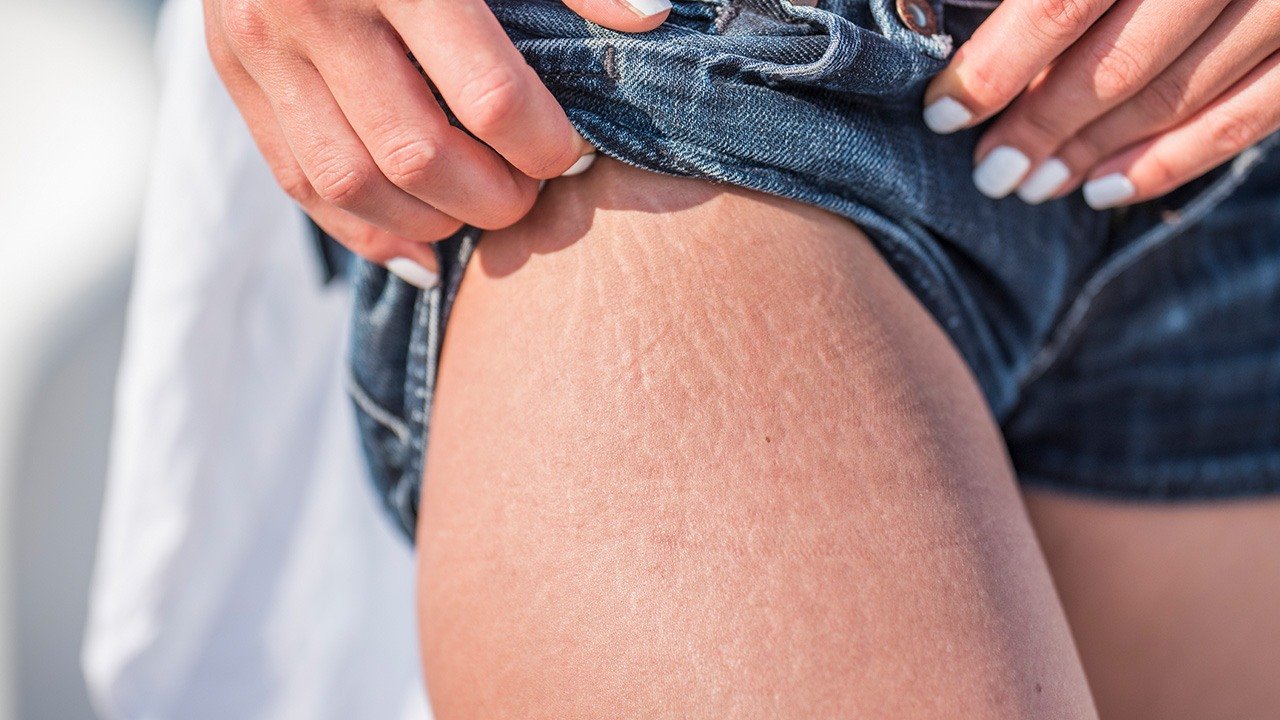 face makeup
How to Use Makeup to Cover Stretch Marks
Stretch marks may be a fact of life, but that doesn't make them any less annoying. While they're certainly nothing to be ashamed of, there may be times where you'd like your stretch marks to be out of sight. Whether there's a special occasion you're getting all dolled up for or you simply want to feel your most confident on the beach, the right makeup products can be used to cover stretch marks temporarily. Interested? Below, we're sharing the best makeup to cover stretch marks, along with a few beauty tips to put them to use.
THE BEST MAKEUP TO COVER STRETCH MARKS
Like we mentioned, if you're searching for the best makeup to cover stretch marks, you've come to the right place. Without further ado, let's talk about how you can use makeup to conceal stretch marks whenever you please.
TIP #1: COLOR CORRECT
By now, you probably know about the wonders of color correcting. Using the color wheel you learned about back in elementary school, you can easily neutralize any unwanted tones on your hair or skin. We're here to talk about the latter today. When it comes to covering stretch marks, it's important to take their color into consideration. If they're new and purplish in color, you'll want to use a yellow color corrector to cancel out the color of the stretch marks. If your stretch marks are older, you may not need to color correct them as they're likely already flesh-toned, albeit lighter than the rest of your skin.
TIP #2: USE FULL-COVERAGE FOUNDATION
Of course, a full-coverage foundation is essential for covering stretch marks. That's where the L'Oréal Paris Infallible Total Cover Foundation comes into play. This full-coverage formula contains high-load pigments and can cover everything from scars to hyperpigmentation—stretch marks, who? The lightweight formula has a natural finish, so it won't feel uncomfortable or look unnatural throughout the day. Apply it with the L'Oréal Paris Infallible Blend Artist Foundation Blender for a seamless blend.
TIP #3: SET YOUR MAKEUP
After expertly covering your stretch marks, we'd guess you don't want your makeup to budge throughout the day (or night). To keep everything in place and get an extra boost of coverage, use a fluffy powder brush to sweep on a setting powder.
STEP #4: APPLY SELF-TANNER
While not makeup, self-tanner is a holy grail beauty product that can help disguise the look of stretch marks. Not to mention, you'll get the appearance of beautifully bronzed skin in the process! Try using one of the following to put your faux tan into action and minimize the appearance of your stretch marks.
L'Oréal Paris Sublime Bronze ProPerfect Salon Airbrush Self-Tanning Mist Medium Natural Tan: Inspired by professional techniques, the super-fine 360-degree continuous mist coats skin evenly with a wide-angled jet applicator and dries instantly, allowing for ultra-even application and natural-looking, streak-free results. The spray applicator makes it easy to tackle the areas that are hardest to reach, meaning you can seamlessly disguise stretch marks anywhere you have them.
L'Oréal Paris Sublime Bronze Towelettes for Body: Looking for an easy, on-the-go self-tanner that's perfect for hiding stretch marks on vacation? These tanning towelettes are a convenient option. Each towelette contains enough self-tanner for one full application, delivering a streak-free, natural-looking tan.
L'Oréal Paris Sublime Bronze Self-Tanning Serum: If you want to keep your stretch marks out of sight for as long as possible, you'll surely want to pick up our longest lasting self-tanner. This tanning serum will have you looking sun-kissed and golden year-round with a naturally bronzed glow that lasts. The streak-free, no-fuss formula is quick-drying and foolproof for skin that looks radiant in every climate.
Next up: Now that you know how to cover stretch marks with makeup, perhaps you'd like to use makeup to cover up other skin concerns. Check out our articles, How to Use Makeup to Cover Veins, How to Cover a Bruise with Makeup, and How to Cover Dark Circles with Makeup.
Discover more tips & tricks
Keep your skin happy
See all articles
Shop Featured Makeup products
Discover More