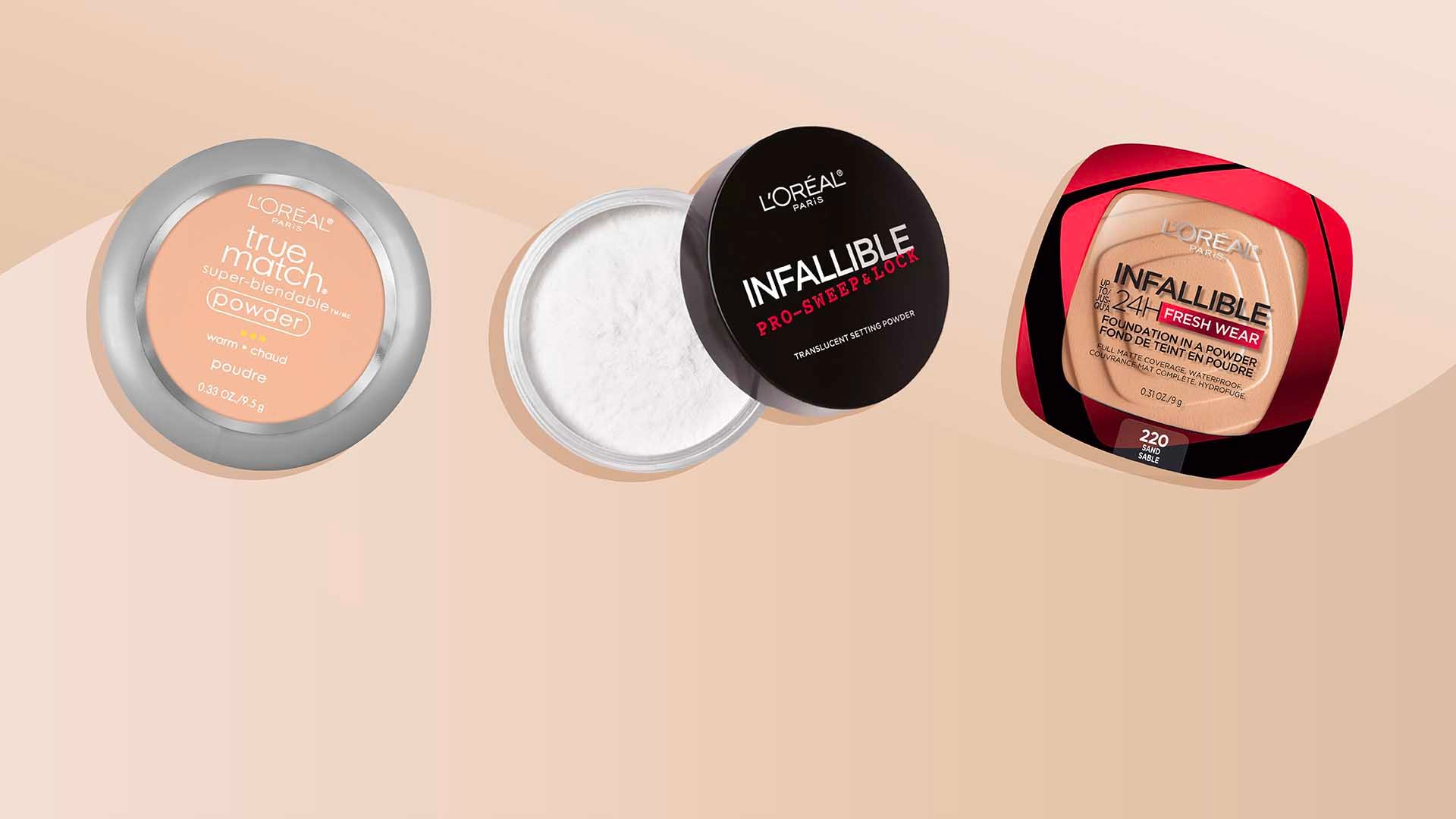 face makeup
4 Face Powders That Won't Leave A White Cast
When it comes to makeup we all have our preferences, but most beauty lovers can agree, face powders are essential for creating flawless makeup looks. They can function as a base product, or can be used to set and finish your look. There are also different types of formulas you can choose from such as loose, pressed, and translucent. However, one of the most common makeup concerns centers around the white cast that face powders can sometimes leave behind, which can be caused by certain ingredients (including zinc oxide and silica) and by using the wrong shade. So to help you avoid pasty and ashy-looking skin, we've rounded up our best face powders that won't leave you with that white cast. Read on to find your best match and tips you can use for gorgeous results.
Best Pressed Powder
Pressed powder formulas work wonders at giving your skin a natural look with a soft touch. And thanks to the weightless feel of today's powders, you'll be able to provide your skin with breathable and buildable coverage. Reach for the L'Oréal Paris True Match Powder to find your best skin tone match. It comes in 34 true-to-you shades (which means there's no need to worry about any white cast since it will match your skin tone) and contains hints of pearl pigments that will enhance your overall complexion. This micro-fine powder can be used to blot away shine or can be blended out across your face for a flawless look.
Editor's Tip: Lightly sweeping powder across your face without buffing in can cause it to look dry and chalky. So use a dense powder brush and buff the product into your skin until it blends in seamlessly to warm up the product and give it a skin-like finish.
Best Powder Foundation
Powder foundations work great at giving you an airbrushed skin-like finish and users are loving the L'Oréal Paris Infallible Up to 24H Fresh Wear in a Powder, matte finish. This fresh wear powder foundation has a breathable and weightless formula that stays put for up to 24 hours. The best part? It's waterproof and sweatproof, so you won't have to worry about touch-ups throughout the day. To make sure you don't get any white cast you simply need to pick the right shade for your skin tone. To get the best color match try swiping your foundation shade to the center of your chest. It's best to stay away from the jaw and neck since those areas can be several different colors all over, due to sun exposure, hyperpigmentation, and more.
Best Translucent Setting Powder
Translucent setting powders are a must when it comes to completing a makeup look. They are made to go on invisible and help extend the wear of your makeup while keeping your face shine-free. The L'Oréal Paris Infallible Pro-Sweep & Lock Loose Setting Face Powder is a great pick when it comes to setting makeup because it's made with micro-fine loose powder which gives the skin a refined texture and soft-focus glow. However, it's essential that you don't overuse the product. When you pack on too much powder it prevents the formula from warming up properly and adjusting to your skin, which can then leave it looking cakey (and even cause a white glare). So be sure to build up coverage to your liking by only applying it little by little, using a powder brush or makeup blender.
Best Tinted Loose Setting Powder
If you want to use a face powder to help even out your skin tone, look for a tinted option, like the L'Oréal Paris Infallible Tinted Loose Setting Powder. It comes in two tinted shades for light and deep skin tones. This setting powder helps cancel out redness, dark circles, and other imperfections. You can also layer it on top of your foundation for extra coverage. It has a lightweight matte finish that won't leave behind any visible layer of white powder.
Editor's Tip: Stash this product in your purse for quick on-the-go touch ups. If your foundation or concealer starts to fade throughout the day, you can use this tinted face powder to give your complexion a boost.
Photo Credit: Sarah Duvivier
Discover more tips & tricks
Keep your skin happy
See all articles
Shop Featured products
Discover More