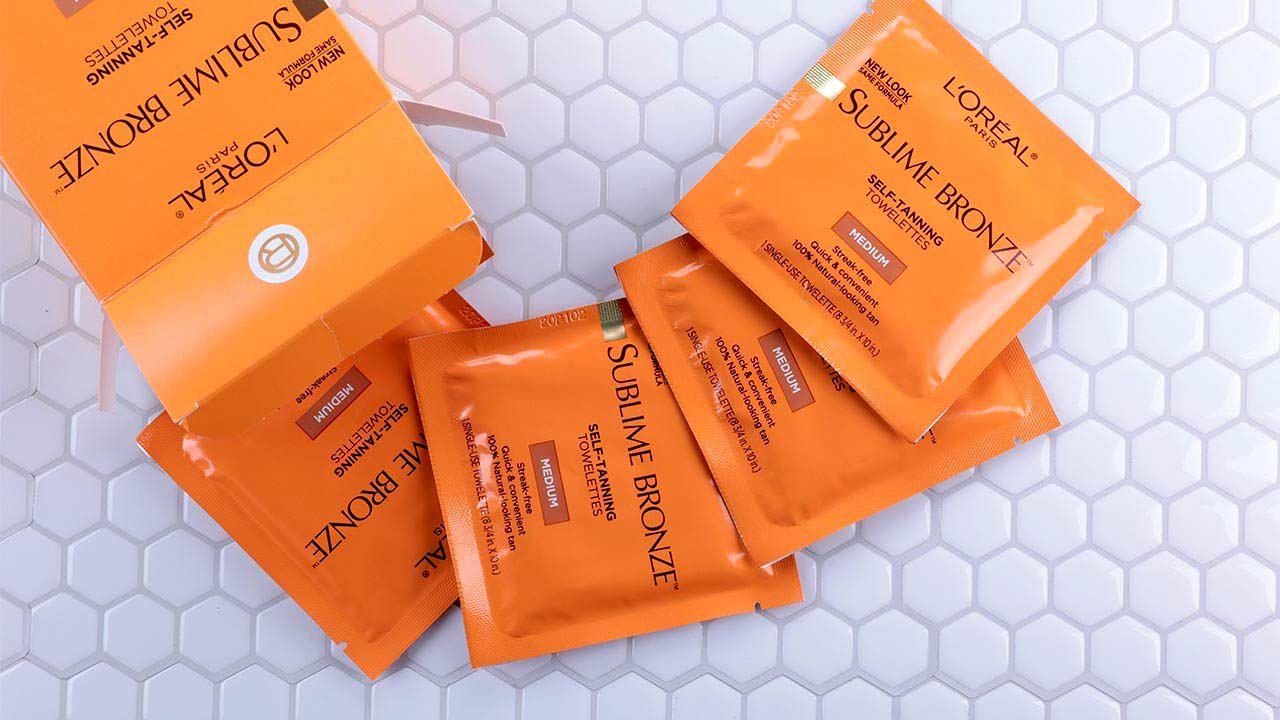 sun care and self tanning
10 Self-Tanner Hacks to Help You Get a Golden Glow
Ah, the perfect golden glow. Whether it's summertime and you have a tropical vacation planned or it's smack dab in the middle of winter, self-tanner can help you achieve that bronzed color no matter what time of year it is. Of course, applying self-tanner is easier said than done. How many times have you tried it yourself, only to be disappointed by streaks or uneven color? Don't worry: We've got a few self-tanner hacks up our sleeve that can help make application easier. And with those tips and tricks in your arsenal, soon enough self-tanning will just be another step in your skin care routine. Want to learn how to use self-tanner like a pro? Here are 10 self-tanner hacks to help you use this skin care product to get a golden glow all year-round. (Spoiler alert: You're going to want to keep a moisturizer on hand!)
SELF-TANNER HACK #1: CHOOSE THE RIGHT SELF-TANNER FOR YOU
Start by choosing a self-tanner that best suits your needs. Self-tanners come in a variety of different forms such as sprays, towelettes, gels, foams, wash-off formulas, gradual lotions, and more! Do a little research to find the self-tanner formula that you feel most comfortable using. If you want, test a few self-tanners out to see what works best for you. We've got plenty of self-tanner options to choose from ranging from lotions to mists to towelettes. Take your pick from the L'Oréal Paris Sublime Bronze™ Hydrating Self-Tanning Milk Medium, L'Oréal Paris Sublime Bronze™ Towelettes for Body, L'Oréal Paris Sublime Bronze™ ProPerfect Salon Airbrush Self-Tanning Mist, L'Oréal Paris Sublime Bronze™ Self-Tanning Lotion, L'Oréal Paris Sublime Bronze™ Self-Tanning Gelee, and L'Oréal Paris Sublime Bronze™ Self-Tanning Serum. Once you've found your self-tanner match, it's time to move on to the rest of our self-tanner hacks!
SELF-TANNER HACK #2: EXFOLIATE BEFOREHAND
A lot of people forget to exfoliate before applying a self-tanner, which is a major beauty faux pas. If you want to rock a gorgeous golden glow, you should properly prep your skin for self-tanner. Exfoliating can help you get an even color application, as the self-tanner won't be clinging to dry patches of skin. Before you use self-tanner, help slough off the dead skin lingering on your skin's surface with a body scrub, and be sure to pay particular attention to areas like your knees and elbows, since they can oftentimes be drier than the rest of your body
SELF-TANNER HACK #3: time shaving perfectly
Remember, shaving is a form of exfoliation. That means it can actually be a good idea to shave before applying self-tanner. Plus, you won't want to shave in the days immediately after self-tanning. The reason being, while your intent is to remove those prickly hairs, you might actually end up stripping off the tan you worked so hard on.
SELF-TANNER HACK #4: APPLY MOISTURIZER
Another self-tanner hack you should remember? Moisturize before applying self-tanner! After exfoliating your body, continue the prepping process by applying a moisturizer. You shouldn't apply self-tanner without moisturizing first, because skipping out on this prep step could potentially leave you with patchy color. Simply pat yourself dry with a towel after showering and apply a body lotion to help your skin feel softer, which can also help make self-tanner application easier.
SELF-TANNER HACK #5: SECTION OFF
If you want a believable-looking tan and an even application, pay attention to this next self-tanner hack. Apply your self-tanner in sections, making sure to massage the formula onto your skin in a uniform circular motion. Consider investing in a self-tanning mitt to help keep your palms from getting stained. If you do decide to use your hands, make sure you wash them well with soap and water after applying self-tanner to each section, otherwise your palms will end up darker than the rest of your body.
SELF-TANNER HACK #6: Don't Skip Small Spots
When it comes to self-tanner, every visible spot matters. You may think skipping over someplace small, like your ears or the tops of your feet, won't make a major difference—but it can be a dead giveaway that your tan came from a bottle. So, be sure to hit those small spots, even if you need to use a cotton swab to cover every speck of skin.
SELF-TANNER HACK #7: MIX IT WITH MOISTURIZER
Typically, the trickiest places to apply self-tanner are your joint areas, such as your ankles, knees, and wrists. These areas tend to soak up more color since they're on the drier side, and this can leave you with a dark, uneven finish. What you can do: If you're using a self-tanner lotion, dilute it with a moisturizer when applying to these areas to help make the color appear a little lighter.
SELF-TANNER HACK #8: utilize baby powder
Chances are there's a container of baby powder in your house, even if there hasn't been a baby around in decades. And that ever-present container is about to come in handy! After applying self-tanner, dust baby powder onto areas that are prone to creasing, like armpits and elbows. The baby powder acts something like face powder for your makeup, locking the self-tanner in place and preventing creases.
SELF-TANNER HACK #9: hold off on applying multiple layers
Do you assume that the more self-tanner you layer onto your skin, the deeper of a tan you'll achieve? While that logic isn't totally crazy, it doesn't quite hold up. When it comes to self-tanner it's best to apply a single thing layer, and then wait to reapply until the instructions suggest. Adding another layer immediately after the first application won't actually make your tan darker, you're just more likely to make a mess!
SELF-TANNER HACK #10: WAIT IT OUT
Time and patience are your friends when it comes to getting a flawless-looking fake tan. Oftentimes, people throw on their clothes before their self-tanner is fully dry. This can result in a splotchy finish and stained clothes. Yikes! After you've finished applying self-tanner, give it time to fully dry. Not only that, but there are specific types of clothes you should wear after applying self-tanner. Stick with loose, dark clothing, since you'll be less likely to rub color off on these pieces. You should also avoid showering, sweating, and swimming for the next couple of hours to help avoid any streaking.
Not sure when to break out self-tanner? Here are The Best Times to Use Self-Tanner.
Discover more tips & tricks
Keep your skin happy
See all articles
Shop Featured Skin Care products
Discover More