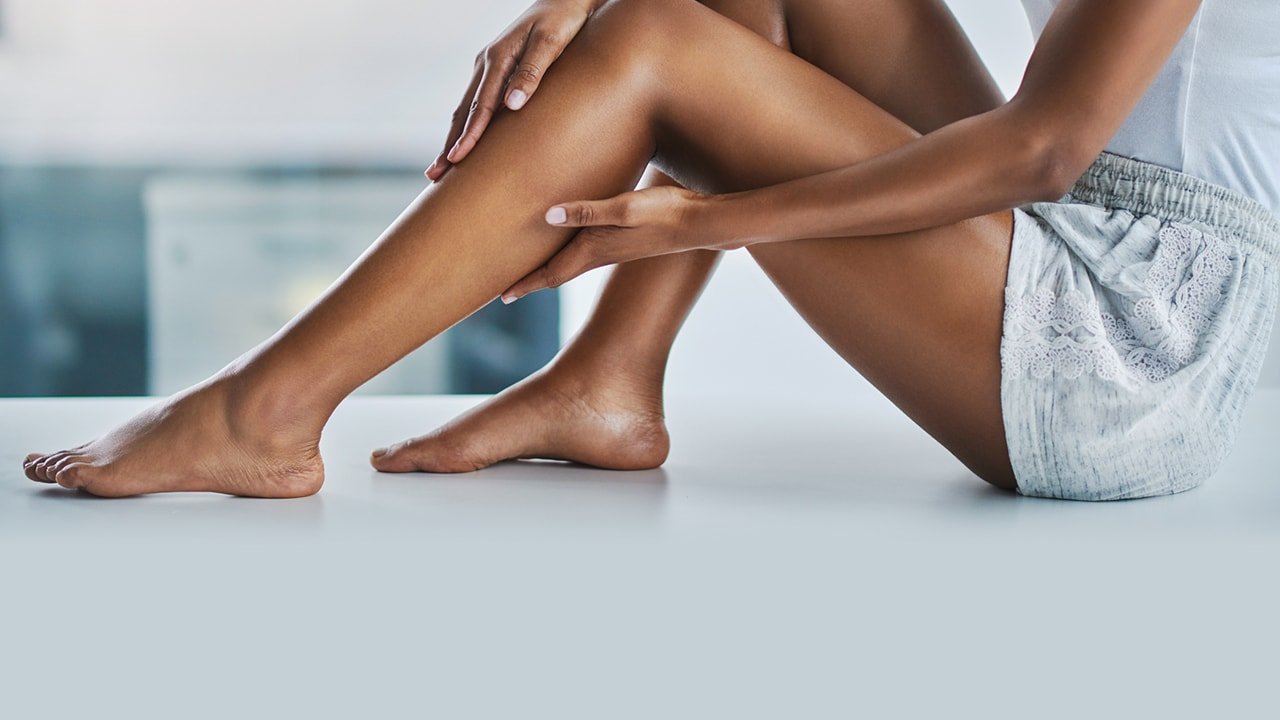 When it comes to your body, there are so many things to keep in mind to take care of yourself. From eating the rights foods to exercising daily to following a proper skin care routine—it can get a little overwhelming at times. One skin care concern most of us come across at some point in our lives? Stretch marks! While not the most glamorous of beauty topics, stretch marks are a fact of life. So, what's the deal? Can you get rid of stretch marks with stretch mark creams and other removal options? Read below to find out and get the 4-1-1 on stretch marks!
WHAT ARE STRETCH MARKS?
Let's start with the basics: what are stretch marks? The American Academy of Dermatology (AAD) states that a stretch mark is a type of scar that develops when skin stretches or shrinks quickly, causing the collagen and elastin—which support our skin—to rupture. As a result, when your skin heals, stretch marks can form. They often appear on the abdomen, breasts, hips, buttocks, and thighs, according to the Mayo Clinic, and are particularly common in pregnant women, especially during the last trimester.
WHAT CAUSES STRETCH MARKS?
We touched on this briefly, but you may want to know more details as to what actually causes stretch marks. According to the AAD, stretch marks are most likely to develop during growth spurts that happen in puberty, pregnancy, rapid weight loss or gain, and weight training that leads to rapid muscle growth. This is because, like we mentioned above, stretch marks develop when your skin stretches or shrinks quickly. The severity of stretch marks can be affected by various factors including your genetic tendency, degree of stress on the skin, and cortisone (a hormone that weakens elastic fibers in the skin) level, according to the Mayo Clinic.
CAN YOU GET RID OF STRETCH MARKS?
If you're here in search of how to get rid of stretch marks, you may be slightly disappointed. Since stretch marks are scars, you can't get rid of them permanently. However, the AAD states there are ways to help reduce their appearance but no single treatment works for everyone and some products don't work at all. So, while total stretch mark removal may not be in the cards, they won't necessarily look as prominent forever. Keep reading for a few ways you may be able to help lessen the appearance of stretch marks.
STRETCH MARK TIP #1: USE SELF-TANNER
While self-tanner can't get rid of stretch marks, it can help to make them less noticeable. The AAD states that tanning in the sun can make stretch marks more noticeable (not to mention it can cause some serious skin damage without SPF), while a self-tanner can help temporarily camouflage stretch marks. Consider adding one to your daily regimen to get a natural, sun-free bronze glow. Give the L'Oréal Paris Sublime Bronze Self-Tanning Water Mousse a try!
STRETCH MARK TIP #2: REACH FOR HYALURONIC ACID
Next up? Hyaluronic acid! The AAD states that two large studies found that applying hyaluronic acid to early stretch marks helped make them less noticeable—so it may be worth adding a product formulated with this popular skin care ingredient to your routine.
STRETCH MARK TIP #3: TRY A RETINOID CREAM
What about stretch mark creams? When applied to early stretch marks every night for 24 weeks, a prescription retinoid cream such as Tretinoin could help make them less noticeable, according to the AAD. Retinol, another type of retinoid, may also help fade the appearance of early stretch marks, per the AAD.
STRETCH MARK TIP #4: CONSIDER LIGHT OR LASER THERAPY
Topical creams for stretch marks aren't the only way you may be able to help lessen their appearance over time. The Mayo Clinic states that there are a variety of light and laser therapies available that can help stimulate the growth of collagen or elastin in your skin, which can make stretch marks less noticeable.
Editor's note: Speaking of light therapy, check out our article, This is How Blue Light Affects Your Skin, to learn about blue light therapy.
STRETCH MARK TIP #5: GIVE MICRODERMABRASION A GO
Another skin treatment, microdermabrasion may be another option to help reduce the appearance of stretch marks, according to the Mayo Clinic. The treatment involves a hand-held device that blows crystals onto skin, which gently remove a fine layer of skin, and promotes the growth of new, more-elastic skin. Want to learn more? Here's What is Microdermabrasion?.
HOW TO PREVENT STRETCH MARKS
You may be wondering, "Can you prevent stretch marks?" The Mayo Clinic notes that the best way to reduce the chance of getting stretch marks is to maintain a healthy weight.
{ "@context": "https://schema.org/", "@type": "WebPage", "speakable": { "@type": "SpeakableSpecification", "cssSelector": ["speakable-content"] }, "url": "https://www.lorealparisusa.com/beauty-magazine/skin-care/skin-care-concerns/can-you-get-rid-of-stretch-marks" }
Discover more tips & tricks
Keep your skin happy
See all articles
Shop Featured Skin Care products
Discover More
{ "@context": "http://schema.org", "@type": "BreadcrumbList", "itemListElement": [ { "@type":"ListItem", "position": 1, "item": { "@id": "/", "name": "Home" } } , { "@type":"ListItem", "position": 2, "item": { "@id": "https://www.lorealparisusa.com/beauty-magazine", "name": "Beauty Magazine" } } , { "@type":"ListItem", "position": 3, "item": { "@id": "https://www.lorealparisusa.com/beauty-magazine/skin-care", "name": "Skin Care For Every Age" } } , { "@type":"ListItem", "position": 4, "item": { "@id": "https://www.lorealparisusa.com/beauty-magazine/skin-care/skin-care-concerns", "name": "Skin Care Concerns" } } , { "@type":"ListItem", "position": 5, "item": { "@id": "https://www.lorealparisusa.com/beauty-magazine/skin-care/skin-care-concerns/can-you-get-rid-of-stretch-marks", "name": "can-you-get-rid-of-stretch-marks" } } ] }