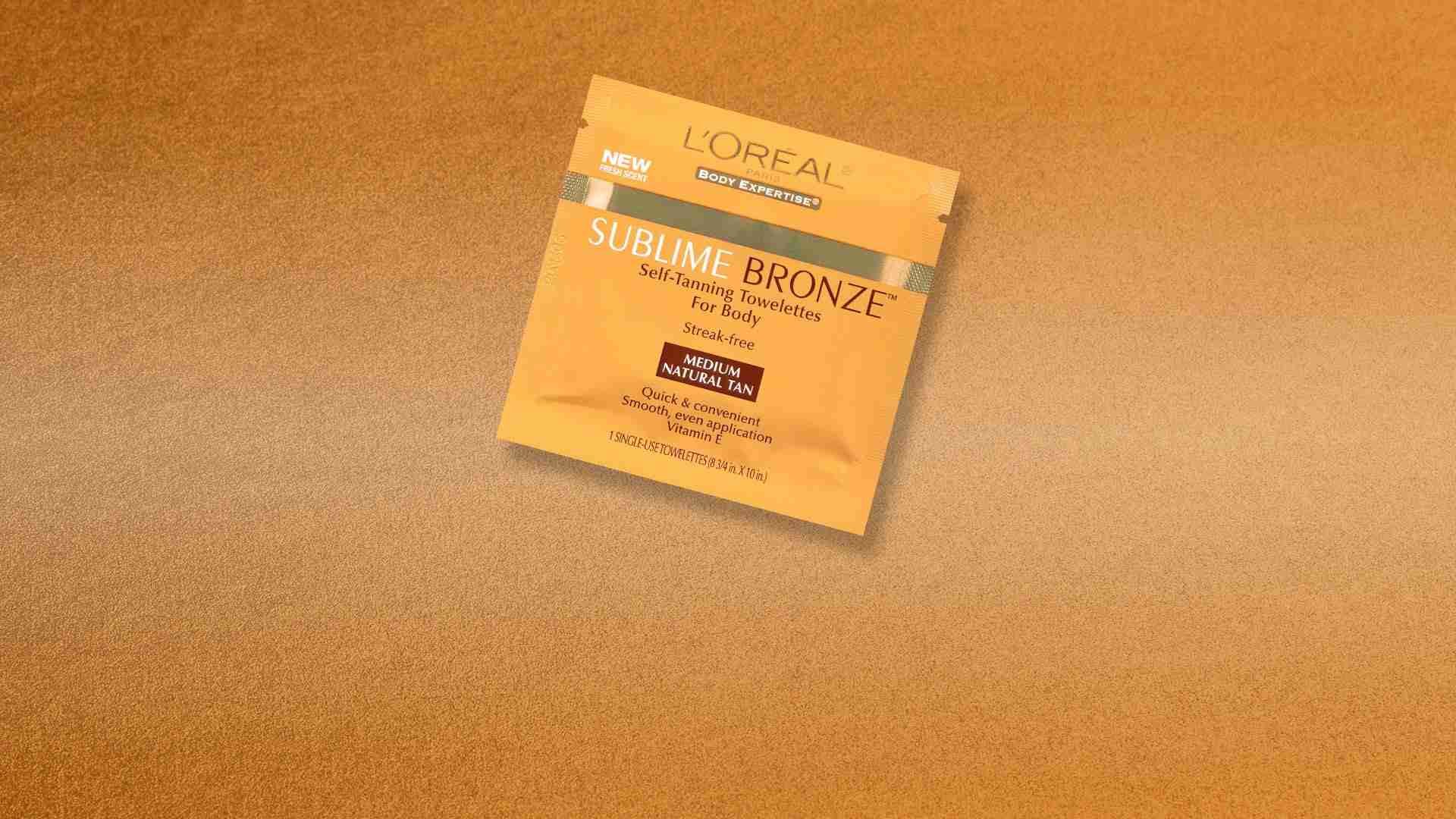 Today, there are so many different types of self-tanner available—and if tanning wipes are one kind that has piqued your interest, you've come to the right place. While popular faux tan options include everything from self-tanning lotions to self-tanning mists, one of the easiest, most convenient types of sunless tan formula on the market is self-tanning towelettes. We promise adding one to your skin care routine is as easy as 1, 2, 3! Below, learn how self-tanning wipes work and how to use them to get golden color.
ALL ABOUT OUR BEST TANNING WIPES
The L'Oréal Paris Sublime Bronze™ Self-Tanning Towelettes for Body are quick, convenient, and provide streak-free color. These single-use self-tanning towelettes go on smoothly and provide the perfect amount of color in each wipe. Since they're individually wrapped, you can toss them in your bag and use one on vacation if you want a little extra color. Bonus: They're also completely mess-free. The formula goes on clear and once you're done, all you have to do is throw the used tanning wipe in the trash.
Self-tanning towelettes are perfect for anyone who is constantly on the move. If you don't have the time or money to make a spray tan appointment, you can use self-tanning wipes in a fraction of the time—not to mention at a much lower price. Adding consistent use of tanning wipes to your skin care routine will keep your tan glowing and radiant all year long.
Editor's note: Are tanning wipes safe? Yes! Per the Mayo Clinic, sunless tanning products are the only way to get a sun-kissed glow without exposing your skin to the sun's damaging rays.
HOW DO YOU USE SELF-TANNING WIPES?
Self-tanning towelettes are easy to use, and the actual application process takes no longer than a minute or two. With the right pre- and post-tanning skin care routine, you can have a flawless tan that rivals that of your favorite A-listers—regardless of the time of year or the temperature outside. Follow these steps for using self-tanning wipes, and you'll be glowing in no time.
STEP #1: CLEANSE AND EXFOLIATE YOUR SKIN
Have you ever used self-tanner only to be disappointed by the streaky results? Well, think about what you did before you applied it. If you skipped out on exfoliating beforehand, that could explain the unevenness. Slough away dead skin cells from the surface of your skin by using a gentle body scrub in the shower. Be sure to use it on any area you plan on tanning, with extra focus put on the rougher areas of your skin like your knees, elbows, wrists, and ankles since they tend to absorb color quicker. Those areas are also the places on your body where you have natural creases and bends. This means there are fine lines in those areas that are likely to absorb more color and end up looking darker than the rest of your skin, drawing attention to them. That is why it is so important to prep your skin, making it as smooth as possible prior to application.
Another good idea is to shave prior to the application of any self-tanner. Not only will this help exfoliate your skin even more, but it might also be your last chance to do so for a few days. Shaving your body can strip away the color of your self-tanner, so you'll want to wait a few days after applying the tan to shave again. On the other hand, if you wax, be sure to do it 48 hours before applying any self-tanner. This will help avoid skin irritation and ingrown hairs.
STEP #2: MOISTURIZE, MOISTURIZE, MOISTURIZE
After you're done exfoliating, hop out of the shower and continue the self-tanner prep process by applying a hydrating body lotion. Apply it anywhere you plan on applying the tanning towelette. Make sure the lotion has fully absorbed and dried before moving on to the next step. Once again, you should focus on areas like your knees, elbows, wrists, and ankles since they can be on the drier side and may soak up more color than the rest of your skin. If you're tanning your face too, you'll want to use a facial moisturizer post-exfoliation.
STEP #3: APPLY A SELF-TANNING TOWELETTE
Now that you're well into your body skin care routine and have thoroughly prepped your skin for self-tanner, you're ready to open a self-tanning wipe and get started. All you have to do is smooth one of the individually-wrapped self-tanning towelettes over your entire body. And in case you need a third reminder, remember to make sure to use the self-tanning towelette sparingly around high-absorption areas like your knees, elbows, wrists, and ankles. Also, be wary of your hands and feet as they often absorb color quickly as well, and they are the parts of your body most likely to be exposed no matter what you're wearing.
Editor's note: Unfold the towelette as needed to prevent it from drying out too quickly!
STEP #4: WASH YOUR HANDS THOROUGHLY AFTER USING
Once you're done applying a self-tanning wipe, quickly get to the sink and wash your hands so that they don't end up darker than the rest of your body. Unless you're wearing gloves, your hands can almost always be seen, so don't make the faux pas of having orange hands—they'll distract from your gorgeous new tan! A quick rinse with some soap is the foolproof way to keep your palms the same color as the rest of your skin. Take care around your wrist area and tops of your hands to ensure there's no visible border when your tan develops.
STEP #5: ALLOW YOUR SELF-TANNER TO DRY ALL THE WAY
Patience is a virtue not only in life but also when it comes to self-tanner. If you want a flawless-looking fake tan, make sure you give your self-tanner time to dry fully. That means you shouldn't throw your clothes on right after applying it. If you do, you could end up with splotchy color and stained clothes. Once your self-tanner has dried, put on loose, dark clothing to help ensure the color won't rub off. Additionally, you'll want to avoid showering or sweating for the next couple of hours. And that means all kinds of water submersion should be off-limits, including getting a pedicure, going swimming, or taking a bath.
After two to four hours, you can finally shower—and see the results. If you still want your tan to be darker, repeat this process each day until you reach your desired level of tan. After you've found the perfect glowing shade, use a towelette once or twice a week to maintain the color.
HOW LONG DO TANNING WIPES LAST?
If you're wondering how long your new tan will last, that depends on a few things. For example, if you shave your legs a day or two after using tanning wipes, your sunless tan won't last quite as long as it might have otherwise. The same goes for if you don't keep up with regular moisturizing. Generally, you can expect self-tanner to give you a tan that will last for about a week.
CAN YOU USE SELF-TANNING TOWELETTES ON YOUR FACE?
Our self-tanning wipes aren't meant to be used on your face, which leaves you with a few options for matching your face and body. For an easy fix, you can wear foundation that matches your newly sun-kissed skin. Just be sure to blend the darker foundation down your neck for a seamless look.
Alternatively, if you don't want to have a mismatched face and body when you aren't wearing face makeup, you can use a separate self-tanner that is meant for your face. Try the L'Oréal Paris Sublime Bronze™ Self-Tanning Serum, which can actually be used on your face and body. Here's How to Use Self-Tanner on Your Face.
Next up: Your new tan will have everyone asking if you just got back from a vacation. And when they hear how you got it, they'll be seeking you out for all of your expert self-tanner tips. Want to learn more sunless tanner application tips to help solidify your spot in your friend group as the self-tanner pro? Here are 10 Self-Tanner Hacks to Help You Get a Golden Glow.
{ "@context": "https://schema.org/", "@type": "WebPage", "speakable": { "@type": "SpeakableSpecification", "cssSelector": ["speakable-content"] }, "url": "https://www.lorealparisusa.com/beauty-magazine/skin-care/sun-care-and-self-tanning/self-tanner-towelettes-how-to" }
Discover more tips & tricks
Keep your skin happy
See all articles
Shop Featured Skin Care products
Discover More
{ "@context": "http://schema.org", "@type": "BreadcrumbList", "itemListElement": [ { "@type":"ListItem", "position": 1, "item": { "@id": "/", "name": "Home" } } , { "@type":"ListItem", "position": 2, "item": { "@id": "https://www.lorealparisusa.com/beauty-magazine", "name": "Beauty Magazine" } } , { "@type":"ListItem", "position": 3, "item": { "@id": "https://www.lorealparisusa.com/beauty-magazine/skin-care", "name": "Skin Care For Every Age" } } , { "@type":"ListItem", "position": 4, "item": { "@id": "https://www.lorealparisusa.com/beauty-magazine/skin-care/sun-care-and-self-tanning", "name": "Sun Care & Self-Tanning" } } , { "@type":"ListItem", "position": 5, "item": { "@id": "https://www.lorealparisusa.com/beauty-magazine/skin-care/sun-care-and-self-tanning/self-tanner-towelettes-how-to", "name": "self-tanner-towelettes-how-to" } } ] }