eye makeup
10 Tips To Make Your Eyes Look Bigger With Makeup
You'll want to see these.
November 04, 2019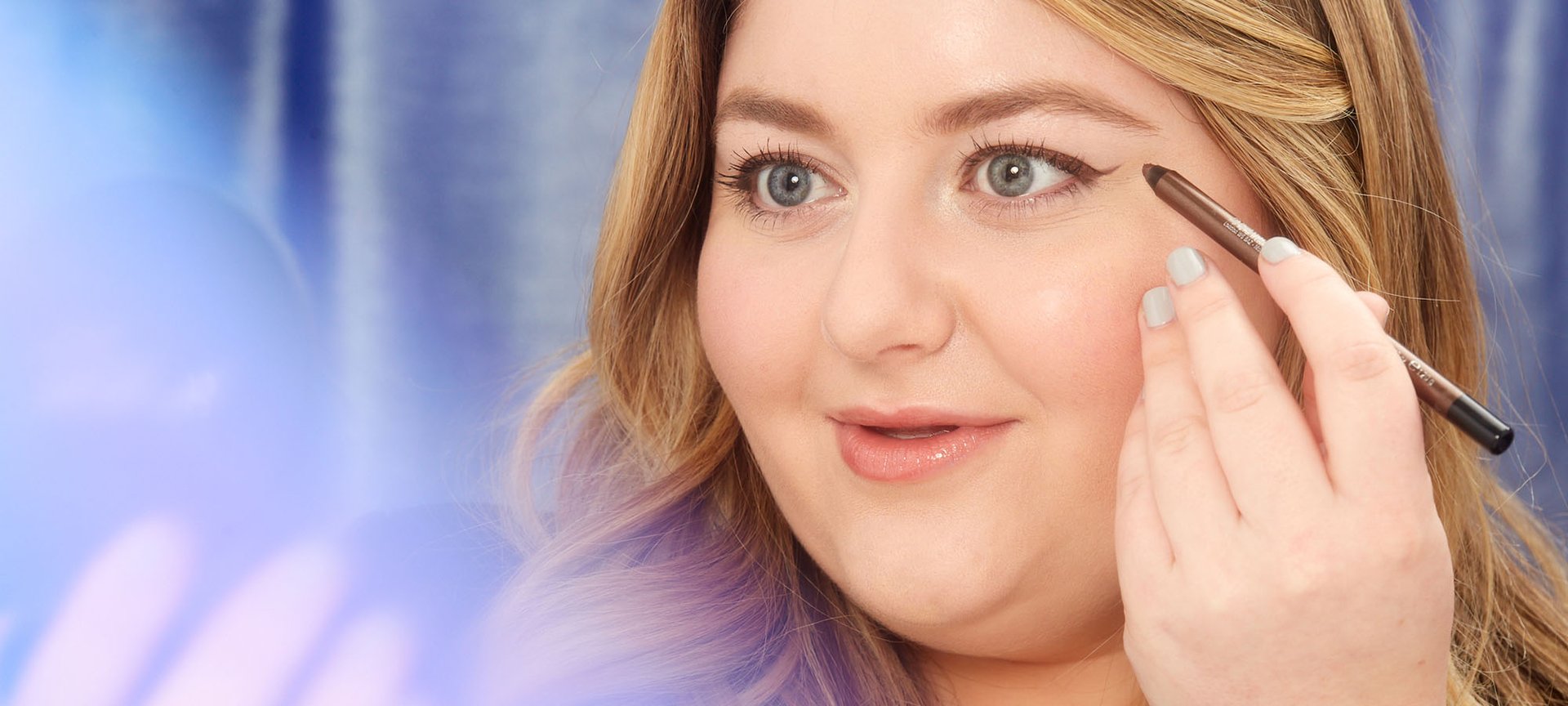 There's just something about big doe eyes that gives a classic fairytale look. The appearance of big eyes is striking and can add some youthfulness to your overall beauty look. If your eyes don't look quite as large as you'd like, don't fault your natural eye shape. With the right eye makeup tricks, you can create an optical illusion of larger peepers.. Here, learn how to make your eyes look bigger with 10 easy tips and eye makeup techniques.


Tip #1: Use A Brown Or Colored Eyeliner
Black might be your go-to color when it comes to eyeliner, but using a brown or colored eyeliner can also help make your eyes appear bigger and brighter. For enlarging the appearance of your eyes, choose a colored liner that mimics the natural color of your eyes. If you have baby blues, for example, reach for the L'Oréal Paris Infallible Pro-Last Waterproof, Up to 24HR Pencil Eyeliner in Cobalt Blue. For green-eyes, use the same pencil eyeliner in Forest Green.

Tip #2: Highlight With Eyeshadow
Similar to how you highlight your face, you want to use eyeshadow to highlight certain parts of your eyes in order to give them a larger look. Select a white or light ivory eye shadow, like the L'Oréal Paris Colour Riche Monos Eyeshadow in Paris Beach. Apply the eyeshadow to the inner corner of your eyes, below the arch of your eyebrows, and on the center of your eyelids to leave your eyes appearing more open and awake.

Tip # #3: Contour
Just as highlighting is important, contouring your eyes is a must to fake a larger appearance. Use a darker brown shade, like the L'Oréal Paris Infallible 24HR Eyeshadow in Bronzed Taupe, to define your eyes. Apply the shadow just slightly above the crease of your eye to create the illusion that your eyes are larger. Then drag the shadow upward and outward for a brown smokey eye that will widen the appearance of your eyes. Take the same dark brown eyeshadow and apply it along your lower lash line from the outer corner to the middle of your eye.

Tip #4: Don't Overline
When you surround your eyes with dark eyeliner, it can actually make them look smaller. Instead, draw a simple thin line on either your top or bottom lash line—not both—using a liquid eyeliner with a precise tip, like the L'Oréal Paris Infallible The Super Slim Liquid Eyeliner. If you've lined your upper lash line and still feel like you need more of an accent on your lower, use a medium-toned brown eyeshadow instead of applying more eyeliner. Apply a super light dusting of shadow using a thin, tapered eyeshadow brush.

Tip #5: Know The Three Fourths Rule
If you really want to make your eyes look bigger, try lining only the outer three-fourths of your lash line, which can help draw attention to the wider, outer corners of your eyes. Sometimes when you draw one solid line across your lashes, this can make your eyes appear smaller in the same way that lining them all the way around would.

Tip #6: Keep It Neutral
When it comes to creating the illusion of bigger eyes with eyeshadow, lighter, more neutral shades will be your best friend. Try a neutral brown shade, like the L'Oréal Paris Colour Riche Monos Eyeshadow in Matte It Up, on your lids.

Tip #7: Extend Your Liner
To make your eyes look bigger, another tactic you can try is extending your eyeliner beyond the outer corner of your eyes. This will help mimic a wider gaze. If you decide to try this tip, just remember that it can take some practice. This is definitely a makeup look that you want to draw on carefully because even the slightest variation could make your eyes look lop-sided. Use a pencil eyeliner, such as the L'Oréal Paris Infallible Pro-Last Waterproof, Up to 24HR Pencil Eyeliner, for this technique. Liquid eyeliner will lend itself more easily to making mistakes, especially if you're trying out this technique for the first time.

Tip #8: Swipe On Lengthening Mascara
No eye makeup look is complete without mascara. To start, use a lash primer like the L'Oréal Paris Voluminous Lash Paradise Mascara Primer/Base to give your lashes extra length, volume, and drama. Once you've applied your lash primer, it's time to finish the look with your mascara of choice. Use a volumizing and lengthening mascara like the L'Oréal ParisAir Volume Mega Mascara, Lightweight Mega Volume Washable to contribute to your wide-awake look. Start with the brush placed at the base of your lashes and work your way toward the tips to completely cover your lashes with the lengthening formula. For added drama apply three coats for a standout lash look.

Tip #9: Don't Use Dark Shades On Your Waterline
Despite what you may have heard, it's not the best idea to apply dark eyeliner to your bottom waterline because this can actually shrink the appearance of your eyes. Instead, apply your go-to eyeliner just below your lower lashes to help make your eyes look bigger.

Tip #10: Use White To Make Your Eyes Look Bigger
While you want to steer clear of dark eyeliner on your waterline, this is the perfect area to apply a nude or white eyeliner. Try lining your waterline with the L'Oréal Paris Infallible Pro-Last Waterproof, Up to 24HR Pencil Eyeliner in Nude to help make your eyes look bigger. If you extended eyeliner out past the corner of your eye, you could even line the underside of that line with a touch of white for added width.
Next: 16 Colorful Eye Makeup Looks That Will Make Your Eyes Stand Out

Edited by: Lauren Paige Richeson, Photo Credit: Chaunte Vaughn
Discover more tips & tricks
Keep your skin happy
See all articles
Shop Featured Makeup products
Discover More