eye makeup
11 Makeup Tips To Make Small Eyes Look Larger
Take a look at these eye-opening tricks.
August 14, 2020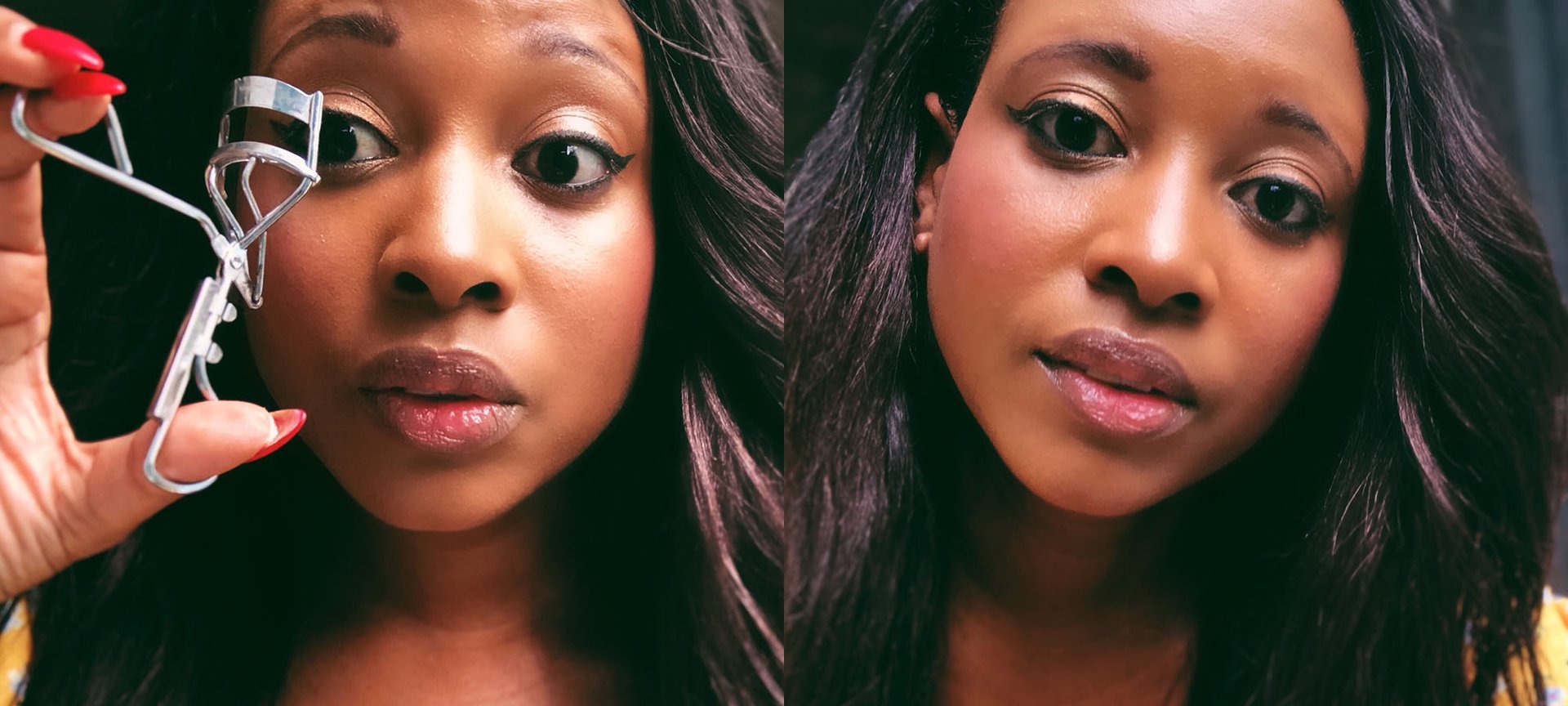 When it comes to creating a standout makeup look the eyes can make or break it. While there are so many beautiful eye makeup trends to try, the big doe-eyed look is one that never goes out of style. Thanks to the magic of makeup, this look is no longer reserved for those with big almond eyes. With a few changes to your makeup routine, anyone can achieve a bigger, brighter eye look regardless of your natural eye shape. Below, we're sharing 11 makeup tips and tricks to emphasize small eyes.

Tip #1: Highlight Your Eyes
Not only is highlighter makeup an essential for enhancing your features, but it also works wonders to help you achieve a wide, open-eyed effect. Dust a highlighter, like the L'Oréal Paris True Match Lumi Shimmerista Highlighting Powder onto your brow bone, the inner corners of eyes, and the center of your lids to give you the look of a lifted and bigger gaze.

Tip #2: Sculpt Your Brows
Sculpted eyebrows are a great way to frame your face and enhance your features, including your small eyes. Grab the L'Oréal Paris Unbelievabrow Longwear Waterproof Gel, which helps to thicken the look of your brows for hours. Lightly apply the product to fill in sparse areas. Then, use the angled brush to outline and define the shape of your brow and Finish up by combing through them with a spoolie, and your work is done.

Tip #3: Conceal Dark Circles
Concealer is a makeup essential for good reason. It works wonders to blur imperfections and tackle dark circles to lighten and brighten your under-eye area. The L'Oréal Paris True Match Eye Cream in a Concealer, 0.5% Hyaluronic Acid is a must-have hybrid that provides instant dark circle coverage with the care of an eye cream to give your eyes some extra TLC.

Tip #4: Apply A Winged Eyeliner
The classic winged eyeliner look is perfect for creating the illusion of bigger eyes. Use the L'Oréal Paris Matte Signature Liquid Dip Eyeliner, Waterproof, and build your winged eyeliner look with small thin strokes. Once you reach the outer edge of your eyes, create a small flick that extends up and outward. Click through our article, How to Achieve Your Sharpest Winged Eyeliner Look, for a step-by-step tutorial.

Tip #5: Embrace Tightlining
If there is one makeup trend that can complement your eye makeup for small eyes, tightlining easily takes one of the top spots. This technique is all about lining your upper lash line, which helps create the appearance of thicker, more defined lashes. We also dig that it makes you look like you're not wearing any eyeliner at all, so it won't make your eyes look any smaller.

Tip #6: Always Use A Lash Curler
Using a lash curler is one of the best ways to make your eyes truly pop. Give your lashes the perfect amount of lift with the help of this beauty staple by gently clamping it at the base of your lashes and walking the curler outward for a complete curve.
Editor's tip: To give your lashes even more lift, run warm water over your lash curler before using it.

Tip #7: Define Your Crease
Just as contouring accentuates your cheekbones and sculpts your face, crease contour can do the same for your eyes. This trick gives the appearance of deeper set eyes, making your peepers look larger than they actually are. To get the look, use a neutral matte shade, like the L'Oréal Paris Colour Riche Monos Eyeshadow in Café Au Lait, and blend the color onto your crease and the outer corner of your eyes.

Tip #8: Consider Color Eyeliner
In some instances dark eyeliner can actually make your eyes look smaller, so switch out the black shade in favor of something lighter. Consider applying a colored eyeliner like nude or white eyeliner to your lids. These neutral shades help you achieve a brighter, natural, and more awake look, ultimately making your small eyes look even bigger. Try this trick with the L'Oréal Paris Infallible Pro-Last Waterproof, Up to 24HR Pencil Eyeliner in Nude.

Tip #9: Don't Apply Mascara On Inner Lashes
Mascara helps your eyes stand out, which is the number one goal for small eyes. But before you begin to paint your lashes, we recommend a small shift in technique. Try coating your lashes with the L'Oréal Paris Voluminous Lash Paradise Waterproof Mascara, but concentrate the formula on the outer two-thirds of your eyelashes to avoid making your eyes look closed off.

Tip #10: Try False Eyelashes
Sporting a flirty and lifted fringe is key for making your small eyes the center of attention. If you want to take your look up a notch, false eyelashes can make it happen. It's essential to find the right style that complements your eye shape, so feel free to trim the lash strip down to size. Once you have the perfect set of falsies, visit our article, How to Apply False Eyelashes and Other Fake Lash Hacks, for a seamless application process.

Tip #11: Apply Eyeshadow To Your Lower Lash Line
It's common practice to apply eyeshadow on your lids, but you'll need to show your lower lash line some love to make a big impact. Sweeping a line of eyeshadow right under your bottom lashes provides your eyes with more definition and creates a contouring effect that goes a long way with your makeup for small eyes.

Next: The Best Eye Makeup for Your Eye Shape
Written and Photographed by: Lauren Paige Richeson
{ "@context": "https://schema.org/", "@type": "WebPage", "speakable": { "@type": "SpeakableSpecification", "cssSelector": ["speakable-content"] }, "url": "https://www.lorealparisusa.com/beauty-magazine/makeup/eye-makeup/makeup-for-small-eyes" }
Discover more tips & tricks
Keep your skin happy
See all articles
Shop Featured Makeup products
Discover More
{ "@context": "http://schema.org", "@type": "BreadcrumbList", "itemListElement": [ { "@type":"ListItem", "position": 1, "item": { "@id": "/", "name": "Home" } } , { "@type":"ListItem", "position": 2, "item": { "@id": "https://www.lorealparisusa.com/beauty-magazine", "name": "Beauty Magazine" } } , { "@type":"ListItem", "position": 3, "item": { "@id": "https://www.lorealparisusa.com/beauty-magazine/makeup", "name": "Makeup Tips For Every Look" } } , { "@type":"ListItem", "position": 4, "item": { "@id": "https://www.lorealparisusa.com/beauty-magazine/makeup/eye-makeup", "name": "Eye Makeup" } } , { "@type":"ListItem", "position": 5, "item": { "@id": "https://www.lorealparisusa.com/beauty-magazine/makeup/eye-makeup/makeup-for-small-eyes", "name": "makeup-for-small-eyes" } } ] }