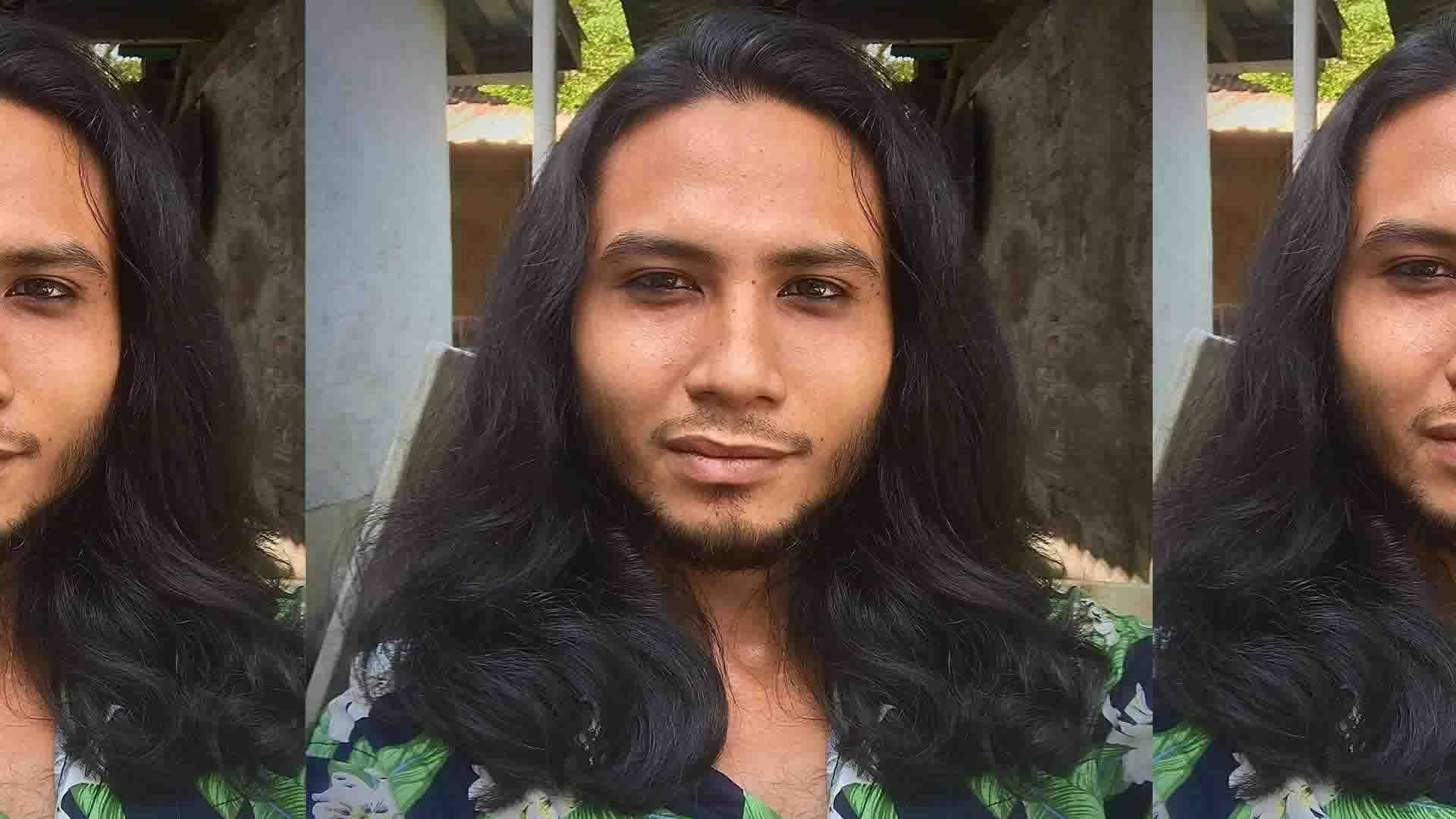 The community of long-haired men continues to grow rapidly and we are here for it! Everyone deserves a chance to rock long hair if they want and men are no exception. And these days they are truly serving when it comes to long hairstyles. Fellas, if you notice that your tresses are starting to gain some length and you're not sure how to style them, you're in the right place. From shoulder-grazing waves to effortless messy man buns, we've rounded up some of the best long hairstyles for men. So read on to get some inspiration along with hair product recommendations you can use for your next 'do.
1. Shoulder-Length Waves
If you're the type of guy that loves a carefree and stylish look, shoulder-length waves may be your hair match! This look keeps your styling routine simple and it's perfect for days when time is not on your side. Reach for a curl mousse, like the L'Oréal Paris Advanced Hairstyle CURVE IT Elastic Curl Mousse, and apply an egg-sized amount to your strands. Scrunch, let your strands air dry, and you're good to go.
2. Tousled Shag Cut
While carefree styles are on your mind, we have to put the timeless tousled shag cut on your radar. This layered look provides your mane with texture and body for a statement-making 'do. Keep styling minimal with just a touch of hair putty, like the L'Oréal Paris Studio Line Overworked Putty, and work a dime-sized amount through your hair to shape it.
3. Spiked Undercut
For a quick and easy-to-do hairstyle, try a spiked undercut look. This long hairstyle for men combines length at the top with short buzzed sides that will give it some edge. Grab a small amount of hair gel, like the L'Oréal Paris Advanced Hairstyle LOCK IT Clean Style Gel, and apply it to your length at the top. Shape your strands into thick or thin spikes, whichever you like to create your desired look.
4. Comb-Over With Side Part And Fade
Can't resist a fade haircut? Pair the look with a classic comb-over and side part to really level up your style. This is a great option for men with straight or wavy hair and it's a style that works to complement your face shape with versatile detailing. Ask your barber to create a deep side part so your length can be the focal point of your hairstyle.
5. Faux Locs
Faux locs are a shortcut way to getting dreadlocks and it's a great protective style that allows wearers to change up their look. It's also a versatile style that gives the hair a break from daily manipulation and can be worn down or up, depending on your preference. Since this is a very intricate hairstyle, we recommend booking an appointment with a stylist who can help you get the best results.
6. Spiked Faux Hawk
Oh, the spiky faux hawk! Crafted with barely-there sides and longer hair in the middle of your head, this look will surely take your style to new heights. Reach for the L'Oréal Paris Studio Line Overworked Putty to help mold your hair to your liking and finish off the style with a few spritzes of the L'Oréal Paris Elnett Satin Hairspray Extra Strong Hold Volume to help keep your mane in place.
7. Natural Hair Puff
For those with thick and long natural hair textures, you can never go wrong by creating a puff updo. It's a great style to keep the hair away from your face and show off your natural texture. Use the L'Oréal Paris Elvive Dream Lengths Super Curl Cream Leave In to add some moisture to your hair and help define your coily curls. Then use a brush to smooth and gather all the hair into one large pony that will sit on top of your head.
8. Curtain Haircut
To take a retro hairstyle for a spin, we suggest the curtain haircut. Featuring long hair with a strong middle part, it's a stylish way to bring back this popular '90s hairstyle. Nowadays it's known as the eBoy hairstyle. For this look, apply a few pumps of the L'Oréal Paris Dream Lengths Frizz Killer Serum to help keep your strands sleek and smooth.
9. Box Braid Bun
Box braids are a great protective style for men with natural hair because they require minimum maintenance and can help protect your hair from damage (so your hair can grow even longer). You just have to make sure you're taking care of your hair properly while it's in braids. For this look, we recommend going to a professional hair braider, who can give you the exact size and length best for your hair. When the style is complete gather all the braids into a high ponytail and twist it around to form a bun.
10. Long And Straight
Our list wouldn't be complete without adding this simple and easy to-do hairstyle. Long, straight hair offers a polished and put together appearance when styled the right way. The key is to make sure that your strands are in tip-top shape by getting regular trims and maintaining a proper hair care routine. Try using the L'Oréal Paris Elvive Dream Lengths No Haircut Cream Leave In Conditioner to help seal split ends, which will help keep your hair long. If you need to use a flat iron, make sure to use a heat protectant like the L'Oréal Paris Elvive Dream Lengths Heat Slayer Pre-Iron Spray Leave-In.
11. Angled Fringe With Undercut
If you're looking for a more vintage approach to long hairstyles, it's time to bring back the angled fringe with an undercut. This hairstyle features super short sides with a long angled fringe at the top for a playful and youthful appeal. Add a generous amount of volumizing spray, like the L'Oréal Paris Elnett Satin Extra Strong Hold Volume, to amp up the texture.
12. High-Low Fade With Long Fringe
Long hair gives you free rein to experiment with tons of hairstyles. So why not try out a high-low fade with a long fringe. It's a popular hairstyle for men with long hair and it combines a bald fade, side part, long bangs, and longer, messy texture on top for a look that doesn't skimp on style.
13. Long Flat Top
This throwback hairstyle is sure to capture the hearts of many. It's a popular throwback hairstyle among the Black community (having quite the renaissance!) and it features a mid-tapered fade along the sides that builds up to long textured hair that's sky-high. Working to highlight tight and loose curl patterns, this look is another option for redefining the meaning of retro styling.
14. Long Curls With Shaved Design
Long curls with a shaved design is a chic option for long hair. Perfect for the guy who loves to experiment with hairstyles, this look blends intricate detailing and timeless styling for a look you'll adore. Ask your barber to create your shaved design on either side of your head for a stylish pop. To style, use a wave spray or mousse, like the L'Oréal Paris Advanced Hairstyle BOOST IT Volume Inject Mousse to add volume and definition to your curls.
15. The Man Bun
We can't talk about the best hairstyles for men with long hair without covering the man bun—it wouldn't be right. When pulling your hair up is a must, gather your long strands into a ponytail—low or high—then twist the ponytail around its base to form a bun. Secure with a hair elastic, and call it a day!
{ "@context": "https://schema.org/", "@type": "WebPage", "speakable": { "@type": "SpeakableSpecification", "cssSelector": ["speakable-content"] }, "url": "https://www.lorealparisusa.com/beauty-magazine/hair-style/long-hairstyles/how-to-style-long-hair-men" }
Discover more tips & tricks
Keep your skin happy
See all articles
Shop Featured Hair Style products
Discover More
{ "@context": "http://schema.org", "@type": "BreadcrumbList", "itemListElement": [ { "@type":"ListItem", "position": 1, "item": { "@id": "/", "name": "Home" } } , { "@type":"ListItem", "position": 2, "item": { "@id": "https://www.lorealparisusa.com/beauty-magazine", "name": "Beauty Magazine" } } , { "@type":"ListItem", "position": 3, "item": { "@id": "https://www.lorealparisusa.com/beauty-magazine/hair-style", "name": "Find Your Next Hot Look" } } , { "@type":"ListItem", "position": 4, "item": { "@id": "https://www.lorealparisusa.com/beauty-magazine/hair-style/long-hairstyles", "name": "Long Hairstyles" } } , { "@type":"ListItem", "position": 5, "item": { "@id": "https://www.lorealparisusa.com/beauty-magazine/hair-style/long-hairstyles/how-to-style-long-hair-men", "name": "how-to-style-long-hair-men" } } ] }