hairstyle trends
How to Use a Texture Spray
October 18, 2018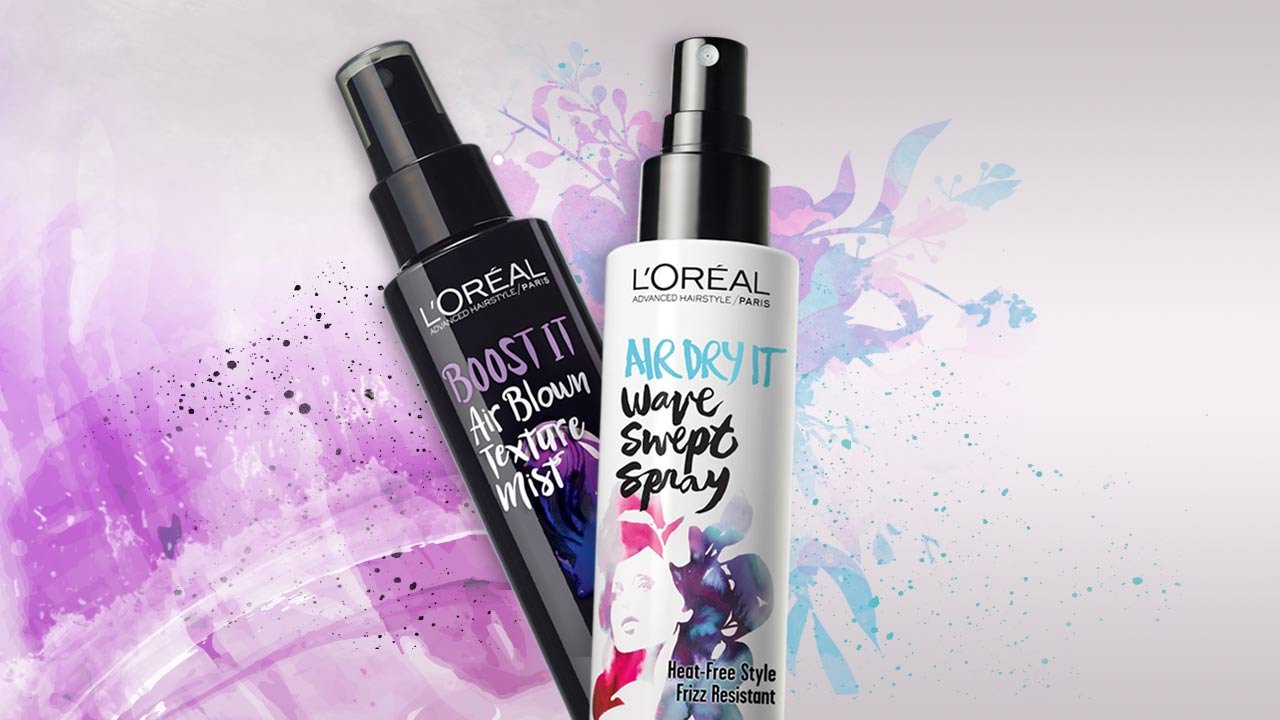 When it comes time to style your hair, you likely reach for your curling iron and flat iron on the regular. Or perhaps you've mastered tossing your hair into a quick messy bun or an easy fishtail braid. But how about hair styling products? You may be missing out on one of the easiest ways to style your mane—embracing your hair's natural shape with a texture spray! Here, find out what a texture spray is, our best texture sprays to add to your beauty routine, and how to use them for an envy-worthy lock look.
WHAT IS A TEXTURE SPRAY?
A texture spray is a hair spray that—as you may have guessed—accentuates your hair's natural shape and adds texture to your hair. There are texture sprays that create beachy hair, loose waves, straight hair, voluminous hair, and just about any other type of texture you can imagine. They're a super easy way to add some definition to your mane without using a million different hair styling products.
OUR BEST TEXTURE SPRAYS
Now that you know what a texture spray is, you probably want to add one to your hair styling routine. Lucky for you, we have two texture sprays available for your styling needs. Learn about our best texture sprays below.
L'Oréal Paris Advanced Hairstyle AIR DRY IT Wave Swept Spray: This texture spray will give medium to coarse hair natural, effortless style with a soft, touchable feel. The spray allows you to create and control your hairstyle without unwanted heat damage. Its lightweight formula helps resist frizz, enhances your hair's natural shape, definition, and texture, and provides a flexible, long-lasting hold. What more could you want?
L'Oréal Paris Advanced Hairstyle Boost It Air-Blown Texture Mist: Not feeling wavy hair? Whether you're rocking a curly or straight style, this texture spray can be used to tease roots and build body—all with a weightless feel. Use it to add texture and volume to your hair from the crown to your roots for a full-bodied, blown-out look.
HOW TO USE A TEXTURE SPRAY ON DRY HAIR
When it comes to using a texture spray, it all depends on whether your hair is wet or dry. If you have dry hair, there are a few tips and tricks that can help you get the most out of your spray.
Tip #1: Braid your hair beforehand
Since texture sprays highlight the texture of your hair, braiding your locks prior to spritzing on the hair product can help you achieve more defined waves. This is a particularly good idea for those who have a naturally straight mane. Simply braid your hair as you normally would, keeping in mind that the smaller your braids are—and the more of them you make—the tighter and more noticeable your waves will be. Once you've woven all your braids, spray the texture spray throughout your hair. Allow the spray to dry before taking out your braids.
Tip #2: Twist away
Twists are another good way to add definition and get the most out of your texture spray. Grab a section of hair, spritz the texture spray, and give the section a good twist before releasing—that's all there is to it.
Editor's tip: Are your twists not holding their shape? Try pinning them down and waiting a few hours before releasing them.
Tip #3: The smaller the section, the better
While you may be tempted to rush through your styling by adding texture to large sections, it's best to use smaller sections that can be easily manipulated. Using too large of a chunk of hair can make it easy for you to miss applying the spray to certain parts of your mane.
Tip #4: Scrunch to your heart's desire
Another way to enhance the effects of your texture spray is to scrunch your strands. This is one of our favorite tips since it's so easy! Spritz the texture spray on a section of hair, then gather that section of hair in your hand, close your fingers around it, and scrunch.
Tip #5: Work with your hair's texture
Pick a texture spray that coordinates with your hair's natural texture. If you have naturally straight hair, a straight, blow-out spray will likely work well with your locks. If you have naturally wavy hair, use a wave spray to enhance your natural curl.
HOW TO USE A TEXTURE SPRAY ON WET HAIR
Want to use a texture spray on wet, towel-dried hair? It's easy! Here are a few tips to follow:
Tip #1: Braid after applying
Just like with dry hair, braiding your locks can help you get the most out of your texture spray. The only difference is, this time you'll want to use the texture spray first and braid second. Spritz a wave spray throughout towel-dried hair, braid your hair as you normally would, and allow your hair to dry. You'll be left with effortless, loose waves.
Tip #2: Grab your blow-dryer
Don't have time to wait for your braids to dry? You don't have to give up on achieving those stunning waves! Speed up the process by blow-drying your braids instead of allowing them to air dry.
Tip #3: Sleep on it
A great way to use a texture spray on damp hair is to spray it, braid, and then sleep on it. Allowing your hair to dry overnight will give your strands more time to form into your desired shape.
Tip #4: Wring your hair out
While you can totally apply a texture spray on damp hair, make sure your hair isn't soaking wet. Wring out your hair and apply your texture spray to towel-dried locks instead—we promise you'll have much more success with boosting texture when your strands aren't sopping.
Discover more tips & tricks
Keep your skin happy
See all articles
Shop Featured Hair Style products
Discover More