all hair types
7 Hair Products For Men To Try in 2021
December 02, 2020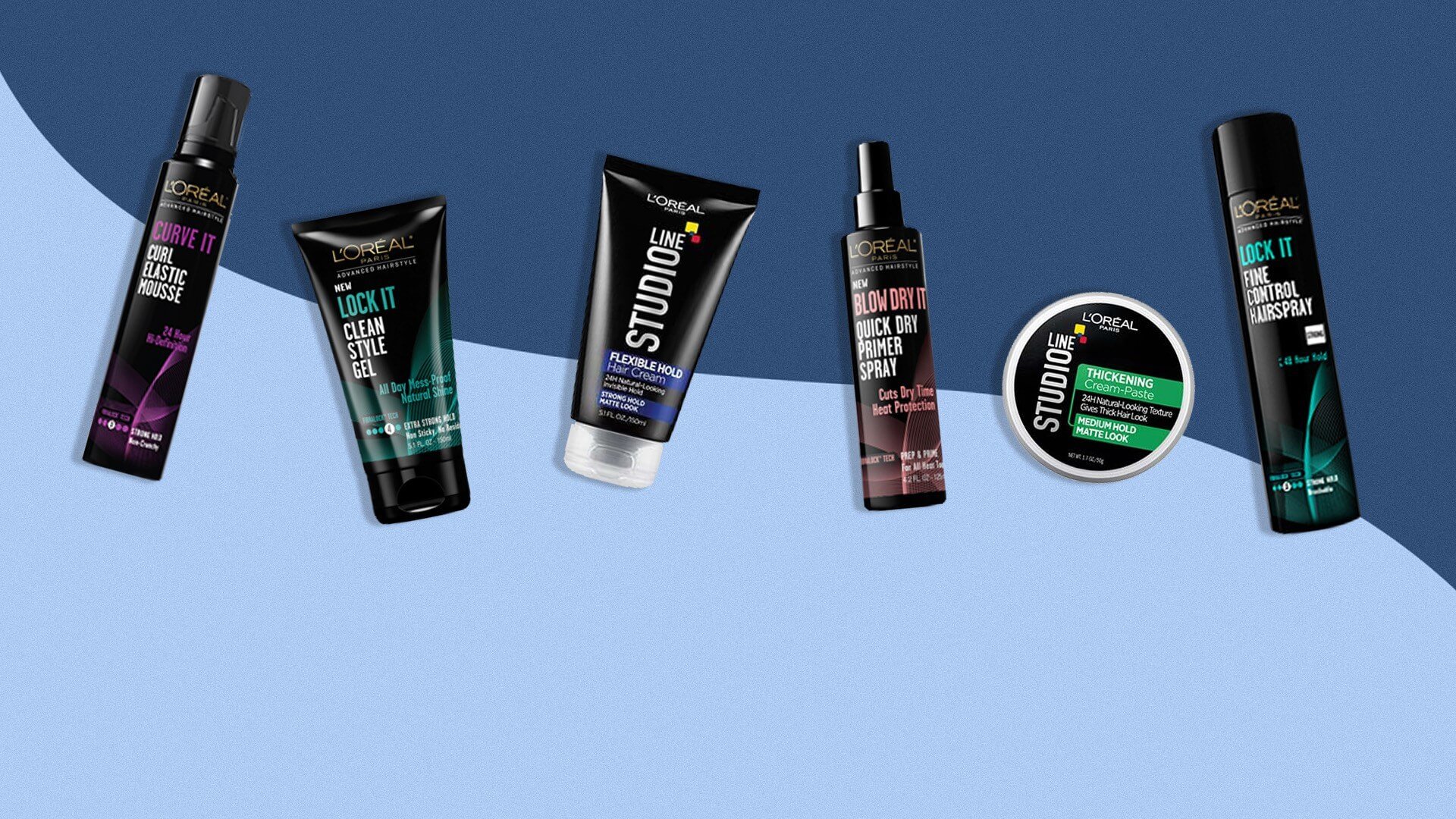 Calling all men: We think your hair-care routine could use a revamp. Stop using the same old hair gel that makes your hair crunchy or borrowing your girlfriend's mousse every day. You need products of your own that make your hair look it's best. Of course, you may find yourself a bit overwhelmed by a long list of must-have hair products for men. It can be challenging to figure out which styling products you really need in your bathroom cabinet. But you're in luck. We've compiled a list of the seven best hair products for men—and there's no need to break the bank here. Read on to learn about the top men's hair products worth trying in 2021, with recommendations from the drugstore.
MEN'S HAIR PRODUCT #1: HAIR POMADE
Hair pomades are great for adding texture to your mane. Men with shorter hair will find them particularly useful for defining layers, creating shape, and holding styles—it's no wonder they're the first on our list of hair-styling products for men. Even better, they can be used on dry hair, making them a quick and easy option for styling your hair before heading out the door. To use one, simply take a bit of product, rub it between your fingertips, then run through your hair and shape to get your desired look. Add more product as needed.
L'Oréal Paris Studio Line Thickening Medium Hold Cream Paste: This hair pomade has a medium hold for comfort and control. It's formulated with beeswax and will leave your strands with a matte finish. The lightweight formula won't weigh down your hair either; instead, it will create the illusion of thicker, fuller locks.
L'Oréal Paris Studio Line Hair and Beard Cream: This lightweight product, which is formulated with ultra-moisturizing, non-greasy polymers, can be used to groom the hair on your head and your face. It provides a light hold and a natural-looking finish with a light shine.
L'Oréal Paris Studio Line Overworked Hair Putty: The formula of this hair pomade works overtime to add texture and thickness to your mane. It has a workable hold, making it easy to style your strands.
MEN'S HAIR PRODUCT #2: SCALP SCRUB
A scalp scrub toes the line between hair care and skin care, but we'd still argue that it earns a spot as one of the best men's hair products. Over time, all of your other hair care and styling essentials can build up on your scalp and strands, which makes hair look dull and dirty. Just as you need to exfoliate your face and body regularly to slough away buildup, the same holds true for your scalp. A scalp scrub should be used before shampooing. Wet your hair, then apply it to your roots. Use your fingers to work it over your scalp, then rinse.
L'Oréal Paris EverPure Scalp Care + Detox Scrub, Sulfate-Free: Give yourself an exfoliating scalp massage while using this sulfate-free scrub. It's formulated with apricot seed and menthol to remove buildup and create a purified base for your hair-care routine. It can also help address a dry or oily scalp, as well as flakes and dandruff.
MEN'S HAIR PRODUCT #3: HAIR CREAM
Perhaps a hair cream is more your speed. Hair creams have a variety of styling attributes, from smoothing to shaping. Depending on the cream in question, there's likely one that'll be good for your hair length and type. Give one of the following two a try.
L'Oréal Paris Studio Line Flexible Strong Hold Cream: This lightweight styling cream offers a medium hold with a matte finish. The cream is formulated with glycerin and melts onto hair for application that's always weightless and residue-free. Use it to define your strands with a flexible hold.
L'Oréal Paris Advanced Hairstyle BLOW DRY IT Thermal Smoother Cream: If you're prone to frizz, add this hair cream to your regimen. The lightweight formula smoothes hair while protecting from heat damage, making it a great option to apply prior to blow-drying.
MEN'S HAIR PRODUCT #4: HAIR GEL
Hair gel is up next. Hair gels are a men's hair product that can be used on all lengths—short or long. Use one to spike up your strands or to slick them back. There's no shortage of styling options, so it's worth having one on-hand. To use, apply a dime-size amount to your palms, rub them together, then work throughout your mane to style as desired. Add more product if needed.
L'Oréal Paris Advanced Hairstyle LOCK IT Clean Style Gel: This high-performance gel delivers a clean look and feel along with an extra strong hold and natural-looking shine. All of which lasts all day. It's specially formulated for daily grooming, so go ahead and add it to your everyday routine.
L'Oréal Paris Advanced Hairstyle LOCK IT Extreme Style Gel: For something with a little more holding power, try this hair gel. It will give your strands gravity-defying hold, locking your style into place with maximum hold and high shine for up to 24 hours.
L'Oréal Paris Studio Line Mega Gel: This hair gel provides long-lasting control, structure, and definition for hard-to-hold styles.
L'Oréal Paris Studio Line Clean Gel: The formula will give your mane clean definition, keeping your style firmly in place without building up on your strands.
MEN'S HAIR PRODUCT #5: HAIR MOUSSE
A hair mousse comes into play if you crave volume. Whether you want to boost your roots or have curly hair that needs some control, this men's hair product is one worth trying. Apply a dollop to damp hair before blow-drying.
L'Oréal Paris Advanced Hairstyle BOOST IT Volume Inject Mousse: This high-performance, lightweight mousse gives lifeless hair a volume injection. Hair is boosted for a long-lasting, bouncy, and volumized look thanks to a formula that's infused with thickening agents.
L'Oréal Paris Advanced Hairstyle CURVE IT Elastic Curl Mousse: This ultra-lightweight mousse adds hi-definition to curly hair. It provides long-lasting hold without stickiness or buildup for lasting, soft curls that bounce from roots to ends.
MEN'S HAIR PRODUCT #6: HEAT PROTECTANT
Anyone who reaches for a blow-dryer on the reg needs to invest in a heat protectant. Spritz it onto your hair prior to heat styling to protect your mane from heat damage.
L'Oréal Paris Advanced Hairstyle SLEEK IT Iron Straight Heatspray: This lightweight heatspray offers 450-degree heat protection for an ideal, sleek look that lasts. It's formulated to work with any heat-styling tool and has a unique formula that not only helps protect from heat damage but also calms frizz, seals in shine, blocks humidity, and conditions for a sleek style that lasts three days.
L'Oréal Paris Advanced Hairstyle BLOW DRY IT Quick Dry Primer Spray: This lightweight primer is formulated with fibralock technology to accelerate your routine. It reacts with heat to reduce blow-dry time while protecting hair from heat damage.
MEN'S HAIR PRODUCT #7: HAIRSPRAY
Last but not least, we can't leave out hairspray. If there's one hair product for men that we deem a must for anyone's list, it would have to be hairspray. When all is said and done, it's a must for sealing in your styling efforts and making sure your mane looks its best all day long. Mist it over your hair at the end of your hair-styling routine.
L'Oréal Paris Advanced Hairstyle LOCK IT Fine Control Hairspray: This water-free and humidity-resistant hairspray delivers a fine mist for a strong, long-lasting hold that's ultra-brushable. You can apply, brush it out, and reapply throughout the day.
L'Oréal Paris Advanced Hairstyle LOCK IT Weather Control Hairspray: This lightweight mist locks out humidity while locking in smooth style. The formula instantly helps tame unruly flyaways and frizz.
L'Oréal Paris Advanced Hairstyle LOCK IT Bold Control Hairspray: This quick-dry hairspray has a water-free, humidity-resistant formula. The high-performance micro-diffused spray offers long-lasting hold.
Discover more tips & tricks
Keep your skin happy
See all articles
Shop Featured Hair Style products
Discover More