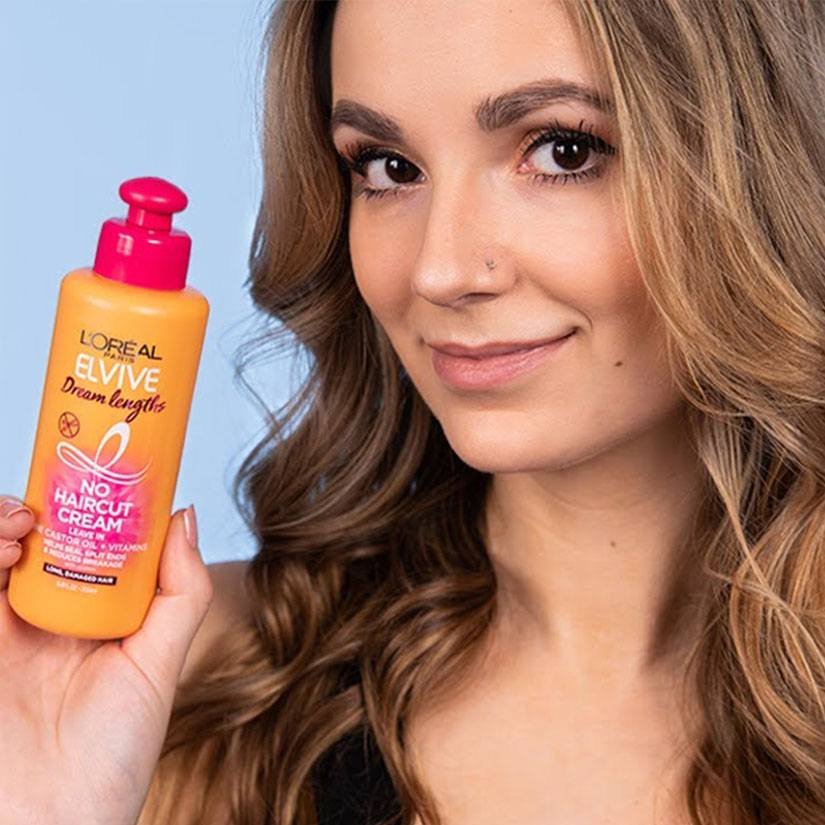 all hair types
How to Take Care of Long Hair
You've probably heard the phrase "long hair, don't care," but that shouldn't apply to your hair care routine. It's best to make sure you're always taking proper care of your hair no matter what length you're working with. Of course, just because you have more hair to manage than those with short strands, it doesn't mean your hair care routine has to be more difficult. When it comes to caring for long hair, it's all about using the right techniques, hair care, and styling products to help keep your long locks or waist-length strands looking their best. Below, find out how to grow long hair and take care of it with 12 easy tips.
LONG HAIR CARE TIP #1: USE A RESTORING HAIR CARE SYSTEM
Showing your long hair the love it deserves starts in the shower. Since hair tends to form split ends that can require making the chop, long-haired ladies require extra help to keep their length. And if you want to learn how to grow long hair, updating your shower routine is one of the easiest ways to get the ball rolling. Keep your locks looking strong and healthy with a restorative hair care system of shampoo and conditioner, like the L'Oréal Paris Elvive Dream Lengths Restoring Shampoo for Long, Damaged Hair and the L'Oréal Paris Elvive Dream Lengths Conditioner for Long, Damaged Hair.
Once or twice a week, swap out your regular conditioner for a deep conditioning treatment, such as the L'Oréal Paris Elvive Total Repair 5 Rapid Reviver Deep Conditioner.
LONG HAIR CARE TIP #2: USE A HAIR TREATMENT, TOO
Another option to help keep your lengths and ends visibly healthy is to add a hair treatment to your regular routine. Daily or as needed, apply the L'Oréal Paris Elvive Dream Lengths No Haircut Cream Leave In Conditioner to damp hair after hopping out of the shower. Forgo rinsing and style as usual.
LONG HAIR CARE TIP #3: SKIP BRUSHING STRANDS WHEN THEY'RE WET
Grabbing your brush right after hopping out of the shower is not the best idea. Your hair is actually more fragile when it's wet, so you'll want to avoid brushing through your strands as soon as you get out. Instead, run a wide-tooth comb through your long hair to help gently work through any wet hair tangles, and consider using a boar bristle brush to brush your hair when it's dry (more on that below).
Editor's note: When you do comb or brush your hair, work from the ends up. This will put the least stress on your strands.
LONG HAIR TIP #4: USE THE RIGHT HAIRBRUSH
It's easy to think that any hairbrush can smooth your long locks with ease, but you should actually keep a boar bristle brush handy. Simply put, this essential works in your favor to smooth the hair shaft, which helps to minimize the chance of any hair breakage. It's also a great tip to keep in mind if learning how to grow your hair is a priority.
LONG HAIR CARE TIP #5: USE A HEAT PROTECTANT BEFORE STYLING
Long hair certainly looks gorgeous when you blow it out or straighten it with a flat iron. But make sure to apply a heat protectant before picking up any of your styling tools. Try the L'Oréal Paris Advanced Hairstyle SLEEK IT Iron Straight Heatspray, giving your hair a few spritzes prior to styling. Besides using the heat protectant, when it comes to blow-drying, it's a good idea to wait until your hair has almost fully dried before turning on your dryer to help cut down on the amount of time you expose your hair to heat.
As for flat-ironing, your hair should be completely dry before you start. You'll want to use the lowest heat setting you can while still only having to make one pass over each section of hair.
LONG HAIR CARE TIP #6: REACH FOR GENTLE HAIR TIES
There's almost no better feeling than pulling your long locks off of your face, but it's important to know that all hair ties are not the same. Elastic hair ties can grip your hair too tightly, which can cause hair breakage down the road. If you're determined to rock a chic ponytail or a bun, opt for hair bands that are gentle on your locks. You can also switch things up with a trendy scrunchie to serve up some '90s nostalgia.
LONG HAIR CARE TIP #7: STYLE YOUR HAIR IN LOOSE UPDOS
Just as some hair ties can cause breakage to occur, tight hairstyles are no exception. Pulling your hair too tight can cause stress and tension, which can take a toll on the health of your hair. Thankfully, you can make a small tweak in your hair-styling routine by opting for low-tension styles, like loose updos and braided looks, to help your long hair look and feel its very best.
LONG HAIR CARE TIP #8: GET REGULAR TRIMS
Dry ends can weigh your hair down. Schedule regular appointments at the salon to help keep them at bay. As a general rule of thumb, get a trim every four to six weeks. Getting a new haircut also happens to be a way to add body and volume to your long hair, so you may want to consider slightly more than a trim. Layers are a universally flattering way to add movement to long hair while still keeping the length. Bonus: A scalp massage makes the perfect pairing for a new haircut. Sign us up!
LONG HAIR CARE TIP #9: USE A LEAVE-IN STYLING PRODUCT
Sure, you have a lot of hair to work with—which is why you need to keep the lengths and ends as healthy and hydrated as possible. One of the best ways to do this outside of your shower routine is with a leave-in styling product or hair treatment, which you can apply onto damp, clean hair before air-drying or styling, or onto dry hair to touch up your look. The important part here is to look for a leave-in product that helps treat your hair while also taming frizz, such as the L'Oréal Paris Elvive Extraordinary Oil-In-Cream.
LONG HAIR CARE TIP #10: AIR DRY OFTEN
Take a break from the heat tools from time to time by embracing your long hair's natural texture. Create messy texture by working a product like the L'Oréal Paris Studio Line Thickening Medium Hold Cream Paste into dry hair, scrunching to define your hair's body.
LONG HAIR CARE TIP #11: MAKE UV PROTECTIVE SPRAY YOUR BFF
For long-haired ladies working with gorgeous hair color, it's essential to protect your locks from the sun. After all, sun exposure can dull your hair color, which is the last thing you need. Keep a bottle of UV protective hair spray handy, like the L'Oréal Paris Elnett Satin Hairspray Extra Strong Hold with UV Filter. This humidity-resistant offering provides a lasting hold, a shiny finish, and protects hair color from fading.
LONG HAIR CARE TIP #12: PROTECT YOUR HAIR AT NIGHT
While cotton may feel super comfortable to sleep on, it's not the best option for your long locks. Sleeping on cotton sheets and pillowcases can cause friction, which can lead to knots and tangles in the a.m. As a result, hair breakage can become a factor. Swap out your go-to cotton linens for a soft, fancy alternative, like satin or silk, to help your long locks stay healthy and smooth. You can also opt for a satin or silk bonnet, or a silk scarf to prevent your strands from rubbing against rough fabrics.
If you're in need of more styling ideas for your long locks, here are 30 Pretty Hairstyles and Haircuts for Long Hair.
Discover more tips & tricks
Keep your skin happy
See all articles
Shop Featured Hair Care products
Discover More