all hair types
7 Hair Care Tips for Men
March 15, 2019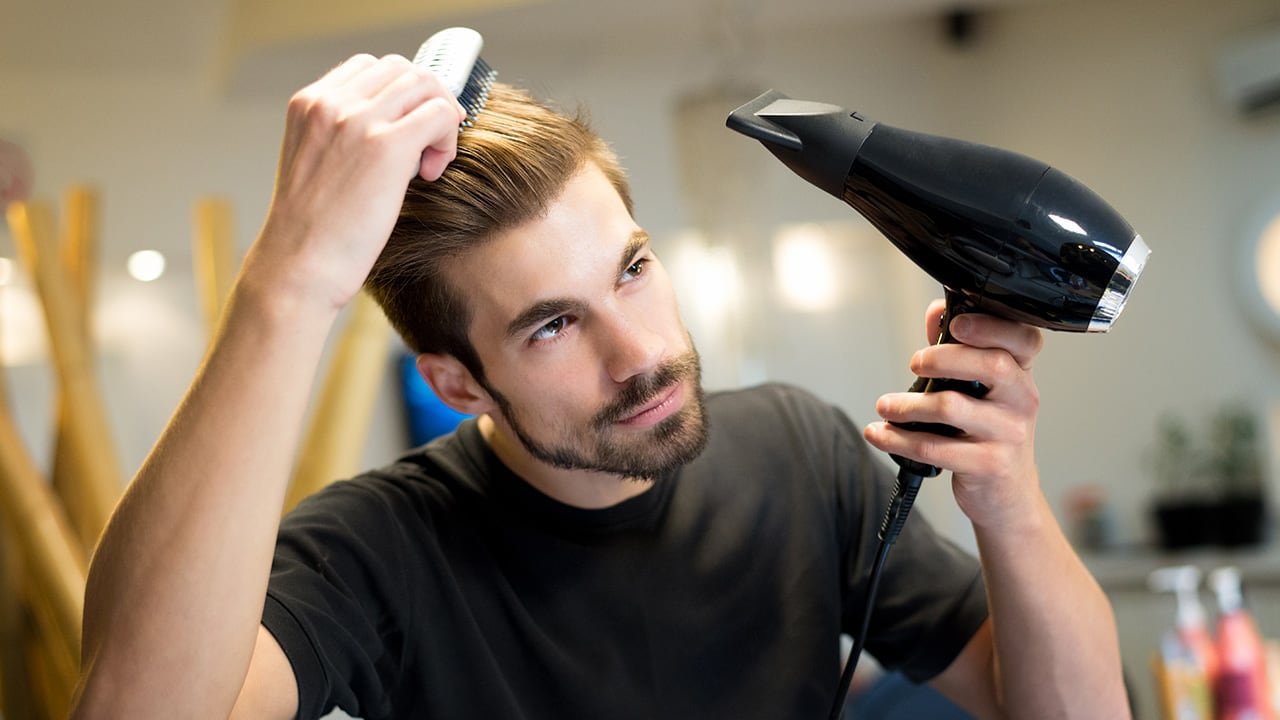 You may have mastered choosing the right facial hair for your face shape and even embraced one of this year's trendiest men's hairstyles, but when it comes to men's grooming, hair care plays a major role. Even if you don't have long, luscious locks (if you do, more power to you), the proper hair care routine can still make all the difference in maintaining a head full of healthy hair. Keep reading for tips on how to ensure your hair is looking and feeling its best.
HAIR CARE TIP #1: TWO IS BETTER THAN ONE
Chances are, you've seen products boasting their 2-in-1 (or 3-in-1) abilities. While it may seem like a great idea to have a shampoo, conditioner, and body wash all in one convenient product, remember what you were told when you were younger. If it seems too good to be true, it probably is. Instead of asking one product to work overtime, do yourself and your hair a favor by investing in a complete hair care system made up of separate products—we're talking shampoo, conditioner, and hair treatment. Pick one that's meant for your hair type and reap the benefits. Trust us, you'll thank us later!
HAIR CARE TIP #2: DRY YOUR HAIR WITH CARE
When it's time to dry your mane, you may be tempted to grab your towel, rub away, and be done with it. However, rough rubbing can actually cause breakage. Instead, gently pat your hair dry to avoid damage. If you have curls, dry your hair with a microfiber towel as this material is ultra-gentle and won't disrupt your curl pattern or cause frizz.
HAIR CARE TIP #3: OPT FOR LOOSE HATS
Your team made it to the playoffs and you want to represent them—we get it. But the same way rubbing a towel against your hair can cause breakage, wearing tight, fitted hats too often can take a toll on your strands as well. Try to go sans hat as frequently as you can, and when you do wear one, opt for a loosely fitted style rather than one that's molded to your head.
HAIR CARE TIP #4: DON'T OVERDUE IT WITH STYLING PRODUCTS
A little goes a long way so keep your hair styling products to a minimum. Too much product can build up on your hair over time, causing your strands to be weighed down and appear flat. If you do feel like your hair needs to be cleansed of excess product, grab the L'Oréal Paris EverPure Sulfate-Free Scalp Care + Detox Scrub which gently exfoliates the scalp and removes product buildup. Before shampooing, apply the scrub to your scalp working it in circular motions and then rinse and follow up with shampoo and conditioner.
HAIR CARE TIP #5: LIMIT YOUR USE OF HEAT TOOLS
Excessive heat can damage your strands. While you may not be heat styling with a curling iron or flat iron, if you're blow drying your hair, you're at risk of causing damage to your hair. Try to keep the use of heat tools to a minimum—and when you use heat on your hair, be sure to apply a heat protectant like the L'Oréal Paris Elvive Dream Lengths Heat Slayer Pre-Iron Spray Leave-In, beforehand and be cautious of the temperature setting.
HAIR CARE TIP #6: MAINTAIN YOUR CUT
Trims are important! Regardless of your hair length, it's important to get regular trims. This will help get rid of any unwanted split ends and allow your hair to look and feel its best.
HAIR CARE TIP #7: DON'T FORGET ABOUT BEARD CARE
Your beard requires proper care, too! Just as you need to wash your hair, it's important to keep your beard clean (especially if you use any styling product on it). Instead of using shampoo and conditioner, reach for a face wash and beard oil or moisturizer like the L'Oréal Paris Studio Line Hair and Beard Cream.
Photo Credit: Saq Idrees
Next: How To Trim Your Beard Like A Pro
Discover more tips & tricks
Keep your skin happy
See all articles
Shop Featured products
Discover More