hair color tutorials
How to Get a Butterscotch Brown Hair Color
February 14, 2020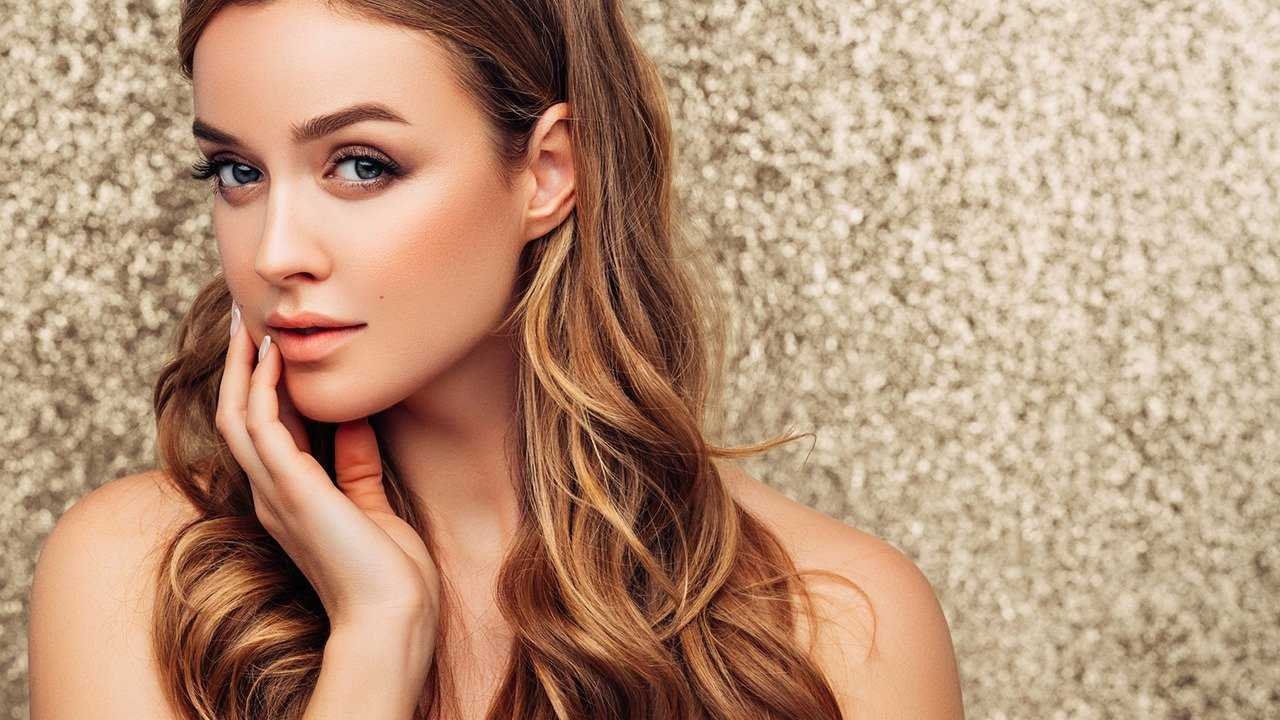 Ready to try a new hair color? Why not opt for a shade that's super-sweet? One of the trendiest hair color options at the moment just so happens to be a butterscotch hair color. When you think of butterscotch, chances are those candies that your grandma keeps in a bowl in her kitchen come to mind—they're tasty, right? Well, they also happen to be the inspiration for a gorgeous hair color idea! This brown shade with golden tones could be the perfect way to go brunette without settling for a basic shade. For a dessert-inspired hair hue, consider giving a butterscotch brown hair color a whirl. Find out how to get the look below.
WHAT IS A BUTTERSCOTCH BROWN HAIR COLOR?
As we mentioned, butterscotch brown hair resembles the candy it's named after. Featuring a warm brown base, the color involves lacing golden tones throughout for a dimensional, super sweet mane. The best part is the color is customizable based on where you'd like your highlights to be placed and what golden tones are used, making it a flattering option on just about anyone! That being said, since this is a warm hair color, it'll be most flattering on those with complementary warm skin tones.
HOW TO GET A BUTTERSCOTCH HAIR COLOR
Coloring your own hair can be majorly intimidating, but if you're up for it, it can also be super-convenient. If you want to get a butterscotch brown hair color at home, try the L'Oréal Paris Féria in Light Golden Brown or Hi-Lift Browns Downtown Brown. Of course, do-it-yourself dyeing isn't for everyone. Visiting a salon is always a good decision if you're going to be lightening your strands a lot or want a more customized look. Since butterscotch brown hair features golden tones, bleaching will be required—and the darker your base color, the more work it'll take to get the look, which is why going to a professional could be the right choice for you.
5 HAIR CARE TIPS FOR YOUR BUTTERSCOTCH HAIR COLOR
Of course, you'll want to keep your butterscotch brown hair color looking its best, no? Here are five tips to follow.
TIP #1. SWITCH TO SYSTEM FORMULATED FOR COLOR-TREATED HAIR
If you're shampooing and conditioning with any old products sitting in your shower, it's time to change things up! Colored-treated strands deserve special care. So, look for a system of products formulated for your new hair type, like the L'Oréal Paris Elvive Vibrancy Protecting Shampoo, L'Oréal Paris Elvive Color Vibrancy Protecting Conditioner, and L'Oréal Paris Elvive Color Vibrancy Repair and Protect Balm. Once or twice a week, swap out the conditioner for the mask and leave it on for three to five minutes after shampooing.
TIP #2. TEMPORARILY HIDE GRAY ROOTS
Doesn't it always seem like your gray roots start showing at the worst possible moment? If you've noticed gray roots starting to come in but you're not able to make it to the salon to get a touch-up, you can still temporarily hide them. Try the L'Oréal Paris Root Cover Up in Light Brown or Medium Brown to help temporarily disguise gray roots. The lightweight spray dries in a flash without smudging or leaving behind sticky residue. To use, shake the can well and spray from four to six inches away, starting directly on your roots. Continue spraying partially through the length of your hair to help blend the color. It'll last one shampoo.
TIP #3. USE A HEAT PROTECTANT BEFORE STYLING
If you've decided to show off your butterscotch brown hair color by pairing it with a smooth at-home blowout, make sure to use a heat protectant, like the L'Oréal Paris Advanced Hairstyle BLOW DRY IT Quick Dry Primer Spray, before styling your hair. It's also a good idea to wait until your hair has partially dried before blow-drying it—that way, you can cut down on the amount of time your hair is exposed to heat.
TIP #4. AIR DRY YOUR MANE
Whenever you can, consider giving your hair a break from heat styling by air drying it instead. And just because you're not using heat tools doesn't mean you have to sacrifice style. When your hair is wet, apply an egg-sized dollop of the L'Oréal Paris Advanced Hairstyle CURVE IT Elastic Curl Mousse, evenly distributing it from roots to ends and scrunching your hair to help enhance your natural shape. To help add texture to straighter strands, spritz the L'Oréal Paris Advanced Hairstyle BOOST IT High Lift Creation Spray onto dry hair for a voluptuous, textured look that lasts.
TIP #5. CONSIDER A NEW CROPPED CUT
A new color is a prime opportunity to test out a new cut. Why stop with one change when you could make two? To give some edge to your classic butterscotch brown hair color, pick a crop with angles. Try an asymmetrical lob or a trendy A-line bob if you're ready for a serious chop.
Next up: Want another dimensional brown hair color idea? You'll be happy to know Twilighting Is Set to Be One of 2020's Biggest Hair Color Trends.
Discover more tips & tricks
Keep your skin happy
See all articles
Shop Featured Hair Care products
Discover More