hair color tutorials
How to Get Black Cherry Hair
August 13, 2018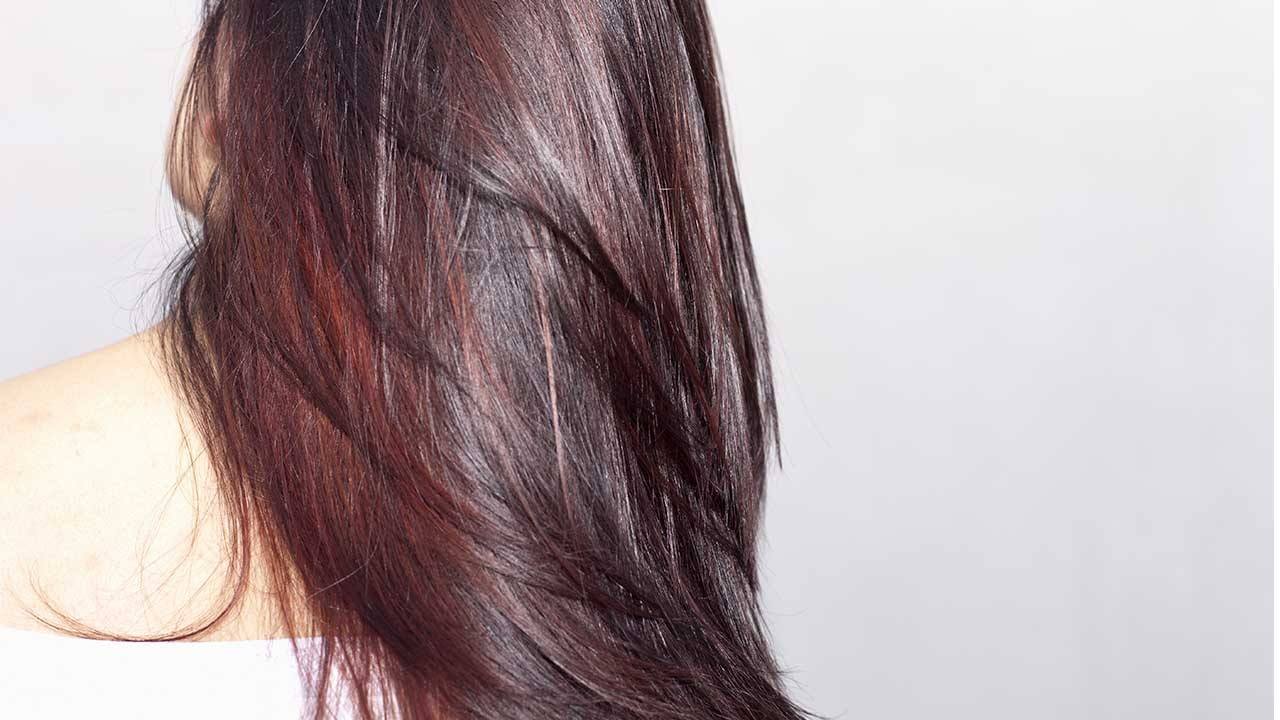 Dark hair may not get quite as much love as rainbow shades and super-dramatic blonde ones do, but they can be just as beautiful. Case in point: black cherry hair. This soda-inspired hair color is anything but boring. The deep burgundy hue has the slightest cherry red tints that really make hair pop. Want to try it yourself? Keep reading to learn all about black cherry hair, from how to get the look at home to how to take care of color-treated hair, to how to switch up your makeup to complement your new hue.
HOW TO GET A BLACK CHERRY HAIR COLOR AT HOME
If you're a fan of coloring your hair at home and are looking to rock a vibrant black cherry shade, try the L'Oréal Paris Féria in Deep Burgundy. Of course, you can also call up your salon and book an appointment with a colorist. Keep in mind that regular touch-ups will be necessary to maintain your black cherry hair color. If you're not ready to commit to this bold color, consider using a semi-permanent hair color. The L'Oréal Paris Colorista Semi-Permanent Hair Color in Burgundy will fade in 4-10 shampoos so you can test the waters before going full-out black cherry. Follow the directions included in the box of either option to ensure your at-home hair coloring session goes smoothly.
HOW TO TAKE CARE OF BLACK CHERRY HAIR
Coloring your hair is only the first step. The real work comes after dye day—it's all about sticking to a hair care routine tailored to color-treated hair. The good news is, we've got your plans all laid out. Follow our tips below to care for your black cherry hair.
1. Switch to a hair care system that's color-safe
Make room in your shower for some new products, namely a shampoo, conditioner, and hair mask that are safe for color-treated hair. Try the L'Oréal Paris EverPure Repair & Defend Shampoo, L'Oréal Paris EverPure Repair & Defend Conditioner, and L'Oréal Paris EverPure Repair Remedy Balm.
2. Turn down the dial in the shower
Sure, this may not feel quite as relaxing, but your hair will thank you. Super-hot water can strip your strands of essential oils, so rinse off in lukewarm temps to avoid drying out your black cherry hair.
3. Protect your tresses before heat styling
Want to style your black cherry hair with heat tools? Make sure to use a heat protectant first, like the L'Oréal Paris Advanced Hairstyle SLEEK IT Iron Straight Heatspray.
HOW TO UPGRADE YOUR MAKEUP ROUTINE TO COMPLEMENT YOUR BLACK CHERRY HAIR
Whenever you color your hair, it's a good idea to think about changing up your makeup routine so that you're flattering your new 'do. To help you make the upgrade, below we share 5 tips for creating a makeup look that complements black cherry hair.
1. Keep your face makeup minimal
Black cherry hair looks best when paired with skin that isn't overloaded with face makeup. Show off your gorgeous skin by applying a radiant finish foundation, like the L'Oréal Paris Infallible Pro Glow Foundation.
2. Rock a cat eye
There's just something special about the way red hair (black cherry included) looks when paired with a perfectly executed cat eye. All you have to do is trace your upper lash line with the L'Oréal Paris Infallible The Super Slim Liquid Eyeliner in Black and flick it out at the corner.
3. Coordinate your brows
When you're sporting a shade of red hair like black cherry, you don't have to match your brows exactly to the hair on your head. Instead, opt for brown eyebrow makeup with a slight auburn hint. Try the L'Oréal Paris Brow Stylist Definer Mechanical Pencil in Light Brunette.
4. Dress up your eyes
When you have black cherry hair, don't stick to your standard black eyeliner and mascara. Instead, get creative with color and try the L'Oréal Paris Infallible Pro-Last Waterproof Pencil Eyeliner in Cobalt Blue, Purple, or Forest Green. Consider topping it off with a coat of the L'Oréal Paris Voluminous Mascara in Cobalt Blue too! The stark differentiation between bright makeup colors and sultry black cherry hair can look especially pretty.
5. Look striking in sultry lipstick shades
Dark hair and dark lips go together like peanut butter and jelly. To get the look when you have black cherry hair, try coating your lips with the L'Oréal Paris Infallible Pro-Matte Liquid Lipstick in Stirred or L'Oréal Paris Colour Riche Ultra Matte Highlight Pigmented Nude Lipstick in Berry Extreme.
For more bold hair color trends to try, read our article, Everything You Need to Know About the Drip Dye Hair Color Technique.
Discover more tips & tricks
Keep your skin happy
See all articles
Shop Featured Hair Care products
Discover More