damaged hair
4 Hair Masks to Reverse Damaged Hair
January 12, 2021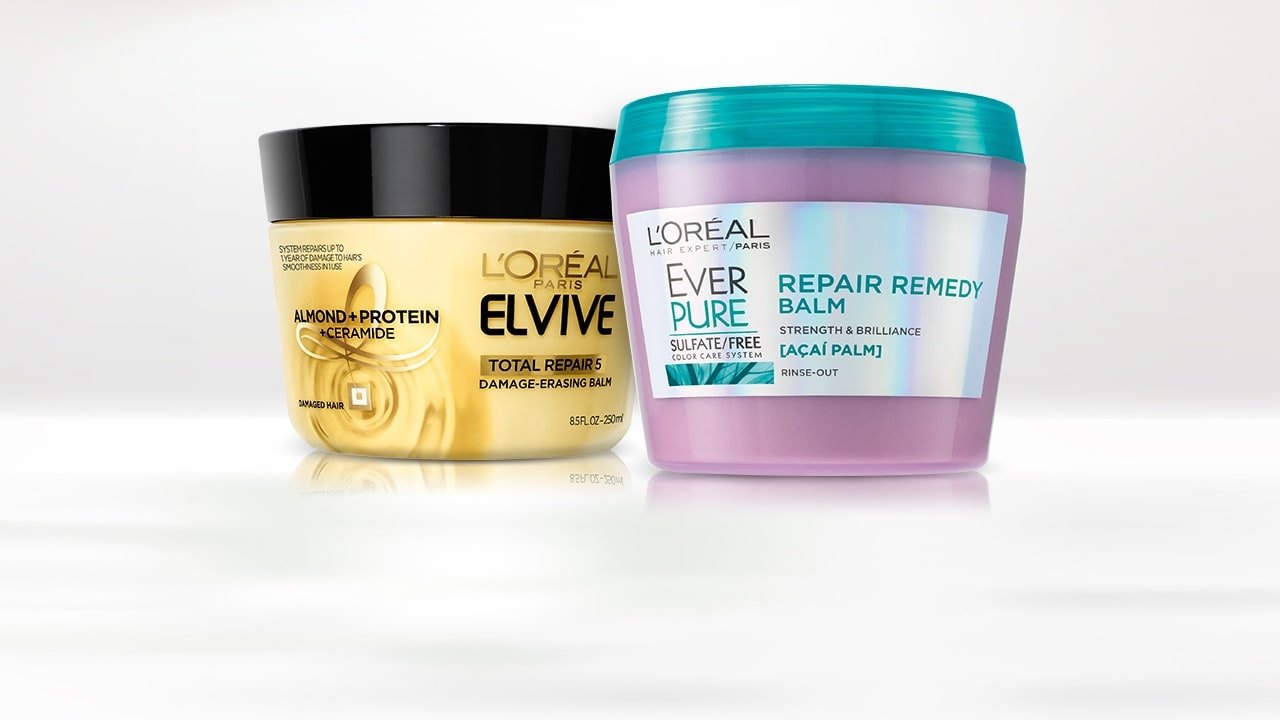 Whether you experience split ends, breakage, or a dry, brittle texture, damaged hair can be tricky to deal with. That being said, with a little patience and consistency, there's nothing a proper hair care routine can't fix. And while a shampoo and conditioner formulated to fix damaged hair is a great start, adding a hair mask into your weekly (or daily) regimen is a game-changer for its deep conditioning benefits and ability to target specific hair concerns. Here, find our best drugstore hair masks that can help restore your strands to a healthy-looking state.
When used in conjunction with the L'Oréal Paris EverPure Repair & Defend Shampoo and L'Oréal Paris EverPure Repair & Defend Conditioner, this hair mask helps to restore strength and brilliance to damaged hair. It's great for all hair types, including color-treated tresses because it offers color care protection for vibrant and shiny looking hair. After washing your hair with shampoo, massage the hair mask onto damp hair from roots to ends. Leave it on for three to five minutes, then rinse thoroughly with lukewarm water.
This rinse-out hair mask helps to deeply condition and repair damaged hair. It also addresses split ends, weakness, roughness, dullness, and dryness. To use, distribute an even amount throughout your hair and leave it on for three to five minutes before rinsing. For the best results, pair it with the Total Repair 5 Repairing Shampoo and in place of your daily conditioner to unveil smoother, stronger and lustrous hair.
During those moments when you need a quick fix, this healing mask does not disappoint. In just three to five minutes, the formula begins to repair and renew broken hair fibers of extremely damaged hair. We recommend this mask for thicker and curly hair types because the rich consistency can be a little too heavy for thin, fine hair. If you have thicker hair and need moisture it's perfect for everyday use because it's powerful and doesn't take a lot of time.
If your hair is feeling weak, fried and brittle due to excess heat styling, this multi-tasking hair mask can help to strengthen your hair with every use. You can use it as a leave-in conditioner, rinse-out mask in the shower, or as a co-wash to repair current issues and protect against future damage. For best results, we recommend using the entire Elvive Total Repair 5 Strengthening system which includes this treatment, a shampoo and conditioner, a leave-in conditioner and the Elvive Total Repair 5 Damage Erasing Balm that provides intense care without weighing your hair down.
Next: How to Fix Damaged Hair
{ "@context": "https://schema.org/", "@type": "WebPage", "speakable": { "@type": "SpeakableSpecification", "cssSelector": ["speakable-content"] }, "url": "https://www.lorealparisusa.com/beauty-magazine/hair-care/damaged-hair/hair-mask-for-damaged-hair" }
Discover more tips & tricks
Keep your skin happy
See all articles
Shop Featured Hair Care products
Discover More
{ "@context": "http://schema.org", "@type": "BreadcrumbList", "itemListElement": [ { "@type":"ListItem", "position": 1, "item": { "@id": "/", "name": "Home" } } , { "@type":"ListItem", "position": 2, "item": { "@id": "https://www.lorealparisusa.com/beauty-magazine", "name": "Beauty Magazine" } } , { "@type":"ListItem", "position": 3, "item": { "@id": "https://www.lorealparisusa.com/beauty-magazine/hair-care", "name": "All Things Healthy Hair" } } , { "@type":"ListItem", "position": 4, "item": { "@id": "https://www.lorealparisusa.com/beauty-magazine/hair-care/damaged-hair", "name": "Damaged Hair Care" } } , { "@type":"ListItem", "position": 5, "item": { "@id": "https://www.lorealparisusa.com/beauty-magazine/hair-care/damaged-hair/hair-mask-for-damaged-hair", "name": "hair-mask-for-damaged-hair" } } ] }