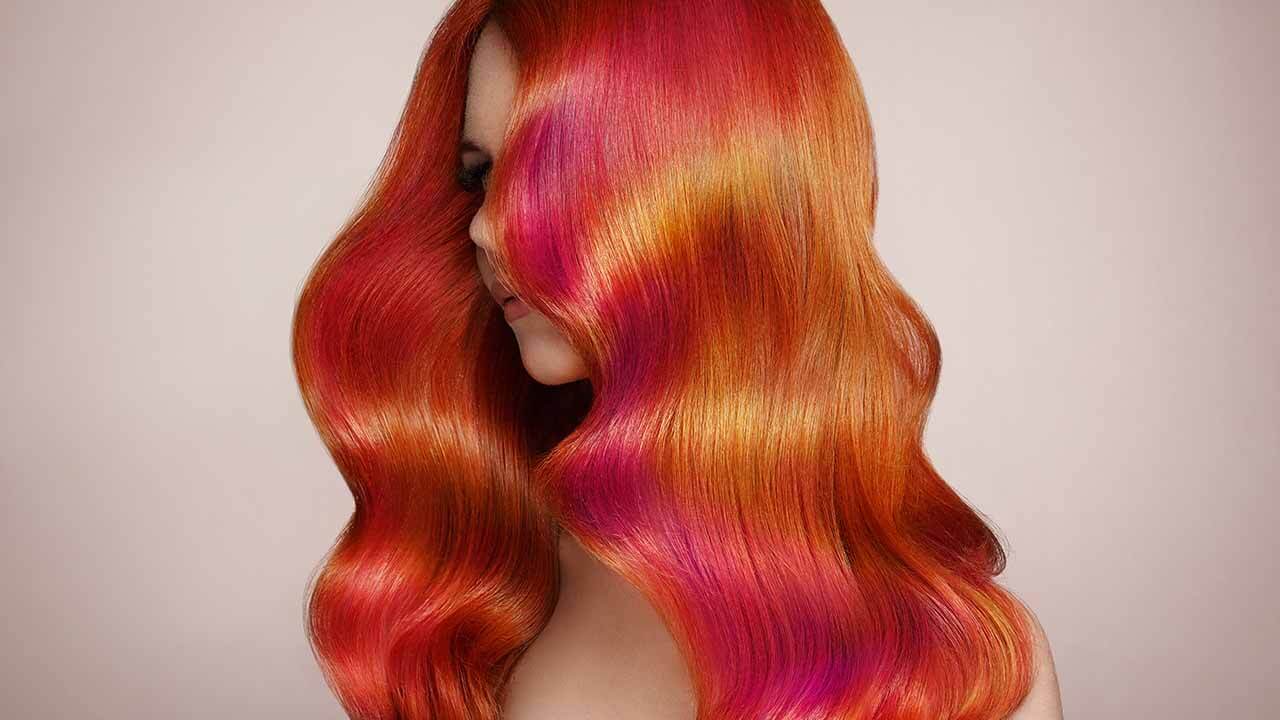 hair color trends
The Best Hair Color Trends for 2019
When a new year rolls around, it's out with the old and in with the new! In fact, you may have made a few resolutions, like promising to go to the gym more or to pack lunch instead of ordering out. (Easier said than done!) When it comes to your hair, why not embrace a new hair color for the new year? After all, you'd be hard pressed to find a better time for a strand update. Of course, we wouldn't want you to struggle to find hair color ideas. That's why we're talking about the latest and greatest hair color trends to hit the scene. From variations on classics shades of brown hair and blonde hair to the most show-stopping hair colors you've ever seen, these are the hair color trends that will be filling your social media feeds in the months to come. Hop on board—this is one commitment you'll actually want to keep!
HAIR COLOR TREND #1: ROSE BLONDE HAIR
Rose gold hair may have held the title of trendiest hair color for quite a while, but it's passing the crown to rose blonde hair in 2019. Now, what exactly is rose blonde hair? As you might have guessed, it's a cross between blonde hair and rose gold hair. There's no need to head straight for the salon. You can achieve this color at home with the L'Oréal Paris Superior Preference Rose Blonde Collection, which comes in Medium Rose Blonde and Dark Rose Blonde. (Read Rose Gold Hair Gets an Update: How to Get Rose Blonde Hair for more on this trend.)
HAIR COLOR TREND #2: GOLDEN OMBRÉ HAIR
The days of rocking hair that transitions from a deep, dark shade to one that's super light are in the past. Now, it's all about the subtle fade. Brown hair has no place in 2019's ombré hair color trend. Instead, hair should shift from warm, golden blonde hair into a warm-toned platinum blonde. Whether you're already blonde all over or have dark locks, you can use the L'Oréal Paris Colorista Bleach in Ombre Bleach to get the look at home. Just keep in mind that the darker your starting shade, the longer it'll take to achieve your desired blonde result.
HAIR COLOR TREND #3: SMOKY GRAY HAIR
There's no reason gray hair has to leave you looking older than you are. In fact, it can be an unbelievably hip hue. Take inspiration from the '90s grunge era with cool-toned, gray hair infused with shimmering jeweled tones like denim and mauve. To get the smoky gray look at home, try the L'Oréal Paris Féria Glam Grunge Collection. The collection includes four on-trend shades: Downtown Denim, Purple Smoke, Vintage Teal, and Dusty Mauve. Trust us, no one will be saying gray be gone once they get a look at your hair color. (Here's Grunge Goes Glam: How to Get '90s-Inspired Smoky Gray Hair with a Twist.)
HAIR COLOR TREND #4: NUDE HAIR
First there was nude makeup, so it only makes sense that nude hair would soon follow. Think of this hair color as the ultimate neutral shade that's often associated with the look of a natural blonde. Since it's not too warm or too cool, it's a color that suits everyone. No, seriously! No wonder nude hair is going to be all the rage in the new year.
HAIR COLOR TREND #5: TIGER'S EYE HAIR
Bronde (a combo of brown and blonde) has been a popular hair color for a while now. So, just think of tiger's eye hair as the latest evolution of this beloved hue. With hints of honey, amber, and soft brown, tiger's eye incorporates a blend of balayage highlights for a gorgeous head of hair. Since this coloring technique is painted on, you won't have to worry about harsh roots growing in and frequent salon visits to upkeep your beautiful hair color. Score!
HAIR COLOR TREND #6: CHOCOLATE MAUVE HAIR
You may think rose gold hair is a trend reserved for blondes, but think again. Chocolate mauve hair is a version of rose gold hair meant for brunettes. Now no one has to feel left out! Chocolate mauve hair features an eye-catching tonal change from a rich mahogany to a warmer pink. Pair the L'Oréal Paris Excellence Creme in Dark Mahogany Red with the L'Oréal Paris Colorista Semi-Permanent Hair Color in Pink to achieve chocolate mauve hair on your own.
Want a more temporary option? Get your pink fix by using a wash out hair color, like the L'Oréal Paris Colorista Hair Makeup 1-Day Color in Hot Pink or the L'Oréal Paris Colorista 1-Day Spray in Pastel Pink.
HAIR COLOR TREND #7: ACID HAIR
Take a cue from the models walking the runway and test out a color that's totally out of the norm for you. Pigmented, nearly-neon colors—everything from vivid violets to bold blues—were all over the catwalks for winter 2019, and you can easily carry the trend into real life. The best part is, you don't have to be loyal to just one color. With the L'Oréal Paris Colorista 1-Day Spray, you can have hot pink hair one day and bright blue the next.
HAIR COLOR TREND #8: MUSHROOM BLONDE HAIR
If you love mushroom brown hair, you'll instantly fall in love with its counterpart: mushroom blonde hair! This blonde-gray hue is seriously stunning for the new year. The combination of cool multi-dimensional colors creates a beautiful medium bronde hair color. Get it by using the L'Oréal Paris Superior Preference in Dark Ash Blonde.
HAIR COLOR TREND #9: SUNSET HAIR
Want to add a pop of color to your mane for the new year? Try sunset hair. This hair color trend may have surfaced in 2018, but it certainly isn't going anywhere soon in the new year. The blend of red, pink, purple, orange, and yellow hues is seriously Instagram-worthy. Learn how to get the color in our article, How to Achieve a Sunset Hair Color.
Once you're sporting a new hair color, you'll likely want to find new hairstyles to try, too. Give The Best Hairstyles for Your 20s, 30s, and 40s a shot.
Discover more tips & tricks
Keep your skin happy
See all articles