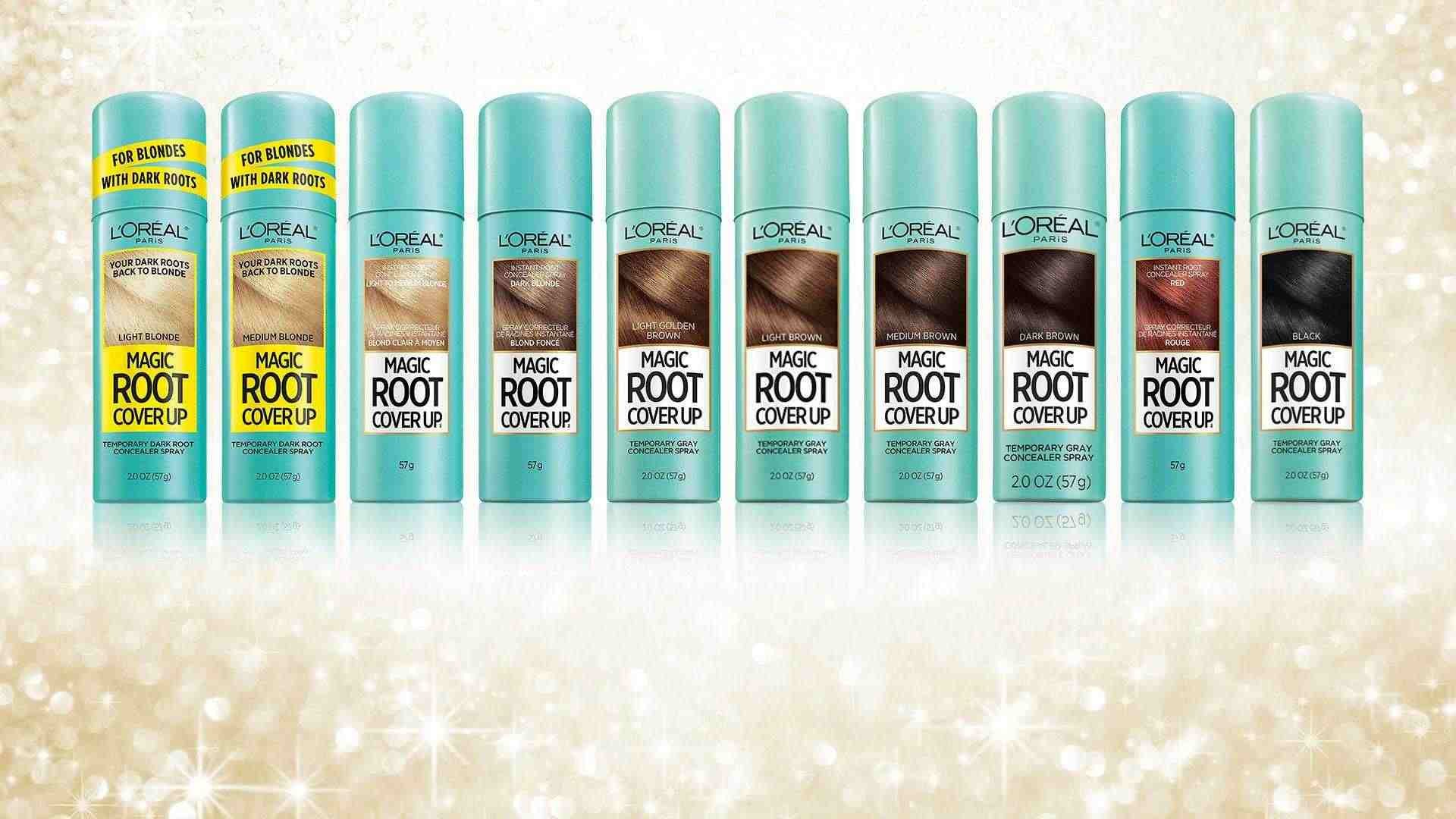 If you have gray hair and are rocking a hair color other than your natural hue, grown out roots can really take a toll on your overall beauty look. And when you've forgotten to book an appointment at the salon for a touch-up, you may find yourself scrambling for ways to temporarily hide that line of demarcation. Thankfully, root touch-up sprays exist to make hiding unsightly roots a breeze. Don't have one in your arsenal? Below, we're spilling the details on our best root cover-up spray and how you can use it in a pinch.
WHAT IS A ROOT TOUCH-UP SPRAY?
First thing's first: What exactly is a root touch-up spray? This handy product is a holy grail for anyone who colors their hair, and it's particularly useful for disguising gray hairs. As you can probably guess, the product is used to spray on temporary color that'll hide grown out roots. A root touch-up spray washes out in just one shampoo. So, while it isn't a permanent fix, it's the perfect option when you're running low on time (or hair dye) and don't want your grays on display.
OUR BEST ROOT TOUCH-UP SPRAY
We're sure you're itching to get your hands on a root cover-up spray, so we won't keep you waiting any longer! If you need a recommendation for a spray to add to your hair maintenance collection, we stand behind the L'Oréal Paris Magic Root Cover Up Spray. This root touch-up spray conceals grays in seconds for seamless coverage and flawless-looking roots. The lightweight formula won't smudge or leave a sticky residue when dry, and it's ammonia- and peroxide-free. It's perfect for in-between color or salon visits. The product line contains eight shades ranging from blonde to black.
Editor's note: Have blonde hair and don't think a root cover-up spray will be able to conceal dark, grown out roots? Think again! The L'Oréal Paris Magic Root Concealer Spray, Blondes with Dark Roots is a new addition to the line that features two shades specifically formulated for blondes with dark roots.
HOW TO USE ROOT TOUCH-UP SPRAY
Ready to put our root cover-up spray into action? It's easy! Here's what to do.
STEP #1. SHAKE, SHAKE, SHAKE
Before spritzing on your spray, make sure to shake well before each use.
STEP #2. SPRAY AWAY
Hold the can four to six inches from your head. Spray color onto clean, dry hair, concealing new growth and spraying partway through the length of your hair to blend in the color. Keep in mind that less is more! You don't want to over-spray; a small amount will do the trick.
4 OTHER WAYS TO TEMPORARILY DISGUISE ROOTS
Can't get your hands on a root touch-up spray in time to conceal your roots? Here are a few other temporary fixes for disguising roots in a pinch.
#1. ROOT TOUCH-UP PEN
Perfect for on-the-go concealing, the L'Oréal Paris Magic Root Precision Pen targets scattered grays to touch-up roots and cover gray hair in a flash. The unique Magic Precision Brush allows easy, smooth application to hide even the most pesky gray on any hair type or texture.
#2. DRY SHAMPOO
If you have blonde hair with dark roots that need concealing, might we suggest you give dry shampoo a try? If you have one without an invisible finish, this beauty staple will lighten your dark roots, creating the illusion of an overall light, seamless mane. Just be sure to blend the dry shampoo well by tousling your strands—you don't want a harsh white overcast. (And keep in mind this won't 100% hide your roots—it's more of an emergency fix.)
#3. HAIR COLOR SPRAY
Have fun with your root cover-up by using a temporary hair color spray to conceal grown out roots and rock the colorful root trend at the same time. Take your pick all from the shades in the L'Oréal Paris Colorista Hair Makeup Temporary 1-Day Hair Color Spray line, each of which washes out in just one shampoo.
#4. HAT
If you don't have any of the above on-hand, a hat will be your saving grace. Whether you're running errands and pop on a baseball cap or opt for something a bit trendier like a fedora, a hat is a foolproof way to hide grown out roots.
Go to Walmart.com to get your temporary hair color fix and cover your grays in a pinch.
{ "@context": "https://schema.org/", "@type": "WebPage", "speakable": { "@type": "SpeakableSpecification", "cssSelector": ["speakable-content"] }, "url": "https://www.lorealparisusa.com/beauty-magazine/hair-color/gray-hair-coverage/root-touch-up-spray" }
Discover more tips & tricks
Keep your skin happy
See all articles
Shop Featured Hair Color products
Discover More
{ "@context": "http://schema.org", "@type": "BreadcrumbList", "itemListElement": [ { "@type":"ListItem", "position": 1, "item": { "@id": "/", "name": "Home" } } , { "@type":"ListItem", "position": 2, "item": { "@id": "https://www.lorealparisusa.com/beauty-magazine", "name": "Beauty Magazine" } } , { "@type":"ListItem", "position": 3, "item": { "@id": "https://www.lorealparisusa.com/beauty-magazine/hair-color", "name": "Bold Ideas From Hair Color Pros" } } , { "@type":"ListItem", "position": 4, "item": { "@id": "https://www.lorealparisusa.com/beauty-magazine/hair-color/gray-hair-coverage", "name": "Gray Hair Coverage" } } , { "@type":"ListItem", "position": 5, "item": { "@id": "https://www.lorealparisusa.com/beauty-magazine/hair-color/gray-hair-coverage/root-touch-up-spray", "name": "root-touch-up-spray" } } ] }