dry hair
How to Avoid Having Stiff Hair
Time to overhaul your hair routine.
July 15, 2022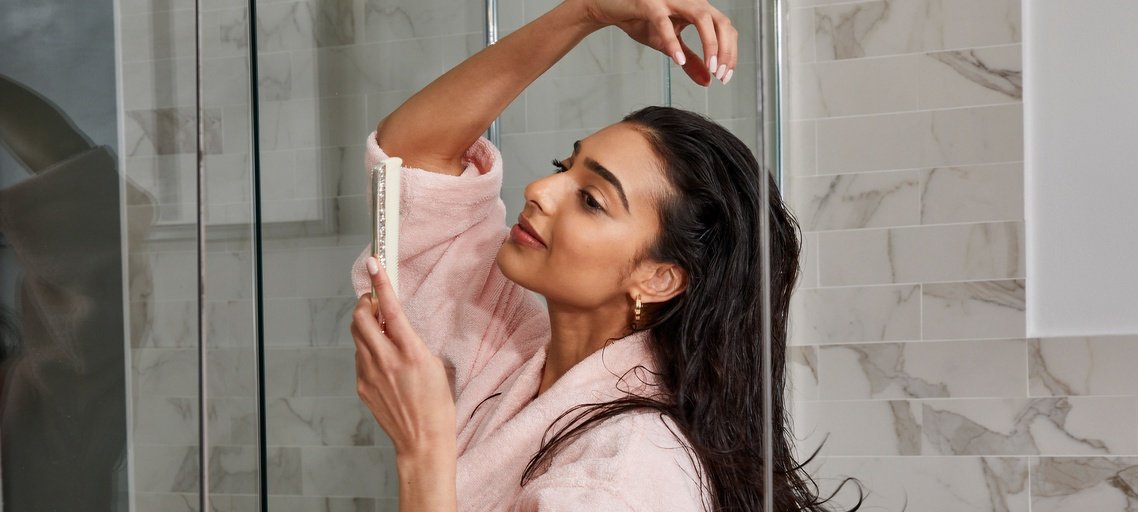 As much as you respect your strands with a solid hair care routine — it doesn't automatically lead to soft hair and smooth strands. And by that, we mean you can still deal with dry, stiff hair even when you're caring for it properly. While it's easy to panic if your hair has a straw-like appearance, there are a few things you can do to restore strands and strengthen your mane.
From swapping out specific hair styling products to making subtle lifestyle changes, you can handle stiff hair with the proper know-how. Keep reading to learn what causes stiff hair plus six tips that will help you keep your strands looking and feeling their best.
Why is My Hair Stiff?
Simply put, there are a few different factors that can lead to stiff hair. According to the National Center for Biotechnology Information (NCBI), using blow-dryers regularly can dry out your hair, and the rest of your heat styling tools aren't so innocent either. Further, the American Academy of Dermatology (AAD), shares that chemicals in relaxers, dyes, and other hair styling products can contribute to dry and stiff hair.
Your summer beauty habits can play a part in hair stiffness, too. The Cleveland Clinic shares that prolonged exposure to the sun can damage your hair cuticles and dry out your hair. In turn, this causes your strands to feel brittle and stiff. The AAD also states that failing to wash chlorine out of your hair can cause strands to become dry.
How to Manage Stiff Hair
Now that you have the full scoop on what causes stiff hair, you can take the necessary steps to protect your strands. Below, we're sharing six tips to keep your hair healthy-looking, soft and flexible.
1. Use a Nourishing Hair Care System
One of the easiest ways to improve stiff strands is to incorporate a hydrating hair care system into your routine. Reach for something to nourish and restore strands like the L'Oréal Paris EverPure Sulfate-Free Color Care Bond Strengthening Shampoo and the L'Oréal Paris EverPure Sulfate-Free Bond Strengthening Conditioner. This shampoo and conditioner duo works to strengthen hair inside and out by strengthening weak hair bonds, leaving you with noticeably soft and smoother strands.
2. Reach for a Leave-In Conditioner
If stiff hair is the bane of your existence, you'll want to opt for lightweight products that work to nourish and protect your strands. Reach for the L'Oréal Paris Elvive Total Repair 5 Protein Recharge Leave-In Conditioner Treatment, which works to reinforce all hair types against daily wear and tear, nourish strands and protect against damage.
3. Air-Dry Your Hair
Like it or not, heat-styling tools can wreak havoc on your strands, which can lead to stiff hair. So, give your tools a break and try air-drying your hair. Feel free to take things up a notch and grab a curl enhancer like the L'Oréal Paris Dream Lengths Curls Non-Stop Dreamy Curls Leave-in Conditioner to embrace wavy strands while keeping things heat-free. Trust us, your hair will thank you!
Editor's tip: If there are certain occasions that require using heat-styling tools, be sure to use a heat protectant, like the L'Oréal Paris Elvive Dream Lengths Frizz Killer Serum Leave-In. For extra protection, use your heat tools on their lowest heat setting.
4. Protect Your Hair From the Sun
Just as excessive exposure to the sun can harm your skin, the same goes for your hair. Protect your mane from the sun by rocking a cute sun hat or using an umbrella when you're spending extended time outside.
5. Limit Your Hair Color Sessions
As much as you may love to dabble (and sometimes more than dabble) in the world of hair color trends like peach hair or beige blonde, dyeing your hair too frequently can have adverse effects on your strands. Make sure you are waiting the appropriate amount of time between coloring sessions and consider opting for a low-maintenance option like balayage.
If you can't help but experiment with fun hair color trends, reach for an ammonia-free semi-permanent hair color that won't wreak havoc on your strands. If you're looking to stretch out the time between your root, touch-up sessions, reach for a temporary color spray like the L'Oréal Paris Magic Root Cover Up for dark strands or the L'Oréal Paris Concealer Spray, Blondes with Dark Roots for blondes.
6. Minimize Your Styling Products
While it can be easy to load up on different hair products to achieve a specific style, you may want to scale it back a bit. Coating your strands with various products can offset your moisture levels and cause your strands to feel hard and stiff. Try using a multi-tasking product like the L'Oréal Paris EverPure Sulfate-Free 21-in-1 Color Caring Spray, Leave In to address frizz, offer heat protection, add moisture and more.
Next: 25 Hairstyles for Greasy Hair That Will Hide Oily Roots
Edited by: Reece Andavolgyi, Photo credit: Chaunte Vaughn
Discover more tips & tricks
Keep your skin happy
See all articles
Shop Featured Hair Care products
Discover More