damaged hair
How to Strengthen Hair
May 31, 2019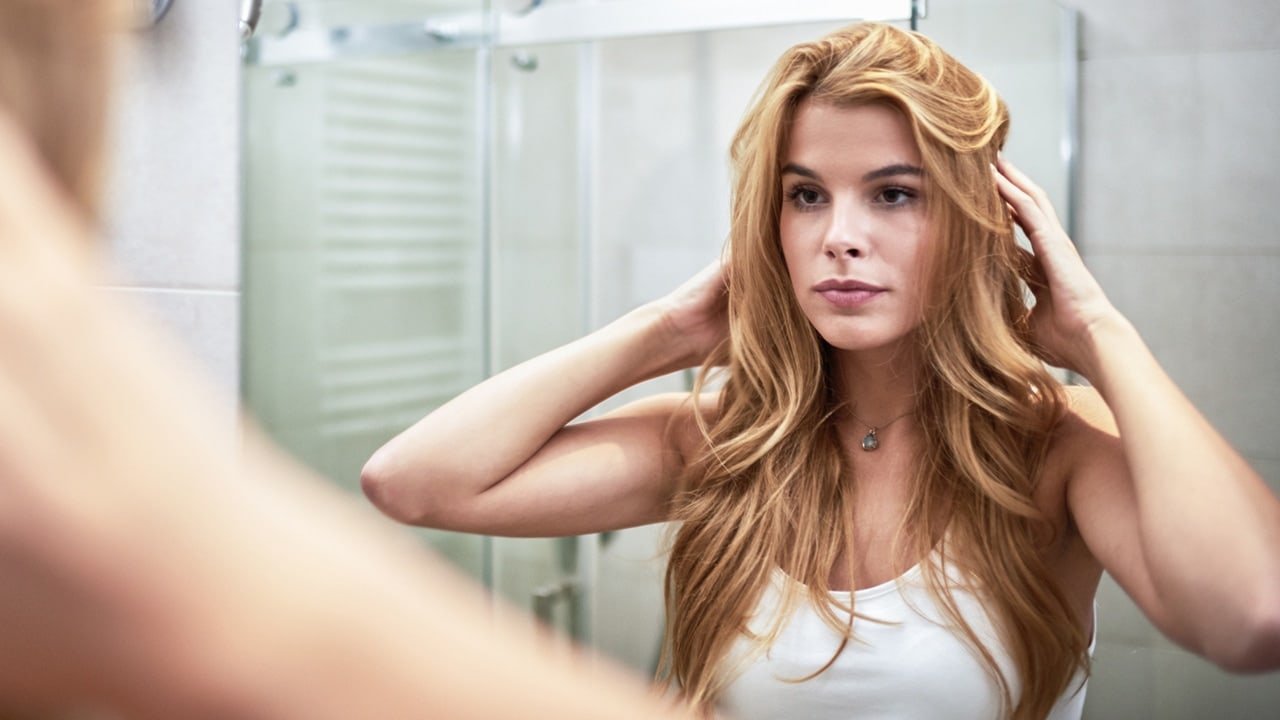 It's safe to say that strong strands fall under the definition of healthy hair. Unfortunately, factors like the latest hair color trends and hairstyles aren't always favorable for hair strength. If you have damaged hair, you may be wondering if there are any noteworthy hair care tips on how to strengthen hair so you can have an envy-worthy mane of your own. Lucky for you, we know just the trick(s) to strengthen hair, including using a strengthening protein hair treatment. Below, we're sharing four hair strengthening tips so you can have your most beautiful, strong locks yet!
HAIR STRENGTHENING TIP #1: USE THE RIGHT SHAMPOO AND CONDITIONER
First things first—it's important to use a shampoo and conditioner formulated for your hair type and its needs, per the American Academy of Dermatology (AAD). AKA, if you want to promote hair strength, look for a system to do just that. If you need a recommendation, consider one of the following duos.
L'Oréal Paris Elvive Total Repair 5 Repairing Shampoo and L'Oréal Paris Elvive Total Repair 5 Repairing Conditioner: This shampoo and conditioner system helps repair the five visible signs of damaged hair, including split ends and dull color. The results? Rebuilt fibers, strength, vitality, silkiness, and shine. Our strengthening system, formulated with protein and ceramide, helps fortify each strand, reinforcing the hair fiber and sealing-in nourishment. Hello beautiful, strong hair!
L'Oréal Paris EverStrong Thickening Shampoo and L'Oréal Paris EverStrong Thickening Conditioner: Formulated with rosemary leaf, this thickening shampoo and conditioner duo fortifies fragile, thin hair to promote thicker-looking locks. The system injects strength into hair from the first wash. With no harsh sulfates, salts, or surfactants that can strip, dull, and damage hair, the formula is especially gentle on fine hair. To complete the hair strengthening system, reach for the L'Oréal Paris EverStrong Break Proof Lotion. This hair treatment has a fortifying formula with goji that strengthens fragile hair, helping to repair and protect it against breakage. The hair breakage treatment forms a protective shield defending against UV rays and heat styling. To use, apply a dime-sized amount to towel-dried hair.
HAIR STRENGTHENING TIP #2: REACH FOR A TREATMENT TO STRENGTHEN HAIR
Speaking of hair treatments, there's more than one option for adding one into your hair strengthening hair care routine. Consider using one of the below to promote a strong, healthy mane.
L'Oréal Paris EverPure 10-In-1 Elixir: This total hair and scalp beauty solution with Indian lilac helps improve hair strength by reducing breakage. The skin care-inspired super treatment delivers 10 benefits in one—including strength, texture, and shine—keeping your hair healthy and reflecting color radiance. Apply onto towel-dried hair and scalp in sections, gently working through hair to evenly distribute. Do not rinse. Style as usual.
L'Oréal Paris EverPure Repair Remedy Balm: Formulated with acai palm and our exclusive antioxidant complex, this hair treatment deeply repairs damaged hair. The rich formula instantly penetrates to restore strength and brilliance strand by strand, for renewed, stronger, shinier hair. After using the L'Oréal Paris EverPure Repair & Defend Shampoo, massage the balm onto damp hair from roots to ends. Leave on for three to five minutes, then rinse. Use twice a week or as needed. For added detangling and extra conditioning, use as a pre-shampoo treatment.
L'Oréal Paris Elvive Total Repair 5 Protein Recharge Treatment: Your hair is made of protein. Daily brushing, heat tools, and overworking it can cause dryness and damage. This leave-in conditioner and heat protectant nourishes with each use to help increase strength, flexibility, and protect against everyday damage caused by heat and styling for incredibly soft yet resilient hair. Use with the Total Repair 5 system. After using the shampoo and conditioner, apply a small amount of the protein treatment to wet hair. Do not rinse. Style as usual.
HAIR STRENGTHENING TIP #3: DEEP CONDITION YOUR STRANDS
According to the AAD, chemical damage—AKA damage caused by processing like hair coloring and keratin treatments—is one of the most common culprits of hair damage, as processed hair loses its natural moisturizers. This leads to a dried-out, frizzy appearance that's less than desirable. To help replenish moisture, consider using the L'Oréal Paris Elvive Total Repair 5 Rapid Reviver Deep Conditioner in place of your daily conditioner. This deep conditioner for damaged hair has a rich reviving formula with 20% conditioning serum and almond and protein help fortify each strand, reinforcing the hair fiber. Apply to wet hair from lengths to tips after shampooing. Leave on for only one minute and rinse thoroughly. Use in conjunction with the L'Oréal Paris Elvive Total Repair 5 Repairing Shampoo.
HAIR STRENGTHENING TIP #4: PROTECT YOUR STRANDS
The AAD states that protecting your hair from too much heat is essential to maintaining healthy hair, so be sure to apply a heat protectant the next time you go to style your hair with hot tools. For added protection, the AAD says you can put a moist towel in between the plates of your ceramic straightener to protect your hair from direct heat. The AAD also recommends wearing a hat to protect hair from ultraviolet (UV) radiation.
Speaking of protecting your strands, there are certain hairstyles that can be beneficial to your mane and help to promote healthy, strong hair. Want to learn more? Here are The 30 Best Protective Hairstyles for Natural Hair.
Discover more tips & tricks
Keep your skin happy
See all articles
Shop Featured Hair Care products
Discover More