dry hair
How To Use a Detangler Spray To Banish Knots
November 24, 2020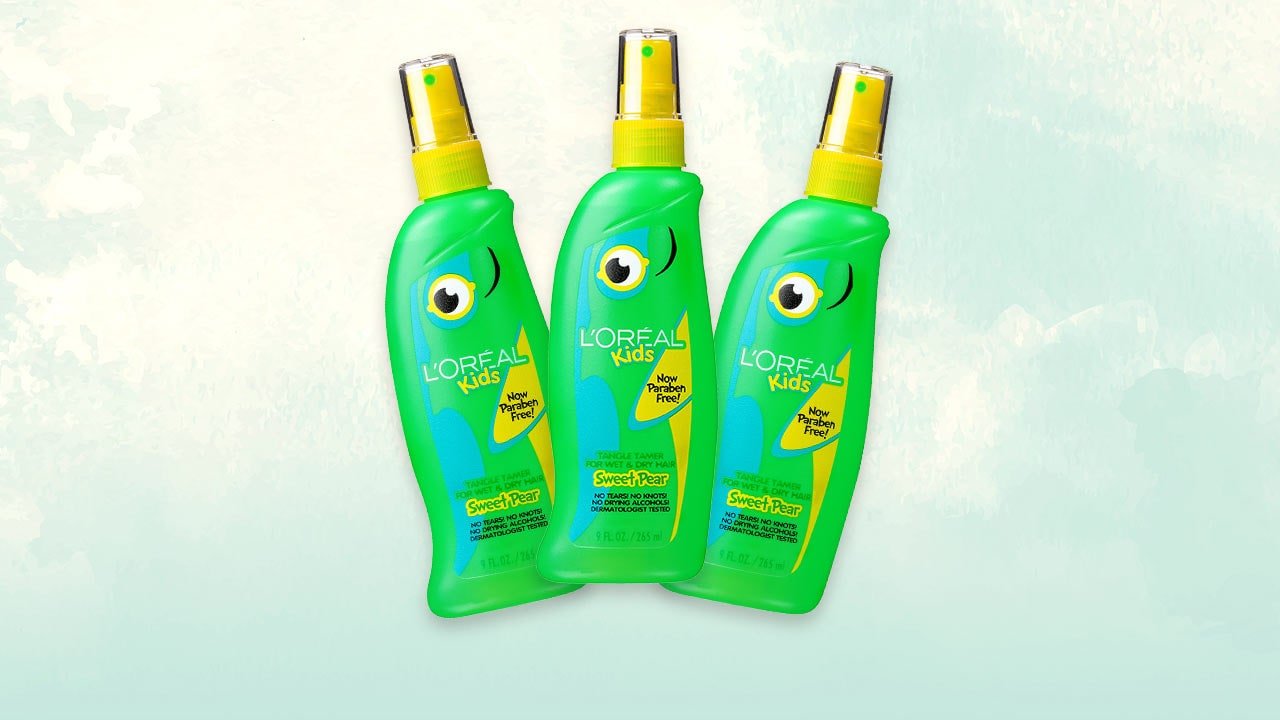 There are few things worse than running your hair brush through your mane, only to get it snagged on a knot or tangle. We'd do just about anything to wake up with tangle-free locks, and while that isn't necessarily possible, a top-quality hair detangler is about as close to a miracle as you can get when it comes to undoing pesky tangles. A detangler spray, in particular, should be every gal's partner in crime—especially if they have wavy or curly hair that's prone to tangles. If you're ready to learn all about the wonders of a hair detangler spray, we're here to help. Keep reading to find out all about this hair-care must-have!
OUR BEST HAIR DETANGLER SPRAY
Before we get into how to use detangler spray, you may be on the hunt for a product rec. Without further ado, allow us to introduce you to our best best hair detangler spray: the L'Oréal Kids Burst of Sweet Pear Tangle Tamer for All Hair Types. This bottle may look familiar from your childhood and let us tell you, this trip-down-memory-lane is totally worth keeping around. It has a spray-on conditioning formula that detangles any hair texture in a flash—along with coating your mane in a burst of its sweet pear scent. You can use this hair detangler on wet or dry hair to tackle the craziest knots and tame bed head, leaving hair clean and shiny all day.
HOW TO USE A HAIR DETANGLER SPRAY
Now that you're in-tune with our best detangler spray, it's time to get the 4-1-1 on how to use it properly. Follow the steps below, based on the state of your mane.
HOW TO USE A HAIR DETANGLER SPRAY ON WET HAIR
If you're working on hair that's straight from the shower, you can comb away knots in a pinch. Here's what you need to do.
STEP #1: GRAB A TOWEL
Before spritzing on your detangler spray, towel-dry your hair so that it's damp. Keep in mind, our best hair detangler spray is not formulated to work on soaking wet locks.
STEP #2: USE YOUR DETANGLER SPRAY
Spray your hair detangler throughout your mane, focusing on any knots or tangles you notice.
STEP #3: COMB AWAY
Use a wide-tooth comb to brush out those knots and tangles. That's it—no need to rinse!
HOW TO USE A HAIR DETANGLER SPRAY ON DRY HAIR
Detangler spray isn't just for wet hair. You can also use it on dry hair to eliminate bed head or cowlicks.
STEP #1: SPRITZ YOUR SPRAY
Kick things off by applying your hair detangler throughout your mane.
STEP #2: GRAB YOUR COMB
Comb through your hair to tame any bed head or fix your cowlick. All done—no rinsing required.
3 TIPS FOR DETANGLING YOUR HAIR
Now that you know how to use a hair detangler spray, there's no harm in exploring other hair-care tips you can use to get rid of knots and tangles. Check out these three tips below to manage tangled hair.
TIP #1: BRUSH THE RIGHT WAY
Before you run a hairbrush through your mane, consider your method. To avoid causing any knots or tangles (and help detangle those that are already there), start by brushing at your ends and gradually working your way up to the roots.
TIP #2: USE HAIR CARE PRODUCTS TO HELP YOU DETANGLE
Aside from hair detangler, there are other hair-care products that can lend a hand in detangling your locks. One of our favorites is leave-in conditioner, like the L'Oréal Paris EverStrong Break Proof Lotion. It strengthens fragile hair, forms a protective shield to defend against UV rays and heat-styling, and provides added slip and detangling. Apply a dime-sized amount to towel-dried hair and gently comb through your mane to evenly distribute.
TIP #3: KEEP YOUR HAIR HYDRATED
Dry hair tends to get knotty and tangled quickly, which is why it's wise to add a hair mask or deep conditioner into your regimen. Hello hydrated and tangle-free hair! If you prefer to give your strands a more thorough conditioning, give the L'Oréal Paris Elvive Extraordinary Oil Rapid Reviver Deep Conditioner (pair it with the L'Oréal Paris Elvive Extraordinary Oil Shampoo) a try. It's formulated with a conditioning serum and camellia and sunflower oil. This essential works to hydrate each strand for silkier, softer hair. After shampooing, apply it from the lengths to tips of your hair. Leave on for one minute, then rinse. Fast and effective!
{ "@context": "https://schema.org/", "@type": "WebPage", "speakable": { "@type": "SpeakableSpecification", "cssSelector": ["speakable-content"] }, "url": "https://www.lorealparisusa.com/beauty-magazine/hair-care/dry-hair/hair-detangler-spray" }
Discover more tips & tricks
Keep your skin happy
See all articles
Shop Featured Hair Care products
Discover More
{ "@context": "http://schema.org", "@type": "BreadcrumbList", "itemListElement": [ { "@type":"ListItem", "position": 1, "item": { "@id": "/", "name": "Home" } } , { "@type":"ListItem", "position": 2, "item": { "@id": "https://www.lorealparisusa.com/beauty-magazine", "name": "Beauty Magazine" } } , { "@type":"ListItem", "position": 3, "item": { "@id": "https://www.lorealparisusa.com/beauty-magazine/hair-care", "name": "All Things Healthy Hair" } } , { "@type":"ListItem", "position": 4, "item": { "@id": "https://www.lorealparisusa.com/beauty-magazine/hair-care/dry-hair", "name": "Dry Hair Care" } } , { "@type":"ListItem", "position": 5, "item": { "@id": "https://www.lorealparisusa.com/beauty-magazine/hair-care/dry-hair/hair-detangler-spray", "name": "hair-detangler-spray" } } ] }