beauty trends
16 Short Nail Designs and Ideas for 2020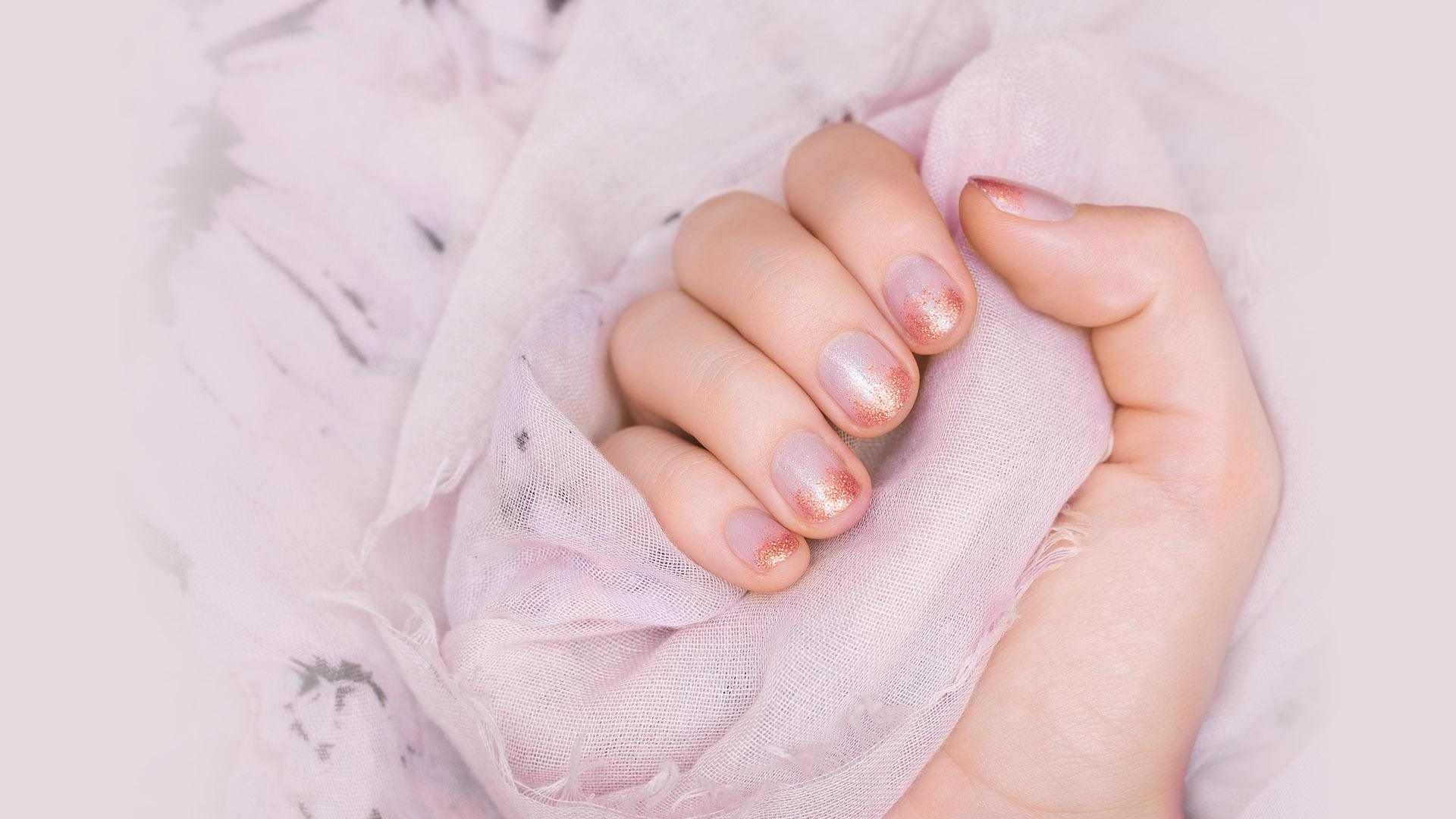 If you're on the fence about experimenting with short nail designs, consider this your sign to start. Sure, long nail shapes are stylish and chic, but there is a myriad of trendy short nail ideas that have us reaching for our nail clippers. Not to mention, short nails have a better track record of going the distance, since they're less likely to catch on things and break. From short ombré nails to gradient designs, we're sharing the 16 best short nail colors and nail art ideas to add to your 2020 manicure must-try list.
1. GEOMETRIC NAILS
If you're game for trying out multiple short nail colors in one, geometric nails are a great place to start. This nail trend is all about painting cool shapes onto your nails for a statement-making manicure. From simple to more intricate designs, your nails will make the perfect accent to your overall look.
2. YELLOW MARBLE
Marble nails have been making waves in the beauty world, with this super pretty design being seen all over your social media feeds and IRL. A great way to show off your creativity, you can opt for a classic white and black marble look or switch things up with bright and bold shades. We're loving yellow! Who would have thought you could match your nails to your countertops?
3. RAINBOW NAILS
What's better than one nail color? We think five! Instead of playing it safe with one nail polish shade, take a walk on the wild side and try the rainbow nail trend on for size. All you need to do is paint each nail a different color to bring this eye-catching manicure to life.
4. GALAXY NAILS
Take your short nail design game up a few notches with the help of galaxy nails. A gorgeous way to showcase your love of stars, this space-inspired design is a great way to get an out of this world manicure. We also dig that you can go as subtle or as bold as you like. Either way, you'll have Pinterest-worthy nails to show off to your friends.
5. MICRO FRENCH
There's no denying that French manicures are here to stay, but if you're looking to update this classic nail look, the micro French mani may be the perfect option. Featuring a skinny tip, this design keeps things simple without skimping on style. Not to mention, it's an excellent choice for lovers of minimalism.
6. STACKED FRENCH MANICURE
Why opt for a French manicure featuring one line when you could have two? Stacked French nails are a chic and playful way to add a twist to a timeless nail look. Try using a bright color on the tip and a contrasting shade above it to add a bit of edge to your nails.
7. METALLIC FRENCH
Ready to go against the grain? A metallic French set is perfect for those who like to make a statement. A nice change of pace from the classic pink and white style, a metallic French mani includes trendsetting shimmer for an edgy look that won't go unnoticed.
8. GLITTER OMBRÉ
We couldn't create a list of short nail designs without highlighting glitter ombré nails. Perfect for those who can't decide between different colors and finishes, this trend allows you to incorporate your favorite shades into one design. Need inspo? We love a sheer white polish combined with a creamy glitter shade to give your nails a gorgeous yet subtle pop.
9. TWO-TONE NAILS
Looking to steer away from the short ombré nails trend? Two-tone nails may be just what you need. This trend flaunts two shades worn side-by-side for just the right amount of contrast. You know what they say: two is better than one!
10. MATTE GRADIENT NAILS
Another nail trend to try? Matte gradient nails. This short nail idea involves five different shades of the same color family, resulting in a manicure with a seamless transition of colors. Completed with a matte top coat, it's easy to see why we're matte-ly in love with this look.
11. FLORAL NAILS
Florals for spring? We won't say it's groundbreaking, but you can't deny how pretty this short mani idea is. From sunflowers to intricate rose detailing, this nail design leaves room to bloom with creativity. Since this design can be tricky to master, we recommend booking an appointment with your manicurist to get the desired results.
12. BLACK AND WHITE NAILS
For short nail colors that are simplistic and stylish, you can't go wrong with a black and white combo. This color mashup features a black base with thin white lines for subtle detailing. Perfect for any occasion, these nails will become your go-to in no time.
13. WHITE NAILS
There's a lot to be said about the classic white manicure. It's neutral, clean-cut, and makes for a super-flattering nail look. It also complements almost any outfit you own! Try adding a little matching action into your beauty look by pairing it with your white eyeliner looks. What's not to love?
14. NEON NAILS
Want to go bold with your nail look? Neon nails happened to be on-trend last summer, and they don't seem to be going anywhere in 2020. If you're a fan of nails that pop, head over to our article on 5 Ways to Rock Short Neon Nails.
15. ANIMAL PRINT
Animal print nails are here to stay! Another wise choice for those who dare to go bold, you can easily give your manicure wild flair. Between cow nails, leopard designs, zebra prints, and more, the possibilities are pretty much endless.
16. PEARL-EMBELLISHED NAILS
We've seen pearls take over the hair world, so it should come as no surprise that what's trending for nails has been influenced, too. Equal parts sophisticated and luxurious, a pearl-embellished design is an excellent pick for days when you're looking to embrace your glamorous side. Best of all, all you need to do is stick pearls on your nails with a little nail glue to get the look. Easy, peasy!
Discover more tips & tricks
Keep your skin happy
See all articles
Improve your routine
Show your new look more love:
makeup