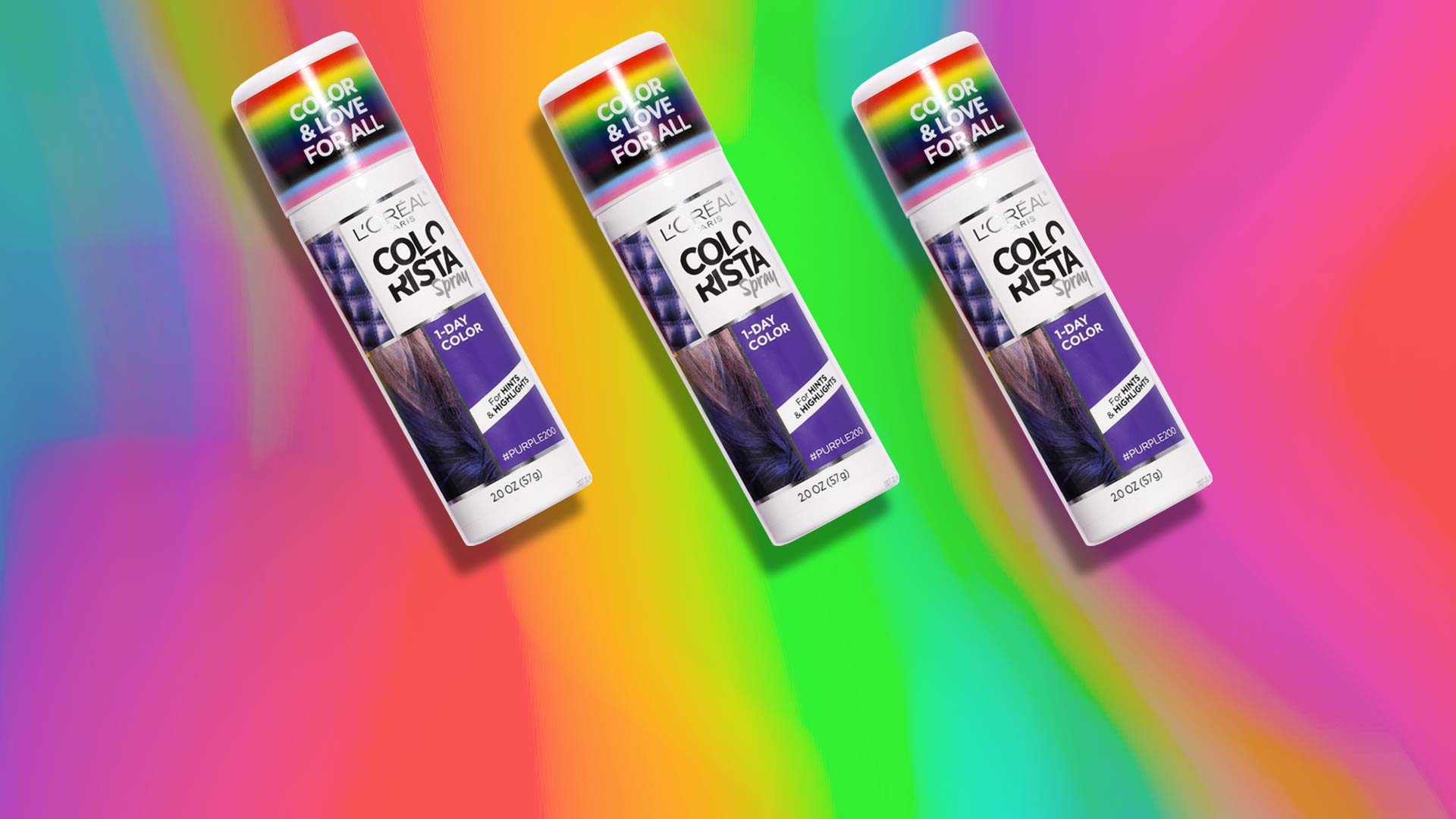 hair color ideas
How To Use L'Oréal Paris Colorista To Show Your Pride
June not only kicks off the summer season, but it's Pride month, too, so there are many reasons to get outside and celebrate. Pride is about honoring authenticity and supporting the LGBTQ community through action, celebrations like parades and festivals, and bold self-expression. L'Oréal Paris is showing their support for Pride by teaming up with Maybelline, Essie and NYX Professional Makeup to donate $100,000 to the Ali Forney Center to support their mission of empowering and protecting homeless LGBTQ+ youth.
You can show your support by donating to organizations like the Ali Forney Center, or through acts of self expression. We often see it done in beauty with homages to the rainbow flag, a beloved symbol of Pride. And what better way to show off your pride this year than with a fun hair color and vibrant hairstyle. Here, we're sharing hairstyle inspo and tips to achieve head turning looks using the L'Oréal Paris Hair Makeup Temporary Colorista 1-Day Hair Color Spray—without the long-term commitment of permanent hair dye. And, you can get your hands on this easy-to-apply hair color right at Target.
HOW TO USE COLORISTA 1-DAY HAIR COLOR SPRAY TO GET YOUR PRIDE HAIRSTYLE
Wearing your hair in any color—natural or not—can be a symbol of pride in general. Perhaps your natural color reminds you of family members who share the same hue, or maybe dyeing your hair a different shade is a form of self expression for you. If you're looking to sport a bold color for Pride this year, you can achieve it by using the L'Oréal Paris Colorista 1-Day Hair Color Spray—no commitment necessary. This temporary hair color spray is formulated with pure pigments which means that it will show up vibrantly on the hair without any bleaching. It works for all hair types and hair textures. Simply shake the can, hold it four to six inches away from your hair, and spray the color onto the hair evenly. The color will come out after one wash.
If you want great hair color and styling, try one of these three 'do's that are perfect to pair with temporary hair color, below.
1. FISHTAIL BRAID
If you're planning on attending a Pride parade and want to go with a simple, but colorful hairstyle, a fishtail braid is for you. For a fun and trendy take on this hairstyle, spray the Colorista 1-Day Hair Color Spray in Pink or Purple to one section of hair that you're going to be braiding. This is a great way to add a subtle but eye-catching pop of color to your look. If you want to go even bolder, spray each of the sections different colors for a vibrant, multicolored style.
2. BUBBLE PONYTAIL
The bubble ponytail is not only a simple, beautiful hairstyle to incorporate some color into, but it's great for the warm weather too because it keeps your hair out of your face. To make this 'do fitting for a pride celebration, spray each of the various sections of the ponytail different colors. For the hair at your crown, you can get creative with it! Either leave it your natural shade, apply a solid wash of color to it, or create a design with the hair color spray.
3. SPACE BUNS
No hairstyle screams fun and joy quite like space buns—making them a fitting style for Pride. Take the style up a notch by adding some color to the buns. If symmetry is what you're about, pick your favorite shade of the Colorista spray and coat both buns evenly. If you want to sport a plethora of colors, let your creativity run wild and color each bun how you please.
Editor's Tip: If you want to complete your colorful Pride look, opt for a makeup look to complement your hairstyle. Try some bright eyeshadow, a vibrant lippie and then finish off your makeup with the L'Oréal Paris Telescopic Waterproof Mascara to enhance your lashes and ensure they last through the celebration.
Photo Credit: Sarah Duvivier
Next: 3 Stunning Rainbow Eye Makeup Looks To Celebrate Pride
Discover more tips & tricks
Keep your skin happy
See all articles
Shop Featured products
Discover More