beauty trends
How to Do a French Manicure the Easy Way
Nail this trend at home, once and for all.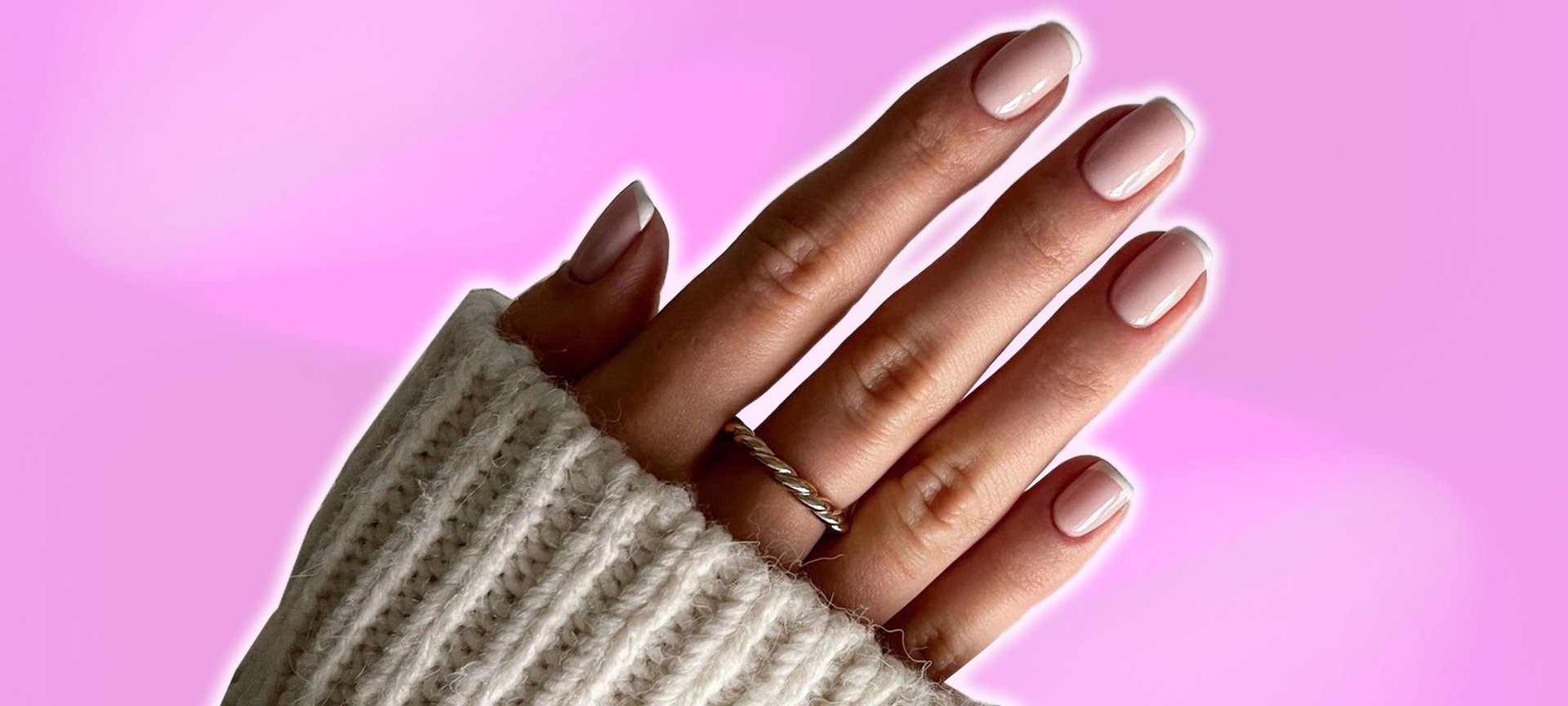 If we had to name one classic beauty trend that continues to reign supreme in the nail world, it would easily be the French manicure. And it makes perfect sense: French manicure nails come in handy for those who love a clean-cut and polished look. The perfect option for a date night, interview, wedding day look or pretty much any event on your agenda, French tip manicures work for just about anyone and any occasion. And with recent modern twists to the French manicure, there are even more ways to wear the style.
Now, since we can all agree that heading to the nail salon to get French manicures every week or two can get pretty pricey, the good news is that you can pull this nail design together all on your own. Intrigued? Keep reading to learn how to do a French manicure at home.
What Is A French Manicure?
For those not well-versed in nail art, the classic French manicure consists of painting the base of your nails with a pale or clear color and the tips white. The goal of a French manicure is to give your nails a natural and understated look, as opposed to the look of fake nails and extensions.
Editor's tip: While the traditional look does feature pink and white polishes, different French manicure colors also happen to be super trendy. You can opt for two contrasting colors or just paint your French tips a bold shade like black or hot pink.
How To Create A French Manicure
If you're ready to try your hand at a traditional French manicure, grab your nail polish and follow our step-by-step guide below to get the look.
1. Remove Old Nail Polish
Before you reach for your nail polish, you'll want to make sure that your nails are prepped and ready to paint. Make sure to remove any old nail polish that may be lingering on your nails.
2. File And Buff Your Nails
Next, you'll want to give your nails a quick trim to make sure that they're even. Follow up by using a nail file to shape your nails to ensure that they have a smooth shape. While you can rock pretty much any nail shape with this look, we recommend a more rounded shape to really complement the curve of your French tips.
3. Soak Your Nails
Place your hands in a bowl with warm water and soak your nails for three to five minutes. This helps soften your cuticles, making it easier to push them back. Use an orange stick to push your cuticles out of the way for a clean look, then apply cuticle oil to moisturize the cuticle and help protect your nails.
4. Apply A Base Coat
Now, it's time to create some French tip manicure magic: Start by applying a base coat to your nails. This will help protect your nails from stains and nourish and strengthen your nail beds.
5. Reach For Your Neutral Polish
Apply a coat of your pale or neutral nail polish. Start in the middle and work your way outward as you apply. Once this is dry, you can apply a second coat to get rid of any streakiness. Allow your nails to dry completely before moving on to the next step.
6. Create Your French Tip
At the tips of your nails, where the white crescent-shaped part usually is (the beginning of the nail edge), you'll want to apply a small line of white nail polish using a line brush. Work slowly to create a nice, clean line across from end to end. Then dip your regular nail polish brush into the white polish and coat that tip from the line all the way to the nail edge, filling in the entire tip.
If you're not too skilled in the art of painting perfect lines, you can use French manicure guides — small stickers that help you section off the area you want to paint. All you need to do is paint over the stickers, and when you pull off the guides, you're left with flawless tips.
If you're determined to freehand this but your line isn't perfectly straight, don't worry. Grab a small nailbrush (a paintbrush works, too) and dip it in acetone. Glide the brush along the base of the white tip you painted on to clean up the edge. You may need to reach for your base shade again to touch up a bit, but you'll be left with a sharp, professional look.
7. Grab Your Top Coat
Once your nails are painted to perfection, it's time to seal the deal with a top coat. Apply a layer of top coat to your nails to make sure your look goes the distance.
Next: How To Make Your Nail Polish Last Longer
Edited by: Sophie Dweck, Photo Credit: IG/@simplestylebyher
Discover more tips & tricks
Keep your skin happy
See all articles
Improve your routine
Show your new look more love:
makeup