beauty trends
10 New Ways To Sport A French Manicure
Move aside, classic French tips.
July 16, 2020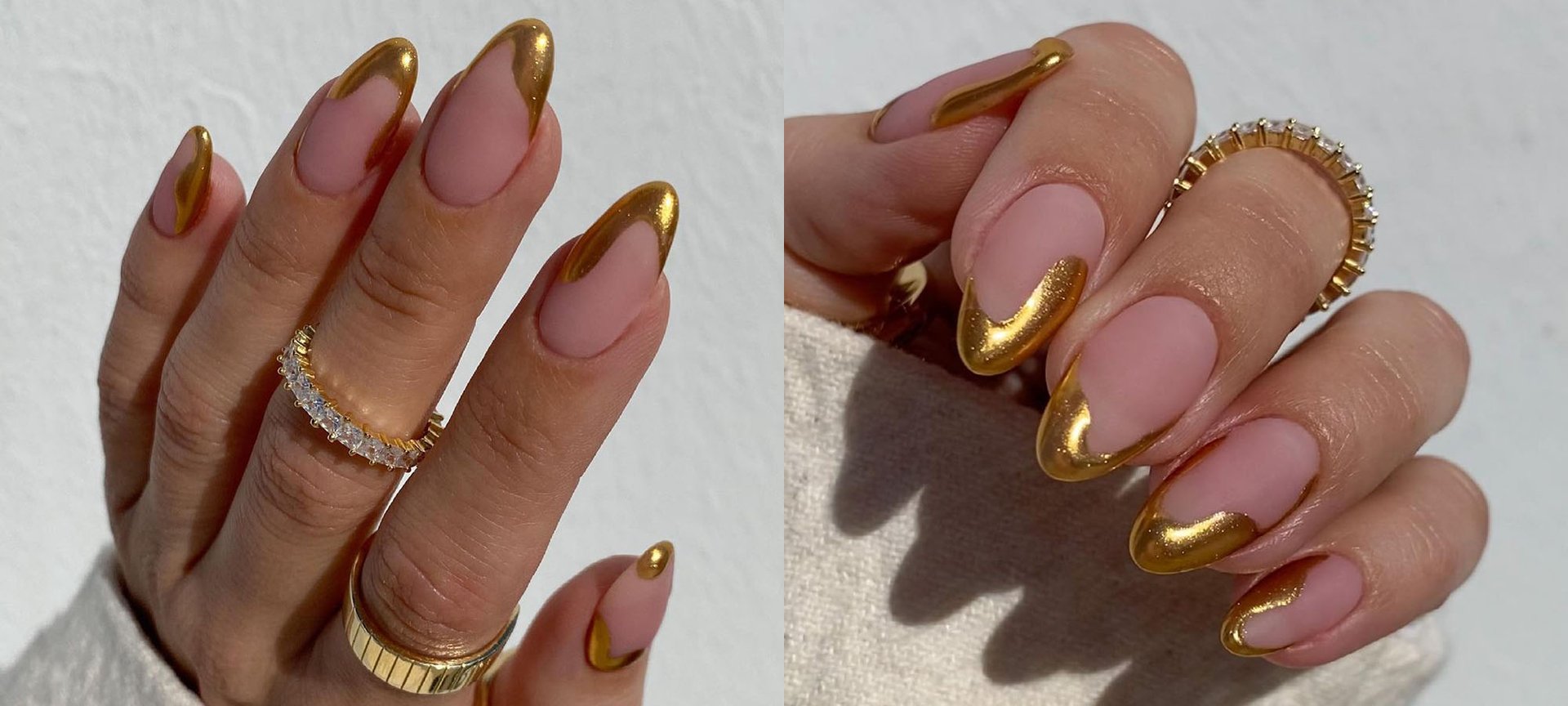 As far as nail looks go, it doesn't get much more classic than a French manicure. But even the most tried-and-true nail designs need an upgrade now and then. Thus, the modern French manicure was born. It seems like every time we scroll on social media, we're introduced to new ways to do French manicure designs — and we can't get enough. If you're as obsessed with unique French tips as we are, read on for some ideas to help inspire your next manicure.

1. Classic French Mani With Pearl Accents
Jewel and pearl accents are a major 2022 beauty trend, and we're seeing that translate to nails too. Spice up your traditional French manicure by adorning your nails with mini pearl accents for a fun, yet classic touch.
2. Multicolor Metallics
Metallics hues are dominating current eyeshadow trends, but we love these shimmering shades in nail designs as well. Swap out your white French tips for a solid, metallic hue, or alternate various metallic shades on each nail for a playful twist.
3. Two-Tone Tips
If colorful nails are your go-to, you've got to give two-tone tips a try. This color blocking design is easy to achieve and makes a major statement.
4. Doodle Designs
While this option is tricky to DIY, it's worth finding a talented nail artist to achieve the look. You can mix and match your doodles for the ultimate customized nail set.
5. Tortoise Shell
Animal print is nothing new, but it's certainly maintained its popularity in the world of nail art. Tortoise shell print tips are chic, stunning, and totally on trend.
6. Gold Dipped
They say that diamonds are a girl's best friend, but gold comes in close second. Gilded French tip nails scream luxury while remaining simple and classic.
Editor's tip: A French manicure with silver tips can be just as stunning as gold. If you love the look of your favorite celeb's chrome mani, a twist on French tips may be the perfect way to give it a try.

7. Black And White
Black and white nail designs are timeless, and they'll match practically any outfit. Opting for these neutral tones is a great way to play up a classic French manicure while staying true to the essence of the original style.
8. Neon Tips
You can stick to a classic French mani style while taking it up a notch with a pop of neon. Opting for a solid, vivid shade keeps the nails simple while adding just a touch of something special.
9. Monochrome Swirls
Don't think that you can't play with shapes when working with a French manicure. Getting creative with swirl designs at the tips of the nails is the perfect way to spice up your set, and making them monochromatic keeps the look understated.
10. Dripping In Glitter
Glittery nail art has become ultra-popular lately, and what better way to sport the trend than by creating French tips that are dripping in glitter? It's a great way to give a sparkly set a go without committing to a full on glittery look. Plus, the way that the glitter fades from the tips is chic and eye-catching.
Discover more tips & tricks
Keep your skin happy
See all articles