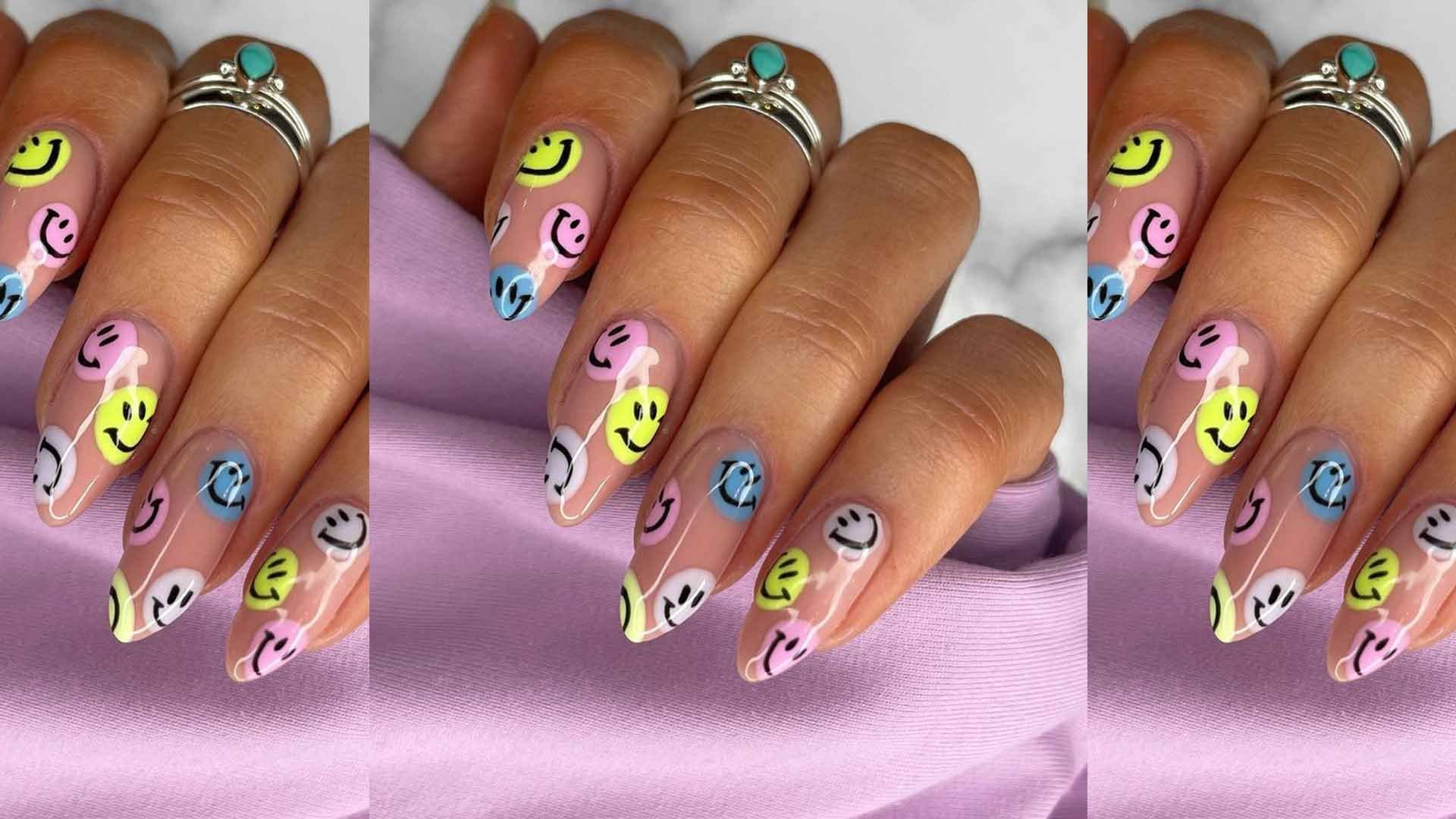 beauty looks
These Smiley Face Nails Are Bringing Us Spring Joy
Some might have considered smiley face manicures the biggest nail trend of the previous year, but in our books smiley face nails are a classic. The design has become a yearly go-to when the weather gets warm, or really, whenever you need a pick-me-up. And with all the creative ways you can remix and remake nail designs that never go out of style, we're excited about all the smiley face nail art flooding our timelines as of late. Check out some of our favorites so you can also get inspired to put on a smiling face—on your nails or otherwise.
Traditional Smiley Face
You can never go wrong with adorable nails that make you happy. Grab some yellow nail polish and don't spare an inch with a traditional smiley face nail design. You can have happy faces all over or just on a couple of accent nails. There are so many possibilities!
Drippy Smiley Face
For an unconventional yet fun take on the trendy nail design, try a smiley face that has a little drip—literally! Pair the bright and lively nail art with a glittery background to add some dimension and contrast.
Smiley Face Flowers
Nothing says springtime like a cheerful, smiling face nail design combined with daisies. The combo says that you're ready for all that the warm weather has to bring, including blooming florals and the merry that comes along with them.
Colorful Smiley Faces
Pretty nails that make you feel good are always on trend, and this full-color version of smiley face nails definitely will give you all the feels (sorry, we had to say it, because it's true). Try colorful smiling faces on a neutral base for an easy-to-do manicure that's as pleasant to look at as you are.
Mismatch Smiley Faces
If you want even more color you can try a smiley face design with a different base hue on every nail. Span ten different sunny shades of the spectrum to show everyone exactly how you feel now that the weather is getting warmer and the days are getting longer.
Psychedelic Smiley Faces
What better way to rock the smiley face nail trend than to combine it with the tie-dye nail trend we can't get enough of? Create a smile across the backdrop of the gradient design or create the smiling face with the colors of the tie-dye—it's up to you. Either way, they're sure to put you in a groovy mood.
Dark Smiley Faces
No one said that your smiley faces could only be done in vibrant shades. Try a twist on this manicure with black and yellow or black and white color combos. No matter what color it's painted in, a smiley face still reminds you that there's always something out there to bring you joy.
Main Photo: IG/@nonakednails_
Discover more tips & tricks
Keep your skin happy
See all articles
Improve your routine
Show your new look more love:
makeup