beauty looks
20 Trendy Summer Nail Colors And Designs
Nail your summer designs.
June 23, 2021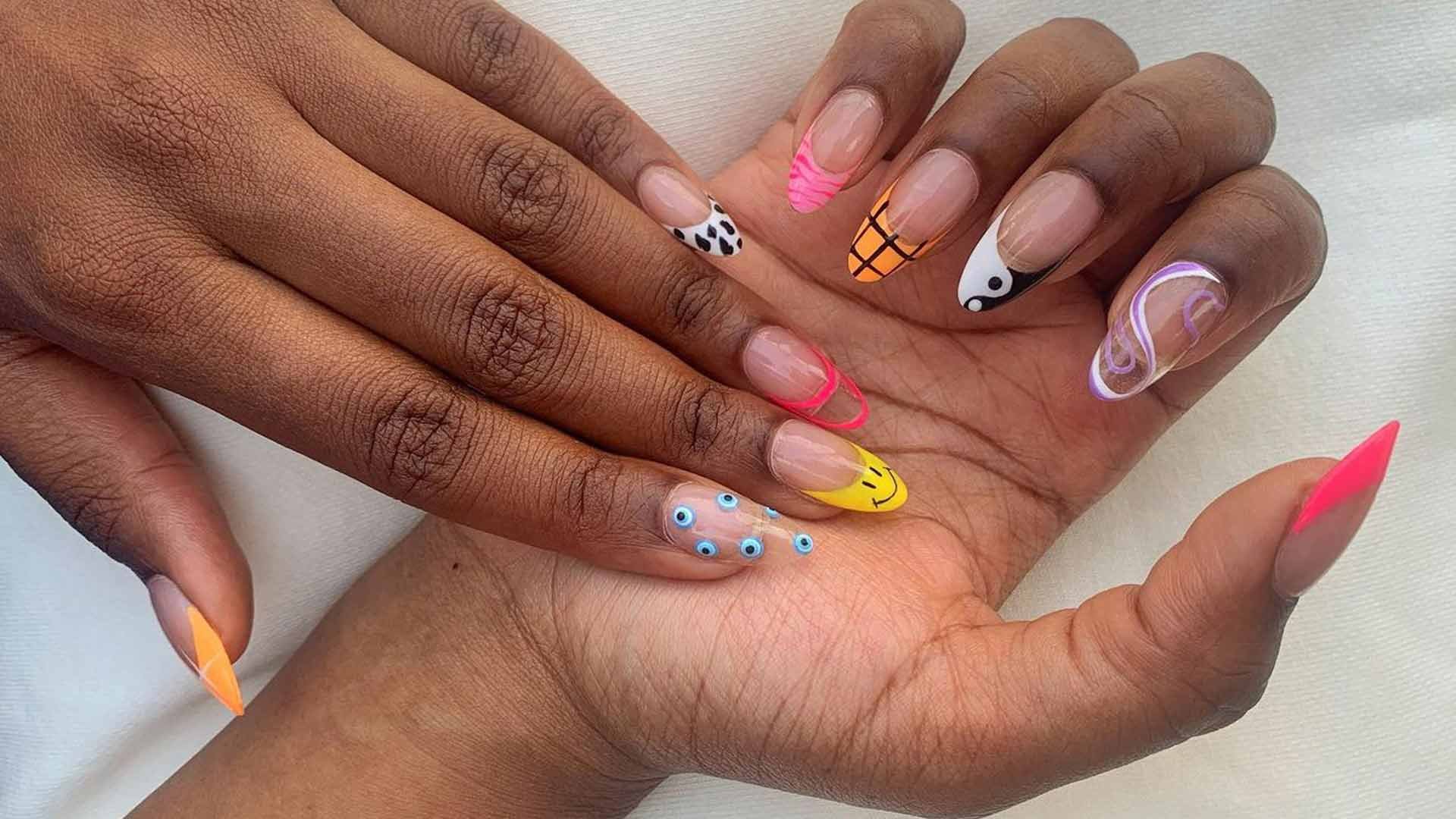 There's no denying that a stunning manicure is a beauty must-have, and when it comes to the summer season, it's all about taking your nail game to the next level. From super-pretty pastels to neon polish, summer nails are a great way to experiment with the hottest beauty trends. So, if you've been scouring social media for summer nail colors and designs, consider this your shortcut. Keep reading for summer nail designs and colors for 2021 that can help you add the perfect accent to your overall beauty look.
10 Summer Nail Designs Ideas To Try Right Now
These fun and creative designs are perfect for flaunting your summer mood.
1. TORTOISESHELL NAILS
If you love beach-inspired nails, and rocked the sea glass nails trend last summer then you'll probably be glad to add tortoiseshell nails to your must-try list this year. This gorgeous nail trend can be done in a way that features a traditional tortoiseshell print that mimics the hard covering of the animal or with a smooth finish over the print. Either way, it's an eye-catching look.
2. MARBLE NAILS
Statement-making nails on your mind? Well, it's time to get acquainted with marble nails. This unique design mimics the look of marble surfaces for an ultra-feminine and luxurious style. Use a small detail brush to paint veining onto your nails, then seal everything in with a thick top coat.
3. NEON NAILS
Like most things '90s, neon is back with a vengeance—even for nails. A great way to step outside of the box, these bright and bold colors add the right amount of pizazz for a look that won't go unnoticed.
4. MISMATCH NAILS
Why settle for one design when you can do ten? Mismatch nails are all the rage right now. If you're bold you can try it in different colors on each nail, or keep it subtle and vary designs within the same color family. The options are limitless.
5. POLKA DOTS
Polka dots have a way of being classic and on-trend at the same time and we love it. This trend allows you to play with color and show off your creative side. Whether you decide on small dots, bigger ones, or a combination of the two, your nails are sure to look stunning. Give the style a modern twist by including raised dots in your design.
6. THE FRENCH TWIST
Leave the traditional French manicure behind with an updated version of this classic. With so many modern takes on the beloved style you can try a different one every few weeks through the entire summer season.
7. FRUIT-INSPIRED NAILS
From cherries to orange slices, watermelons and pineapples, there's no shortage of different summer fruits that you can choose to adorn your next manicure. They're bright, colorful and make us want a cold, refreshing beverage!
8. DAISIES
We love a sweet blossoming flower design on our nails the second the weather starts to turn, and daisies have been oh so popular as of late. Add them all over one accent nail or give each nail a large flower for a standout look.
9. COSMIC NAILS
If you find your head constantly in the clouds, this might be the nail design for you. You might not be able to actually go out of space, but your nails will certainly be the star of your beauty look with this galaxy-inspired design.
10. YIN-YANG NAILS
The concept of Yin and Yang might seem complex to grasp at times but this design is easy to nail. The popular symbol has become one of the most recognizable around the world, and now, it's one of the most notable nail art designs to try this year.
10 Summer Nail Colors To Try Right Now
When the warm weather months come around, think about leveling up your manicure with one of these on-trend colors.
1. PURPLE
In case you haven't heard, purple is totally on trend for the summer. And purple nails are an easy way to add it to your style repertoire. In any shade, it will upgrade your manicure and complement any skin tone.
2. GOLD
On tips, as an accent, or as a foil design, you can never go wrong with gold. It makes anything feel regal and elegant, including nails. Talk about having a gold touch!
3. PEACH
Looking for the perfect balance between bright and muted summer nail colors? All hail peach nails! This shade makes for a trendy mani without forcing you to step too far outside of your comfort zone.
4. PASTELS
This tried-and-true go-to for the summer is versatile because you can do pastels in a variety of hues. From lavender and lilac to apricot, seafoam and everything in between, there are so many shades to choose from in this fun color family.
5. CORAL
Traditional orange nails are super pretty, but coral nails are even trendier. This vibrant orangey-pink hue will give your mani sass and style for a look that will certainly lead to nail envy.
6. POWDER BLUE
This color had a moment back in the '90s when it was the go-to for every velour suit on the block. As a nail polish choice it's much more subtle, a lot more stylish and way easier to pull off.
7. MINT
Remember when you stocked up on all those mint green sweatsuits and sweaters in the winter? Consider mint nails the summer extension of that trend. The pretty color works perfectly as the base for a fun design or all on its own.
8. WHITE
If you prefer neutral shades, white nails are another choice you'll love. This fresh and crisp color effortlessly brightens up your nails and flatters all skin tones for the best of both worlds.
9. COBALT BLUE
It's only right that we add cobalt blue to our cute summer nails list. Equal parts elegant and bold, this shade offers a nice burst of color that can pair well with almost any outfit you dream up.
10. NUDE
Nude nails are the gift that keeps on giving. This neutral shade gives your nails a polished and fresh look that will never go out of style. Bonus: If your nails chip a bit, chances are, no one will notice!
Photo Credit: Shenika, IG/@fashenika
Discover more tips & tricks
Keep your skin happy
See all articles
Improve your routine
Show your new look more love:
makeup