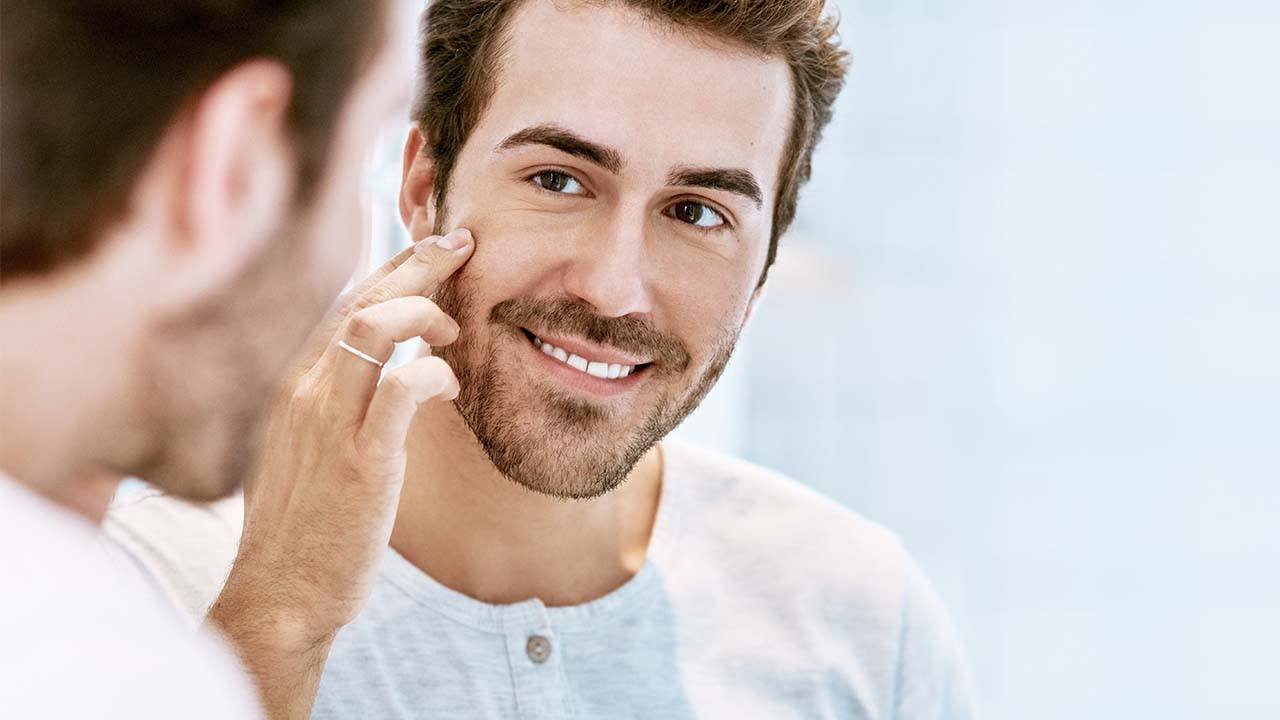 skin care essentials
10 Summer Skin Care Tips For Men
It may be easy to forget about taking care of your skin if your schedule is jam-packed and we've had at least a year of being home more to turn that behavior around. We've even transformed our consistent skin care routines into self-care experiences on some days. And while we know makeup for men has been on the rise with more virtual and digital experiences, fellas have you invested in your skin care regimen, too? It doesn't have to be expensive or difficult to keep up—you just have to make time and equip yourself with the right products, including essentials like facial cleanser and moisturizer. As masks come off this summer with more and more people getting vaccinated, you'll want to ensure that your skin is looking its best. So follow these ten guy-approved tips below to make the most of your summer skin care routine.
SKIN CARE TIP #1: BE DILIGENT WITH DAILY FACE WASHING
Whether you're dealing with maskne, have acne-prone skin, or you just want to keep your face clean, pick up a facial cleanser than you can use in the morning, at night, and after sweating. Try the L'Oréal Paris Men Expert™ Hydra Energetic Extreme Cleanser Infused with Charcoal, which has a formula that acts as a magnet on skin to capture and get rid of all kinds of dirt, impurities, and excess sebum (which can cause breakouts). The black texture turns into a rich white foam when you use it. For a sinkless cleanse that you can get on-the-go reach for the L'Oréal Paris Micellar Cleansing Water Complete Cleanser Waterproof - All Skin Types. It easily fits in your gym bag so you can wipe away impurities right after a workout.
SKIN CARE TIP #2: USE SEPARATE CLEANSER FOR FACE AND BODY
If you're guilty of using the same bar soap for your body on your face, we're not judging you—well, maybe a little. But you should abort mission stat! Washing your face with bar soap isn't an absolute no-no, it just depends on the soap's ingredients. Some people might love to do this because they feel like their body soap gets a better lather and they associate that with clean. But if the bar soap includes ingredients that may be drying to the skin, it can strip your skin (face and body) of natural oils that are good for you. Keep irritation away by opting for a cleanser made for your face, like the Hydra Energetic cleanser mentioned above.
SKIN CARE TIP #3: TAKE IT EASY ON YOUR SKIN WHILE SHAVING
A good, general rule is to always be careful when handling sharp objects. This probably seems obvious, but it's easy to get a bit too overzealous with your razor, and that can result in irritation. According to the American Academy of Dermatology, it's best to wet your skin and hair to soften it before shaving, apply a shaving cream or gel, and shave in the direction that your hair grows (aka with the grain). You should also change blades or toss disposable razors after five to seven shaves to help minimize irritation, according to the AAD. Make sure to shave lightly to help prevent nicks, too—and apply an after-shave balm once you're done.
Editor's Tip: For more shaving-centric tips, check out The Guy's Guide to Taking Care of Removing Facial Hair.
SKIN CARE TIP #4: NEVER, EVER SKIP MOISTURIZER
Everyone should use moisturizer as part of their daily skin care routine—regardless of skin type. The best time to layer on your moisturizer is after you've cleansed, shaved, or showered, while your skin is still slightly damp, as this can help lock in hydration. Twice daily, after cleansing, apply the L'Oréal Paris Men Expert™ Vita Lift Anti-Wrinkle & Firming Moisturizer to your face and neck to help provide your skin with long-lasting hydration.
SKIN CARE TIP #5: DON'T IGNORE YOUR UNDER-EYE AREA
It's easy to forget that the skin underneath your eyes is delicate and can give way to aging if uncared for. Don't let under-eye bags, puffiness and dark circles give your age away. After you moisturize your face in the morning and night, dab on an eye cream like the L'Oréal Paris Revitalift Triple Power Eye Treatment. Formulated with hyaluronic acid, vitamin C and pre-retinol, it depuffs, reduces wrinkles and brightens the eye area in just one week.
Need to conceal under-eye circles while your treatment works its magic? Reach for the L'Oréal Paris True Match Eye Cream in a Concealer, 0.5% hyaluronic acid for instant and dramatic dark circle coverage that also hydrates.
SKIN CARE TIP #6: TAKE SUN PROTECTION SERIOUSLY
No skin care routine would be complete without a few key sun protection measures. And adding a moisturizer with SPF is an easy way to make sure you don't skip this step in your skin care regimen. Try the L'Oréal Paris Revitalift Triple Power Day Lotion SPF 30 which combines top anti-aging ingredients with sun protection so that you get the best of both worlds. Additionally, you should also limit your amount of time in the sun, especially during the sun's peak hours from 10 a.m. to 2 p.m., seek shade, and cover up exposed areas in protective clothing and accessories, all according to the Food and Drug Administration.
SKIN CARE TIP #7: EXFOLIATE AFTER GETTING OILY
If you tend to have extra oily skin, try exfoliating. Over time, excess oils can build up on your skin's surface, causing your skin to look extra shiny, and in some cases can exacerbate a breakout. So, from time to time, swap out your facial cleanser for a gentle face scrub that can help remove the buildup. Try the L'Oréal Paris Pure-Sugar Resurface & Energize Kona Coffee Face Scrub. As for how often to exfoliate, some people can handle daily exfoliation, while others may only be able to do so once or twice a week. Pay attention to how your skin responds to determine what works best for you.
SKIN CARE TIP #8: PAY ATTENTION TO CHANGES AND REACTIONS
That brings us to another important part of taking care of your skin—paying attention to how your skin reacts to products and treatments. Whether you're switching to a different product, or introducing a new product category into your routine (maybe facial serums are now your jam), you need to keep an eye out for changes in your skin, both good and bad. You should also examine your skin head to toe every month to look for any changes that could have larger health implications.
SKIN CARE TIP #9: TREAT YOUR LIPS TO SELF-CARE
You may not consider lip conditioner the manliest of manly products, but that shouldn't make you any less likely to use it as part of your skin care routine. Help keep your lips feeling soft by applying a lip balm whenever needed—bonus points if you use one formulated with SPF. Want more tips? Here's How to Care for Dry Lips During the Summer. It's quite the summer read!
SKIN CARE TIP #10: MAKE AN APPOINTMENT WITH YOUR DERM
Be sure to book a yearly skin exam with your dermatologist who can check for any changes to your skin. If you notice anything during your self-examination you want to bring this up in your appointment so that your derm can make a professional assessment about how to proceed.
Photo Credit: Anthony Walker
Next: 7 Hair Care Tips For Men
Discover more tips & tricks
Keep your skin happy
See all articles
Shop Featured products
Discover More