skin care essentials
How to Use an Exfoliating Face Mask
January 24, 2020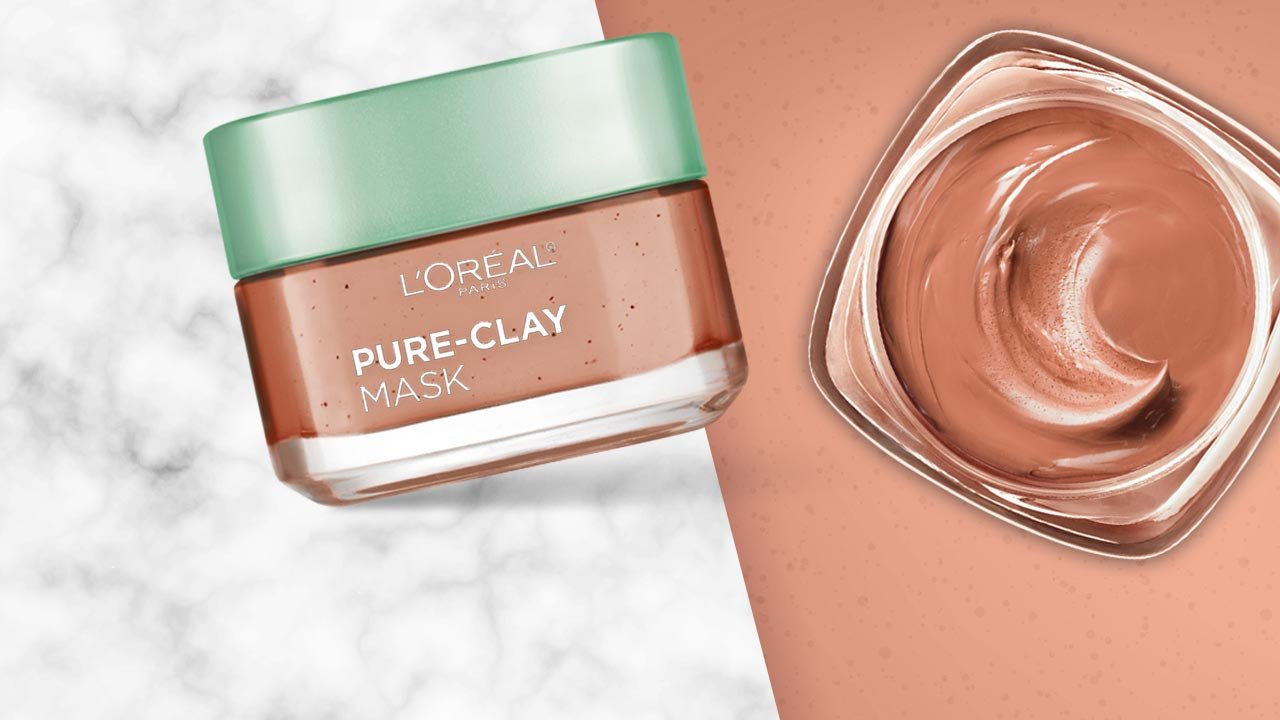 When it comes to your skin care routine, is there anything more relaxing or satisfying than using an exfoliating mask? Besides making you feel like you're in a luxurious spa (in the comfort and privacy of your own home), a face mask can offer some serious skin care benefits. Whether you're hoping to even out your skin tone, prevent fine lines and wrinkles, hydrate dry areas, or exfoliate away dead skin cells, there's a face mask out there for any and every skin care concern you may have.
With that said, there is one exfoliating mask, in particular, that should be on your radar: the L'Oréal Paris Pure-Clay Exfoliate & Refining Face Mask. Read on to learn more about the ingredients and benefits of this exfoliating face mask, plus how to incorporate it into your skin care routine. Bonus: If a single mask doesn't do it for you, we'll also walk you through how to use it to multi-mask!
WHY YOU SHOULD TRY OUR PURE-CLAY EXFOLIATE & REFINING FACE MASK
Like it or not, every day, dead skin cells, dirt, and oil can accumulate on the surface of your skin. If they're not properly sloughed off, these impurities can build up and lead to enlarged pores, rough patches, and even blemishes. In addition to your regular morning and evening facial cleanser, adding an exfoliating face mask into your weekly skin care regimen can really help revive dull, dirty, or dry skin. And, as we mentioned before, face masks are also really fun to use (and perfect for self-care Sunday).
One of the best (and trendiest) ingredients to keep an eye out for when choosing a face mask is clay—and our Pure-Clay Exfoliate & Refining Face Mask contains three different types! Formulated with kaolin, montmorillonite, and Moroccan lava clays, this clay mask buffs away dead skin and deeply cleanses clogged pores to reveal a smooth, polished complexion. And who doesn't want that?
Editor's note: As we mentioned above, you'll need a facial cleanser in your routine too. To stick with the red algae theme, reach for the L'Oréal Paris Pure-Clay Exfoliate & Refine Cleanser.
THE LOWDOWN ON RED ALGAE IN SKIN CARE PRODUCTS
Besides clay, our exfoliating mask is formulated with a powerful, antioxidant skin care ingredient: red algae extract. You probably already know, per FDA guidelines, that the sun's rays can damage your skin if it's not sufficiently protected by broad-spectrum SPF, but did you know that there are tons of other environmental stressors you encounter daily that can also age the look of your skin? According to the American Academy of Dermatology, air pollutants can damage your skin over time and cause it to prematurely age. And nobody wants that!
Topical creams and masks formulated with antioxidants can help combat free radicals on the skin and keep it looking its best. As the National Center for Biotechnology Information cites, marine algae are one way to help maintain skin health by combating oxidative stress that contributes to skin damage and aging—as if you needed another reason to add the Pure-Clay Exfoliate & Refining Face Mask to your routine.
HOW TO USE OUR EXFOLIATING MASK FORMULATED WITH RED ALGAE EXTRACT
Now that you know all about the pros of adding a face mask formulated with red algae to your skin care routine, it's time to put it to use! You'll be pleased to hear, all of the face masks in the L'Oréal Paris Pure-Clay line are formulated to work their magic in just 10-15 minutes. They're also super easy—not to mention enjoyable—to use.
Simply apply an even layer of the creamy mask to clean, dry skin, making sure to avoid your eye and lip areas. After 10 to 15 minutes, remove the mask with water, using circular motions to exfoliate. For best results, aim to use the mask three times per week.
Editor's tip: Keep in mind, you should always rinse your skin with lukewarm water. Super-hot water can strip your skin of its natural oils, leaving you with drier skin, which is the total opposite of what you want. So, as long as you turn down the dial, you're good to go!
HOW TO MULTI-MASK WITH OUR MASK FORMULATED WITH RED ALGAE EXTRACT
What are the chances you're lucky enough only to have one skin care concern to address? After all, we know we aren't alone in having a myriad of complexion issues pop up from time to time! As such, it isn't a bad idea to have multiple masks on hand to manage your various concerns. Even better than using them separately, you can give multi-masking a go! If you're unfamiliar with how to multi-mask, the concept entails using different types of face masks on different areas of your complexion.
When you think about it, it makes complete sense because different areas of your face probably have different needs. For example, you may have an oily, acne-prone T-zone and extra-dry cheeks, so you'd use a mattifying mask and a hydrating mask on each area, respectively. Don't know where to start? Apply our exfoliating face mask to any areas where your skin looks dull, or your pores appear enlarged, then apply two to three more masks based on your other concerns. Here's a breakdown of which masks are best to apply where:
On areas with uneven tone…try the L'Oréal Paris Pure-Clay Clarify & Smooth Face Mask. This mask is formulated with yuzu lemon to help clarify, smooth, and resurface skin.
On blemish-prone and shiny areas…try the L'Oréal Paris Pure-Clay Detox & Brighten Face Mask. This clay mask is formulated with charcoal, a powerful skin care ingredient. Want to learn all about the skin care benefits of charcoal? Check out our article Our Best Charcoal Mask: It's Time to Brighten Up!
On stressed-out or sensitive areas…try the L'Oréal Paris Pure-Clay Clear & Comfort Face Mask. Formulated with seaweed, this mask is gentle on sensitive areas yet still effective in purifying skin, leaving you with a clean and clear complexion.
Now that you're inspired to add at least one face mask to your weekly routine, get a refresher on something essential: face mask mistakes. Click through to our article, 10 Face Mask Mistakes You Could Be Making.
Discover more tips & tricks
Keep your skin happy
See all articles
Shop Featured Skin Care products
Discover More