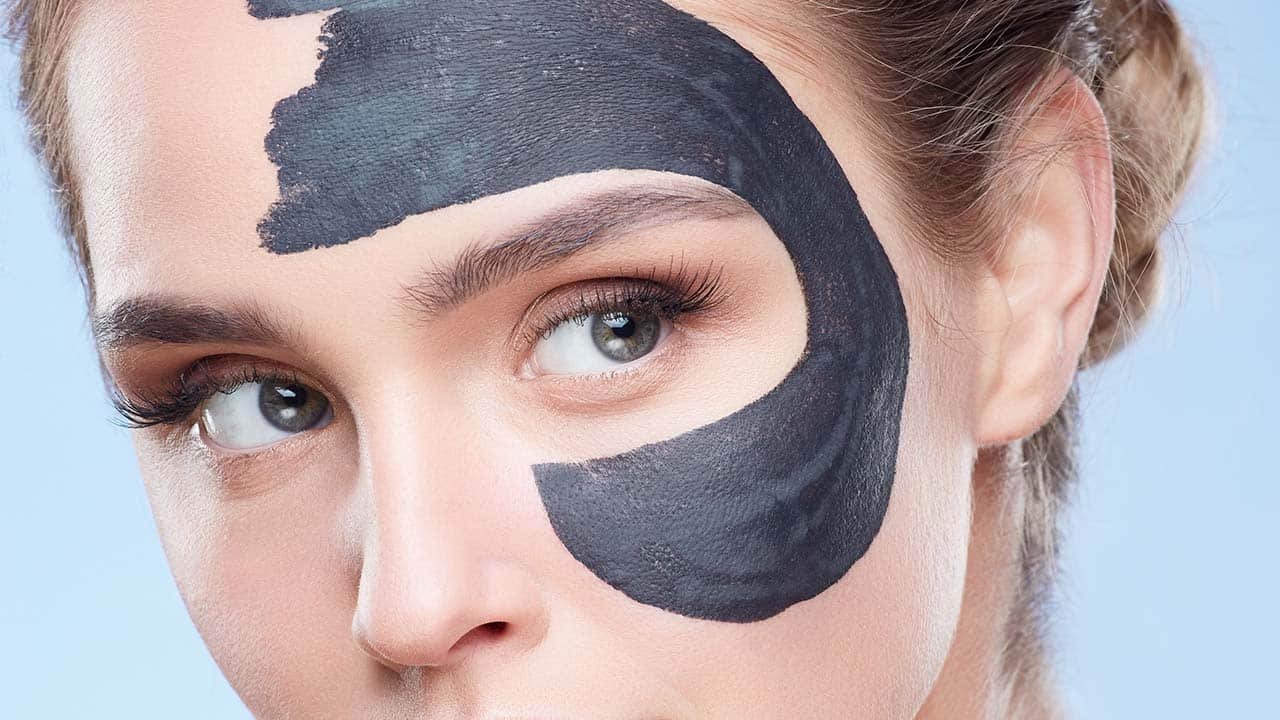 skin care concerns
3 Charcoal Mask Benefits That Prove You Need One In Your Routine
You've likely noticed charcoal masks in the beauty aisle—and with so many to choose from, from charcoal peel-off mask to charcoal clay mask, chances are you've wondered what the best option is. You've possibly even wondered what, if any, skin care benefits this type of face mask could offer to be making such a name for itself in the beauty world. Well, it turns out there are quite a few. If you're curious about black charcoal face masks and what they can do for your skin, you've come to the right place. Here, find out about three charcoal mask benefits, read our L'Oréal charcoal mask review, and learn how to add a charcoal mask to your skin care routine.
THE BIGGEST BENEFITS OF USING A CHARCOAL MASK
The bottom line is this: Charcoal masks offer various skin care benefits and are definitely worth adding to your skin care routine, but let's dig into some of the reasons you may want to use one. Read below to learn about three different charcoal mask benefits.
CHARCOAL MASK BENEFIT #1: THEY CAN HELP DRAW OUT THE BUILDUP OF IMPURITIES
Impurities like dirt, oil, and pollution can build up on the surface of your skin, leaving your complexion looking dull. A black charcoal mask can help draw out this buildup for skin that looks clean and feels as though it can breathe better.
CHARCOAL MASK BENEFIT #2: THEY CAN HELP BRIGHTEN THE APPEARANCE OF SKIN
Over time, harsh environmental factors like pollution and debris can damage skin, leaving your complexion looking dull and tired. Oftentimes, a facial cleanser isn't enough to solve this problem. But, one of our favorite charcoal mask benefits is that they can help reduce the appearance of dull skin and increase luminosity.
CHARCOAL MASK BENEFIT #3: THEY CAN ENCOURAGE SMOOTHER-LOOKING SKIN
Last but not least, charcoal masks can help promote the appearance of smoother skin. If you're ready to try a charcoal mask yourself, we've got one for you, coming right up.
OUR L'ORÉAL CHARCOAL MASK REVIEW
Now that you know all about the skin care benefits of charcoal masks, you may be wondering about our best charcoal clay mask. Let's dive right in! The L'Oréal Paris Pure-Clay Detox and Brighten Face Mask is formulated with three types of clay and charcoal. Immediately, skin looks brighter with a glow, dirt, dust, and pollution are removed from skin, skin tone looks more even, and skin appears smoother. Use after use, skin is clean and feels as though it can breathe better. Not to mention it has an indulgent, creamy clay formula that'll give you a luxurious dose of self-care in the process.
HOW TO USE OUR BEST CHARCOAL MASK
If you want to incorporate a charcoal clay mask into your daily skin care routine, follow our step-by-step instructions below for using our L'Oréal charcoal mask. We promise it's easy.
STEP 1: CLEANSE YOUR COMPLEXION
Before applying our charcoal mask, use a facial cleanser, like the L'Oréal Paris Pure-Clay Detox & Brighten Cleanser, which is formulated to transform from a clay to a mousse consistency. Add water to turn the cleanser into a mousse, then gently massage it onto your skin before rinsing off thoroughly with lukewarm water.
STEP 2: APPLY THE FACE MASK
After rinsing off your facial cleanser, apply an even layer of your charcoal mask to clean, dry skin. Make sure to avoid your eyes and mouth, those spots don't need the same charcoal masking treatment.
STEP 3: WAIT
Leave the charcoal mask on for 10 to 15 minutes. You can use this time to sit back and relax.
STEP 4: RINSE OFF THOROUGHLY
Once 15 minutes has passed, rinse the charcoal mask off with lukewarm water and pat dry.
STEP 5: FOLLOW UP WITH MOISTURIZER
Apply a lightweight facial moisturizer after removing your charcoal mask. For continuous hydration, try the L'Oréal Paris Hydra Genius Daily Liquid Care - Normal/Dry Skin, L'Oréal Paris Hydra Genius Daily Liquid Care - Normal/Oily Skin, or L'Oréal Paris Hydra Genius Daily Liquid Care - Extra Dry Skin.
STEP 6: REPEAT
You can use our charcoal mask up to three times a week for best results. Your skin certainly deserves to be pampered that often, so be sure to keep up with regular masking.
15 TIMES TO USE A CHARCOAL MASK
As if you need more reason to add a charcoal face mask to your routine, we've compiled a list of 15 times in your life when it's most appropriate to indulge in using a charcoal mask.
Reach for a charcoal mask…when you're breaking out. A charcoal mask will help absorb the excess oils and impurities from your skin, giving it the extra TLC required for combatting an unwanted breakout.
Use a charcoal mask…while you watch TV. Hello, multitasking! Whether you're binge-watching your favorite show or watching something new, allow your face mask to do its job while you enjoy what's on screen. Just make sure you set a timer so you can pause or use a commercial break to wash it off.
Smooth on a charcoal mask…when the weather gets colder. As the seasons change, the temperature starts to cool down and the air gets drier. This can cause your skin to become dry and dull. Using a charcoal mask will help smooth and brighten your skin.
Apply a charcoal mask…the night before a date. Of course, you're going to want a clear, flawless complexion before a date with a special someone. After masking, your skin will be as radiant as you feel.
Use a charcoal mask…while doing laundry. Ok, so this isn't quite as fun, but checking something off your to-do list while pampering your skin is a double win. Your skin and your wardrobe will thank you.
Reach for a charcoal mask…when you want to take a skin care selfie. While black charcoal masks have plenty of skin care benefits, there's no denying that they make for the perfect skin care selfie opportunity. We've all seen face mask selfies gracing our social media feeds. Go the extra mile and pop some cucumber slices on your eyes for the ultimate Instagram-worthy, skin-pampering photo-op.
Grab a charcoal mask…when you're sleep-deprived. Whether you pulled an all-nighter or had a late night, you can use a charcoal mask to brighten your skin and help fake a full night's sleep.
Smooth on a charcoal mask…during your next girls' night in. There's nothing better than pampering yourself while hanging out with your crew. Head over to our article, 14 Ideas For Your Next Girls' Night In, for more girls' night in beauty ideas.
Use a charcoal mask…while you paint your toes. If you're overdue on a pedicure, give your toes a fresh coat of nail polish while indulging in your mask.
Layer on a charcoal mask…while taking a bath. Throw in a bath bomb and light a scented candle and you'll be showing yourself some serious self-love.
Apply a charcoal mask…during your next self-care Sunday. Don't forget to add a charcoal mask to your self-care routine in order to keep the Sunday scaries at bay and give yourself some well-deserved "me" time.
Enjoy a charcoal mask…after a long day. Whether you've been running around all day or had a tiring workday, take the extra time to relax and do something for yourself.
Use a charcoal mask…while baking cookies. Treat your skin and your taste buds. Picture this: The aroma of fresh-baked chocolate chip cookies filling the house as your skin gets the TLC it needs.
Smooth on a charcoal mask…before you go to bed. There are few better feelings than hopping into bed with freshly cleansed skin after completing a perfectly executed nighttime skin care routine. Not only will you feel accomplished going to bed, but you'll wake up with skin that feels refreshed.
Reach for a charcoal mask…while reading. Whether you're engrossed in a novel, studying for class, or catching up on your favorite glossies, indulge your skin and mind at the same time.
HOW TO MULTI-MASK WITH A CHARCOAL FACE MASK
If it seems like one face mask just isn't enough for your skin, you don't have to limit yourself. Charcoal masks are only one type of face mask—there are plenty of others out there, too. To introduce your complexion to other masks, consider adopting a multi-masking routine. Multi-masking involves applying different face masks to different areas on your face, depending on what each section of skin needs. Take multi-masking for a spin by using our charcoal mask with other clay masks that suit your skin's individual needs. Pick two or three of the following face masks to use:
L'Oréal Paris Pure-Clay Exfoliate & Refining Face Mask: This clay mask is enhanced with red algae extract to exfoliate and refine your skin. The unique formula provides a multi-sensorial, fragrant experience while potent pure clays and volcanic rock exfoliate dead skin and smooth surface imperfections. You'll be left with a polished and smooth complexion with minimized pores.
L'Oréal Paris Pure-Clay Clarify & Smooth Face Mask: This offering is formulated with three pure clays: kaolin clay, montmorillonite clay, and Moroccan lava clay and enhanced with yuzu lemon extract to clarify and smooth skin. It addresses your skin concerns to leave you with smooth, even, and resurfaced skin.
L'Oréal Paris Pure-Clay Clear & Comfort Face Mask: This indulgent and transformative face mask clears and comforts skin in just 10 minutes. The powerful formula contains pure clays and seaweed to provide a luxurious experience while helping comfort stressed skin. The creamy mask gently yet effectively cleanses to leave skin clean, purified, and healthy-looking.
Next up: For more face mask fun, head on over to our article, 9 Face Mask Hacks That'll Make Your Skin Care Routine More Fun.
Discover more tips & tricks
Keep your skin happy
See all articles