skin care essentials
How to Apply and Remove a Clay Mask
August 03, 2018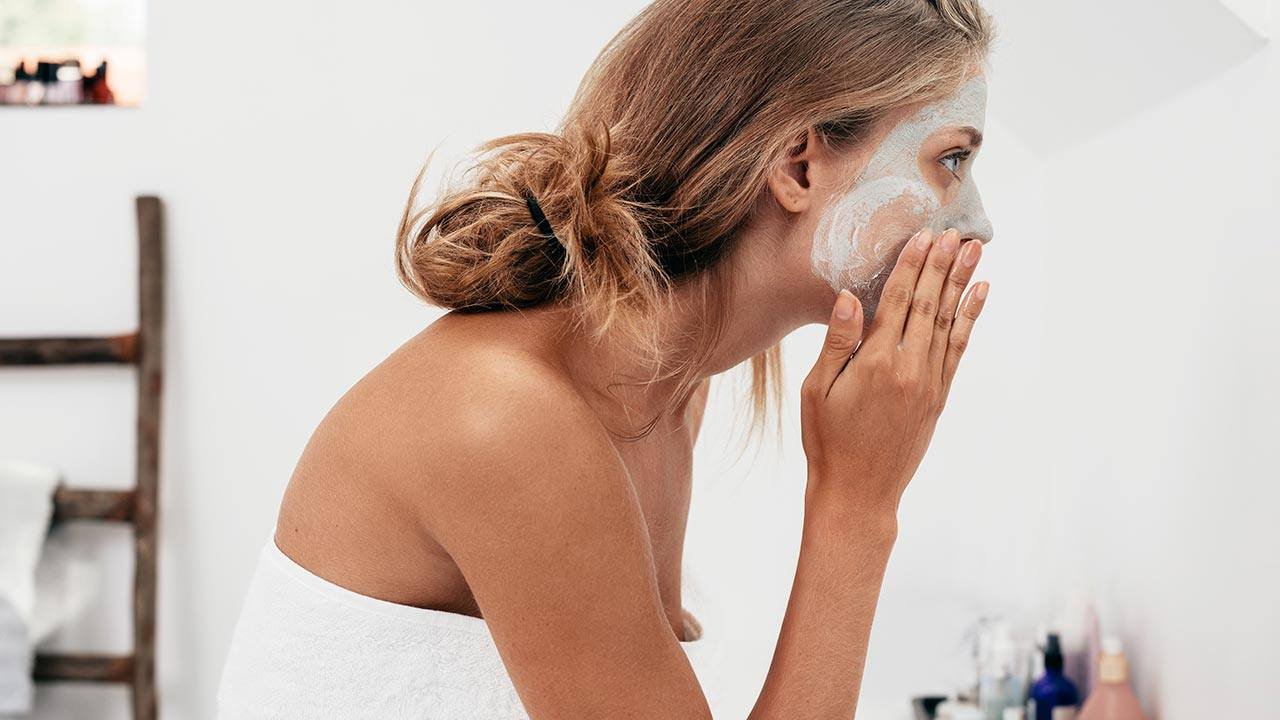 The results we get from a clay face mask are unparalleled: Smoothing without drying and hydrating without leaving skin feeling oily. But the removal process for clay masks sometimes leaves something to be desired. On the other hand, one of the best parts of a sheet mask is that when you're done you just toss the sheet in the trash can. While that may seem like the most appealing way to finish with a face mask, you don't have to sacrifice function for ease or start weighing pros and cons to determine which types of face masks you should use. If you want to use a clay mask, just make sure you're applying and removing it correctly. If you remove a clay mask the right way, you'll go from covered in clay to completely clean in a pinch. Ready to streamline the best—not to mention the most relaxing—part of your entire skin care routine? Scroll down to find our best clay masks (including our best face mask for dry skin), and learn how to choose the one that's right for you. Plus, find out how to apply and remove this go-to skin care product from your face. Once you see just how easy using a clay mask is, you'll want to do it as much as possible. Don't say we didn't warn you!
OUR BEST CLAY MASKS FOR EVERY SKIN CONCERN
Before we tell you how to apply and remove a clay mask, it's important to pick the right one for your particular skin concerns. Whether you have dull, rough, stressed, uneven, or dry skin, here are five options to choose from:
L'Oréal Paris Pure-Clay Detox & Brighten Face Mask: Over time, harsh environmental factors like pollution and debris can damage skin, leaving your complexion looking dull and tired. This clay mask formula enhanced with charcoal can help draw out the buildup of impurities, reduce the look of dull skin, and even out skin tone. Skin will look brighter immediately.
L'Oréal Paris Pure-Clay Exfoliate & Refining Face Mask: Day after day, dead skin cells can accumulate on the surface of your skin, leaving your complexion feeling rough. This clay mask formula is enhanced with red algae extract to help draw out the buildup of impurities, dirt, and oils. It also exfoliates dead skin cells, smooths the look of imperfections, and allows skin to breathe. Skin texture will appear refined immediately after use.
L'Oréal Paris Pure-Clay Clear & Comfort Face Mask: Enhanced with seaweed, this face mask also helps draw out buildup of impurities like dirt and oils while visibly reducing the appearance of imperfections, clearing congested pores, and gently cleansing skin. When you're finished, your skin will not only be clean but also refreshed.
L'Oréal Paris Pure-Clay Purify & Mattify Face Mask: Day after day, impurities, dirt, makeup, and excess oils build up on the skin, which can leave your complexion looking a little too oily. This clay mask formula is enhanced with eucalyptus leaf extract to help draw out the buildup of impurities, dirt, and oils and reduce the look of excess shine. Skin will look less shiny immediately.
L'Oréal Paris Pure-Clay Clarify & Smooth Face Mask: The clay mask formula with enhanced yuzu lemon extract helps shed rough, dead skin cells from skin's surface, clarify tone, and improve skin texture. Rinse off to reveal a clean glow.
Editor's tip: Can't decide on just one of the below? Multi-mask! This beauty trend involves applying different face masks to different areas of your face at the same time. Ideal for anyone with combination skin, multi-masking is the perfect remedy when you're oily in some areas and dry in others. After all, one face mask won't tend to all your skin's needs. The following directions for applying and removing clay masks can also be applied to multi-masking—you'll just be removing a few different masks instead of only one!
HOW TO APPLY AND REMOVE CLAY MASKS
Once you have your clay mask of choice in hand and are ready to go, it's time to apply. Follow these instructions to apply your mask and remove it with no mess. Your skin will be glowing in no time!
STEP #1: CLEANSE YOUR SKIN
Before putting on your clay mask, cleanse your complexion to help remove dirt, oils, and makeup from the surface of your skin. Try using the L'Oréal Paris Pure-Clay Detox & Brighten Cleanser, L'Oréal Paris Pure-Clay Exfoliate & Refine Cleanser, or L'Oréal Paris Pure-Clay Purify & Mattify Cleanser. Each of these cleansers lifts dirt and impurities out of your pores without drying out your skin. Starting with a clean base will help the clay masks reach their maximum level of effectiveness.
STEP #2: APPLY AN EVEN LAYER
When it comes to using a clay mask, you don't need to slather your face in a ton of product. A thin, even layer of whichever mask you're using will do. If you don't mind getting a little dirty, use your (clean) hands to spread the mask over your face. If you'd rather keep things tidy, try using a mask brush or repurpose a foundation brush. By dipping the brush into the mask and painting it onto your face, you'll not only avoid a mess but also be able to apply a perfectly thin layer of your mask of choice.
STEP #3: WAIT 10-15 MINUTES
Take this time to sit back and relax! Listen to your favorite playlist or podcast while you leave your clay mask on for 10-15 minutes. Other potential post-mask application activities could include watching TV, painting your nails, or even using a hair mask. After all, one mask is never enough. Let your hair join in on the fun with a hydrating hair mask that's totally on-trend, like the L'Oréal Paris EverPure Deep Moisture Hair Sheet Mask.
STEP #4: RINSE
And you were just starting to get comfortable, right? By now the mask should feel firm on your skin—and that means it is time to take it off! Wet a washcloth with lukewarm water and gently wipe the clay mask off of your face in circular motions. Be sure to get all of the clay mask—that means double checking your hairline, eyebrows, and nostrils.
STEP #5: PAT DRY
Once you've made sure all of the clay mask has been removed, take a clean, dry towel and lightly blot your skin until it's just slightly damp. You and your skin should feel rejuvenated and revived.
STEP #6: USE A LIGHTWEIGHT MOISTURIZER
Keep showing your skin love by applying a water-based moisturizer for your skin type. The L'Oréal Paris Hydra Genius Daily Liquid Care for Normal/Dry Skin, L'Oréal Paris Hydra Genius Daily Liquid Care for Normal/Oily Skin, and L'Oréal Paris Hydra Genius Daily Liquid Care for Extra Dry Skin are formulated with hyaluronic acid and aloe vera water to help provide long-lasting hydration. These moisturizers will complement all the work the clay mask did, leaving you with a hydrated, healthy complexion.
STEP #7: REPEAT THE PROCESS A FEW TIMES A WEEK
The best part about this whole process? You get to do it again! Our clay masks should be used 2-3 times a week for best results, so go ahead and treat yourself to using one again and again. Making a clay mask part of your consistent skin care routine will keep your pores clean and help address various skin care concerns, from large pores to dry spots. As long as you follow each of these steps for choosing the right mask, applying it, and removing it, you'll see a noticeable change in no time with just a little bit of consistency.
Having trouble narrowing down which clay mask (or masks, plural, if you want to multi-mask) are right for your routine? We can help with that! Here's How to Find the Right Clay Mask for Your Skin Type.
Discover more tips & tricks
Keep your skin happy
See all articles
Shop Featured Skin Care products
Discover More