skin care essentials
Your 2022 Mother's Day Beauty Gift Guide
Great gifts that won't break the bank.
April 15, 2022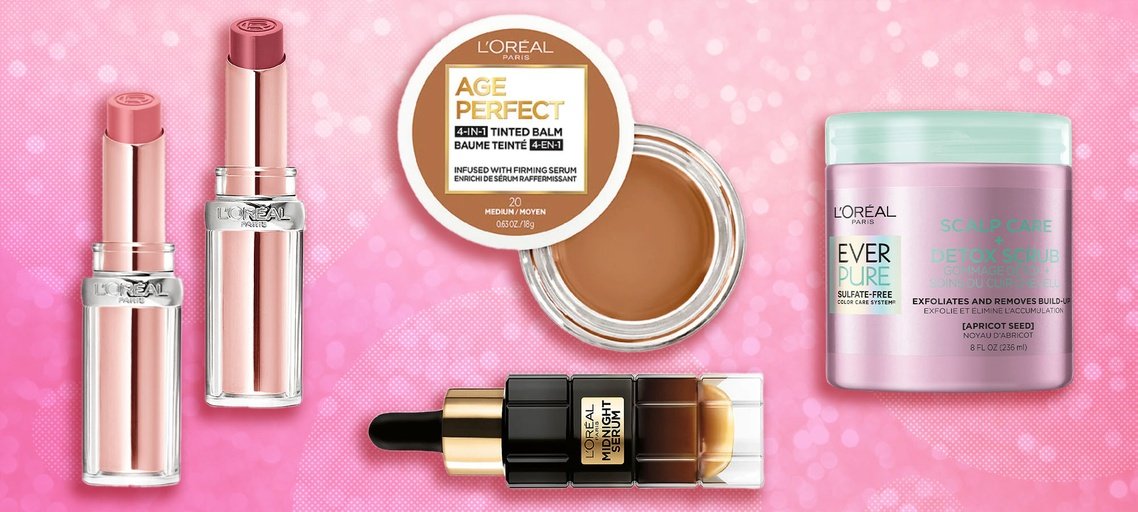 Mother's Day is right around the corner — and you may still be searching for the perfect Mother's Day gifts to show the moms in your life how much you care. If she's as obsessed with beauty products as you are, treat her to some new goodies to add to her makeup bag and skin care routine.
Help brighten the look of her complexion — as well as her day — with 10 of our best Mother's Day gift ideas, including a gorgeous foundation for mature skin, an easy-to-use self-tanner, and some hydrating lipsticks.
As skin matures, its ability to renew surface cells slows down, as does its production of hyaluronic acid, which can lead to the skin looking dull. This serum is perfect for everyone (no matter their age) because it's formulated with an antioxidant complex as well as hyaluronic acid to help smooth the skin, address signs of aging and brighten.
Since you're supposed to replace mascara every three months, a mascara lover always has an excuse to shop for a new favorite. And if Mom loves to dress up her eyes, we have a feeling that she'll love this option.
It's a vegan formula that contains nourishing oils to keep the lashes soft. It can be applied in just one layer for a natural look, or built up to create more intense volume. Plus, it's easy to remove so no tugging or harsh wiping is necessary.
If the mom in your life is on the hunt for the best foundation for mature skin, introduce her to this innovative balm formula. The creamy balm texture melts onto the skin upon contact and can be blended out with ease using your fingers or a brush.
It evens the complexion in a subtle way, looks radiant throughout the day and doesn't sink into lines on the face.
If you ask us, no makeup look is complete without a pretty pout. Make sure your mom can coat her lips in color by adding this pigmented nude lipstick to your list of Mother's Day gift ideas. The non-drying formula leaves lips feeling soft while delivering comfortable wear with color that lasts.
Sometimes a nourishing lip color is just the thing we need for a small moment of self-care. Treat mom to this balm and lipstick hybrid formula that delivers buildable color while nourishing and hydrating the lips thanks to pomegranate extract.
Nothing says get glowing like a beautiful spring tan — sans the UV damage and accelerated aging of course. Let the mom that you're celebrating get her glow on with this safe and easy tanning alternative.
All she'll need to do is saturate a cotton pad with the product and gently sweep it across her skin. The tan will gradually develop and she can intensify it by using the tanning mist daily if she wants.
Editor's tip: To ensure that her face and body have a matching glow, get her the L'Oréal Paris Sublime Bronze Self-Tanning Water Mousse, too.
If heading to her favorite spa isn't an option this Mother's Day, that doesn't mean that she can't still have a luxurious experience. Help her create a spa-at-home moment with this pampering hair treatment.
Formulated to give the scalp an exfoliating detox, this scalp scrub removes unwanted buildup and treats flakes, dandruff, excess oil and dry scalp. The menthol and apricot seed formula has a calming fragrance that adds to the relaxing vibes.
Clean, shiny hair makes for an immediate confidence boost. Help mom feel great about herself by giving her this shine-inducing shampoo. It's the first step in a three part system and it has an acidic pH which helps to make the hair glossy. Plus, the creamy formula creates an intense lather that helps to give the hair a good cleanse.
As step number two in the glossing system, this glaze works to seal the hair cuticle for the ultimate smooth, shiny hair. It's also gentle on color and contains argan oil to hydrate her strands. The best part is that it only takes one to three minutes in the shower, so it's the perfect hair treatment for busy moms.
This rich conditioner is the last step in the hair glossing system. In addition to argan oil and the creamy texture that make it a luxurious experience, the acidic pH adds serious shine to the strands. Plus, it has UV filters that help to protect color and it's great for all hair types.
If part of mom's special celebration includes creating a glamorous hairstyle for a night out, then a great hairspray will be needed to maintain her look. This formula is unscented, so it won't compete with any fragrance she might be wearing and it keeps the hair locked in place without feeling hard or crunchy.
Next: 7 Steps for Creating a DIY Spa At Home
Edited by: Alyssa Kaplan, Photo Design: Crystal Simone
Discover more tips & tricks
Keep your skin happy
See all articles
Shop Featured Skin Care products
Discover More