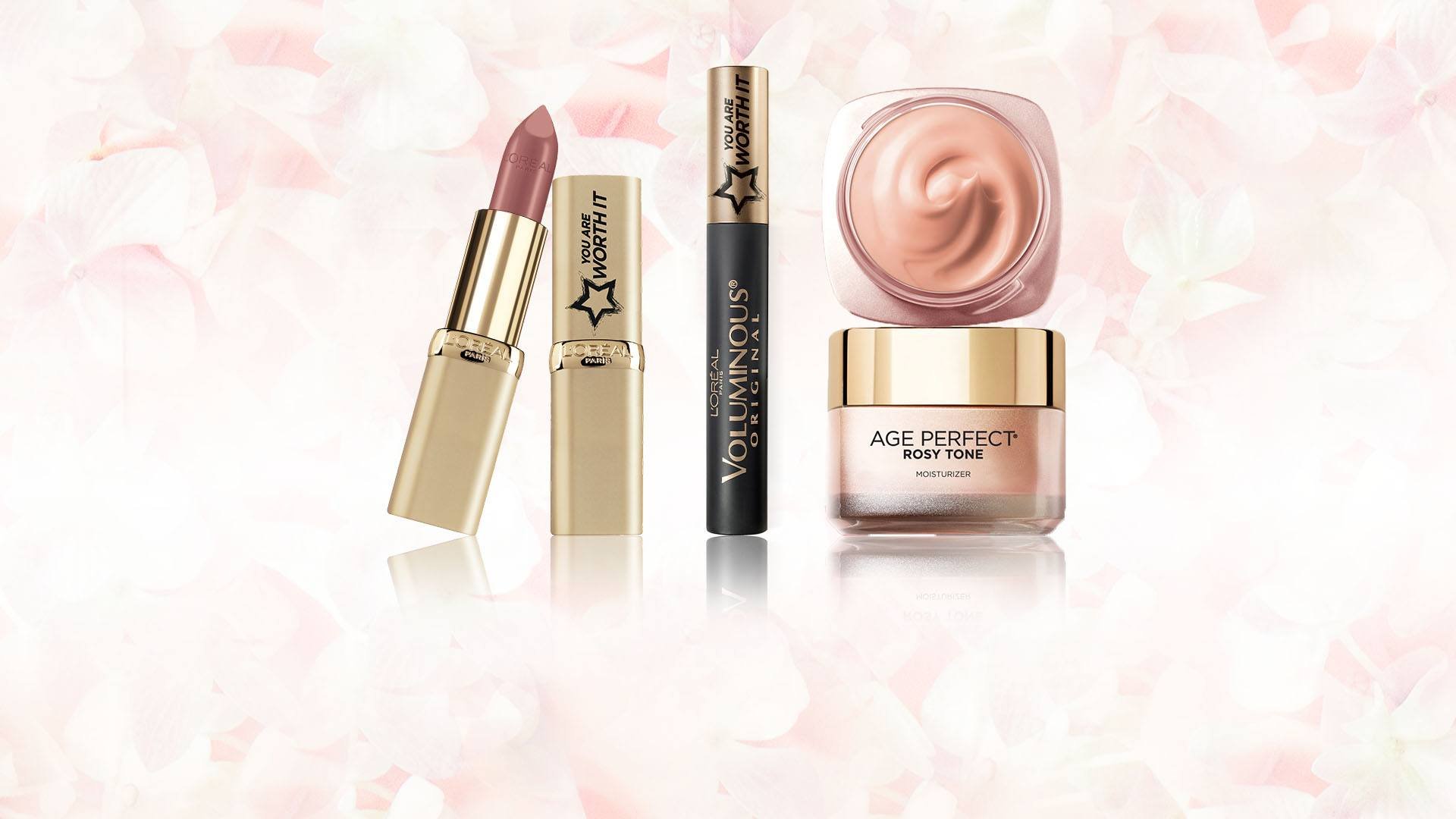 skin care essentials
2020 Mother's Day Makeup and Skin Care Gift Guide
Mother's Day is fast approaching—and if you're anything like us, you may still be searching for the perfect Mother's Day gifts to show your mom how much you care. Not sure what to get the most important woman in your life? Well, if she's as obsessed with beauty products as you are, why not treat her to some new goodies to add to her makeup and skin care routine? Help brighten the look of her complexion—as well as her day—with our 12 best Mother's Day gift ideas, including a radiance-boosting moisturizer, volumizing mascara, and lipstick. Send them her way along with placing an online order for a bouquet of her favorite flowers, a box of yummy chocolates, and a gift certificate for a massage, then you're pretty much bound to be the favorite child.
MOTHER'S DAY GIFT IDEA#1: MOISTURIZER
As skin matures, its ability to renew surface cells slows down, causing a buildup of dead cells on the surface. As a result, skin's natural pink tone is hidden, and the complexion becomes dull, losing the rosy tone that's often associated with youth. And that's where this gift comes in! The L'Oréal Paris Age Perfect Cell Renewal Rosy Tone Moisturizer is an intense daily moisturizer enhanced with rosy pigments to instantly revive skin's rosy tone.
Formulated with imperial peony and LHA, this offering gently exfoliates dull skin and revive skin's natural pink tone. Immediately, skin is hydrated, feels smoother, and looks rejuvenated, while skin will appear renewed with continued use over time. The rich, non-greasy formula smooths gently over skin to nourish it with moisture, while rosy pigments help to reveal a youthful look.
MOTHER'S DAY GIFT IDEA #2: MASCARA
You can never have too much mascara, and there's a solid chance it's time for Mom to toss her old tube (you're supposed to replace mascara every three months!) and try something new. We have a feeling Mom will love the L'Oréal Paris Voluminous Original Washable Bold Eye Mascara, which has a volume maximizing brush that thickens and build lashes evenly for a full look. Not to mention, it works to resist clumping and keeps lashes soft, which makes for a winning combination!
MOTHER'S DAY GIFT IDEA #3: LIPSTICK
If you ask us, no beauty look is complete without a pretty pout. Make sure your mom can coat her lips in color by adding the L'Oréal Paris Colour Riche Lipcolour to your list of Mother's Day ideas. Formulated with vitamin E and argan oil, her lips will be soft, smooth, and ultra-hydrated.
MOTHER'S DAY GIFT IDEA #4: FACE MASK
Don't you think your mom deserves a little pampering? We do! To help Mom pamper herself, all the while taking her rosy radiance to the next level, gift her with the L'Oréal Paris Age Perfect Cell Renewal Rosy Tone Face Mask, too. Formulated with powerful AHAs and imperial peony, this gel face mask works to gently buff away any buildup of makeup, dirt, and impurities, as well as dead skin cells that could be making her skin look dull. As a result, skin looks refreshed with a subtle rosy tint that epitomizes the healthy glow your mom is likely aiming for.
MOTHER'S DAY GIFT IDEA #5: MAKEUP BLENDER
Your mom may be a beauty addict like you, but chances are she's been sticking to old school brushes—or even her fingers—to apply her foundation and concealer. Treat her to something new (and a total game-changer) with the L'Oréal Paris Infallible Blend Artist Foundation Blender. She may be slightly unsure about changing up her routine, but the easy-to-use makeup blender will allow her to effortlessly blend out face makeup for a seamless look.
MOTHER'S DAY GIFT IDEA #6: PRIMER
Excuse us for the pun, but we just couldn't help ourselves: This is not your mother's makeup primer. No, the L'Oréal Paris Infallible Pro-Glow Makeup Lock Primer is definitely an upgrade. It instantly gives skin a radiant finish, primes, perfects, and hydrates skin for better makeup application. Basically, it does it all—you may even want to keep this gift for yourself!
MOTHER'S DAY GIFT IDEA #7: LIGHTWEIGHT FOUNDATION
Does your mom steer clear of heavy makeup? If she prefers a lightweight look, share the L'Oréal Paris Infallible Up to 24HR Fresh Wear Foundation, Lightweight with her. This lightweight, buildable foundation is water, sweat, and transfer-resistant, so your mom will be prepared to take on anything that comes her way!
MOTHER'S DAY GIFT IDEA #8: BB CREAM
Moms seem to always be on the go, and we're guessing yours is no exception to that rule. Chances are she's not looking to make her way through a 10-step makeup routine every morning—who has the time? Thankfully, she won't have to—if you gift her with a BB cream! BB cream tends to be lightweight and relatively sheer, making them an ideal option for when your mom wants a more natural look. Grab her the L'Oréal Paris Magic BB Anti-Fatigue (For All Skin Types), which revives a tired complexion, evens skin tone, hydrates, and perfects.
MOTHER'S DAY GIFT IDEA #9: BLUSH
We're all about treating Mom to products that will lift her spirits. And sometimes, looking your best is what it takes to feel your best. Help Mom revive her complexion and her spirit with the L'Oréal Paris Age Perfect Makeup Radiant Satin Blush with Camellia Oil. Specially formulated for mature skin, this creamy blush provides luminous color that doesn't cake or dry. Show her how to apply it for a pretty flush, and you'll be primed to win daughter of the year.
MOTHER'S DAY GIFT IDEA #10: FULL-COVERAGE CONCEALER
Everyone needs a full-coverage concealer in their makeup bag. You may think of your mom as a superhero, but we're betting even she has to deal with the occasional restless night—leading to dark under-eye circles—or unexpected blemish. For those situations, her new secret weapon should be the L'Oréal Paris Infallible Full Wear Concealer Waterproof, Full Coverage. The non-greasy, waterproof formula won't transfer, fade, or flake, making it totally hero-worthy.
MOTHER'S DAY GIFT IDEA #11: EYESHADOW QUAD
Chances are, your mom may want to switch things up from time to time with a sophisticated eye makeup look. And if you want to help her take things to the next level, an eyeshadow quad will be an absolute essential. Pick up the L'Oréal Paris Colour Riche Pocket Palette Eye Shadow in Boudoir Charme, and she'll have everything she needs to create a pretty eye look.
MOTHER'S DAY GIFT IDEA #12: SETTING SPRAY
You've taught your mom a lot (and it goes without saying that the opposite is true, too!), but have you shared the magic of face mists with her? Spread the joy by giving her the L'Oréal Paris True Match™ Lumi Shake & Glow Dew Mist, which can be used to prime, set, and refresh her makeup look. Suggest she store it in her fridge for extra refreshing misting—remember, summer isn't too far off!
We hope that our best Mother's Day gifts have made your shopping a little bit easier. After all, she definitely deserves a special day! Want to make Mother's Day even more special? Consider setting up an at-home spa day for you and your mom. A facial is the perfect thing to start with. Here's How to Do a DIY Facial at Home.
Discover more tips & tricks
Keep your skin happy
See all articles
Shop Featured Skin Care products
Discover More