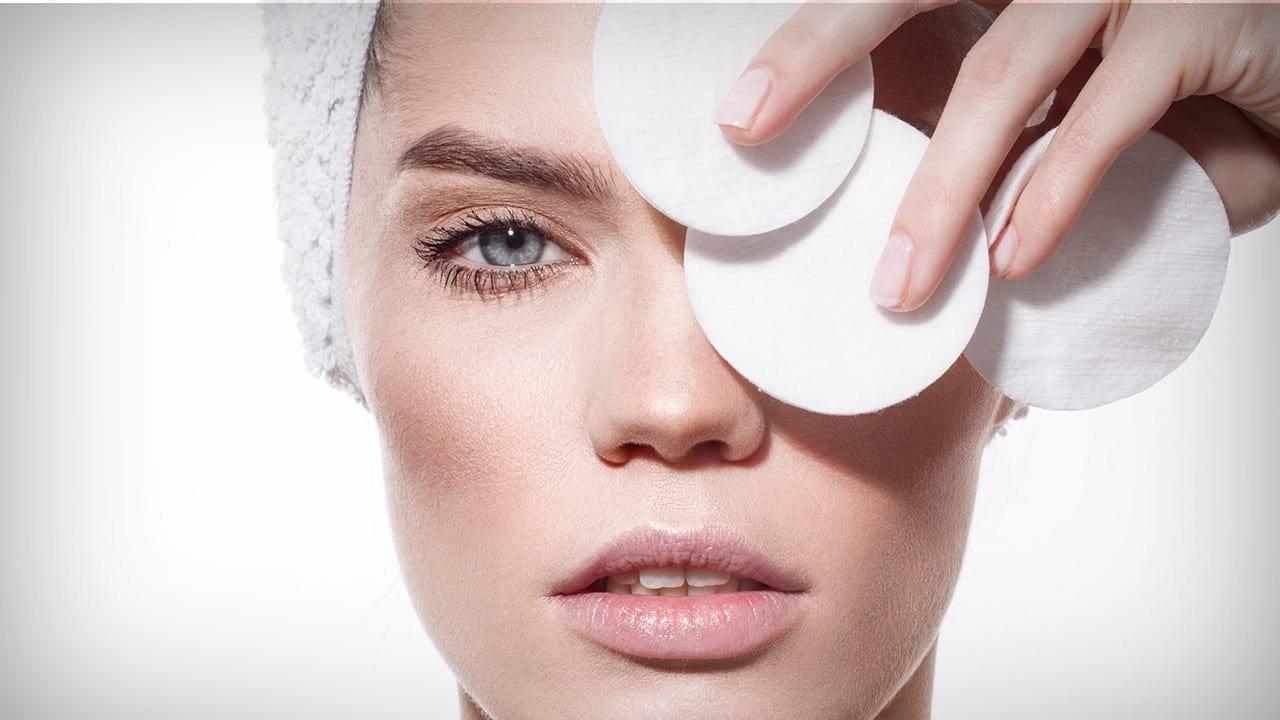 skin care essentials
How to Take Makeup Off Without Makeup Wipes
You've finally made it back home after a long night out—only to realize you've forgotten to stock up on makeup wipes! But don't fret (and don't go to bed without removing your makeup first), there are plenty of ways to take makeup off without using makeup wipes—and there's no need to resort to a DIY makeup remover, either. Read on for five of our favorite alternatives for taking makeup off without makeup wipes—all of which you likely already have on hand in your skin care cabinet.
MAKEUP WIPE ALTERNATIVE #1: MICELLAR WATER
Believe it or not, micellar water can be used for much more than cleansing your skin. It can also be used as a sink-less makeup remover. Simply saturate a cotton pad and gently wipe it over your skin to remove all traces of makeup. Consider it a DIY makeup remover wipe—one that doesn't involve attempting to concoct your own perfect makeup remover. Take your pick from one of our three micellar water options below.
L'Oréal Paris Micellar Cleansing Water Complete Cleanser Waterproof - All Skin Types: This micellar water removes makeup—even waterproof mascara—in just one simple swipe! Your skin will be left feeling clean, hydrated, and purified. No harsh rubbing required!
L'Oréal Paris Micellar Cleansing Water Complete Cleanser - Normal to Oily Skin: If you have oily skin, you probably already know that over-cleansing and exfoliating to remove excess sebum can strip the skin. This micellar water is specifically formulated for oily skin to gently remove makeup, dirt, and excess oil, leaving your skin purified and mattified.
L'Oréal Paris Micellar Cleansing Water Complete Cleanser - Normal to Dry Skin: If you have dry skin, basic cleansers can strip the skin causing dryness. This micellar water is formulated for dry skin to remove makeup and completely clean skin in just one step, leaving it feeling hydrated and soothed.
MAKEUP WIPE ALTERNATIVE #2: OIL CLEANSING
Oil cleansing has become increasingly popular over the past few years—as more and more people realize that putting oil on your skin doesn't equal having oily skin—and lucky for all of us, this cleansing method can be used to remove makeup, too. The concept of oil cleansing is simple. In fact, you probably learned it way back in science class: like attracts like. As such, you can use an oil cleanser to attract and lift away oil and other impurities. To remove your makeup, simply use an oil to cleanse and in the process, your makeup will be removed.
MAKEUP WIPE ALTERNATIVE #3: GEL CLEANSER
Gel cleansers can also be used as a makeup wipe alternative—just skip using them on your eyes. You can always use another one of the methods we've listed to tackle your eye makeup! Try the L'Oréal Paris Ideal Clean All Skin Types Foaming Gel Cleanser. This gel cleanser has an oil-free, non-comedogenic formula that's suitable for sensitive skin. The cleanser works to gently remove makeup, buff away impurities, and leave your skin refreshed and radiant. What more could you want? Simply wet your face and hands with lukewarm water before working the gel into a foamy lather. Gently massage the formula onto your face using gentle, circular motions and allow the cleanser to make removing makeup quick and easy.
MAKEUP WIPE ALTERNATIVE #4: SOAP AND WATER
Depending on the makeup products you sport, you may be able to turn to good ol' soap and water to remove your makeup at the end of the night! Just make sure whatever products you're wearing can be removed by them; otherwise, you could end up irritating your skin with excessive rubbing. Remember, removing makeup shouldn't require a lot of effort or arm power! Need a product rec to put this alternative to the test? Wear the L'Oréal Paris Voluminous X Fiber Mascara, which easily washes off with soap and water, on your next night out.
MAKEUP WIPE ALTERNATIVE #5: CREAM CLEANSER
A cream cleanser can also be used to remove makeup. If you have dry skin and hate that tight feeling that can happen after you cleanse and remove your makeup, this is the option for you! Try the L'Oréal Paris Revitalift Radiant Smoothing Cream Cleanser, which is specially formulated to nourish skin and boost radiance while gently exfoliating and removing all traces of impurities and makeup. Your skin will look smoother, brighter, and more refined.
If you have mature skin, opt for the L'Oréal Paris Age Perfect Nourishing Cream Cleanser instead. This cream cleanser gently yet effectively removes traces of makeup without over-drying for softer, smoother, more supple skin.
Want more in the way of makeup removal tips? Head over to our articles, How to Remove Every Kind of Makeup and How to Remove Waterproof Makeup.
Discover more tips & tricks
Keep your skin happy
See all articles