skin care essentials
5 Ways To Remove Makeup Without Makeup Wipes
You've got options babe.
August 16, 2019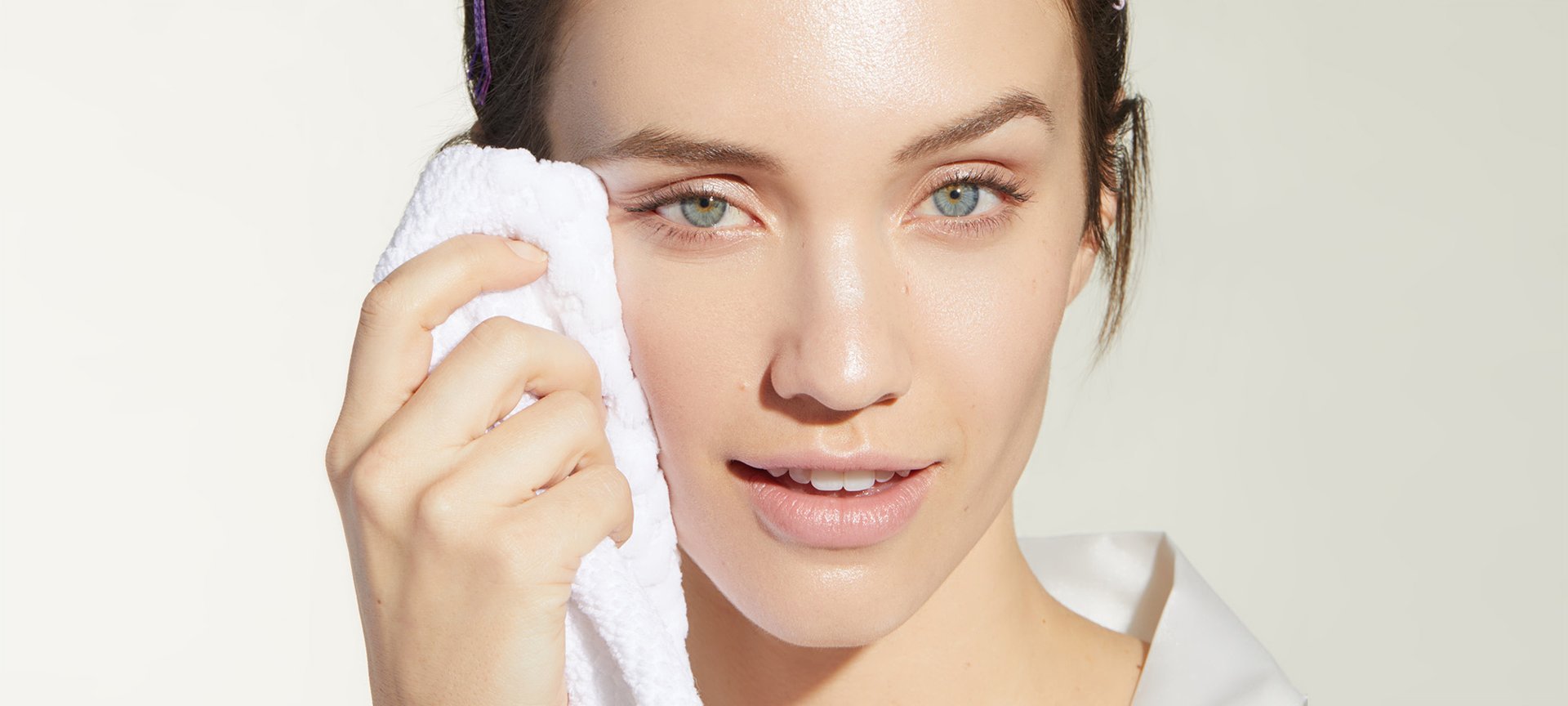 There's nothing more annoying than coming home after a night of fun in a killer makeup look than reaching for your makeup wipes to take down your masterpiece, and realizing you're fresh out. While forgetting to stock up on makeup wipes might seem like a small setback, it can feel like the biggest frustration when you're ready to catch z's but have on a full face of glam. If you think you're going to reach for that DIY makeup remover you've concocted you better think again. And sleeping in your makeup is not (and we mean never) an option. Luckily, we've got some alternatives for how to remove makeup without makeup wipes — all of which you likely already have on hand in your skin care cabinet.
Makeup Wipe Alternative 1: Micellar Water
Now a popular go-to for makeup removal and double cleansing, micellar water reigns supreme in removing makeup without wipes. It even takes off stubborn makeup and waterproof formulas. It can also be used as a sink-less makeup remover option — so if you're really working on fumes you can use it right from bed. Simply saturate a cotton pad and gently wipe it over your skin to remove all traces of makeup, including waterproof mascara. Consider it a DIY makeup remover wipe — one that wasn't formulated from questionable ingredients in a moment of desperation.
Need a recommendation? Try the L'Oréal Paris Micellar Cleansing Water Complete Cleanser Waterproof - All Skin Types. This micellar water removes makeup in just one simple swipe. Your skin will be left feeling clean, hydrated, and purified. No harsh rubbing required!
Makeup Wipe Alternative 2: Oil Cleansing
Oil cleansing has become increasingly popular over the past few years too — as more and more people realize that putting oil on your skin doesn't equal having oily skin — and lucky for all of us, this cleansing method can be used to remove makeup, too. The concept of oil cleansing is simple. In fact, you probably learned it way back in science class: like attracts like. As such, you can use an oil cleanser to attract and lift away oil and other impurities. To remove your makeup, simply use an oil to cleanse and in the process, your makeup will be removed.
Makeup Wipe Alternative 3: Gel Cleanser
Gel cleansers can also be used as a makeup wipe alternative — just don't apply them directly to your eyes. You can always use another one of the methods we've listed to tackle your eye makeup. Try the L'Oréal Paris Ideal Clean All Skin Types Foaming Gel Cleanser. This gel cleanser has an oil-free, non-comedogenic formula that's suitable for sensitive skin. The cleanser works to gently remove makeup, buff away impurities, and leave your skin refreshed and radiant. Simply wet your face and hands with lukewarm water before working the gel into a foamy lather. Then gently massage the formula onto your face using soft, circular motions and allow the cleanser to make removing makeup quick and easy.
Makeup Wipe Alternative 4: Cream Cleanser
Just like a gel cleanser, a cream cleanser can also be used to remove makeup without a wipe to kick off the process. If you have dry skin and hate that tight feeling that can happen after you cleanse and remove your makeup, this is definitely the option for you. Try the L'Oréal Paris Revitalift Radiant Smoothing Cream Cleanser, which is specially formulated to nourish skin and boost radiance while gently exfoliating and removing all traces of impurities and makeup. Your skin will look smoother, brighter, and more refined.
Editor's tip: If you have mature skin, opt for the L'Oréal Paris Age Perfect Nourishing Cream Cleanser instead. This cream cleanser made with mature skin in mind gently, yet effectively, removes traces of makeup without over-drying for softer, smoother, more bouncy skin.
Makeup Wipe Alternative 5: Soap and Water
Hear us out — we get it, this sounds scary. But depending on the makeup products you use, you may be able to turn to good ol' soap and water to remove your makeup at the end of the night (at least for one night until you can stock up on wipes). Just make sure whatever products you're wearing can be removed by this combo; otherwise, you could end up irritating your skin with excessive rubbing. Remember, removing makeup shouldn't require a lot of effort or arm power!
Next: How to Remove Every Kind of Makeup
Edited by: Shalwah Evans, Photo Credit: Chaunte Vaughn
Discover more tips & tricks
Keep your skin happy
See all articles
Shop Featured Skin Care products
Discover More