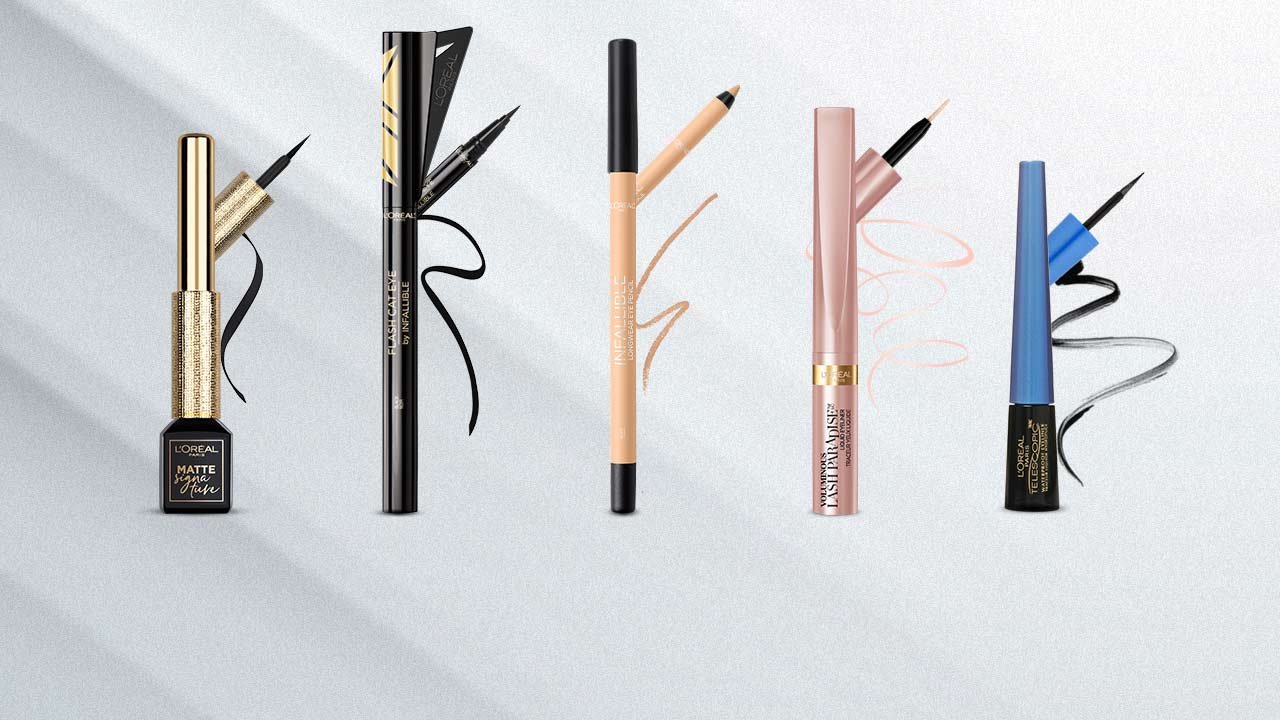 eye makeup
Our Best Waterproof Eyeliners for Smudge-Proof Eye Makeup
When it comes to eye makeup, we'd argue there's no better way to define your eyes than with a bit of eyeliner. That being said, it isn't all fun and games—there are few things worse than the dreaded dripping and smudging of eyeliner. Raccoon eyes? No thanks! Luckily, waterproof eyeliner exists and can help you make eyeliner mishaps a thing of the past. Below, we're sharing our best smudge-proof eyeliners, including liquid and pencil formulas, as well as a few other tips for keeping your liner in place all day and night.
OUR BEST WATERPROOF EYELINERS
Let's jump right into it—if a waterproof eyeliner pencil or a waterproof liquid eyeliner is a must for your makeup bag, consider adding one (or multiple) of our best drugstore waterproof eyeliners to your collection.
L'Oréal Paris Matte Signature Liquid Dip Eyeliner, Waterproof: Sometimes an eyeliner with a shiny finish just doesn't fit the eye makeup look you're going for. That's where matte eyeliner, like this option, comes into play. This waterproof liquid dip eyeliner features a precision applicator with a shortened stem that allows you to get closer to the eye. The formula is smudge-proof and transfer-resistant, making it suitable for all-day wear.
How to use it: Hold the controlled grip zone and glide the precision felt tip along your lash line from the outer to the inner corner of your eye. Press lightly for thin vivid lines or harder for a thicker, bolder look.
L'Oréal Paris Infallible Flash Cat Eye Waterproof Brush Tip Liquid Eyeliner: Dying to create the perfect cat eye but struggle with drawing a flawless wing? Whether you just can't seem to get your lines straight or one wing always ends up bigger than the other, we feel your pain. Of course, that's where this ultra-easy liquid eyeliner pen comes into play! With its precision brush tip and easy-to-use removable wing stencil, you can quite literally just wing it with this long-lasting liquid eyeliner. The waterproof formula allows for a smudge-free cat eye look while the removable wing stencil helps you get perfectly precise wings, every time.
How to use it: First, position the open part of the stencil at the outer edge of the eye, laying it flat against your skin. Then, fill in the stencil to draw the wing. Next, remove the stencil from the outer edge of your eye and continue the line across your eyelid. Can you say flawless?
L'Oréal Paris Infallible Pro-Last Waterproof, Up to 24HR Pencil Eyeliner: Prefer to use pencil eyeliner? This waterproof pencil eyeliner comes in 15 shades ranging from traditional black to eye-catching teal so you can truly make a statement with your eye makeup look. The creamy formula glides on easily for a long-lasting, smudge-proof look. Even better, this pencil is suitable to use on your waterline—making it a go-to for nearly any eyeliner look.
How to use it: Apply along the top and bottom lash line beginning in the inner corner of the eye and working outward. The eyeliner can be sharpened using a makeup pencil sharpener.
L'Oréal Paris Voluminous Lash Paradise™ Liquid Eyeliner: Speaking of precise eyeliner looks, we're sure there will be times you'd prefer to ditch the wing but still want a sleek, smooth line on your upper lid. When that's the case, our next waterproof liquid eyeliner is what you should reach for. With its water-resistant formula, the felt tip smoothly draws precise lines while offering smudge-proof wear.
How to use it: Shake well before each use. Glide the felt tip along your outer lash line, pressing lightly for a thin line and increasing the pressure to get a thicker line. Be sure to cap tightly after use.
L'Oréal Paris Telescopic Waterproof Precision Liquid Eyeliner: Do you have sensitive eyes? This waterproof liquid liner is suitable for sensitive eyes and contact lens wearers, making it worth picking up. The slanted precision felt tip is angled for the most accurate application, and the glide-on formula delivers long-lasting wear that's swim-proof, sweat-proof, and smudge-proof.
How to use it: Shake well before each use. Glide the tip along your outer lash line, using either the angled side for a thick line or the pointed side for a thinner line.
3 OTHER LONG-LASTING EYELINER TIPS
If you don't have waterproof eyeliner on hand or want to really make sure your eyeliner stays put, consider putting the following three enduring eyeliner tips to use.
LONG-LASTING EYELINER TIP #1: USE AN EYE PRIMER
Just as you would use a primer to ensure your face makeup stays put, using an eye primer will help your eye makeup—including your eyeliner—last. Apply one to your lids prior to any eye makeup application. If you don't have an eye primer with you, a dab of foundation or concealer can help in a pinch.
LONG-LASTING EYELINER TIP #2: SET WITH EYE SHADOW
You can use a bit of eye shadow in a coordinating color to set your eyeliner and increase its lifespan. Simply reach for a shade that matches your liner and apply it overtop using a flat top brush for precise application. Stipple your eye shadow on—don't drag—to avoid smudging your liner in the process!
LONG-LASTING EYELINER TIP #3: FINISH WITH A SETTING SPRAY
Of course, any long-lasting makeup look calls for a setting spray. The L'Oréal Paris Infallible Pro-Spray and Set Make-Up Oil-Free Setting Spray is a lightweight mist that'll give you a "just applied" makeup look all day long—no melting or fading and no touch-ups necessary. After finishing your makeup, shake well, hold the spray six to eight inches from your face, and spritz in "X" and "T" motions.
Next up: Learn how to take your waterproof makeup off at the end of the night! Here's Our Best Eye Makeup Remover for Waterproof Makeup.
Discover more tips & tricks
Keep your skin happy
See all articles
Shop Featured Makeup products
Discover More