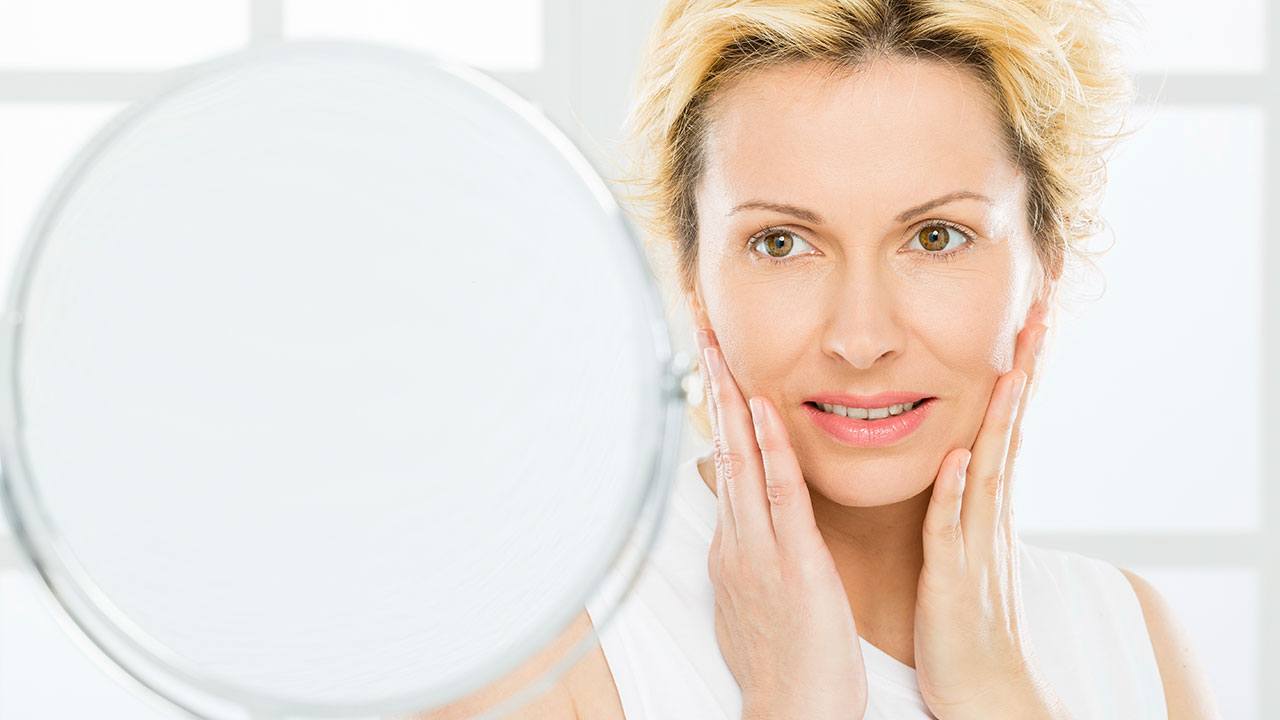 skin care essentials
A Skin Care Routine for Crow's Feet, Dark Circles, and Under-Eye Puffiness
You may not have updated your skin care routine  in a while. But if you've noticed signs of aging appearing around your eyes, you may want to consider switching things up. Some of the most common signs of aging around the eyes include crow's feet, dark circles, and under-eye bags. Finding the right skin care routine to address these signs of aging doesn't have to be too challenging, though. It's all about finding the right anti-aging skin care products, from facial cleanser to face moisturizer to eye cream, as well as learning makeup techniques for concealing under-eye imperfections. Below, find a skin care routine to help you address the appearance of crow's feet, dark circles, and puffy under-eyes.
Step 1: Gently Cleanse Your Skin
A good skin care routine should consist of using facial cleanser twice a day to wash your face—but that doesn't mean you have to rub your skin harshly. And that's especially the case when it comes to your delicate under-eye area. Instead, treat those crow's feet, dark circles, and under-eye bags with care. Try a cream facial cleanser, like the L'Oréal Paris RevitaLift Radiant Smoothing Cream Cleanser, which helps remove all traces of impurities and makeup from the surface of your skin without over-drying it. Gently massage the facial cleanser onto your face, then rinse with lukewarm water (H2O that's too hot can be drying), and lightly pat your face dry with a towel.
Step 2: Pat on a Serum
Remember: Being gentle is the name of the game! Once you're done washing your face, move onto serum. Look for an anti-aging serum that can help minimize the appearance of fine lines and wrinkles over time, like the L'Oréal Paris RevitaLift Triple Power™ Concentrated Serum.
Step 3: Smooth a Moisturizer Over Your Skin
Moving on! After serum, reach for an anti-aging moisturizer. The L'Oréal Paris RevitaLift Cicacream Face Moisturizer Pro Retinol & Centella Asiatica is a lightweight protective cream that can help reduce the appearance of wrinkles with continued use over time. Immediately, skin feels softer and smoother, while the look of wrinkles is diminished and skin looks more luminous with continued use over time.
Step 4: Choose an Eye Cream
Now for the fun part: When you have crow's feet, dark circles, or puffy under-eyes, finding the right eye cream can help minimize their appearance. One option: The L'Oréal Paris RevitaLift Anti-Wrinkle + Firming Eye Cream, which can help diminish the appearance of dark circles and crow's feet with continued use over time. For under-eye bags, consider storing your eye cream in your refrigerator, as the cold can help temporarily decrease the appearance of puffiness. Again, pat—don't rub—your eye cream of choice onto your delicate under-eye area until thoroughly absorbed. (Store These 3 Skin Care Products in the Fridge.) Now, this would be the end of your nighttime skin care routine, but in the morning, you're going to want to follow steps 5 and 6 as well if you have crow's feet, dark circles, and/or under-eye bags (and really, even if you don't!).
Step 5: Make Sun Protection a Priority
In the morning, the last step in your skin care routine should be applying a broad-spectrum sunscreen with an SPF of 30 or higher as directed. That's because spending time in the sun sans protection can lead to the appearance of visible signs of aging (like crow's feet) down the road. If you're pressed for time, think about using a moisturizer with SPF, like the L'Oréal Paris RevitaLift Bright Reveal Brightening Day Moisturizer SPF 30, to cut down on the number of steps in your skin care routine. You should take other sun protection measures, too—limit your amount of time in the sun (especially between 10 a.m. and 2 p.m., which are peak hours), seek shade, and cover up exposed areas in long sleeves, pants, a broad-brimmed hat, and UV-blocking sunglasses.
Step 6: Conceal Your Under-Eye Area
Congrats: You've made it to the end of our skin care routine for your under-eye area and visible signs of aging around your eyes, such as crow's feet, dark circles, and puffiness. Color-correcting can help disguise the look of dark circles, so grab one of our L'Oréal Paris True Match™ Color Correcting Crayons to get the job done. They're available in three shades to conceal dark circles: peach for fair to light skin tones, bisque for light to medium skin tones, and orange for medium to deep skin tones. Just dab your concealer shade of choice under your eyes and pat until blended. 
For more eye-centric skin care tips, check out our article, Our Best Eye Creams for Puffiness.
Discover more tips & tricks
Keep your skin happy
See all articles