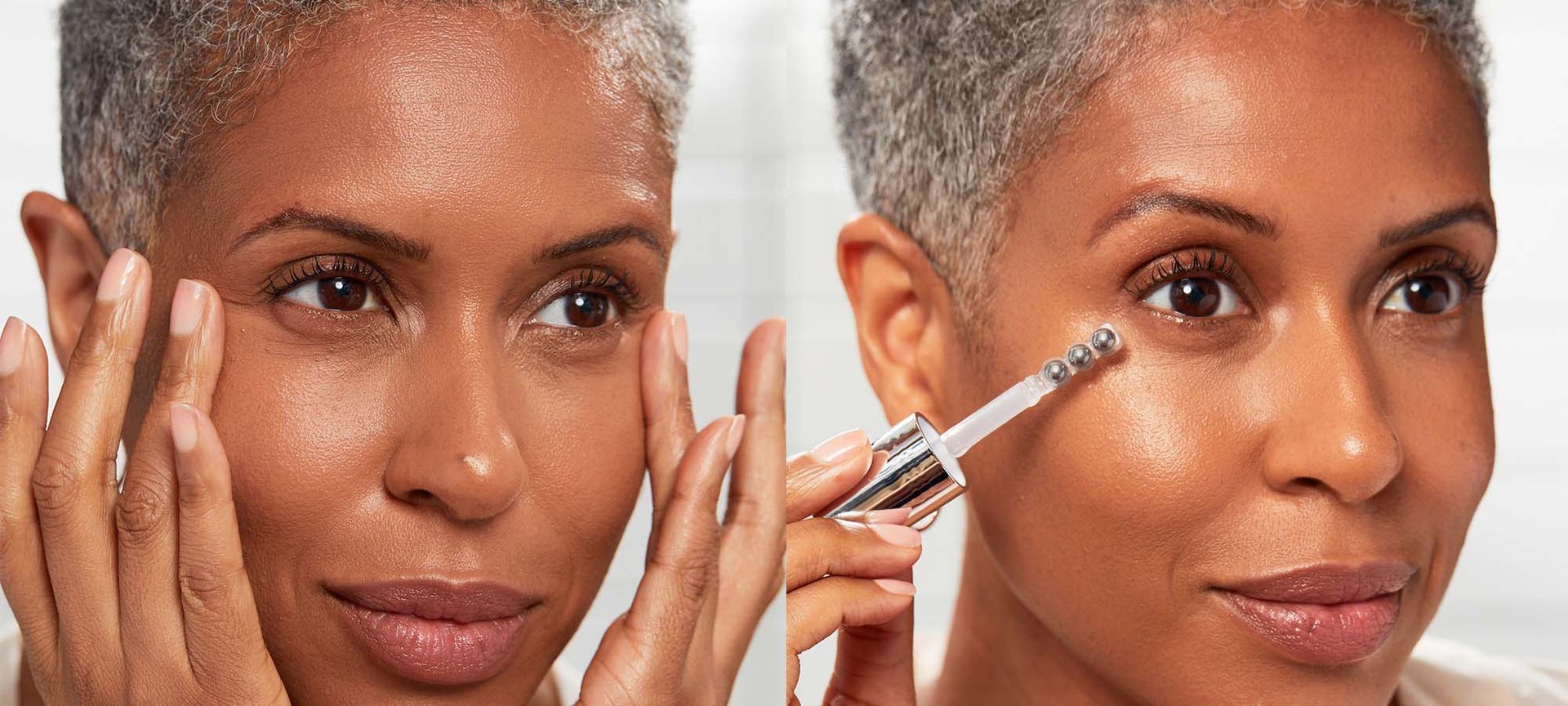 skin care essentials
How To Boost The Skin Under Your Eyes In Just 5 Steps
Kiss those crow's feet goodbye.
As your skin changes over time, so should your skin care routine. While we all know that with age comes wisdom, it also brings a new set of skin care complexities. Instead of acne and blemishes, you might notice some of the most common signs of aging like crow's feet, dark circles, and under-eye bags begin to set in. The first step to address these changes is to build a skin care routine with the right anti-aging skin care products for your maturing complexion. Below, we're sharing a five-step anti-aging skin care routine for your eyes that can help turn back the clock on the appearance of dark circles, crow's feet, and puffiness.

Step 1: Gently Cleanse Your Skin
No matter your age, a good skin care routine should consist of using a facial cleanser twice a day. While it's important to be thorough while cleansing when it comes to the delicate skin in your under-eye area, make sure to wash with care. Try a cream facial cleanser like the L'Oréal Paris RevitaLift Radiant Smoothing Cream Cleanser, which helps remove all traces of impurities and makeup from the surface of your skin without over-drying it.

Step 2: Pat On A Serum
With the right ingredients, a facial serum could be just the anti-aging boost your skin needs. Look for serums that are formulated with anti-aging ingredients such as hyaluronic acid and retinol, and antioxidants like vitamin C and vitamin E.


For a serum that works day and night, try the L'Oréal Paris Age Perfect Skincare Cell Renewal Anti-Aging Midnight Serum and for a high potency dose of wrinkle-fighting retinol, add the L'Oréal Paris Revitalift Derm Intensives Night Serum, 0.3% Pure Retinol into your nighttime routine.

Step 3: Smooth A Moisturizer Over Your Skin
Keeping your skin hydrated is vital, so be sure to apply a face moisturizer twice a day. Use an anti-aging moisturizer like L'Oréal Paris Revitalift Triple Power Anti-Aging Moisturizer Fragrance Free that works around the clock and is formulated with pro-retinol, vitamin C, and hyaluronic acid to help firm and tighten the skin. For a daytime option, try the L'Oréal Paris Revitalift Bright Reveal Brightening Day Moisturizer SPF 30.

Step 4: Choose An Eye Cream
The right eye cream can be the key to minimizing the appearance of crow's feet, dark circles, or puffy under-eyes. The L'Oréal Paris Age Perfect Cell Renewal Anti-Aging Eye Cream Treatment is a powerful eye cream made with an exclusive Antioxidant Recovery Complex that targets five visible signs of aging and helps the skin around the eyes appear younger.

To reduce under-eye bags and puffiness, try the L'Oréal Paris Revitalift Revitalift Derm Intensives with 1.5% Hyaluronic Acid, 1% Caffeine Eye Serum which is packed with skin brightening hyaluronic acid and caffeine.

Step 5: Make Sun Protection A Priority
Sun damage is one of the leading causes of visible skin aging, so before you step outside always apply a broad-spectrum sunscreen with an SPF of 30 or greater. Seamlessly mix your sun protection into your skin care routine by using an anti-aging moisturizer formulated with SPF like the L'Oréal Paris Age Perfect Collagen Expert Day Moisturizer with SPF 30.


Don't forget to take other sun protection measures, too — limit your amount of time in the sun during peak hours, cover up exposed areas of your skin and seek shade whenever possible.


Next: The Single-Ingredient Moisturizers Your Aging Skin Needs



Written by: Lauren Paige Richeson, Photo Credit: Chaunte Vaughn, Senior Art Direction: Melissa San Vicente-Landestoy, Senior Visual Designer: Hannah Packer, Associate Creative Producer: Becca Solovay, Makeup Artist: Jonet Williamson, Hair Stylist: Akihisa Yamaguchi, Wardrobe Assistant: Victoria Ochoa, Digital Tech: Kyle Thompson, Model: Roxanne Hancock
Discover more tips & tricks
Keep your skin happy
See all articles
Shop Featured Skin Care products
Discover More