skin care concerns
Our Best Eye Creams for Puffiness
May 01, 2020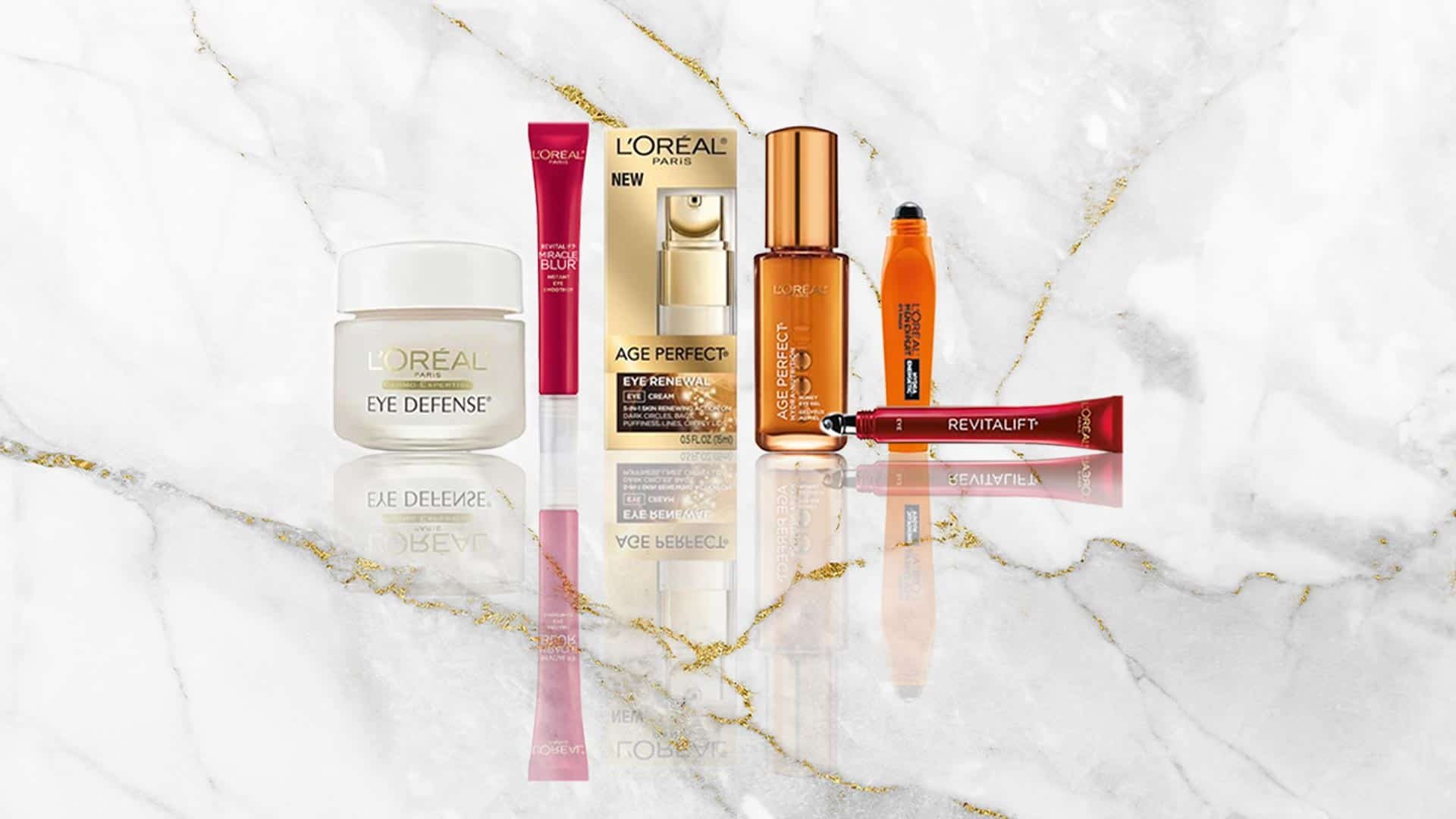 If we asked you what skin care concerns annoy you most, we have a feeling under-eye puffiness would be high on the list. After all, those pesky puffy eyes can really impact your beauty look. So, what can you do about it? Well, if you have under-eye bags, adding a puffy eye cream to your skin care routine is one of the most effective steps you can take. Intrigued? Keep reading to learn about our best eye creams for puffiness, plus how to apply them the right way.
OUR BEST EYE CREAMS FOR PUFFINESS
Looking to find an eye cream that's formulated to address under-eye puffiness? You've come to the right place. Below we're naming our best eye cream for bags and puffiness, based on your age.
If you're in your 20s…try the L'Oréal Paris Eye Defense. If you're just starting to put together an anti-aging routine, paying attention to your under-eye area can go a long way. This light, non-greasy gel-cream is specially formulated to defend against signs of premature aging around the eyes, like dark circles, puffiness, and wrinkles. It's formulated with hyaluronic acid and caffeine to cover all of the bases for youthful-looking skin on the under-eye area.
If you're in your 30s…try the L'Oréal Paris Revitalift Miracle Blur Eye. When you're in your 30s, you may start to notice that signs of aging are starting to appear. This silky, hydrating formula glides onto the skin for an immediate smoothing effect. Light-diffusing pigments instantly blur signs of aging around your eyes, while the cream reduces the appearance of dark circles, puffiness, and wrinkles with continued use over time.
If you're in your 40s…try the L'Oréal Paris Age Perfect Eye Renewal Eye Cream. As skin matures, the loss of moisture, nutrients, and natural oils can take a toll on your eyes. This puffy eye cream actually targets five signs of aging at once: dark circles, puffiness, under-eye bags, crow's feet, and crepiness—making it one of our best eye creams for bags and puffiness!
If you're in your 50s…try the L'Oréal Paris Age Perfect Hydra Nutrition Manuka Honey Eye Gel. The de-puffing rollerball wand works in combination with the cooling formula of this eye gel to cushion mature, dry skin with moisture. The ultra-gentle eye gel contains manuka honey, nourishing oils, calcium, and antioxidants. It also helps massage away the look of under-eye bags and dark circles.
Another option you may like? The L'Oréal Paris Revitalift Triple Power™ Eye Treatment. Formulated with Pro-Retinol, hyaluronic acid, and vitamin C, this offering de-puffs skin under eyes, visibly reduces wrinkles, and brightens the eye area in just one week. Complete with a cooling applicator, you'll be able to tackle puffiness and dark circles with ease.
If you're a guy…try the L'Oréal Paris Men Expert™ Hydra-Energetic Ice Cold Eye Roller. Everyone needs eye cream! Use this cooling eye roller around the eyes to diminish the appearance of signs of aging around the eyes, including puffiness.
THE BEST WAY TO APPLY EYE CREAM
Once you have your puffy eye cream picked out, make sure you know how to use it.
1. COMPLETE THE REST OF YOUR ROUTINE
Our best eye cream for bags and puffiness should be the very last step in your skin care routine. Use any facial cleansers, face scrubs, serums, and facial moisturizers before breaking out an under-eye product. (For help building your routine, try Our Foolproof Skin Care Routine for All Skin Types.)
2. USE THE RIGHT AMOUNT
Don't be excessive with puffy eye cream. A little goes a long way—just a dime-sized amount should be enough for the whole eye area.
3. WET YOUR SKIN
Just as the American Academy of Dermatology recommends applying moisturizer to damp skin, the same goes for a puffy eye cream. Get the skin surrounding your eyes wet before applying to help lock in hydration.
4. DOT ON EYE CREAM
Using your ring finger, dot eye cream on both below and above your eye. Keep the product about half an inch from your lash line to avoid irritation.
5. PAT, DON'T RUB
The most delicate skin on your face happens to be around your eyes. To make sure you don't play too rough with your fragile skin, use the pad of your finger to pat—not rub—the product onto your under-eye area.
6. LET IT SIT
You may be done applying your eye cream, but don't move on just yet. Give your eye cream a minute or two to absorb. Immediately layering makeup on top could cause eye cream to shift throughout the day; it's well worth waiting. Just take a few minutes to brush your teeth or work a styling product through your hair, then get back to work.
Next up: Still in the mood for eye cream info? Head on over to our article, 5 Eye Cream Hacks to Help Brighten and De-Puff.
Discover more tips & tricks
Keep your skin happy
See all articles
Shop Featured Skin Care products
Discover More